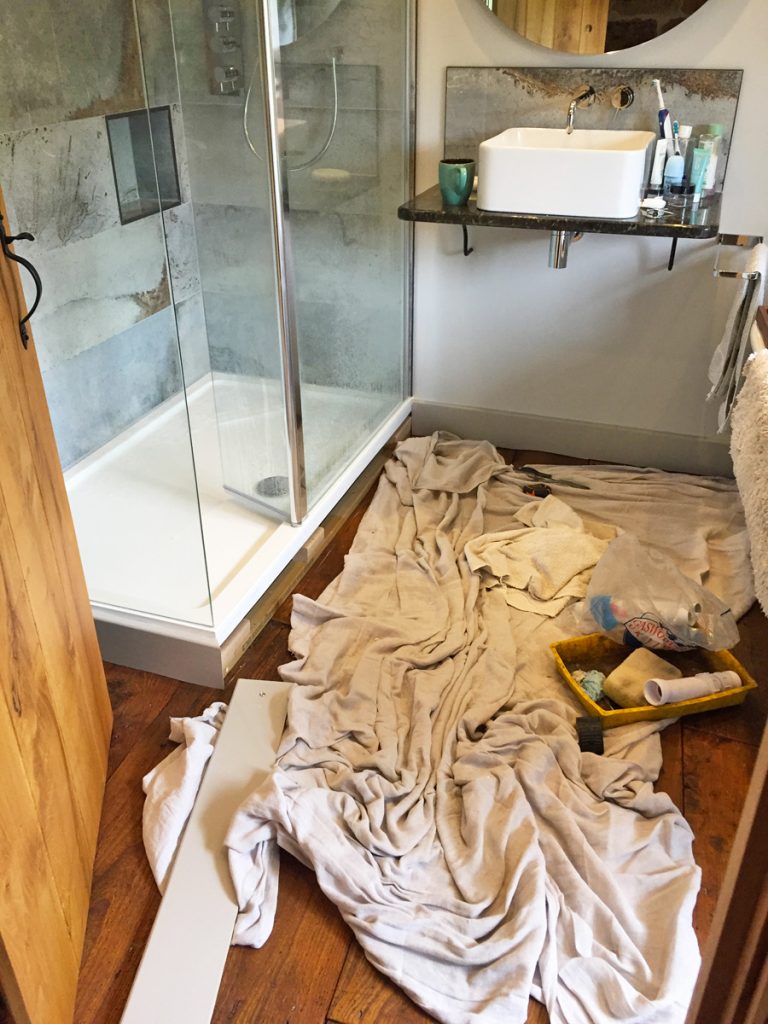 After our plumber fixed the many leaks I couldn't wait to use the shower (no-one has used it yet). Unfortunately I found two further problems with it. Firstly I couldn't change the temperature, it was warm but I couldn't get it close to cold or hot. Secondly, as I was fiddling around trying to change the temperature I looked down to see the shower tray filling with water and nearly flooded the bathroom! The shower wasn't draining! Thankfully I realised in time and aborted my shower for a bath instead.
Bloody hell. This shower had better be worth waiting for.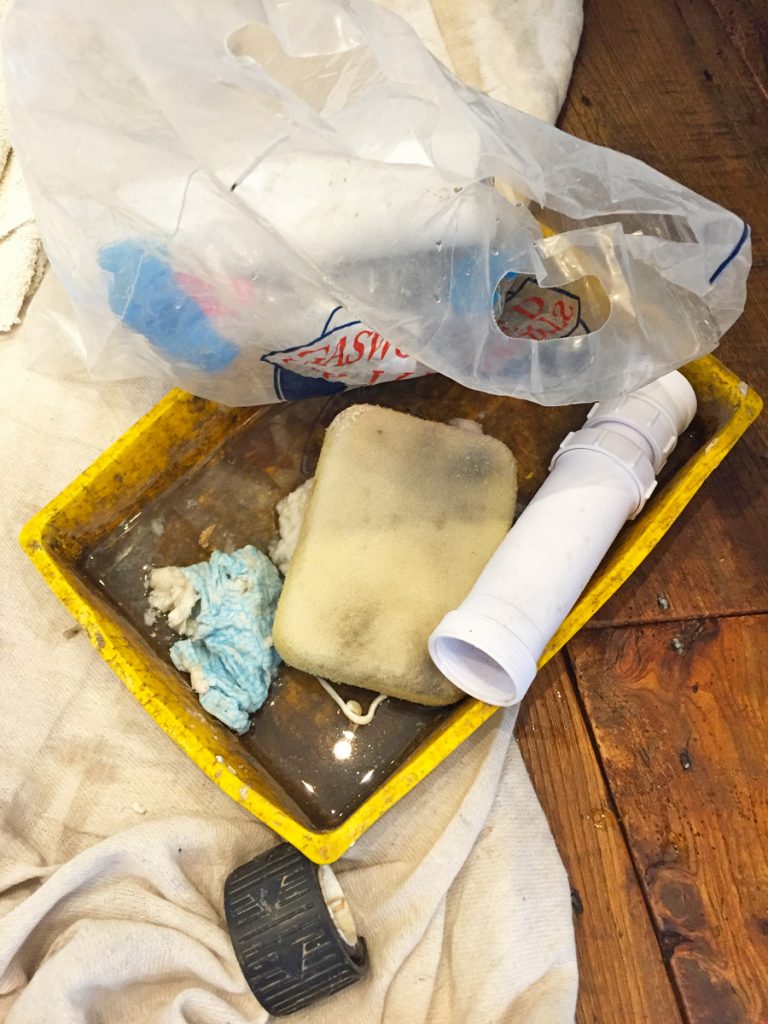 Andrew returned the following day to take a look and found a self sealing waste valve had been installed under the shower which was preventing the water from draining as fast as the shower was filling up, so he removed this. These are usually installed to stop sewer gases and smells from coming back up the pipe but they do slow the water flow down considerably. Our water pressure is so high that the shower fills up very fast and therefore needs to drain as fast as it fills.
Andrew couldn't find an issue with the temperature though, so maybe that was just a glitch…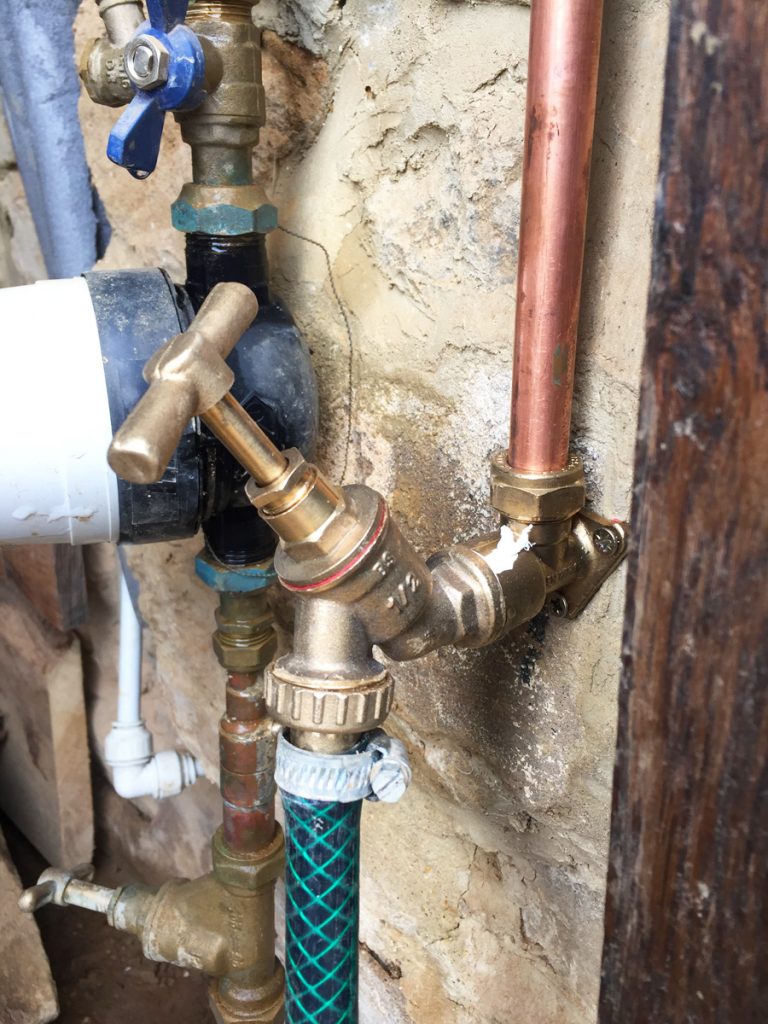 Andrew has fitted a new outside tap in the garage replacing the old one that was hanging off the wall and leaking.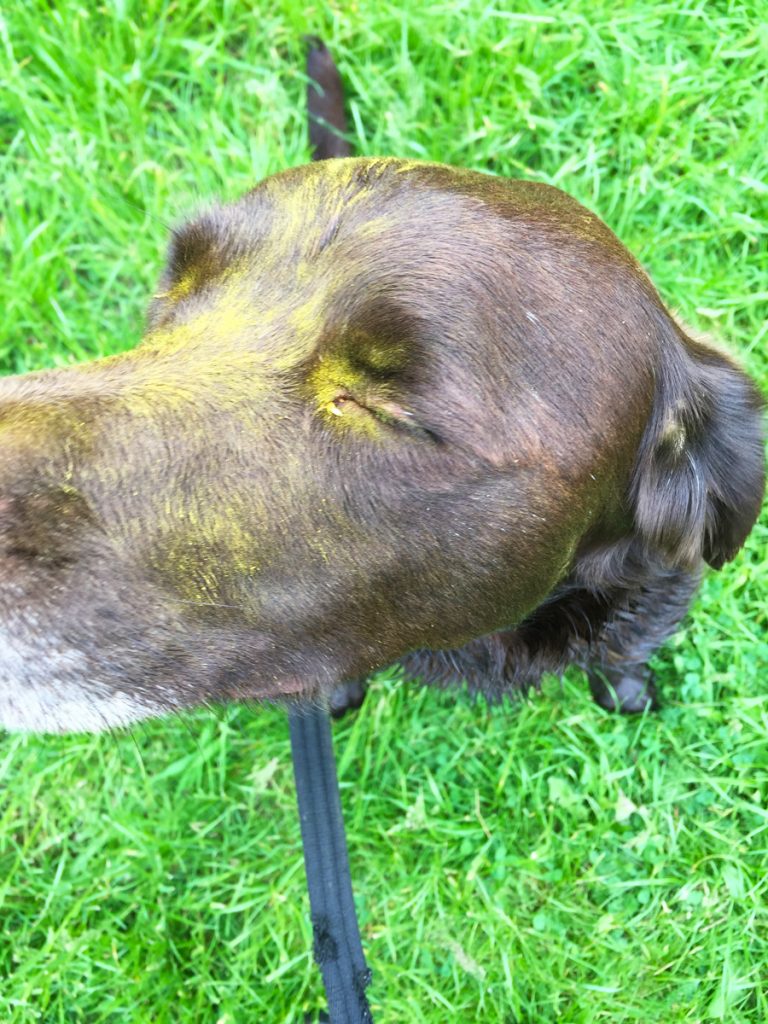 Jasper was a very naughty dog this morning and wouldn't leave a yellow field full of buttercups because there were pheasants there. Head down, he ran and ran and ran and ignored me and a neighbour who chased after him for half an hour trying to catch him. He now looks like he has been paint balling.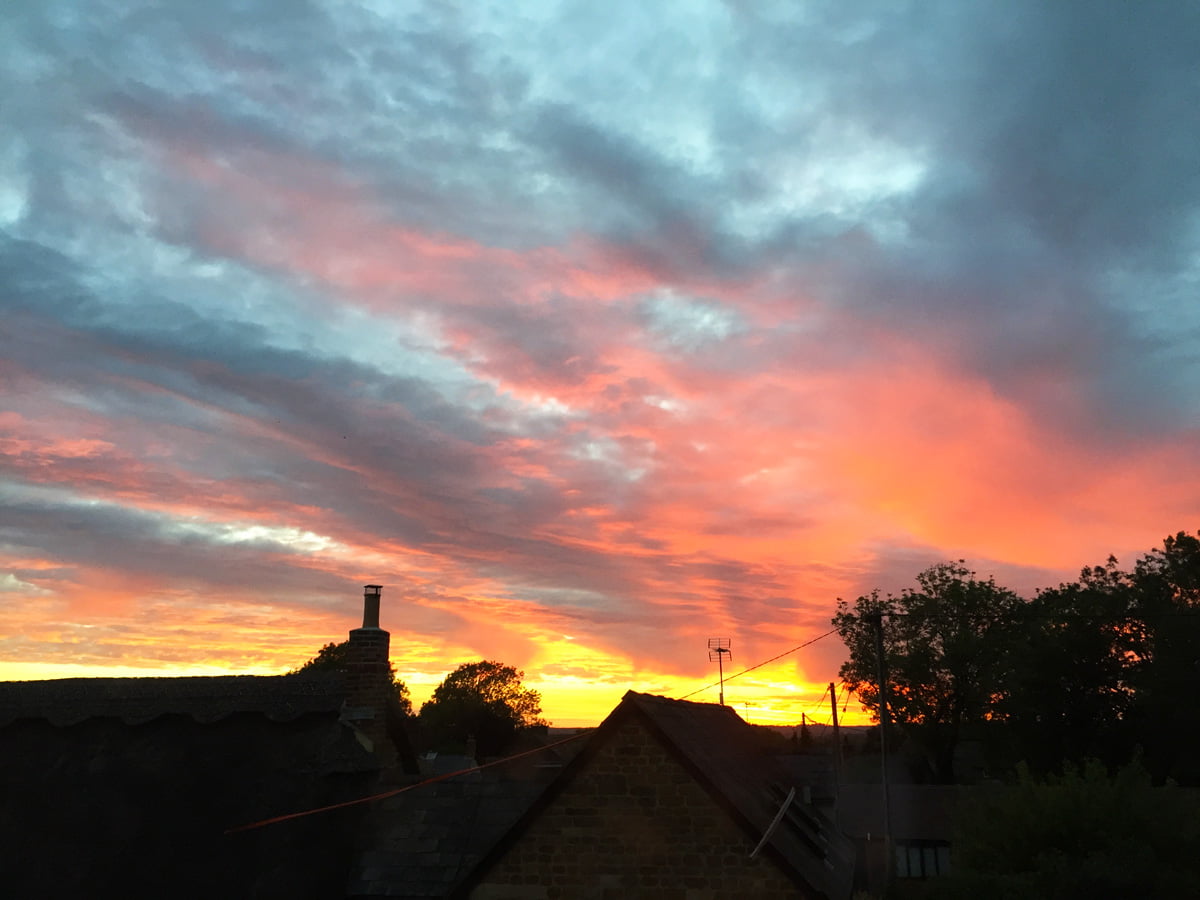 This evening's spectacular sunset viewed from the attic bedroom windows.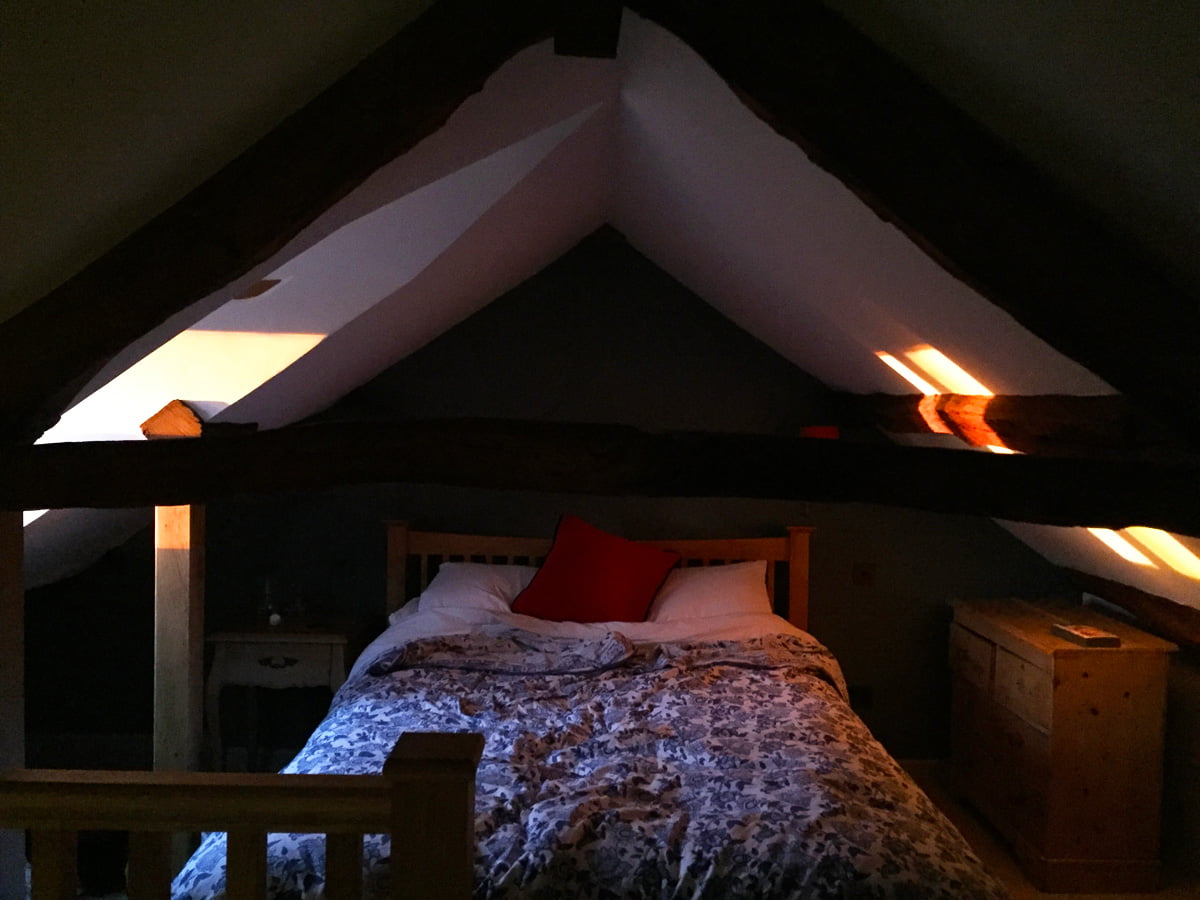 The sunset reflects into the room lighting it up like a fire!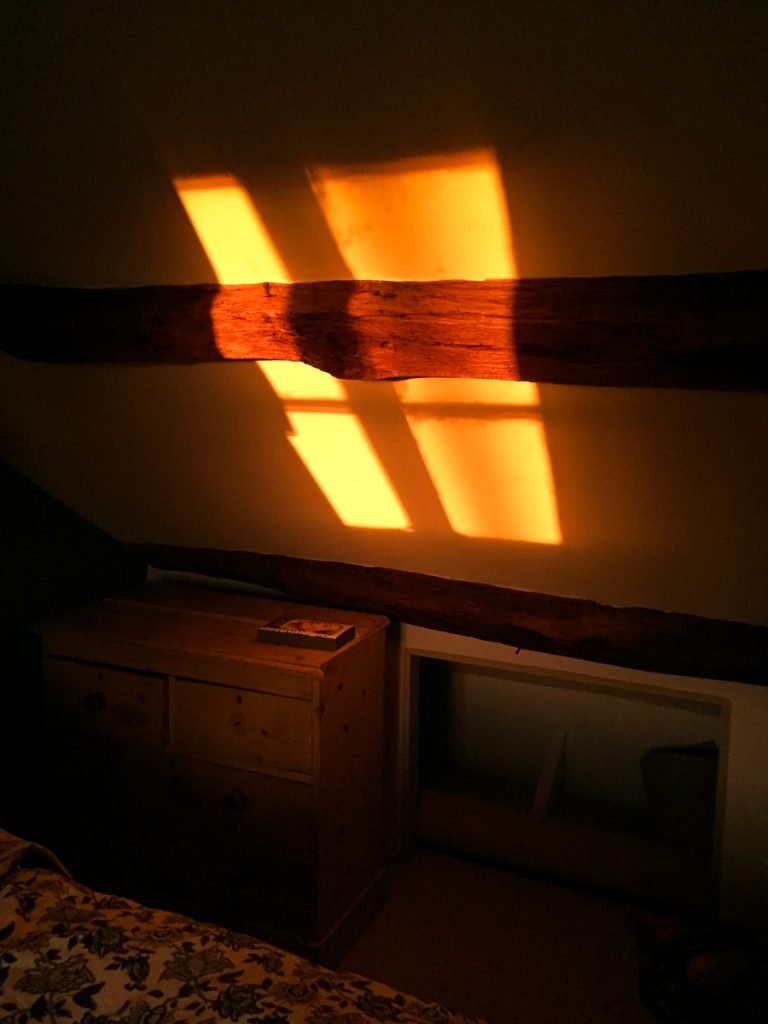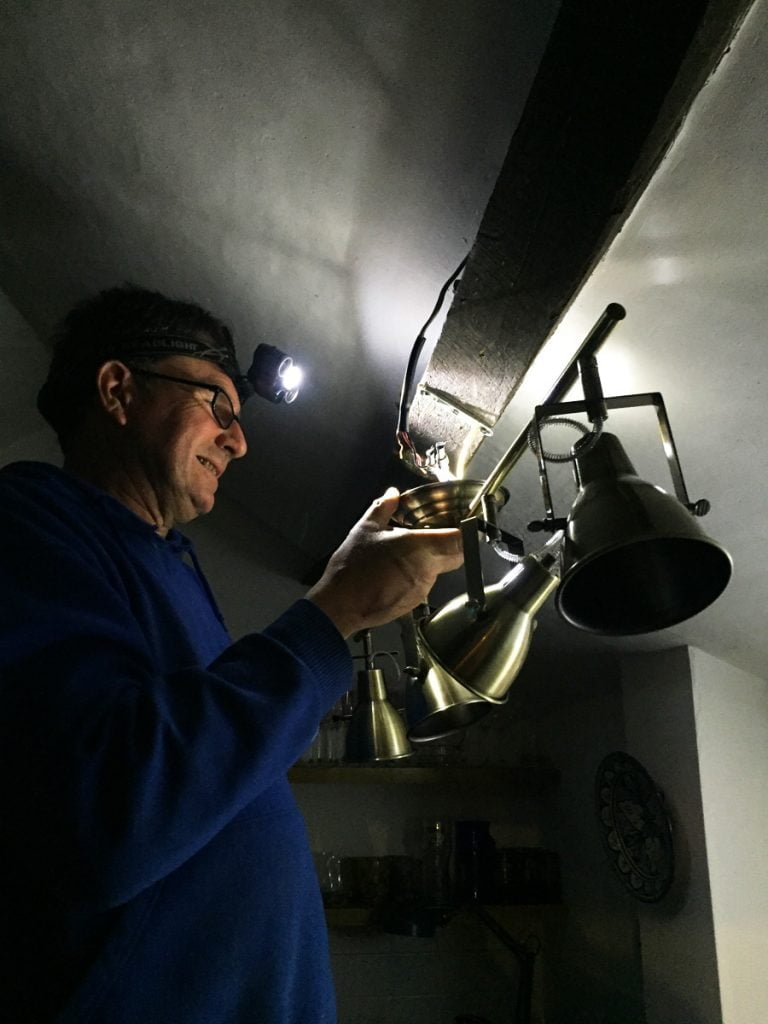 Colin fitting our new kitchen light in the dark.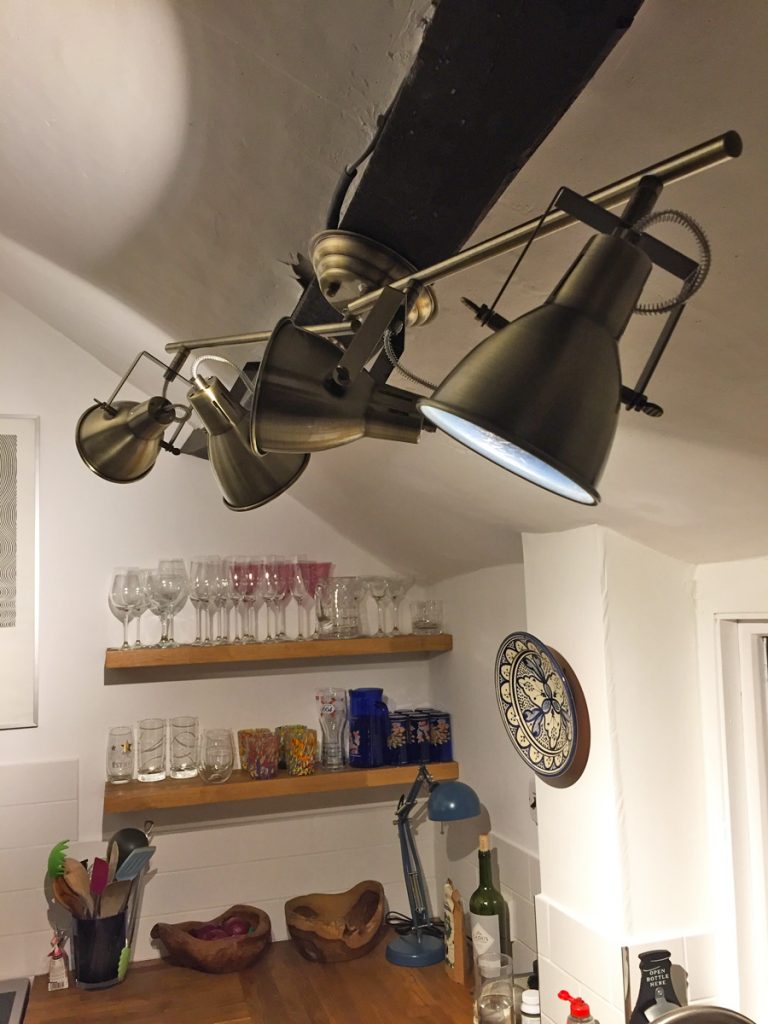 It looks great as a temporary measure until phase 2, when we demolish and replace this extension. It is still a bit dark in the kitchen and really needs 'task' lighting but we wanted to replace what was already here without laying any new cables etc.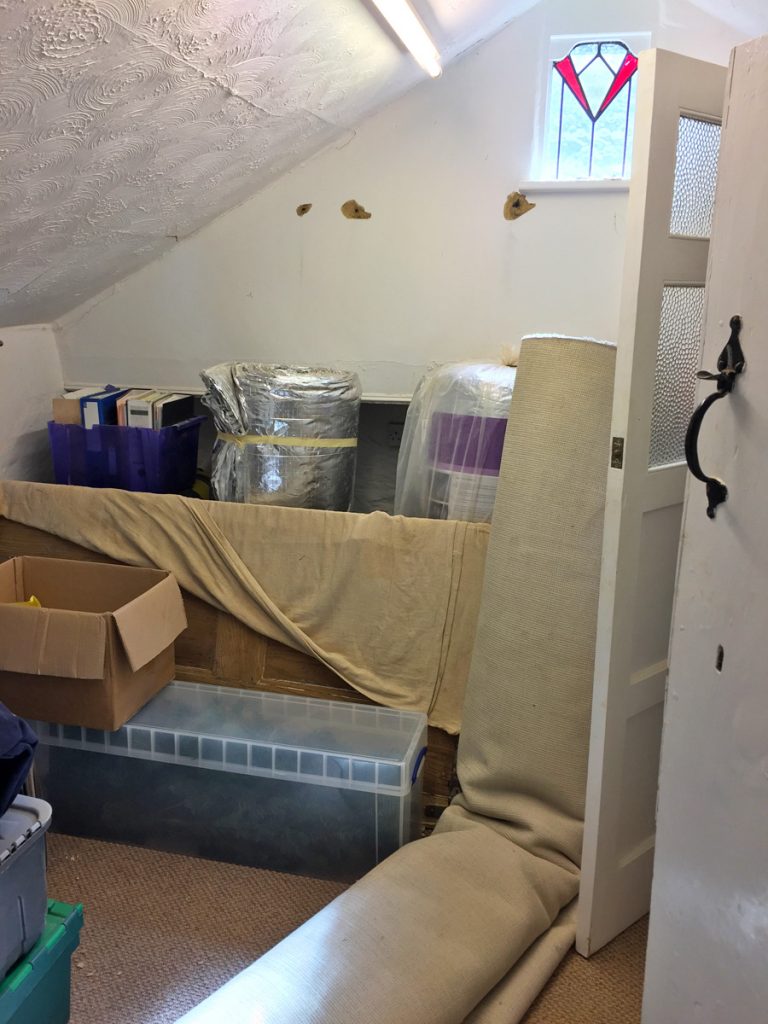 Clearing out the end bedroom, the last room in the house to be cleaned. It is still filled with dust and everything in it is covered in dust.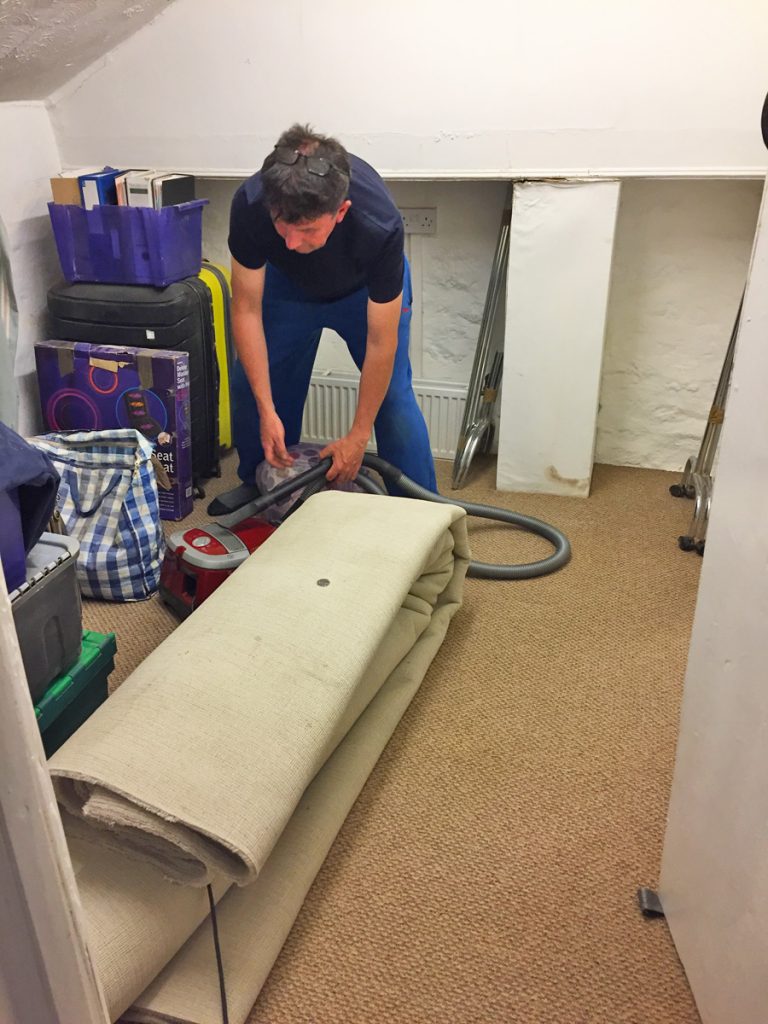 Colin hoovering the dust up, the plastic boxes and suitcases will need a wash though and will get a hose down in the garden.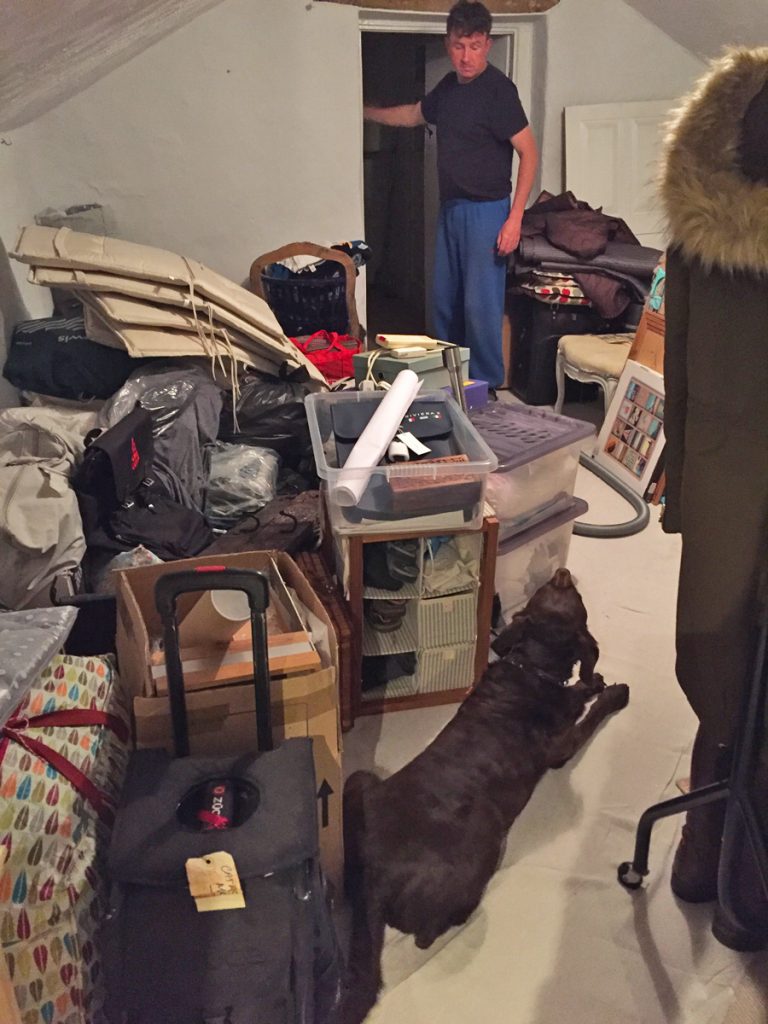 Cat's old bedroom which is to be our sorting room for a while. You can see why!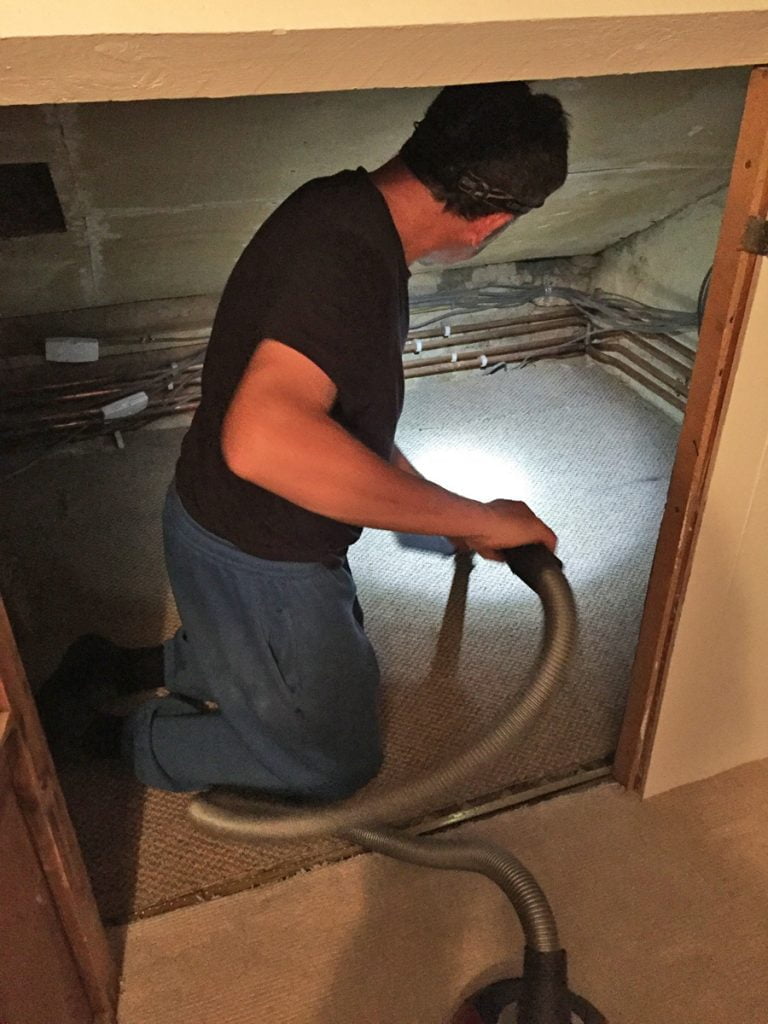 The cupboard under the eaves in Cat's old bedroom gets cleaned and hoovered.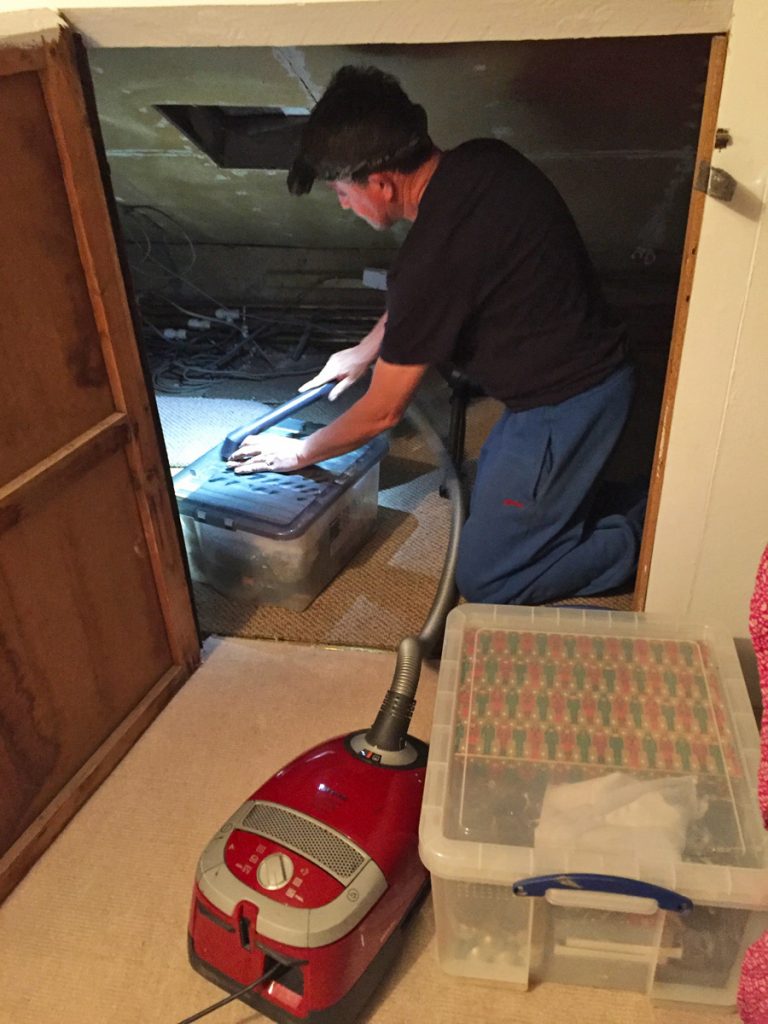 Cleaning the thick dust from boxes that have been in the house throughout the renovations.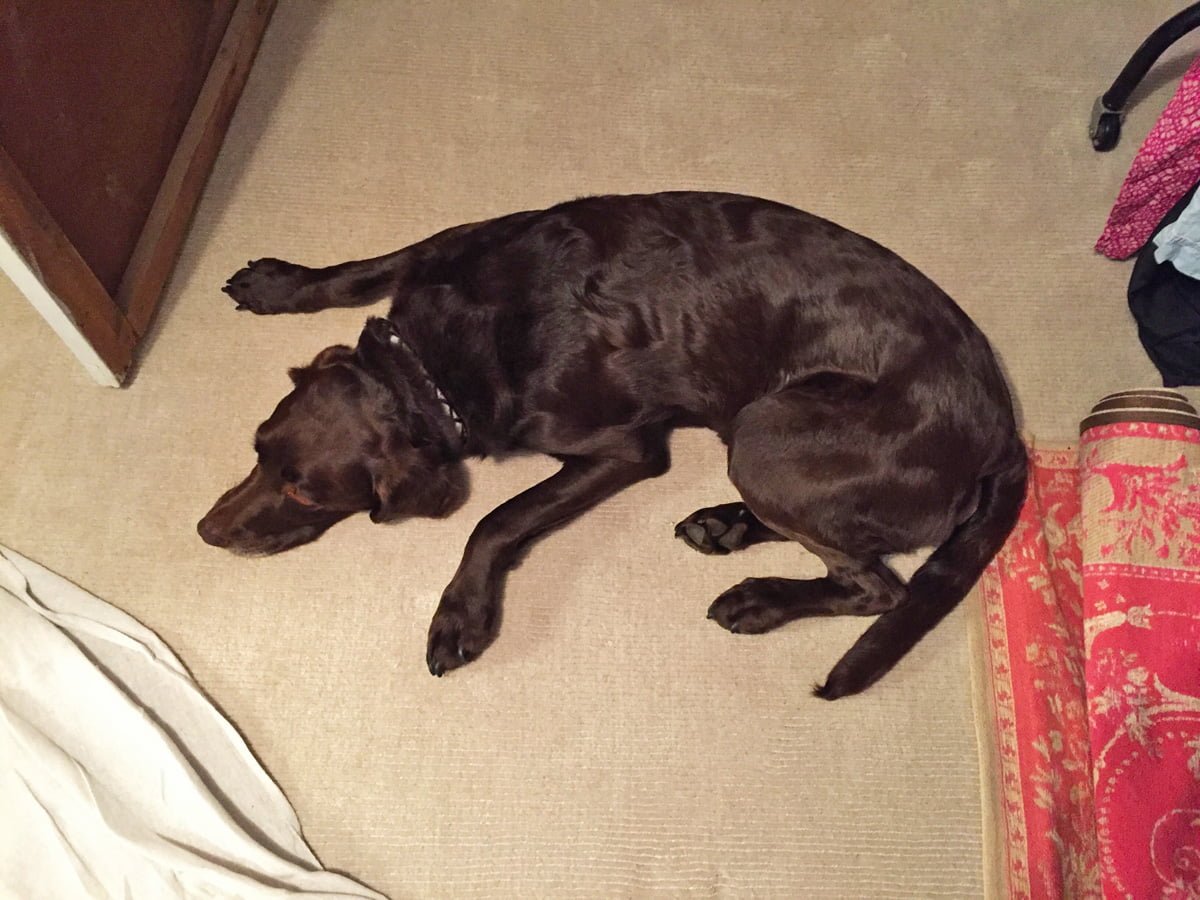 Jasper loves the new carpet in here.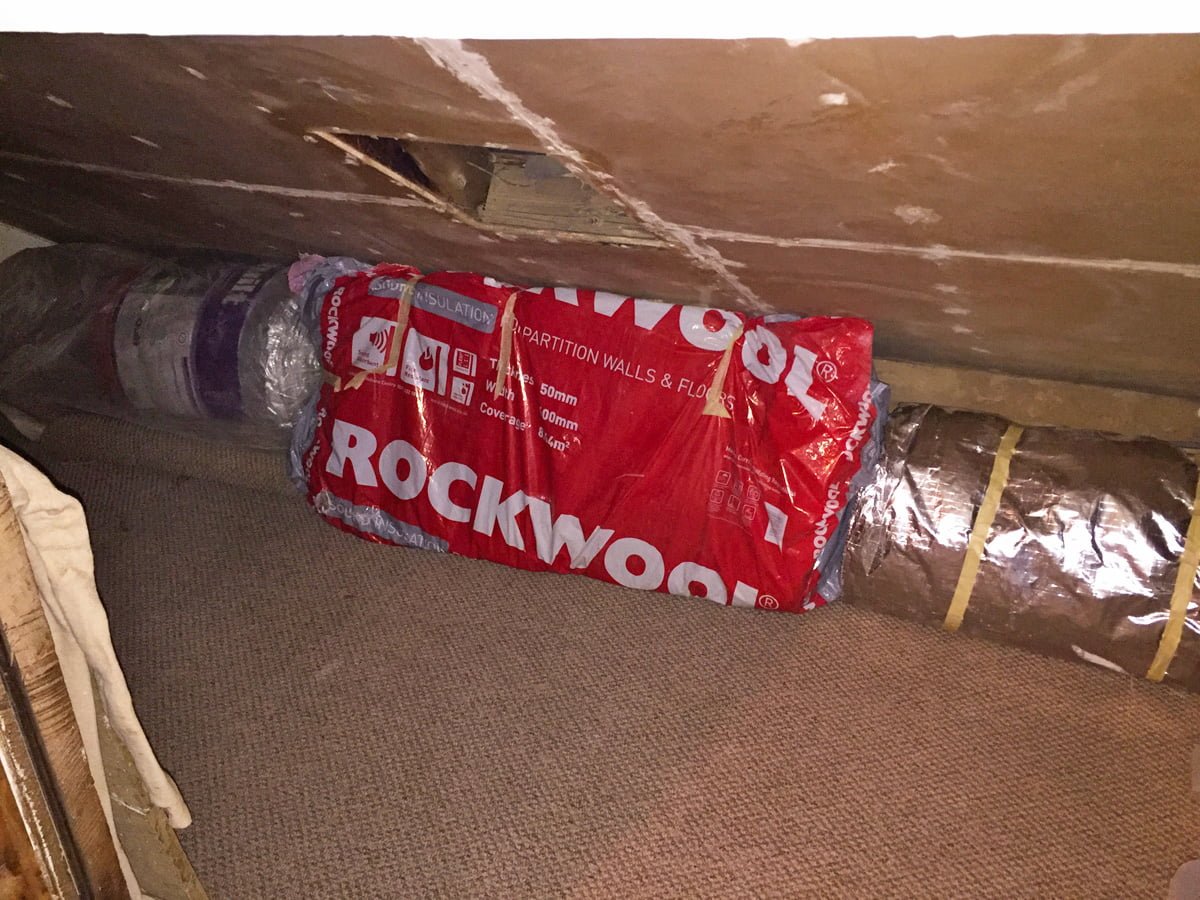 We have a couple of rolls of loft insulation and a big bag of Rockwool ceiling and wall insulation left over. These will be used in phase 2 so for now they get stored away in the eaves cupboard.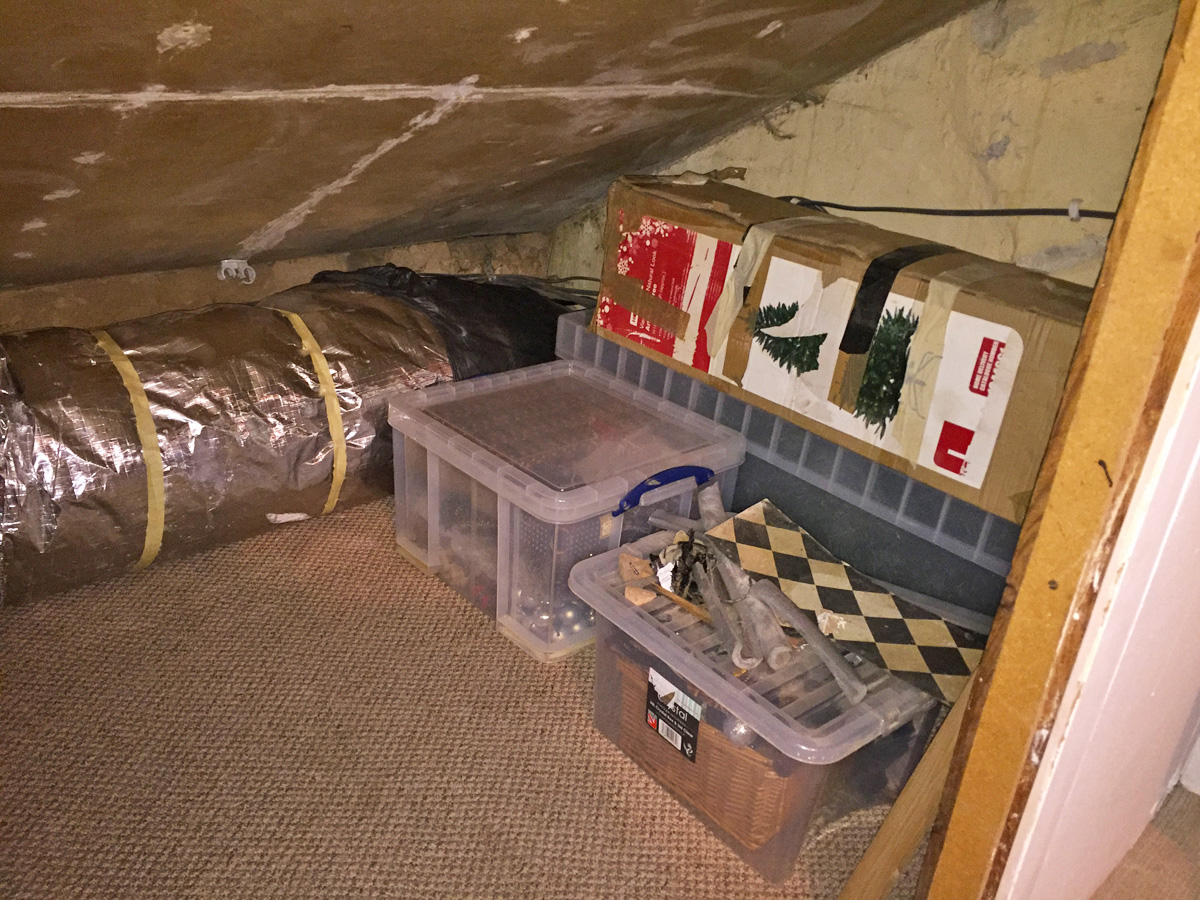 Christmas trees and decorations are next to go into this cupboard. Everything else needs sorting before it gets stored in here.