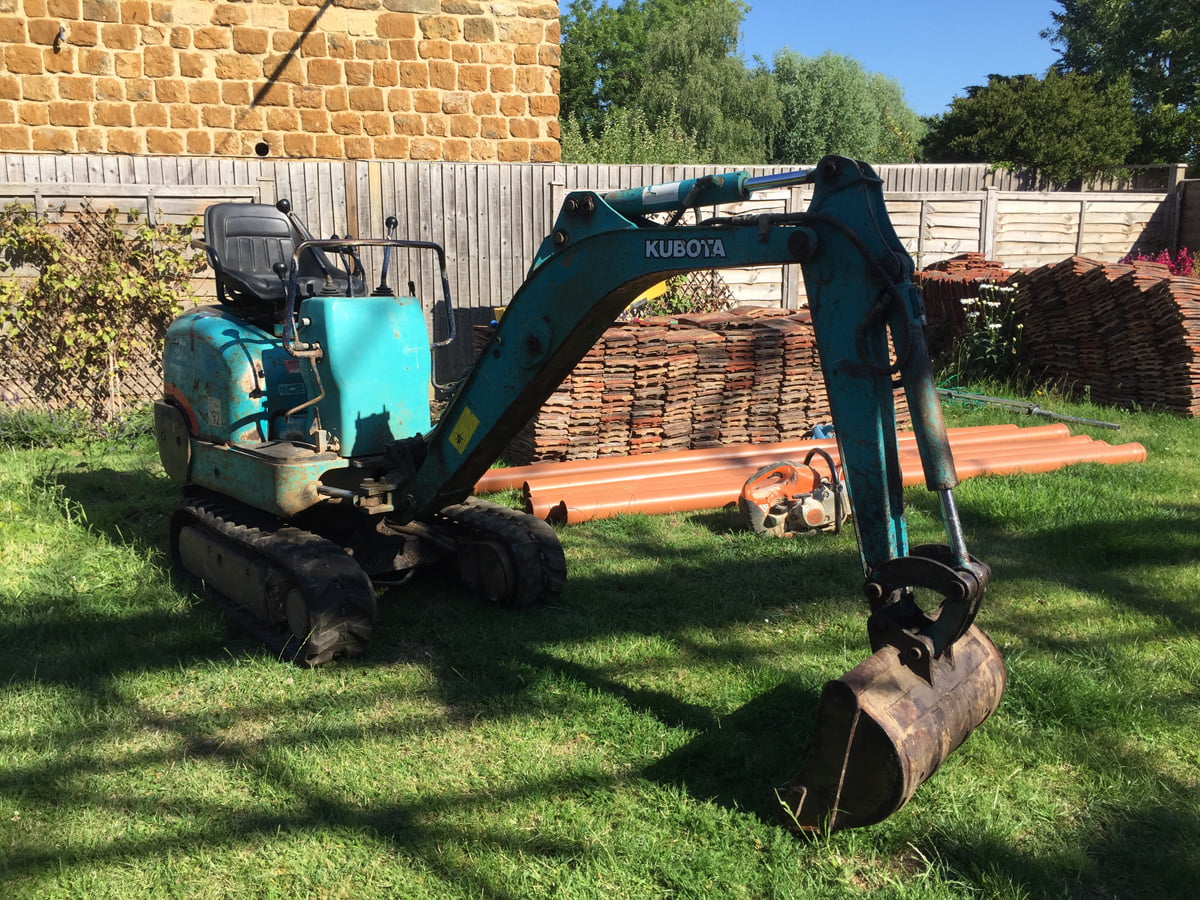 Typically, on the hottest day of the year, Tom & Dan are working outside, digging in the trench for the poo pipe. This mini digger, known as "Scoopy", arrived to help out. A very suitable name for the poo pipe task I think you'll agree. Now known as "Scooby poo".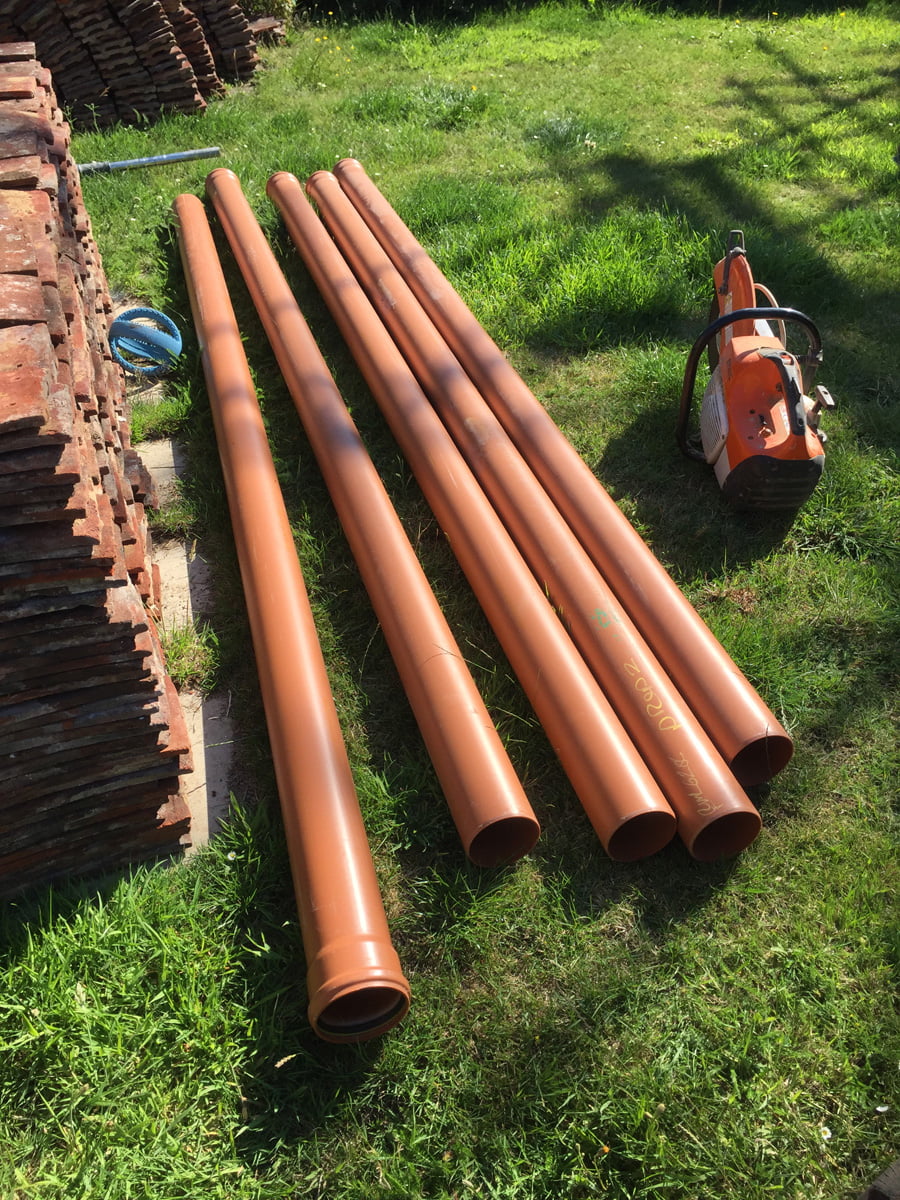 The mains drainage is in the path at the rear of our back garden, so the drain will be going across the garden diagonally to join it. It does look like they are cheerfully digging a grave here!
A call to our Architect, James, and he pops around again with his metal detector. James, Dan and Tom all start a mini archaeological dig, it seems we have inspired Dan and Tom in the joys of 'finds'.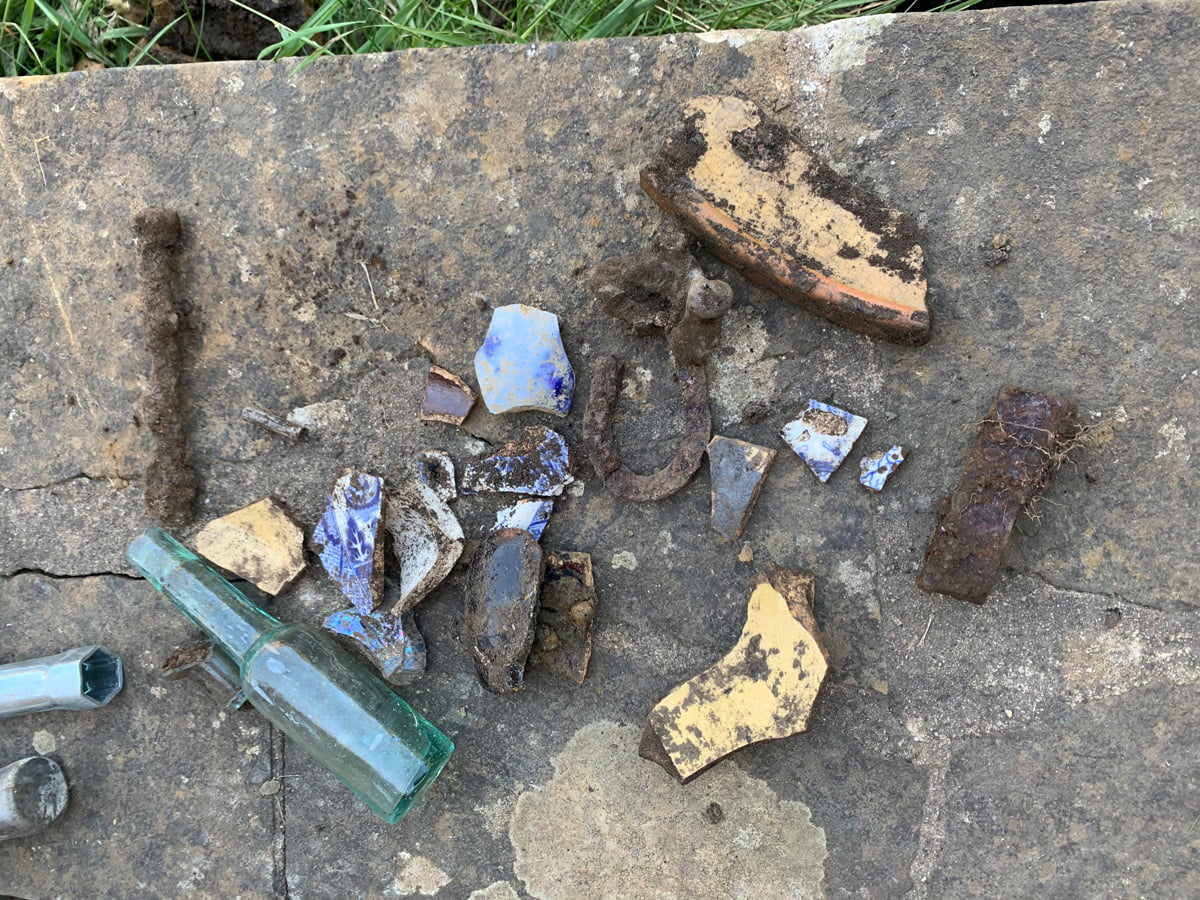 And this is what they found, including this fabulous mini glass bottle and a mini horseshoe.
The happy scaffolders returned today to make it even larger. They arrived at 7.30am to avoid the heat, very wise as it reached 30 degrees this afternoon! They are struggling to get the tin for the lid, they are still waiting on other jobs to finish as it is near impossible to buy anywhere right now. We have some tin sheets, but these will be added either tomorrow or early next week.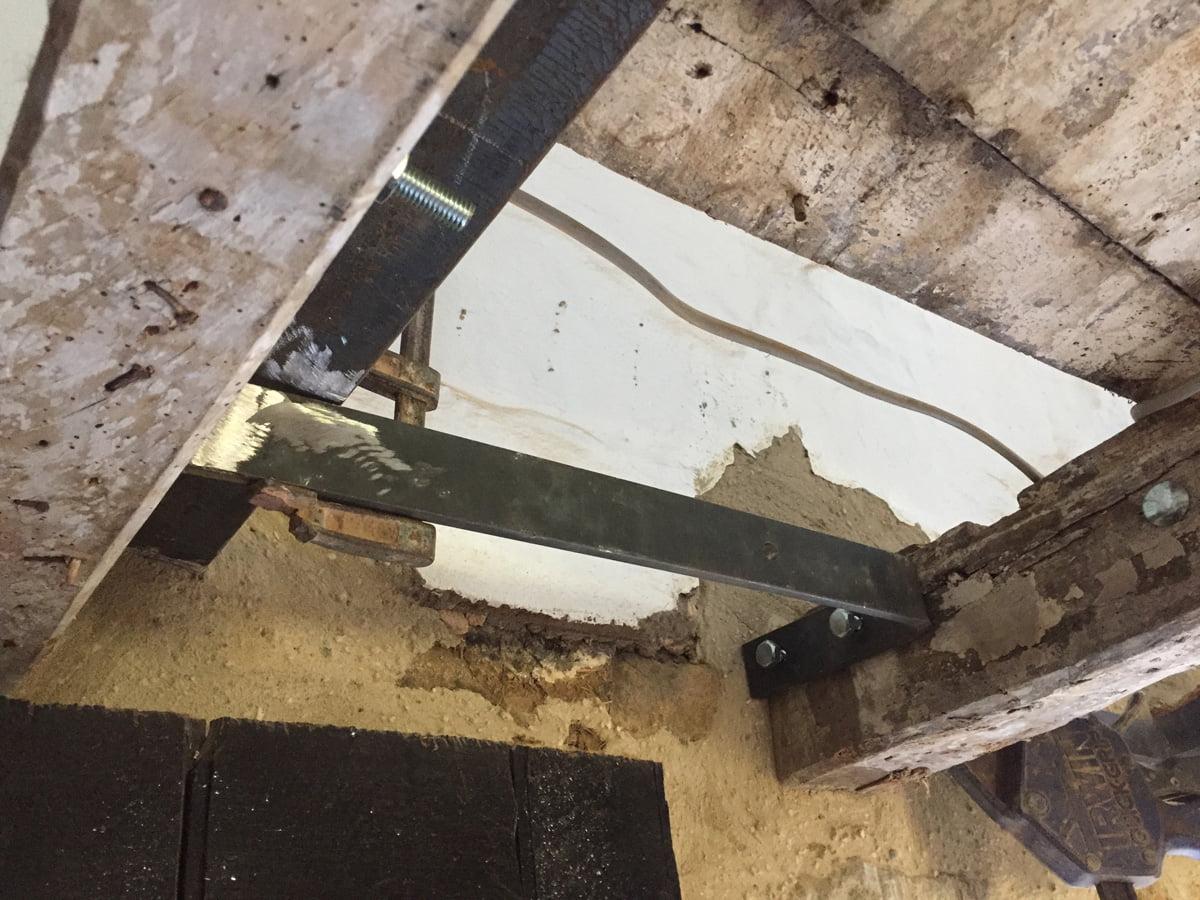 Dan has started to add the steel brackets in between the ends of the joists in the sitting room. The steel threaded rods that get drilled into the external walls, will then screw into these brackets. This is to hold the external walls, preventing them from moving out any further.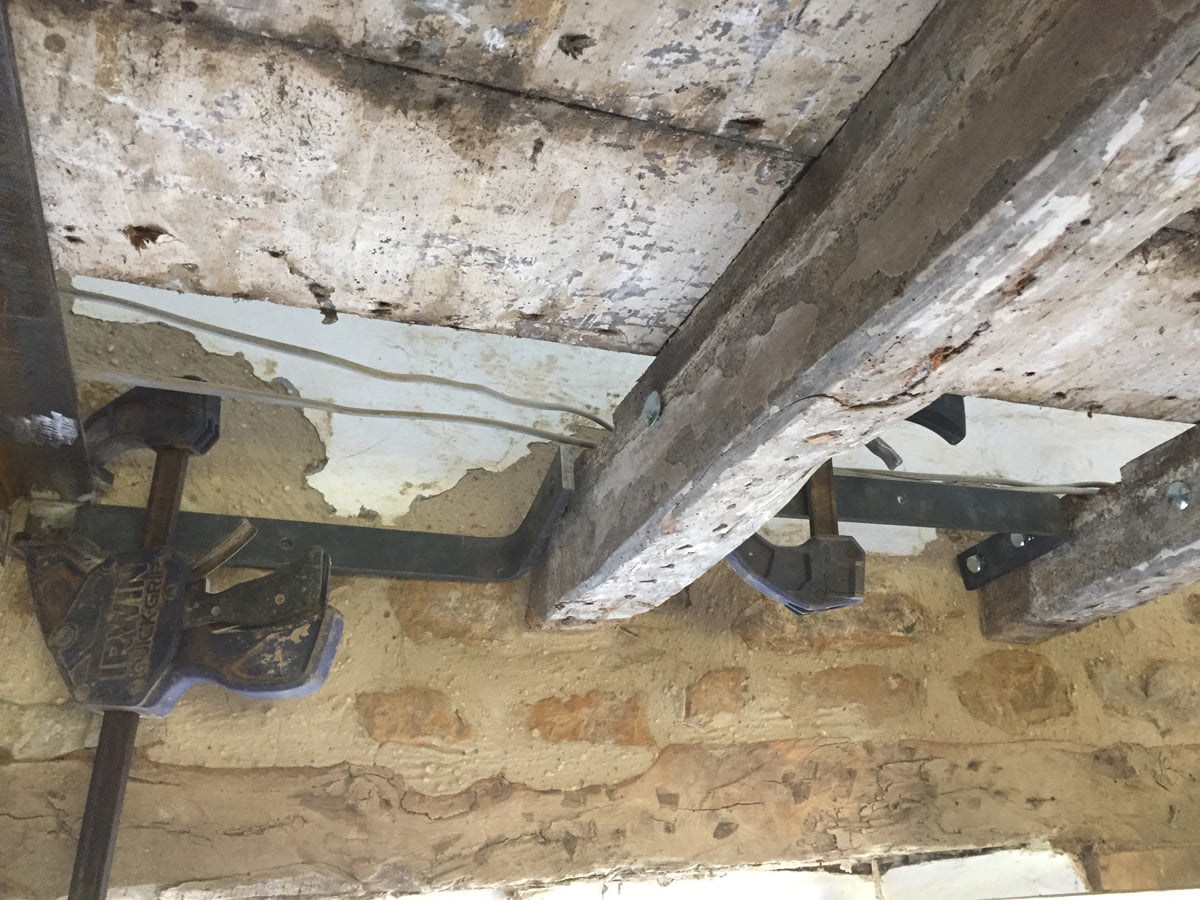 We were a little unsure about which way they sat though as they have an angled end that gets screwed into the joist, while the other end gets welded to the steel angle already attached to the side of the joists. We were also unsure if this mattered. The original drawings from the structural engineer showed these brackets placed a few inches away from the end and were originally designed to be steel with timber packing, hence the distance from the ends, but as our steel man recommended making these a complete steel angle, the need for timber packing was unnecessary. We have decided to turn them around and have them closer to the ends so that if we do decide to keep the steels visible (or run out of money and energy to finish this ceiling with insulation board in between each joist), this will look far better.
Pear Tree Art Department headquarters. We have (amazingly) rented the house adjoining ours, so didn't have far to move! There are very many benefits to this, not least being on site 24 hours to project manage, but also this fabulous kitchen/diner with double doors onto a sunny patio area. This is where we have set up our office and it is fabulous, especially in this weather.
Here Zanna demonstrates how the shower head will work. We have printed it out full size, attached it to the wall at the height it will be (we will have restricted head height in the new bathroom) and used masking tape to denote the water flow. Anyone over 6ft tall will get a very clean tummy, but we will be okay!
We had been trying to get hold of our oak man, Doug, all day again to no avail, so we drove over to his yard in the evening. We found him, his wife and two labourers busy harvesting the hay before the thunderstorms that had been promised overnight. As we suspected, he had lost his phone! We spent an hour hand picking all the oak that we required, it is a huge amount with a lot of wastage as the sizes he has are bigger than we require, but there is nothing smaller.
All we need to do now is find somewhere to cut the damn things! To be continued…