Friday has come around quickly this week. We are still trying to find someone who can cut the oak, but have found two companies who will supply AND cut the oak, thereby reducing the logistics and cost, quite dramatically. We would prefer to use the oak from Doug, but there would be so much wastage we are having doubts about this and we still cannot find anyone willing to cut it. They either can't put it through their machines, or if their machines are up to it they only cut the raw trees, not already cut oak. We have a quote from a local firm for supply, cut and planed oak which is the same as just buying the oak from Doug. It isn't English oak though, it is European, but as this is for the dormer windows and posts in the loft space we don't think it is as crucial, besides I don't think anyone other than a carpenter would notice. English oak is like hen's teeth it turns out.
Today our electrician, Sam, started removing the mass of old cables, planning the circuits, and chasing in where the cables will run to sockets and switches. This, he said, was the messiest job he had ever done. It is getting rather messy in the house. You just have to look at it and you somehow get covered in dust. Sam is having to remove loose plaster and thick layers of cement covering the walls downstairs. A very messy job, but he has uncovered this little cubby hole in the wall, a shelf possibly originally for candles.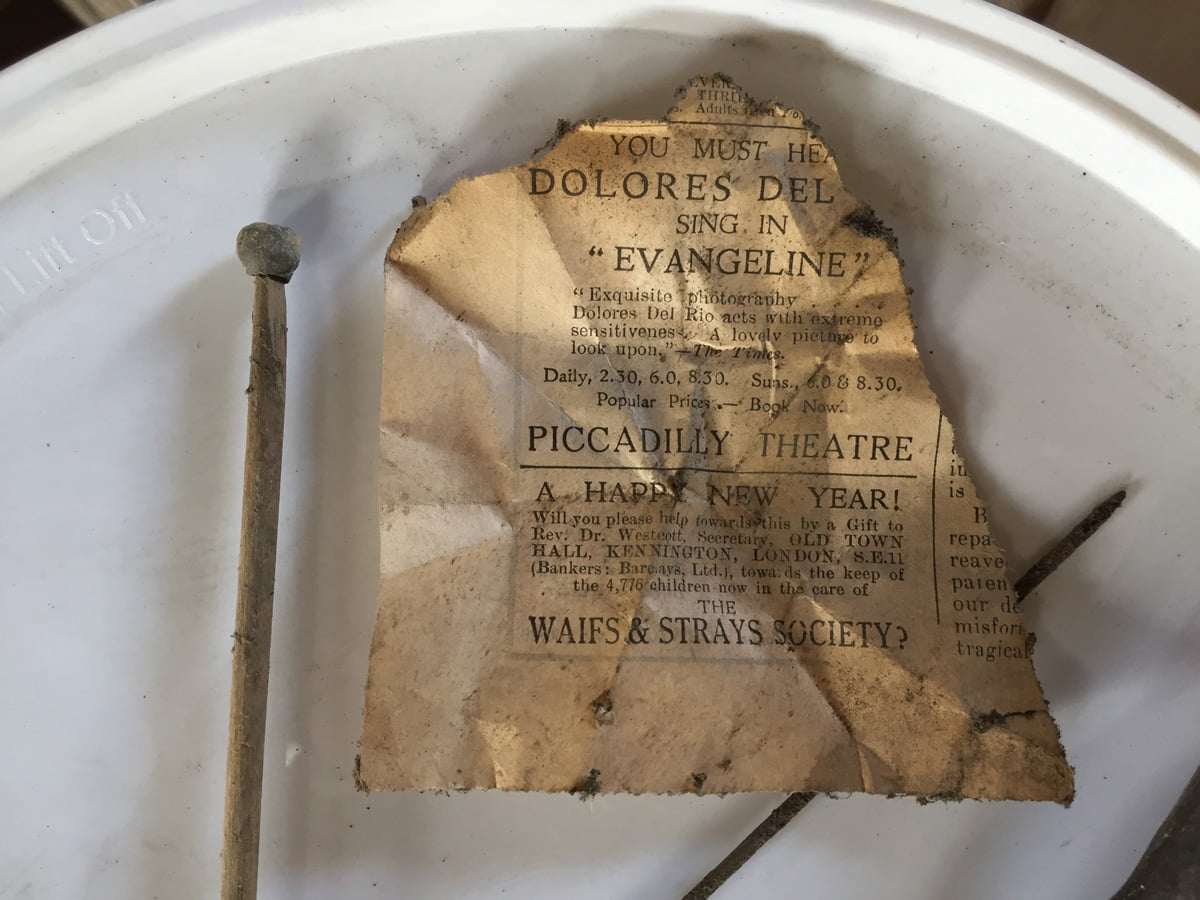 Sam found this newspaper in the corner of the wall behind the plaster along with what looks like a child's toy drum stick or a knitting needle. The newspaper advertises Dolores Del Rio in the film 'Evangeline' at the Piccadilly Theatre, this film was released in 1929! I immediately knew it was old from the typeface.
The poo pipe installation across the garden is complete, ready for when the bathroom gets installed upstairs in a few weeks time…
There are a few more interesting finds from Tom and Dan too!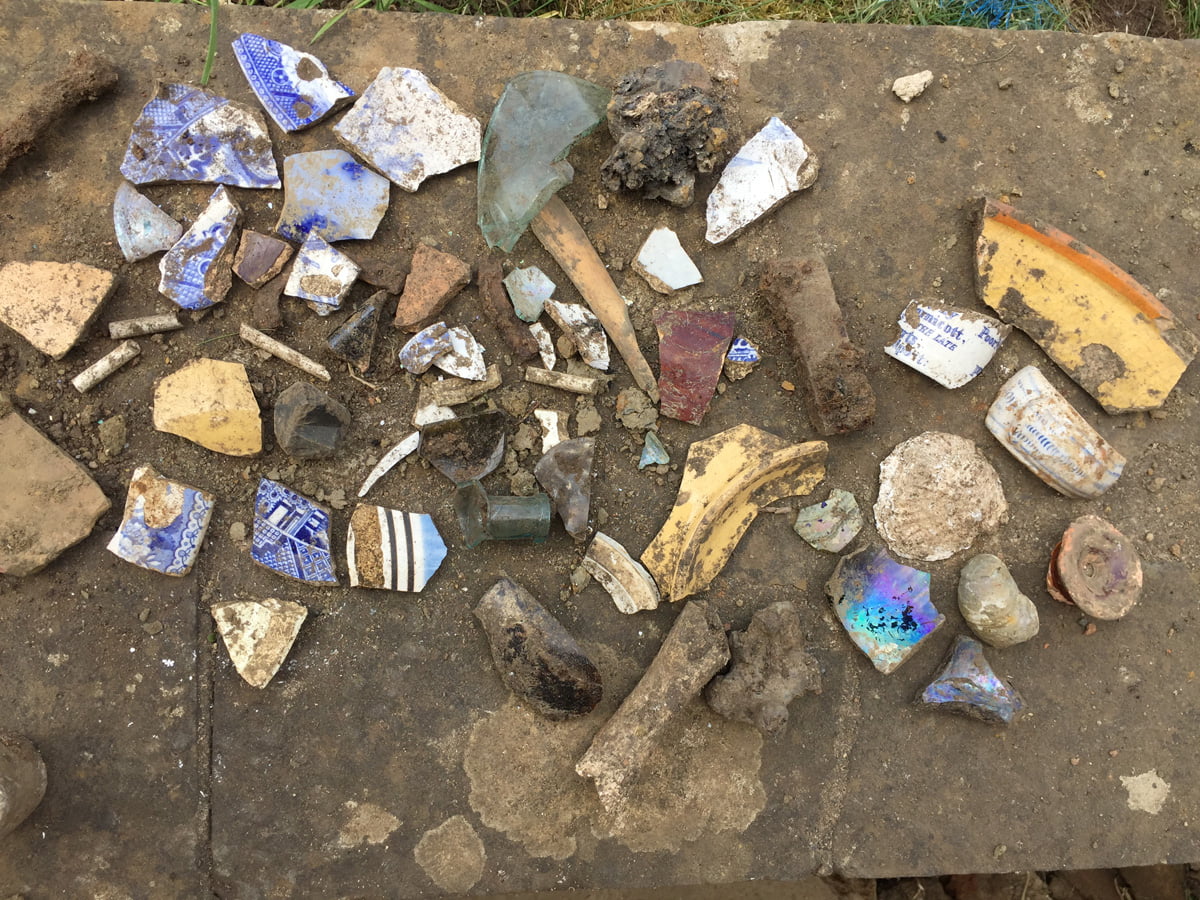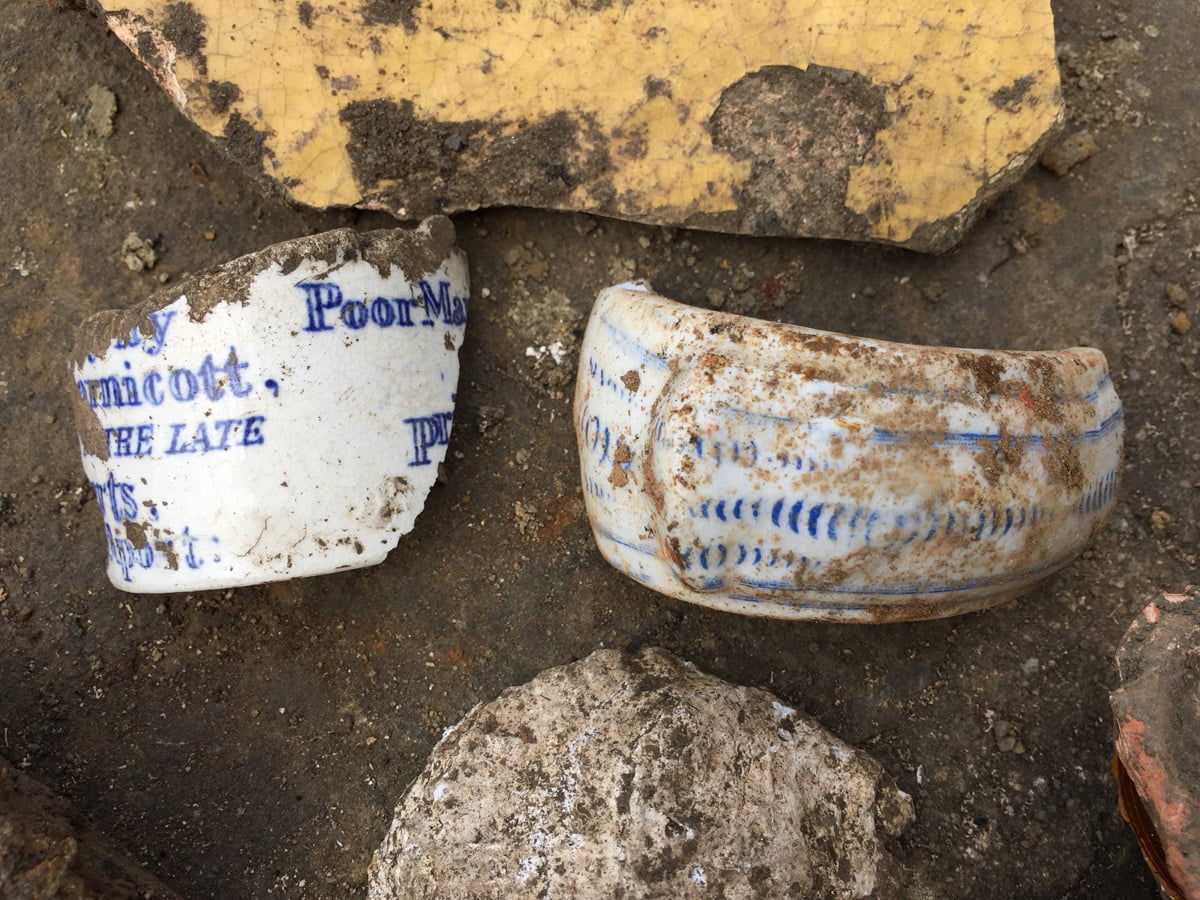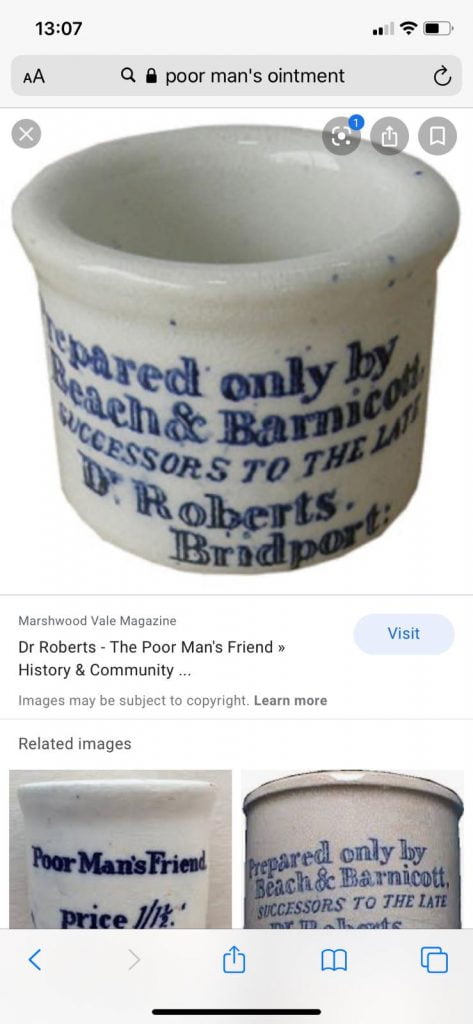 Some interesting pottery was found here including this, the "Poor Man's Friend', a popular 18th/19th-century remedy for wounds and skin conditions.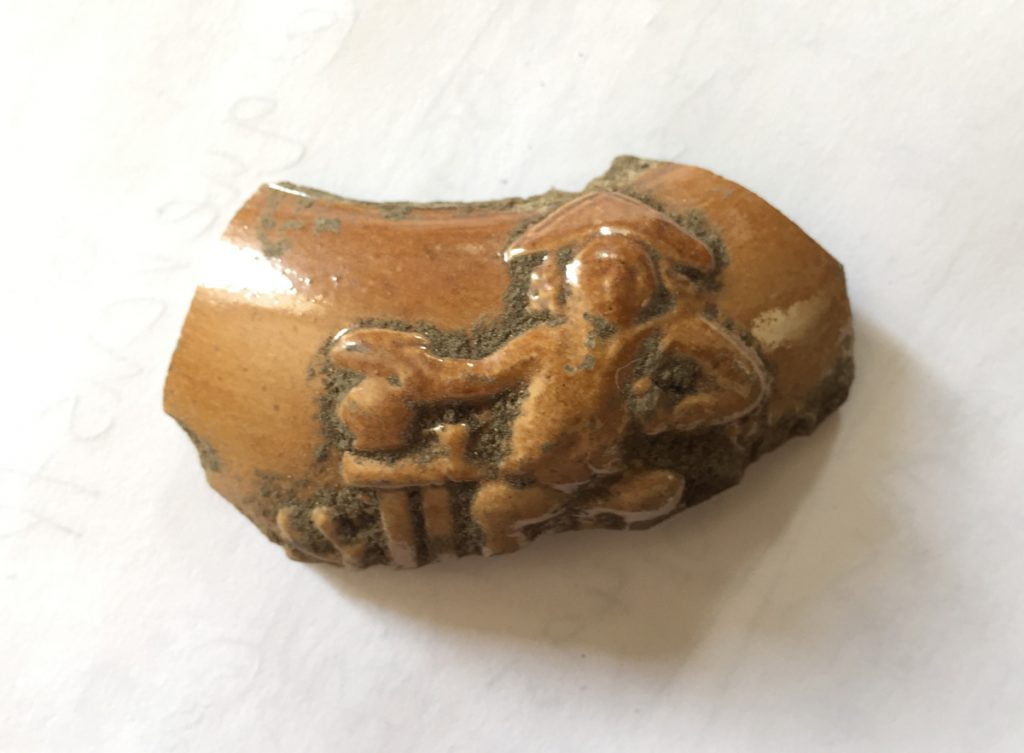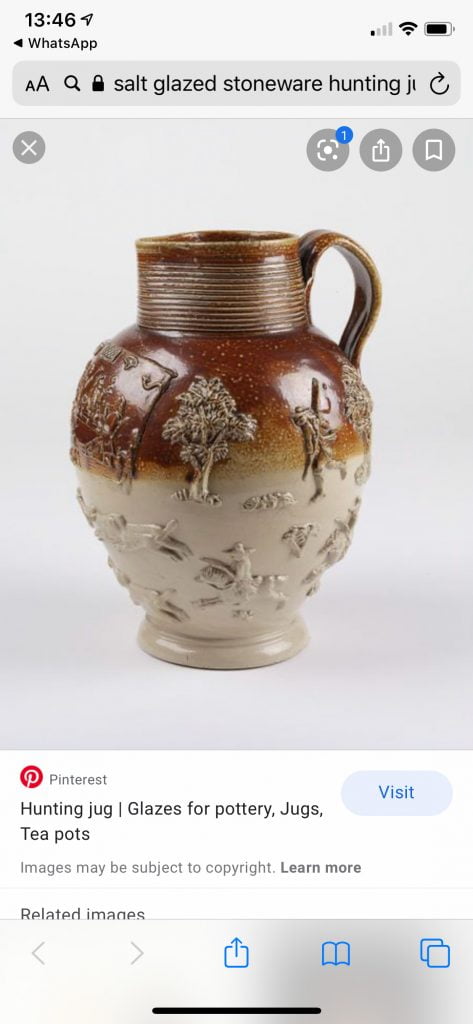 Tom found this and was very excited by it. We sent a photo to The Historical Oracle (our older sister, Lucy) who within minutes came back with this: "Yes, that could be late 18th century 1770s-1800, very much Poldark's era. A type of salt glazed stoneware. This time with applied clay decoration – these would have been made in moulds like making gingerbread, then stuck on. This could be the wide part of a jug… Although, despite the style of dress it may be 1880s as this rustic 'vintage' style was fashionable then too – but definitely a jug!"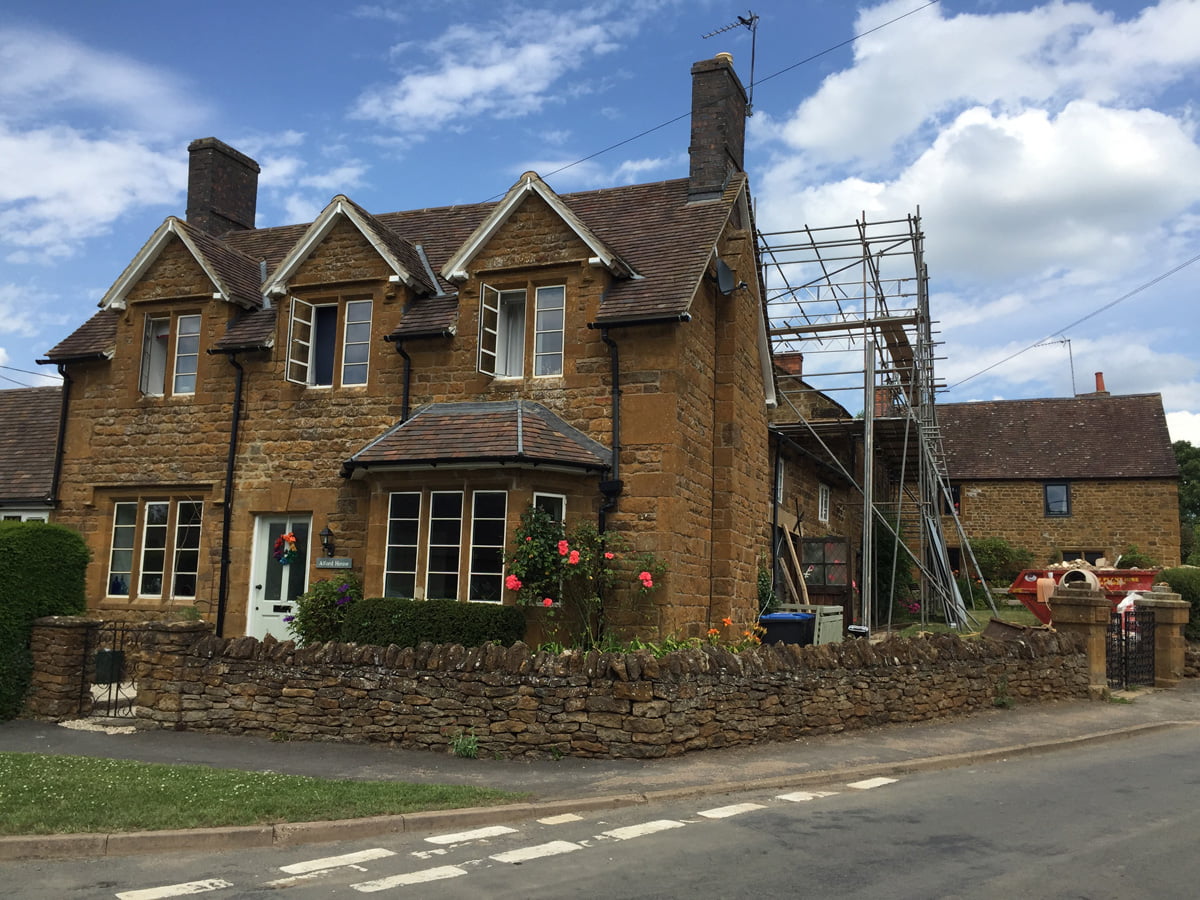 Since building work started nearly 3 weeks ago, we have been living in here. Yes, it is the house right next door which just so happened to be empty so we are renting it from the owners. You couldn't get more convenient, or lucky than this and it's so much easier to project manage the build. They are dog owners too so Jasper is more than welcome. The house looks bigger than it actually is, we have one room just crammed full of unopened boxes, but it is beautifully decorated with a fabulous bathroom. The absolute antithesis of our house next door.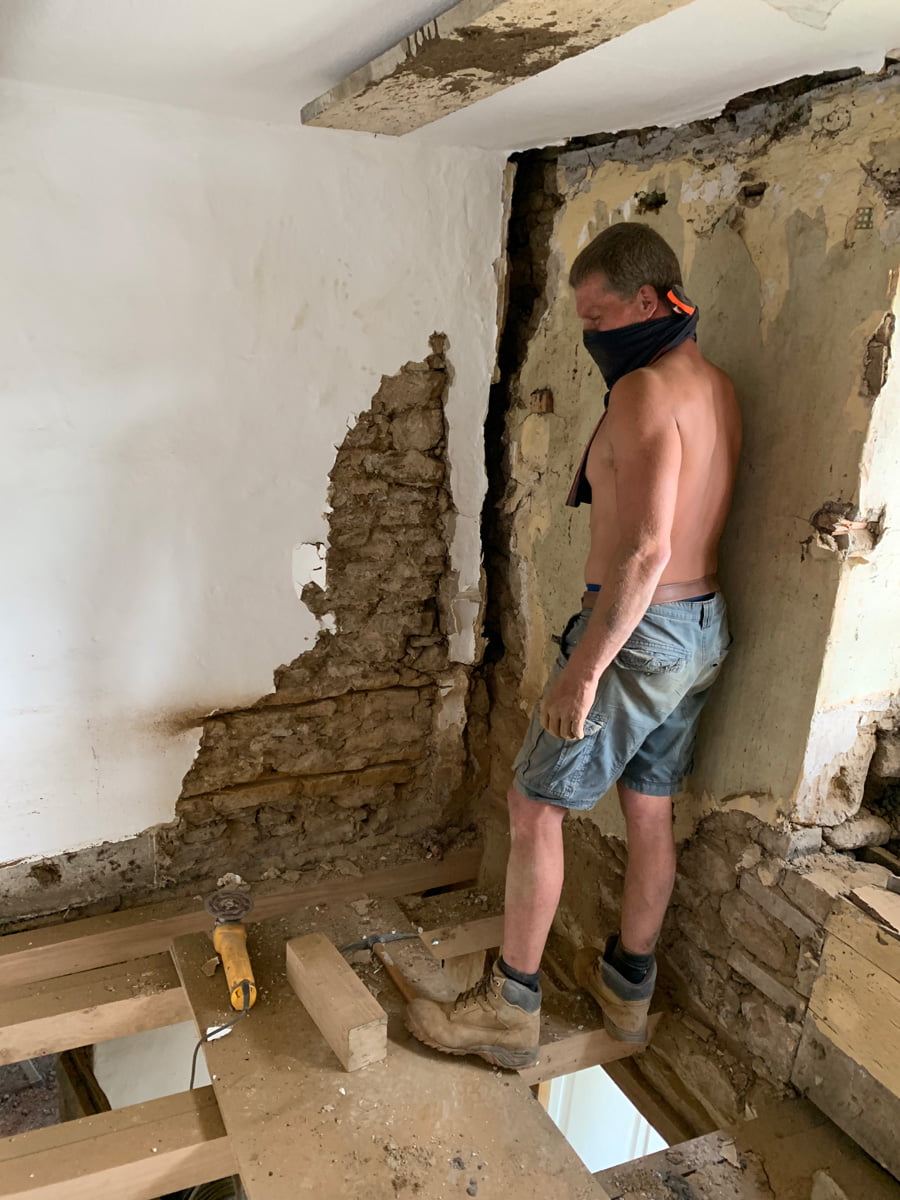 So today was all about the MASSIVE crack between the internal stone wall and the front wall. We had already established it was the size of an arm when the structural engineer was here, but today Tom started work on installing the steel Helibars to strap the two walls together. He stopped and got us over to show us what he had uncovered…
What we thought was a really bad crack, indeed one of the worst the structural engineer had ever seen, turned out to be a bloody great big CHASM! Almost a doorway. You could get a whole person through it. It's about a foot wide and is like something from Stranger Things! (If you haven't seen this Netflix series then you should). Cool, calm Tom, who doesn't get phased by much, was quite shocked!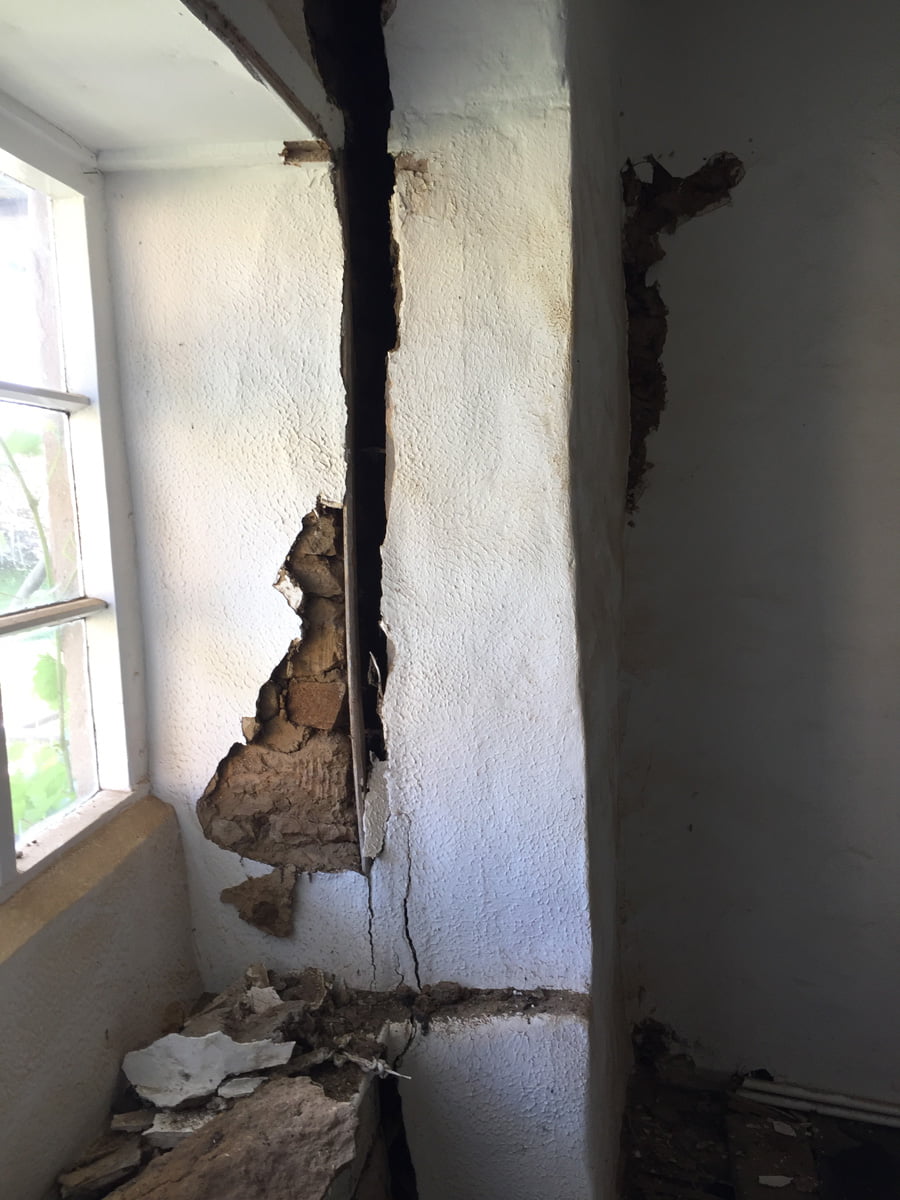 The buttress in Zanna's bedroom, which is on the other side of the internal wall, makes a lot more sense now. This wasn't just put in to keep the ceilings/floors up, this was added to hide the 'doorway to another world'. Insane, especially as they had made NO attempt to tie the walls together so the front wall had continued to move away from the buttress. The massive crack we originally found was only the gap between the wall and the buttress, the actual buttress (around a foot deep) was built to fill in THE CHASM.
We are all stunned by this! We were not expecting the front wall to have moved this far out! We were not expecting to find that these walls were not tied in and never had been! We are now expecting to find more frightening examples of 'how not to build a house' when we eventually get to move up into the loft area! We can already see that the main A-Frame of the roof is sitting on the corner of the internal wall – this SHOULD be sitting on the external wall! This will need to be supported with Acrow Props and rebuilt. And this is just what we can see from downstairs, we've never managed to inspect the loft very well as you can't safely walk across the floors and there are no lights. Next week the roof is due to be removed, so we will know more then…..
Zanna perilously balancing across the sitting room ceiling joists in flip flops to take photos of THE CHASM and retrieve some scraps of newspaper that the builders had found and left on the window seat. For those old enough to remember, this was like The Adventure Game (an 80's TV show) as Zanna placed old floorboards over the gaps and stood on them and Catriona shouted the instructions: "Don't stand there/mind the nails/that's a hole!" The 1980's newspaper was clearly worth risking life and limb for and very appropriate.