We have been putting the flagstone sealing weekend off for a while as we knew it was going to be physically hard, but we have to seal the flagstone floor in the sitting room to protect it after it was cleaned a few weeks ago. We covered the floor up with Ram Board immediately after it was cleaned as this is the main thoroughfare upstairs. It's a good job we did as it is covered in dust, rubble and footprints.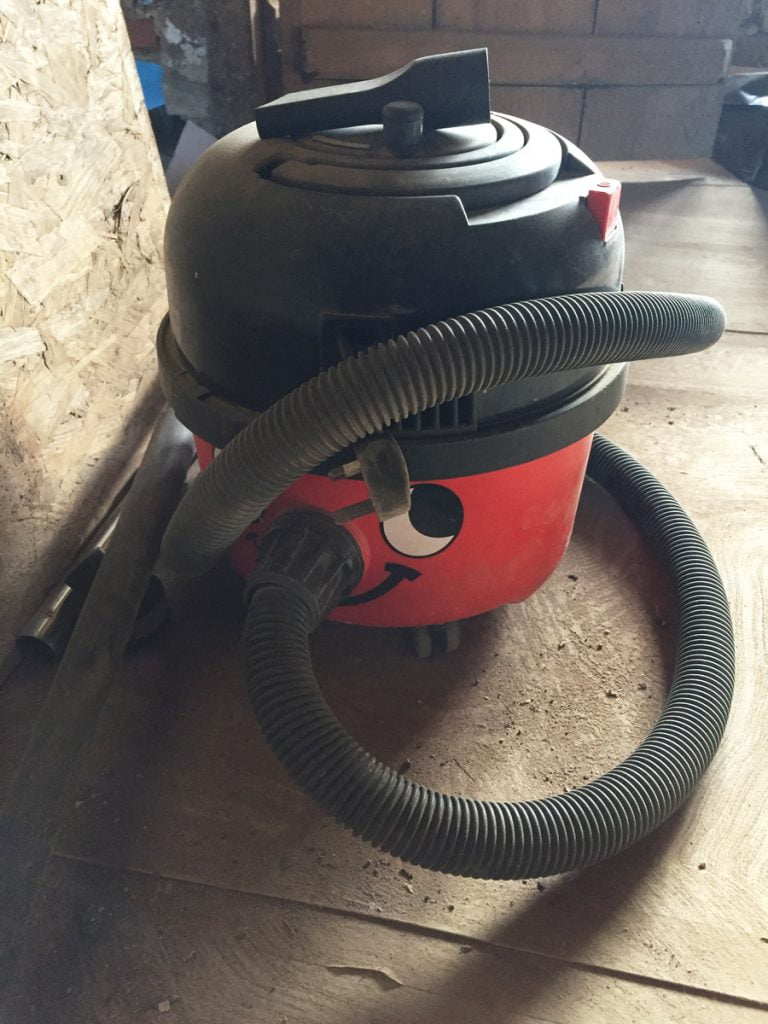 The worst of the dust has been made we think (we hope), so Cat has been hoovering the study – floors, walls, everything – as the stone dust is ingrained into everything.
Unfortunately Henry hoover, who has been hoovering up building rubble and dust for over 3 years for us, has finally given up. A sad day. He was super powerful.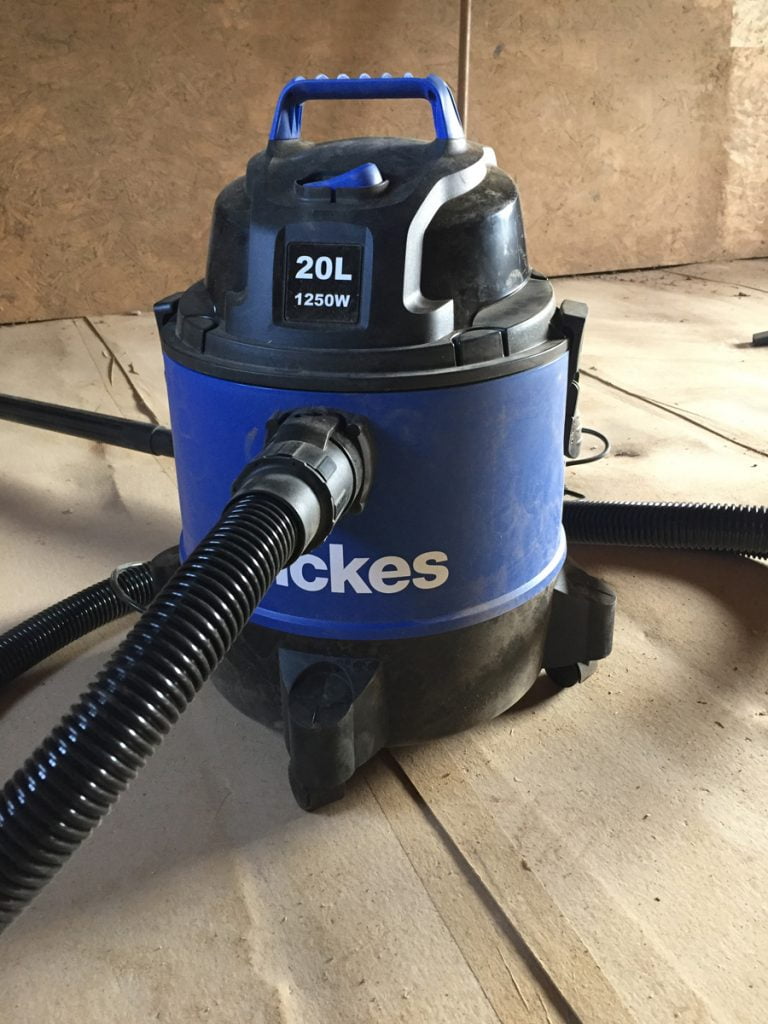 Henry's replacement is a cheap wet and dry Wickes hoover. Nothing like Henry but is fine for the really dirty jobs.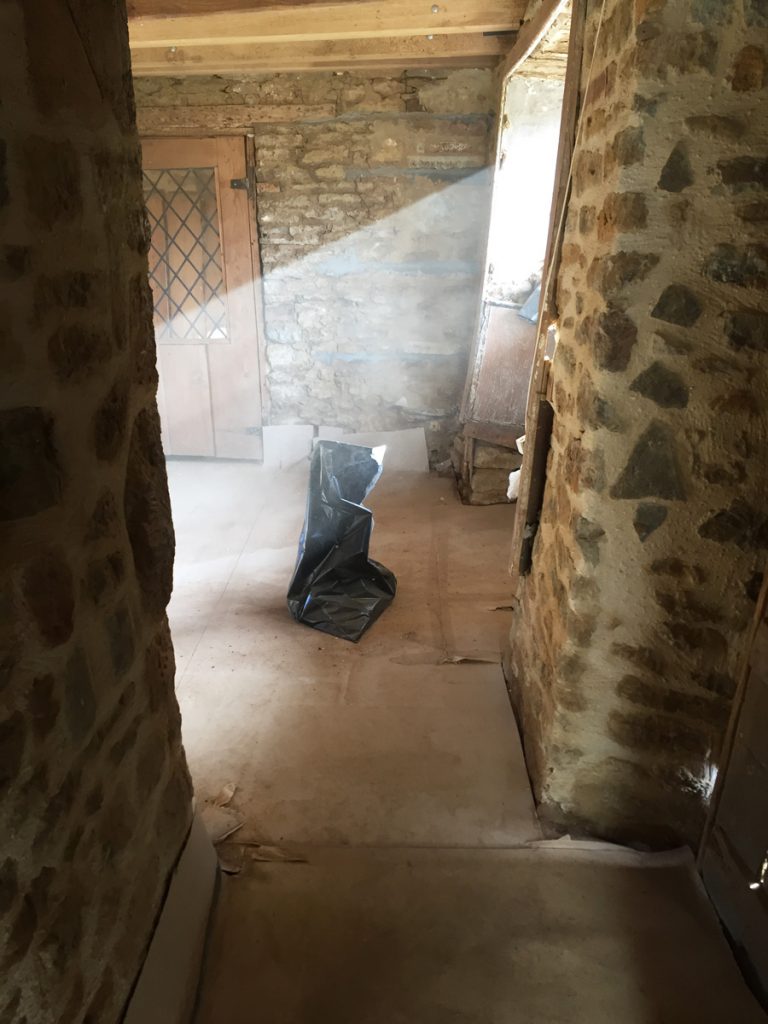 The floor was swept yesterday by George and all the rubble removed. We now need to hoover up the thick layer of dust on the ram board before we take this up.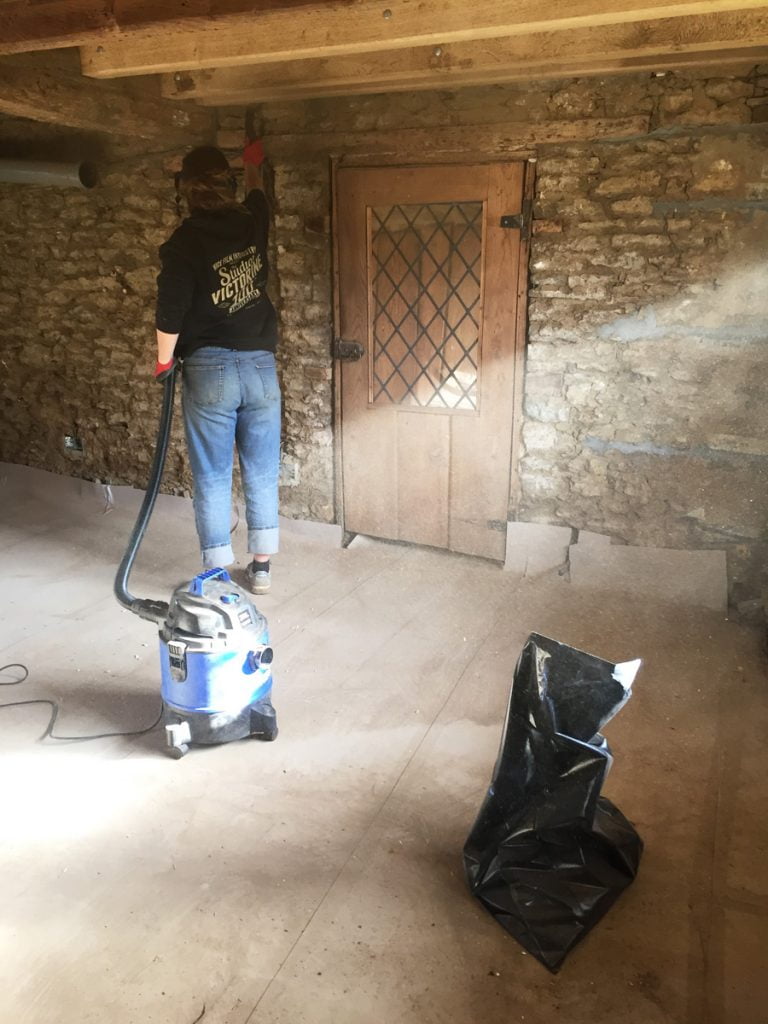 And hoover the ceilings, walls, everything really. The room has to be dust free before we can seal the floor…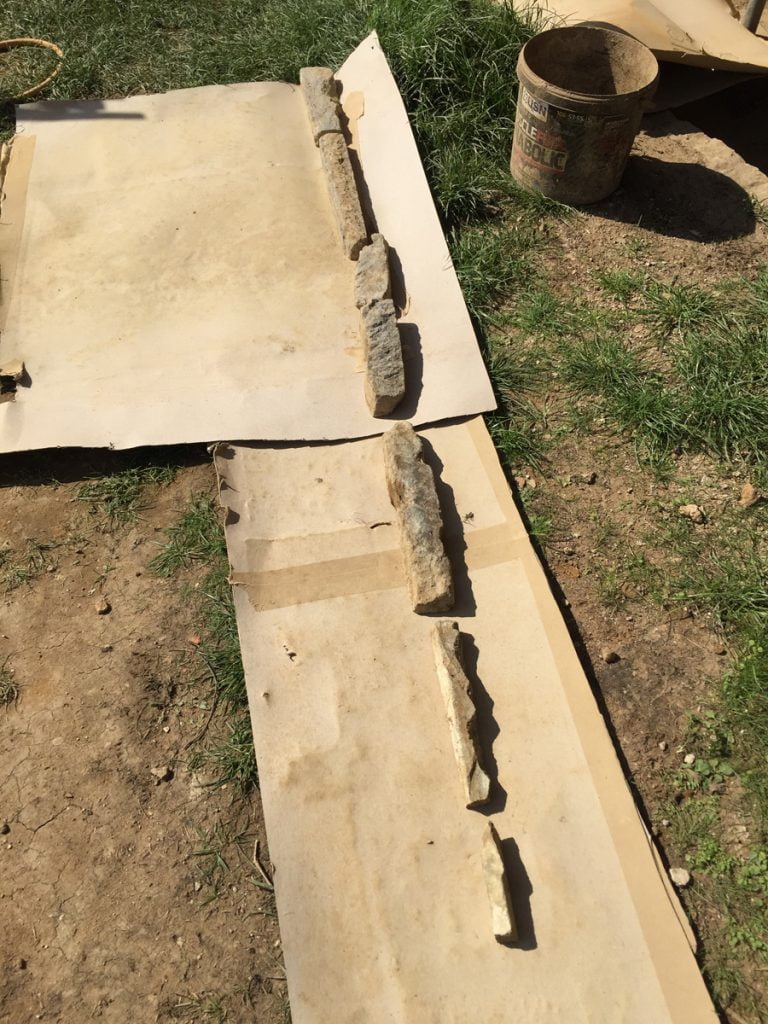 The edging stones in the corridor are taken up to clean. They are not yet mortared anyhow.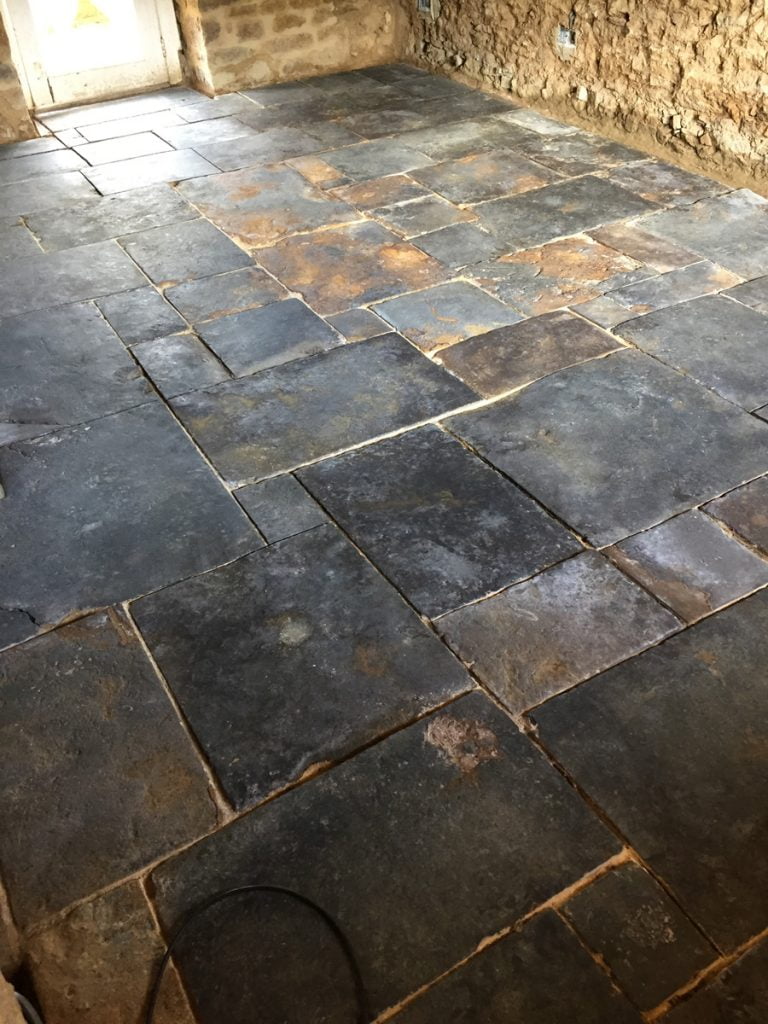 Then a very thorough hoover especially around all the edges and in between each stone so there are no loose bits to get into the brushes when it's being sealed.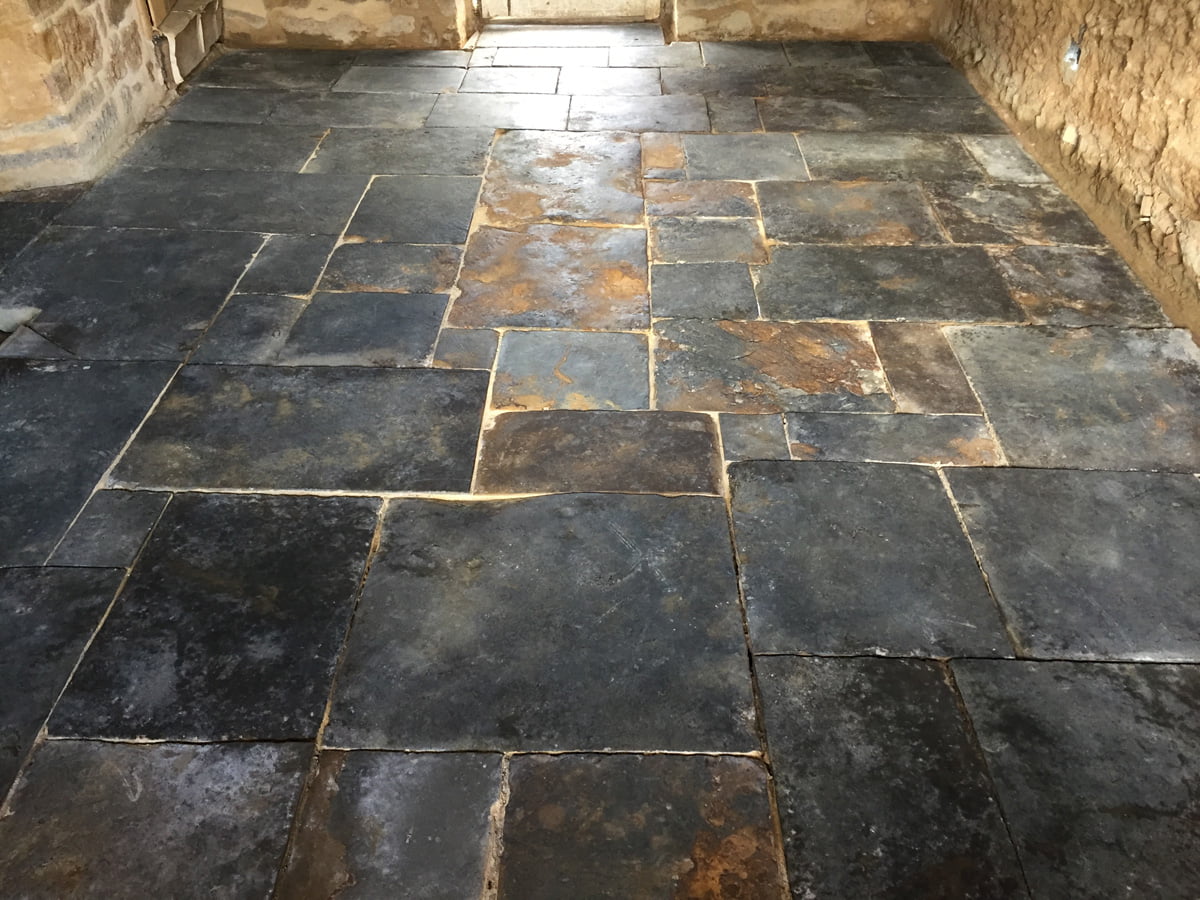 By lunchtime the floor is clean and dust free, ready to be scrubbed. The hoovering took all morning.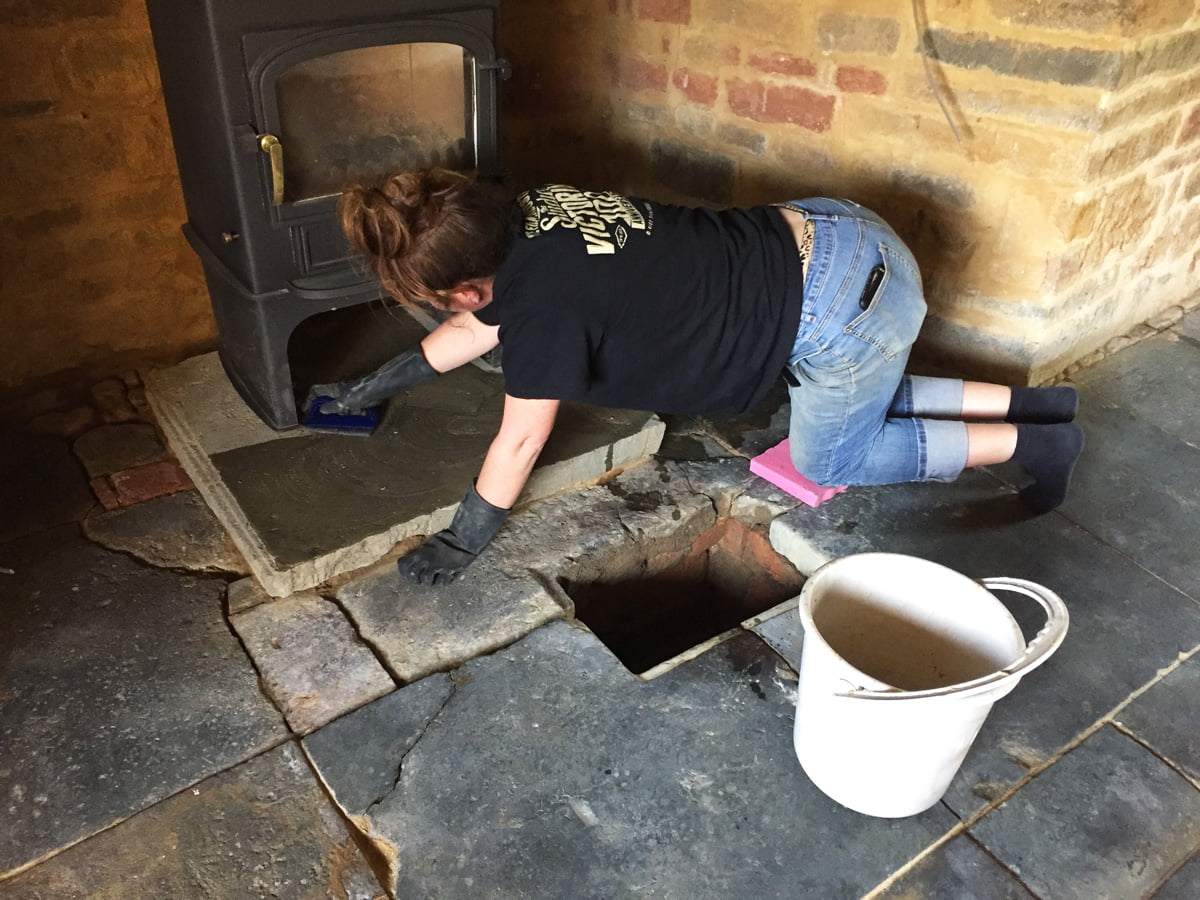 Cat starts to remove the last of the bits of concrete and salts from the stones with a specialised residue remover and a scourer. It needs to be left for a few minutes to start work, then agitated by scrubbing it with a scourer and scraping off the larger bits with a sharp chisel.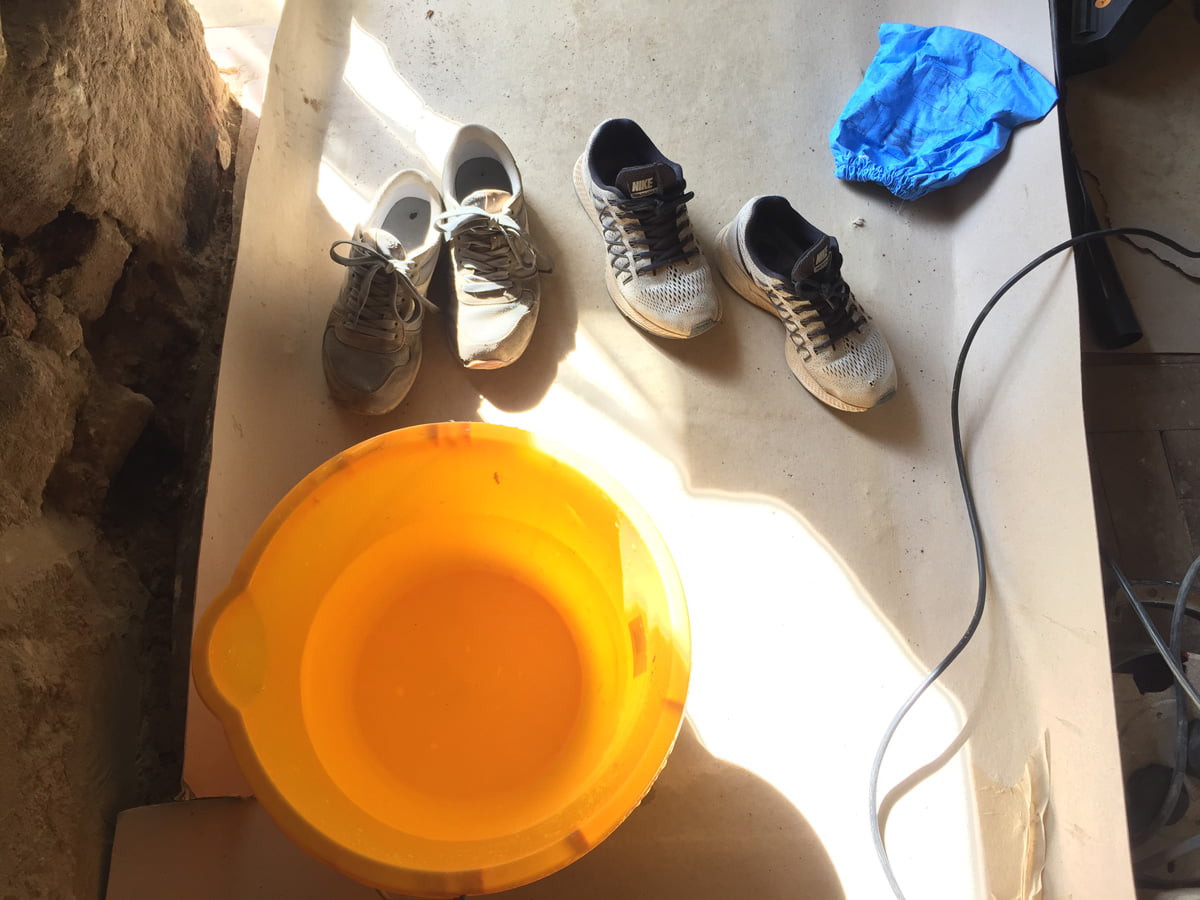 Dirty shoes must definitely be left outside the sitting room at this stage.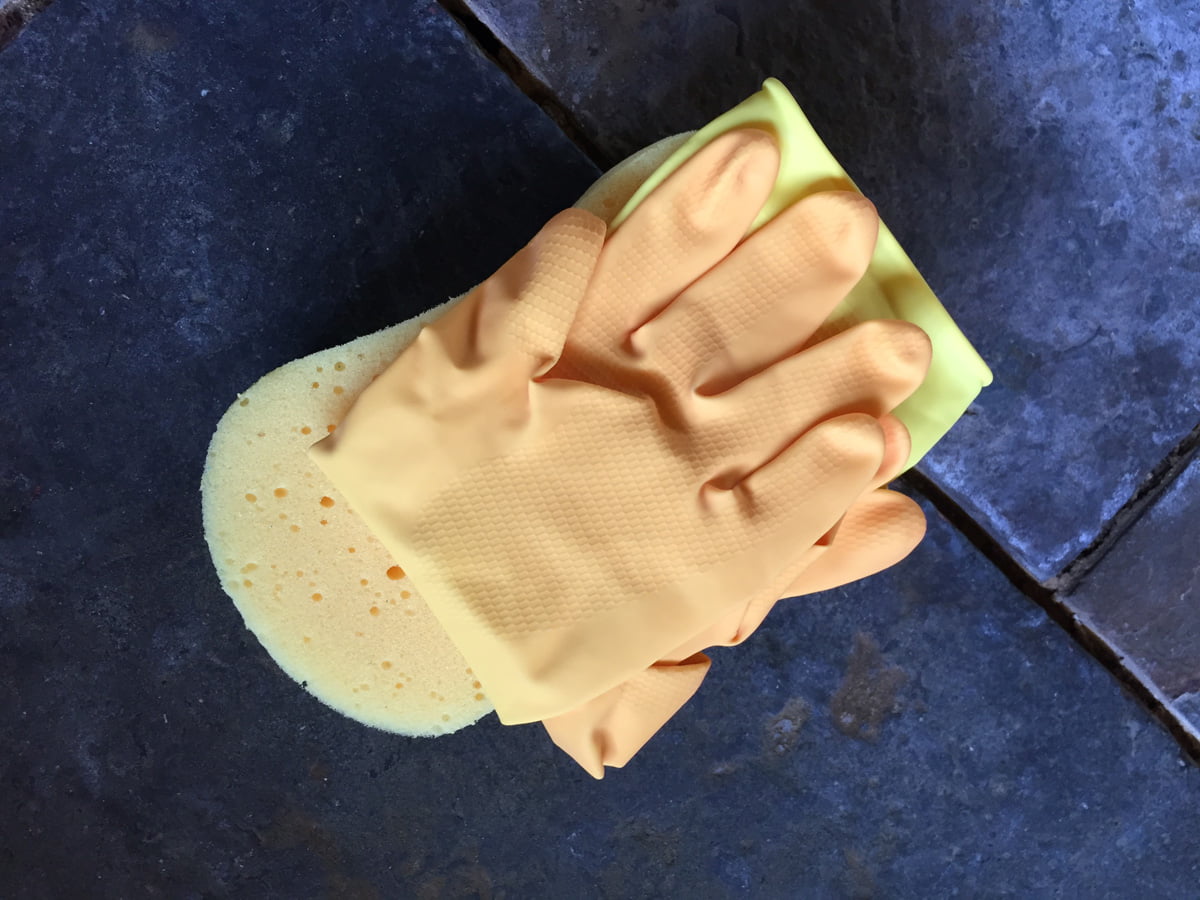 Tools for rinsing the residue remover off the stones.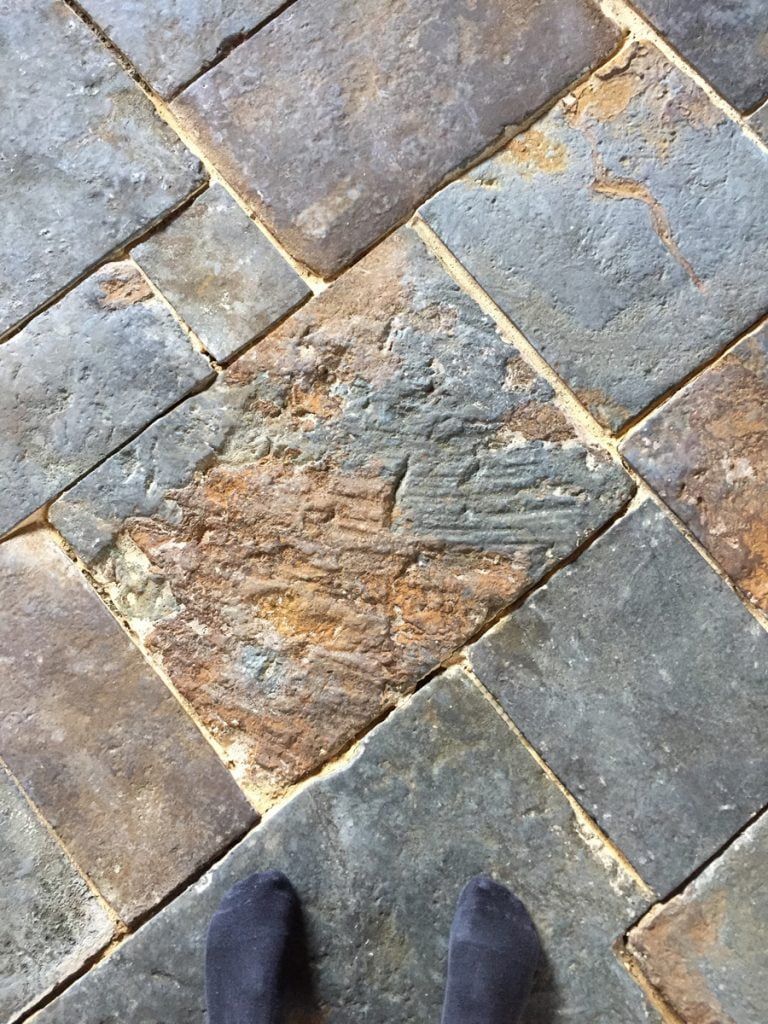 My favourite stone in a mix of blue and orange Hornton stone with added fossils and great tool marks.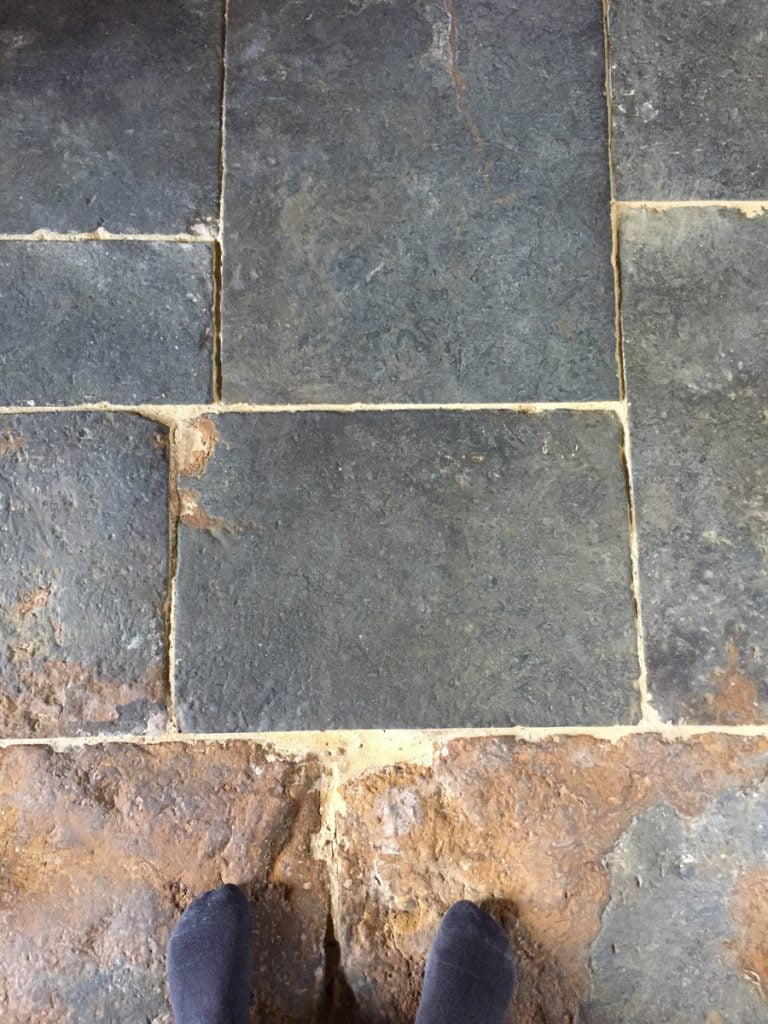 Stones ready for their clean.
Scraping the last bits of cement off with the chisel.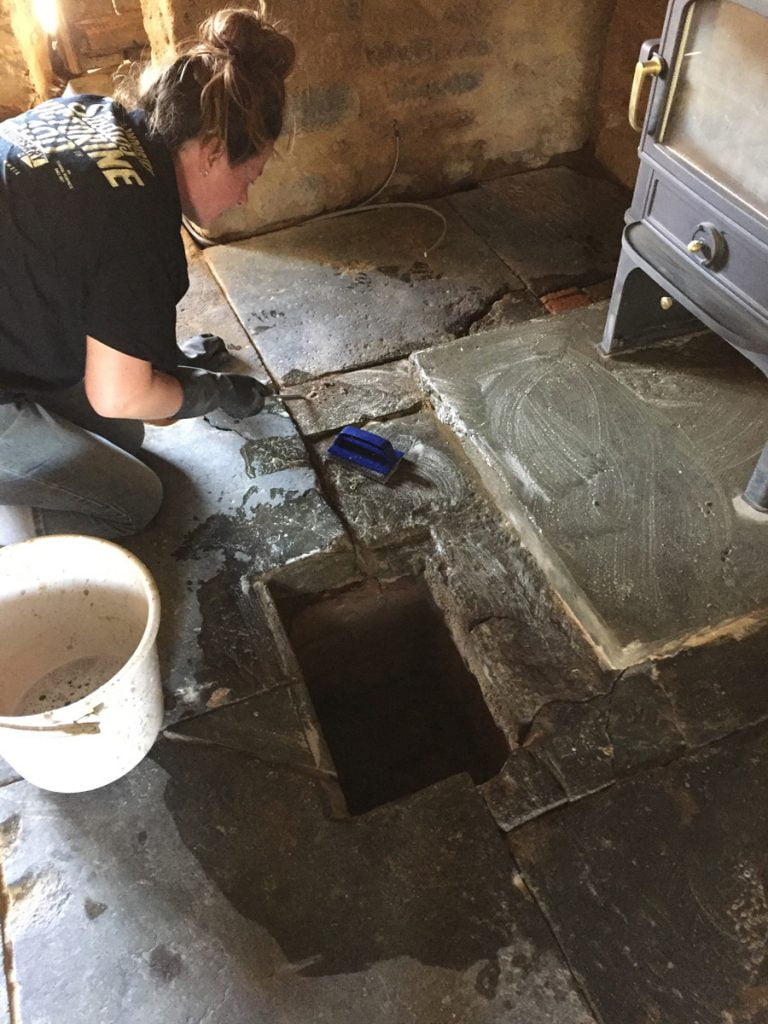 Cat is exhausted before she even started this morning, she's been working very hard all week on the house.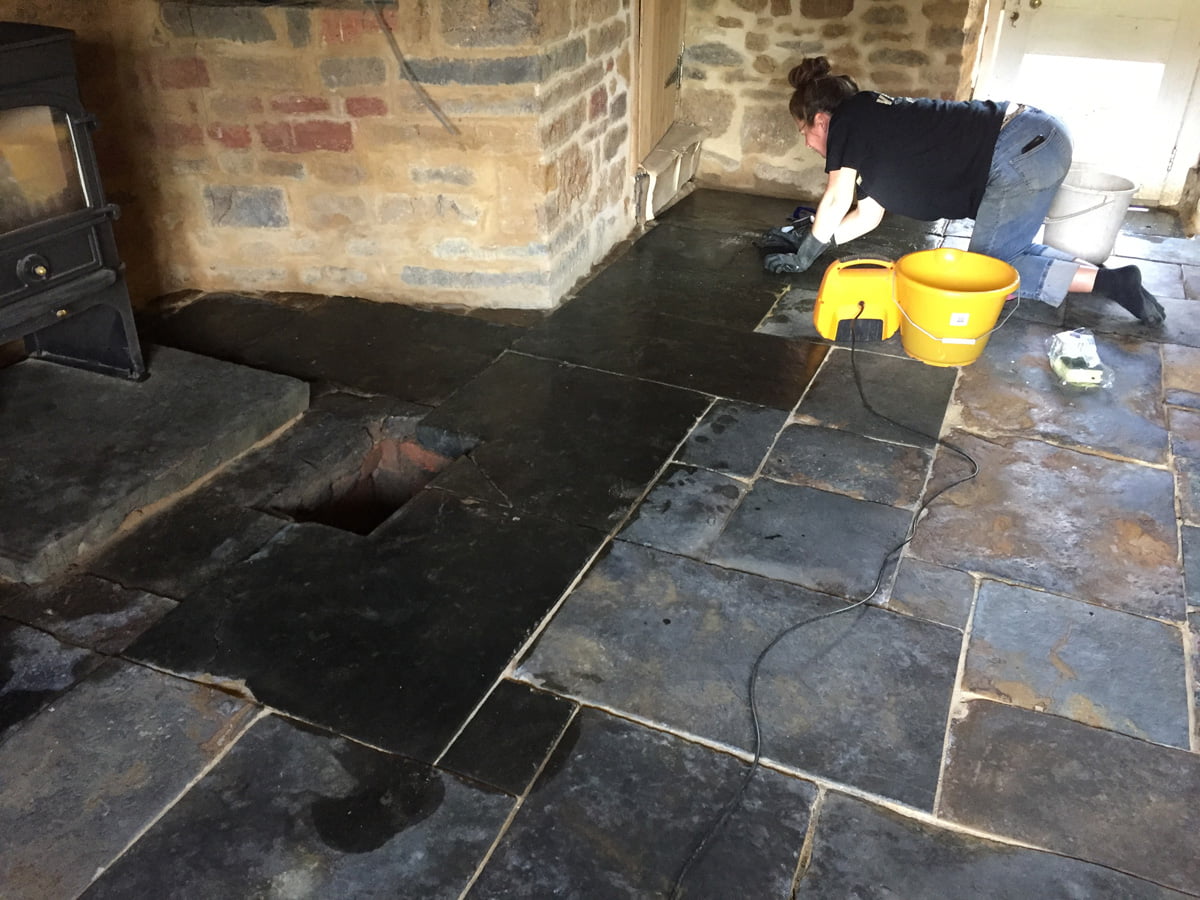 It is a slow process, inch by inch, also bloody tough on the back and knees… Zanna is of no use as her back is too sore after all the hoovering, but she can make tea, empty buckets, take photos and generally offer moral support from the sidelines (through the window).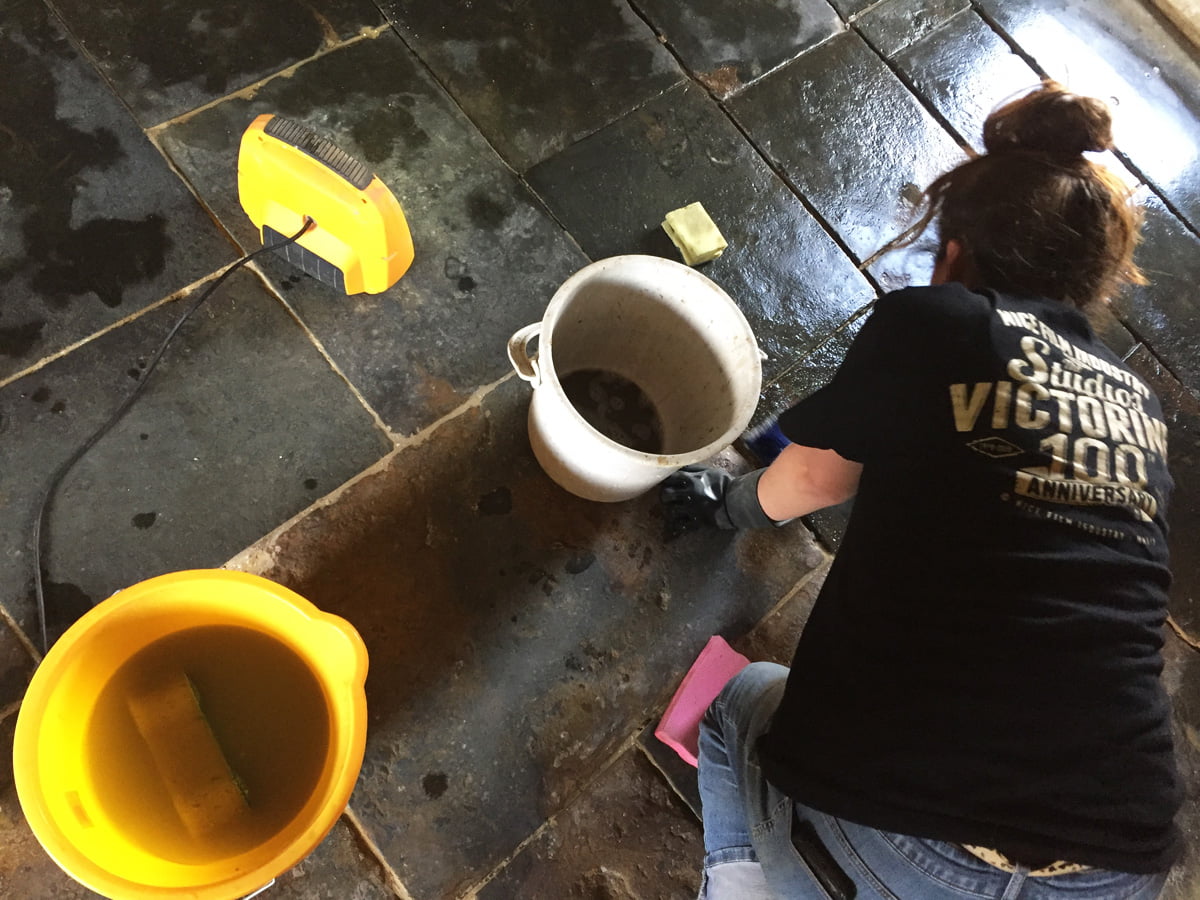 White bucket with residue remover, yellow bucket with water and sponge to rinse.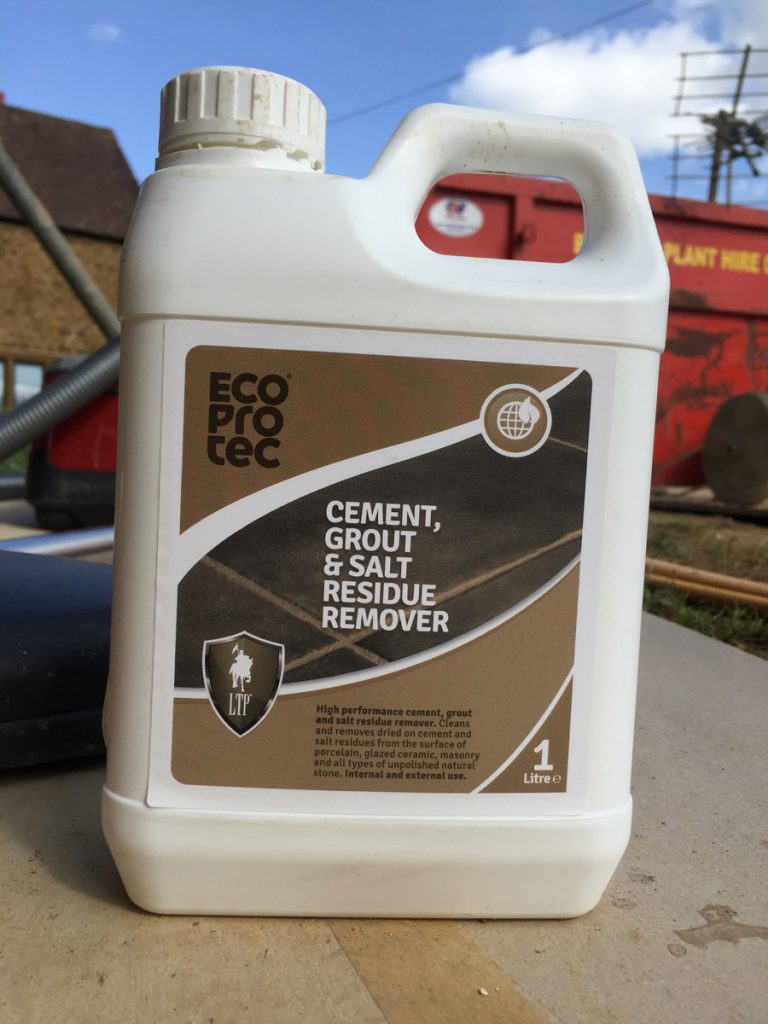 The residue remover was recommended to us by one of Cat's mates, James, who has used it on his stone floor. The company, Ecoprotec, were exceptionally helpful on the phone and the products are environmentally friendly, water based and with no harsh chemicals.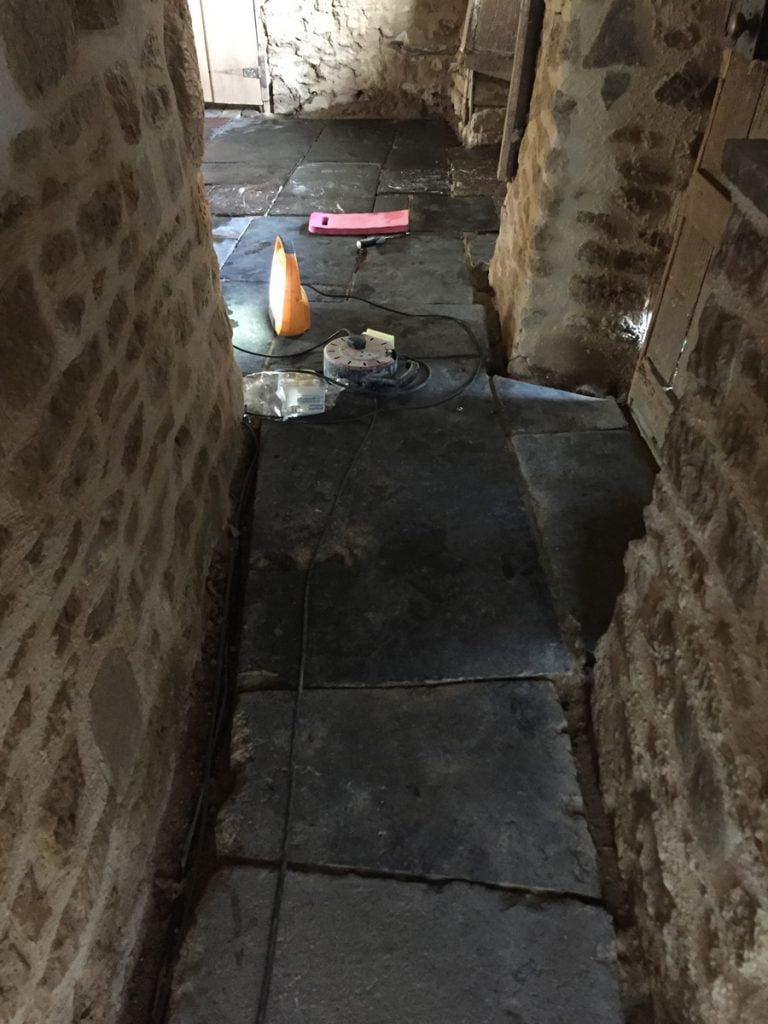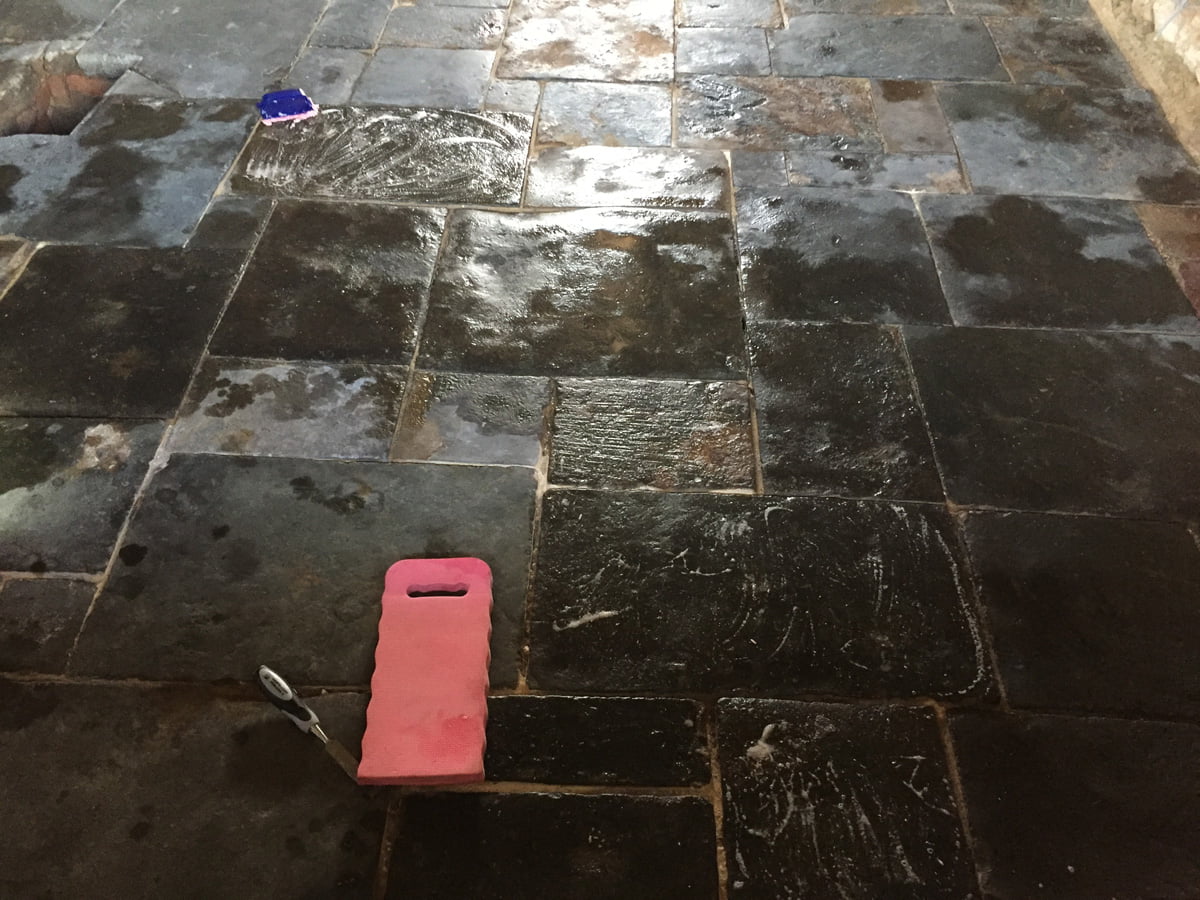 One stone at a time! Cat then went back over it all with water to rinse the residue remover off, more scrubbing. Just as it went dark she finished with a soak in a hot bath.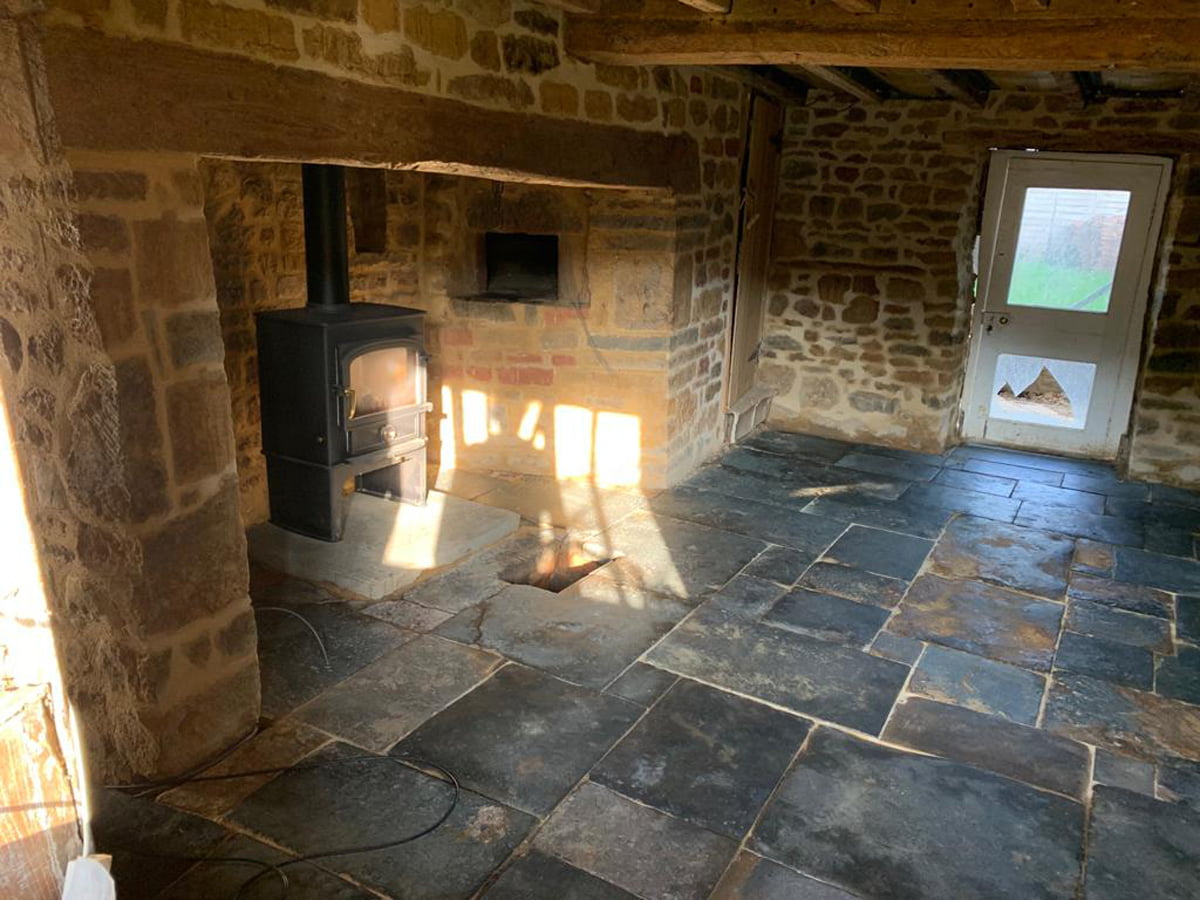 Sunday morning and Cat is up early and begins on the floor at 8am. Today it is sealing day. First it needs one more hoover to remove any dust that has blown in overnight (there is no glass in the windows).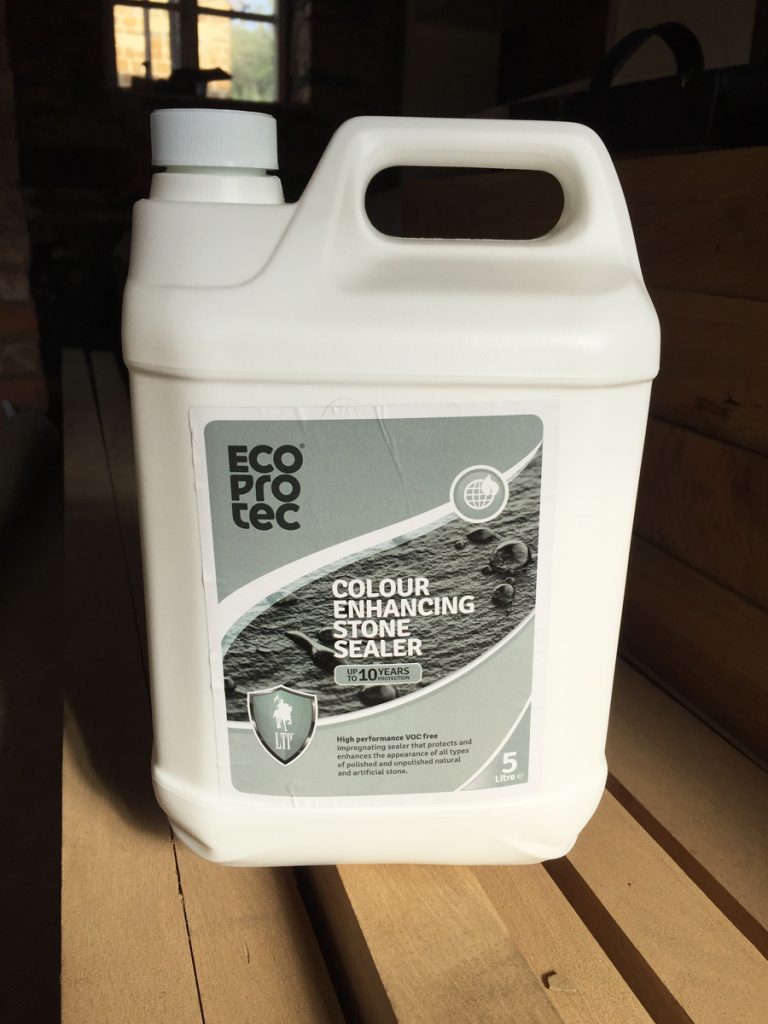 The colour enhancing sealant. Cat will be painting 3 coats of this on with a brush, leaving it to soak in for about an hour between coats, then buffing it up at the end to remove any residue that hasn't soaked in.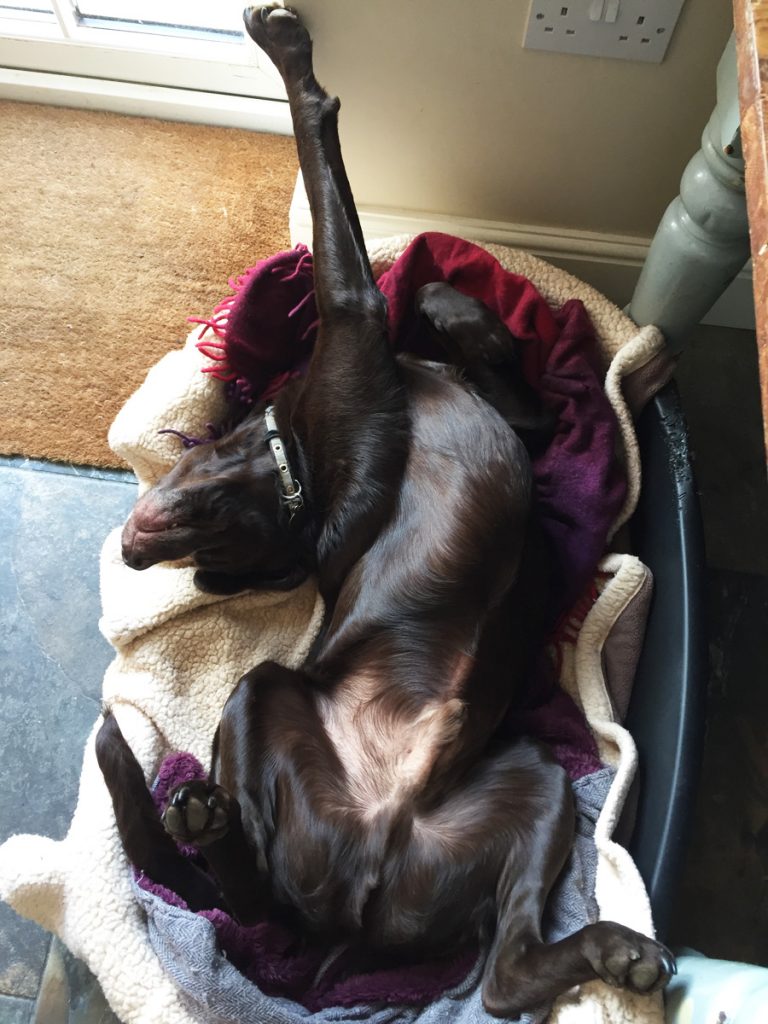 Jasper is taking it really easy today (bit like every day).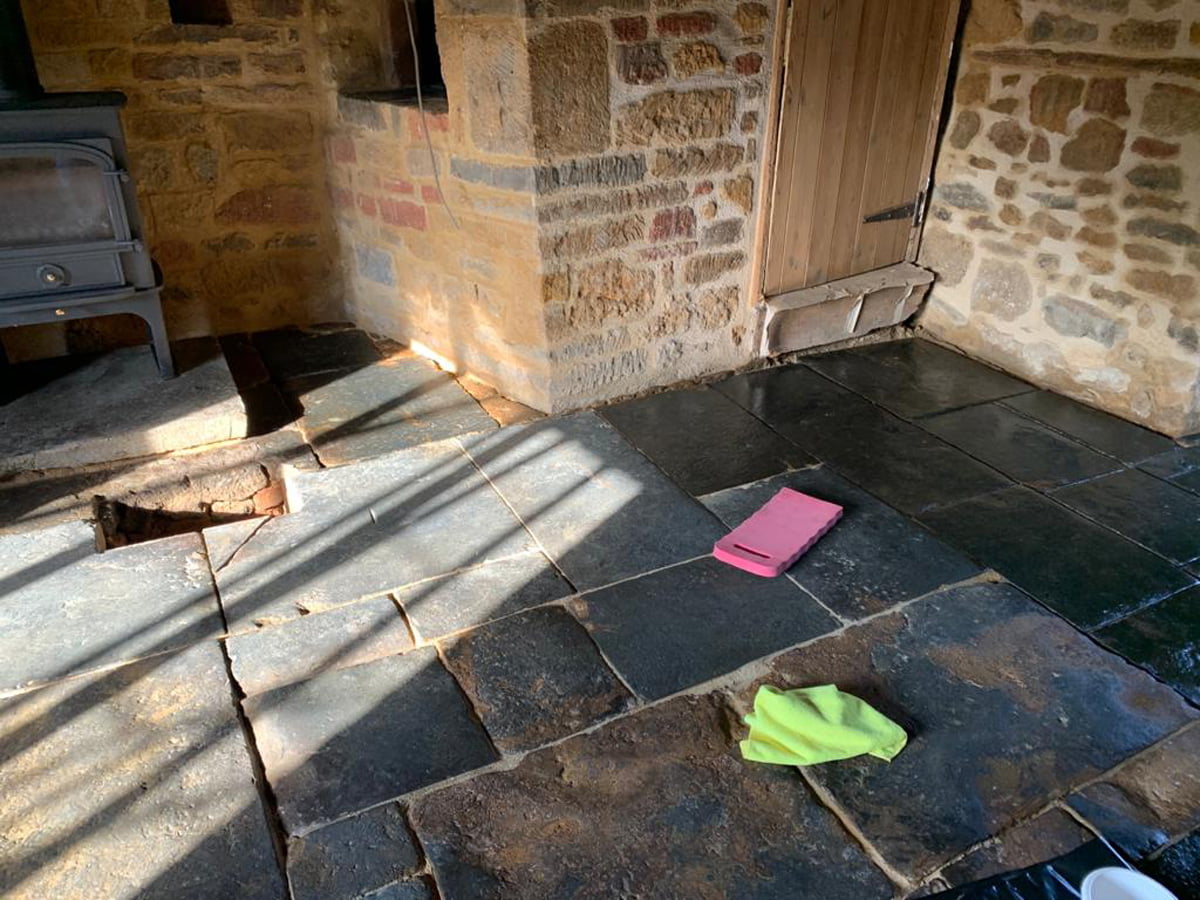 Applying the first coat of seal.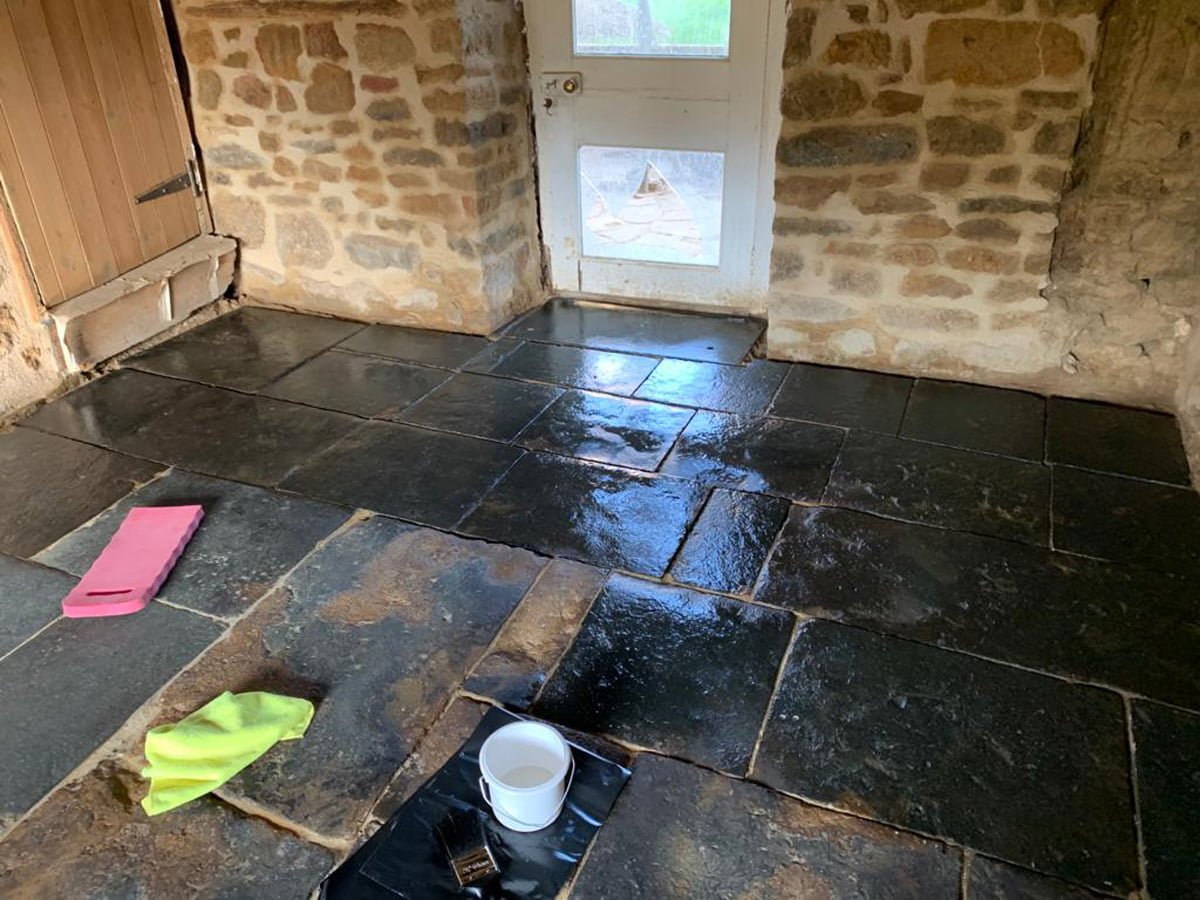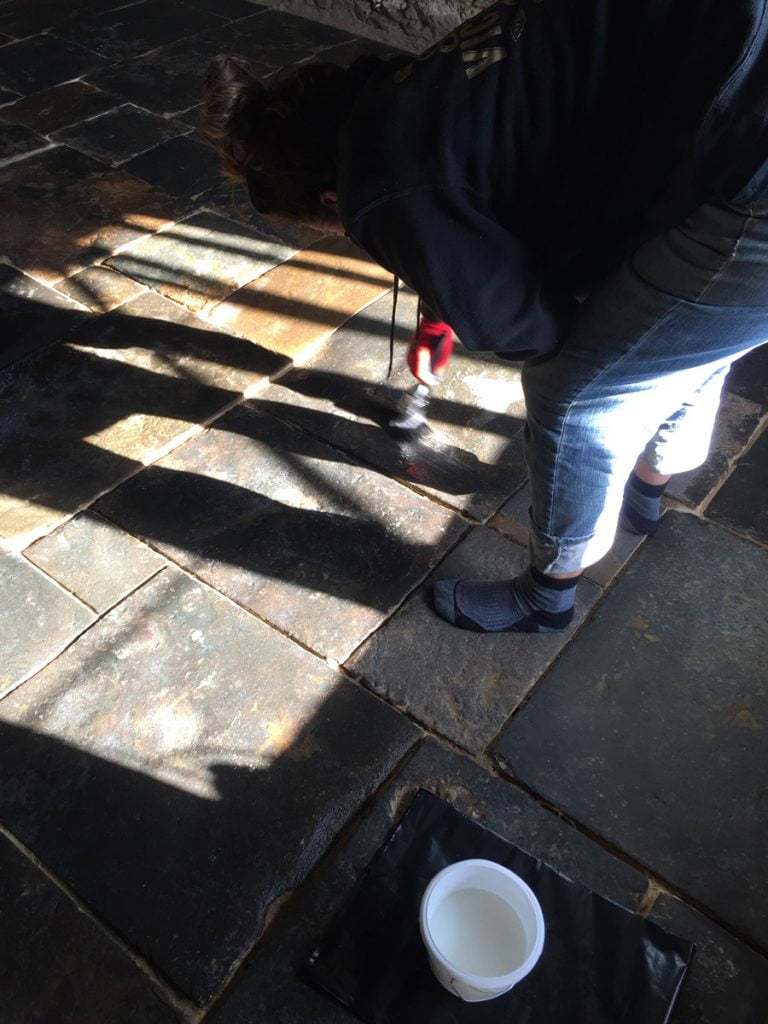 Early morning sun trying to help.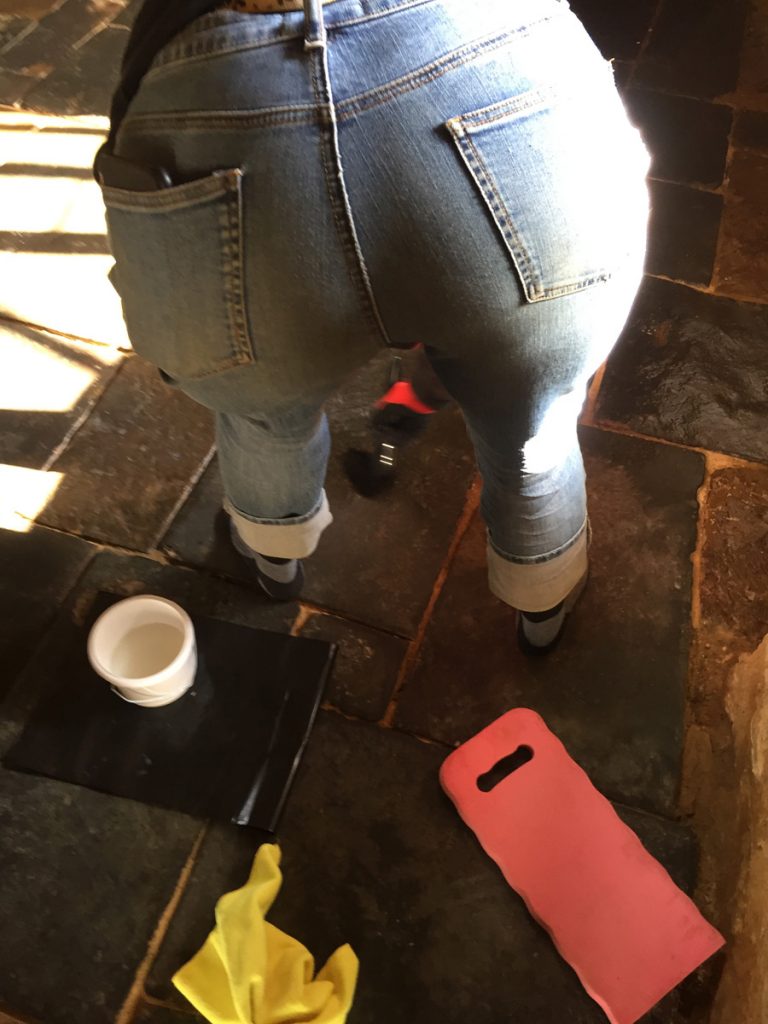 Early morning moon?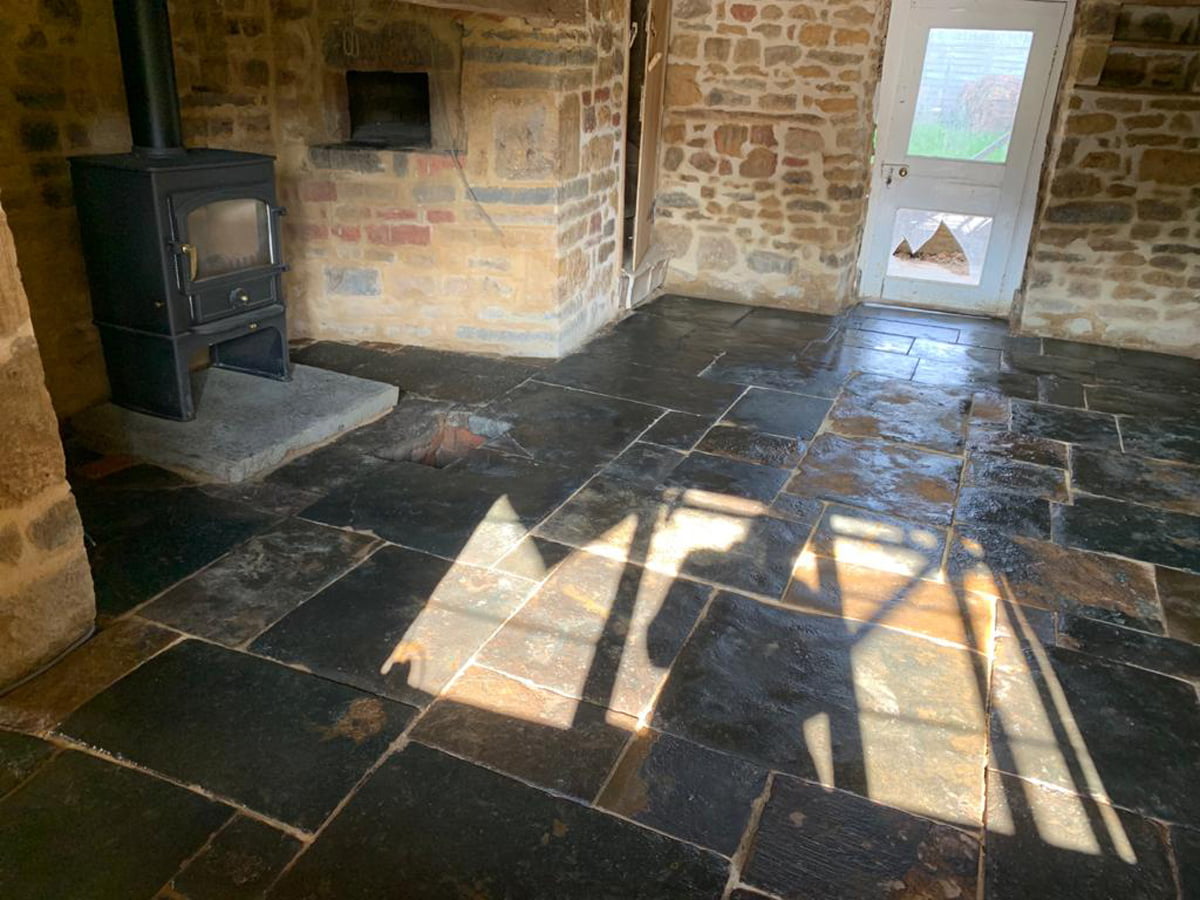 Letting the first coat soak in.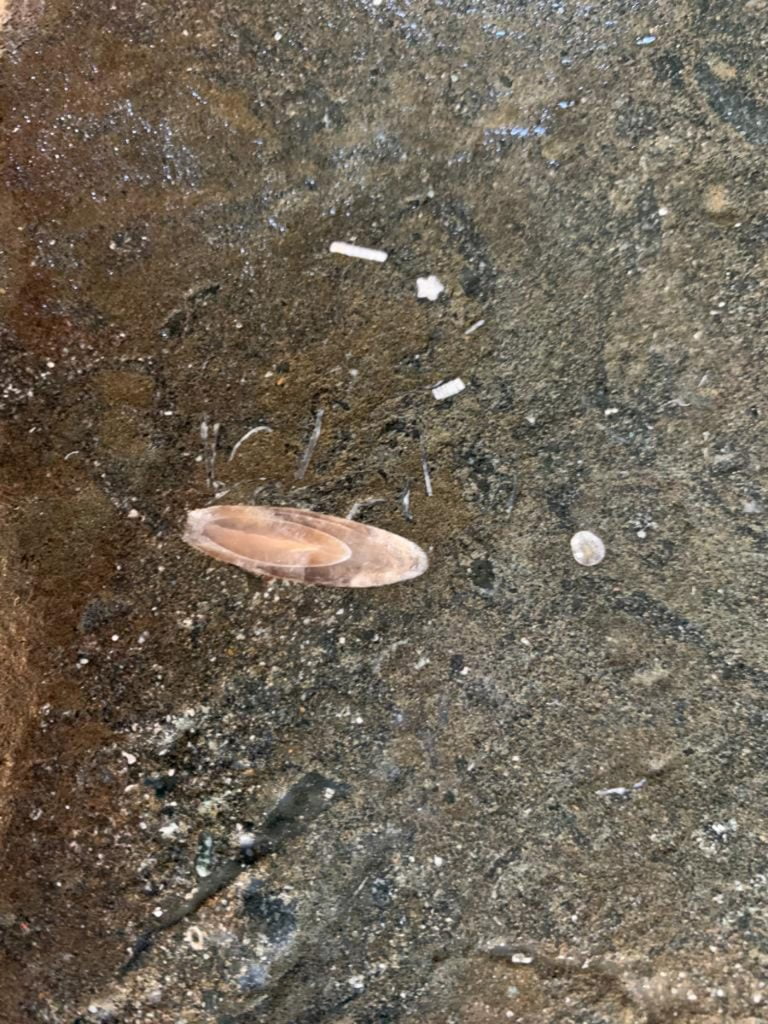 The fossils in the stones are incredible. The white star here is a fossil! There are several of them in the other stones too.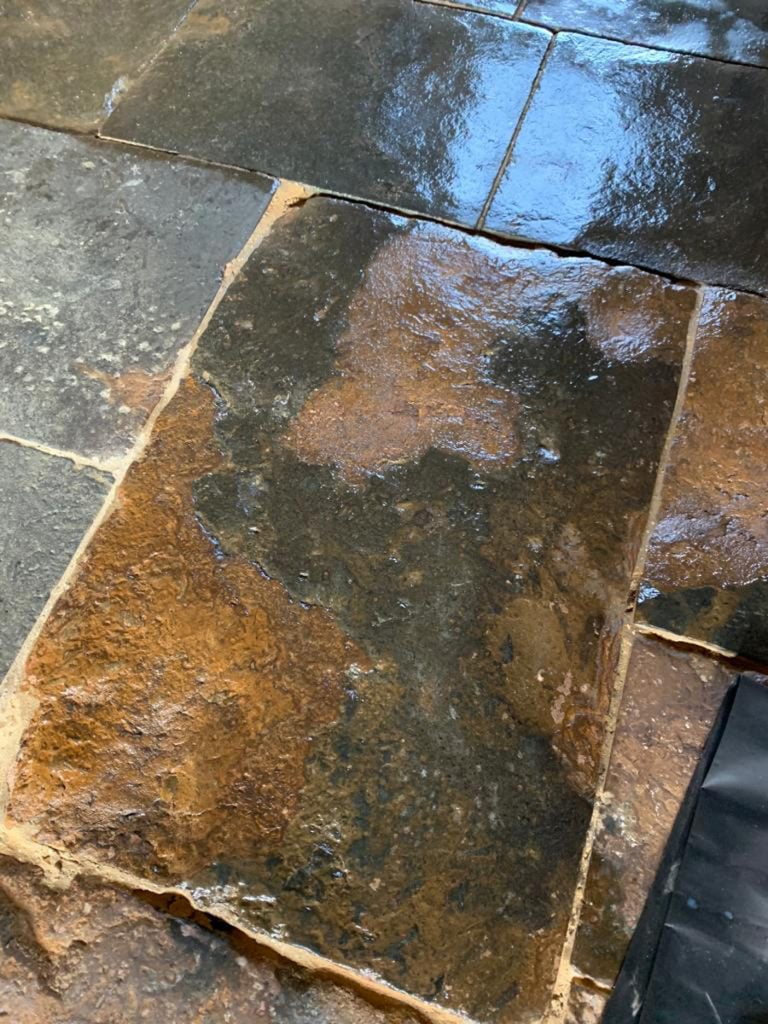 A stunning flagstone half Hornton blue and half Hornton orange. This is in the centre of the room.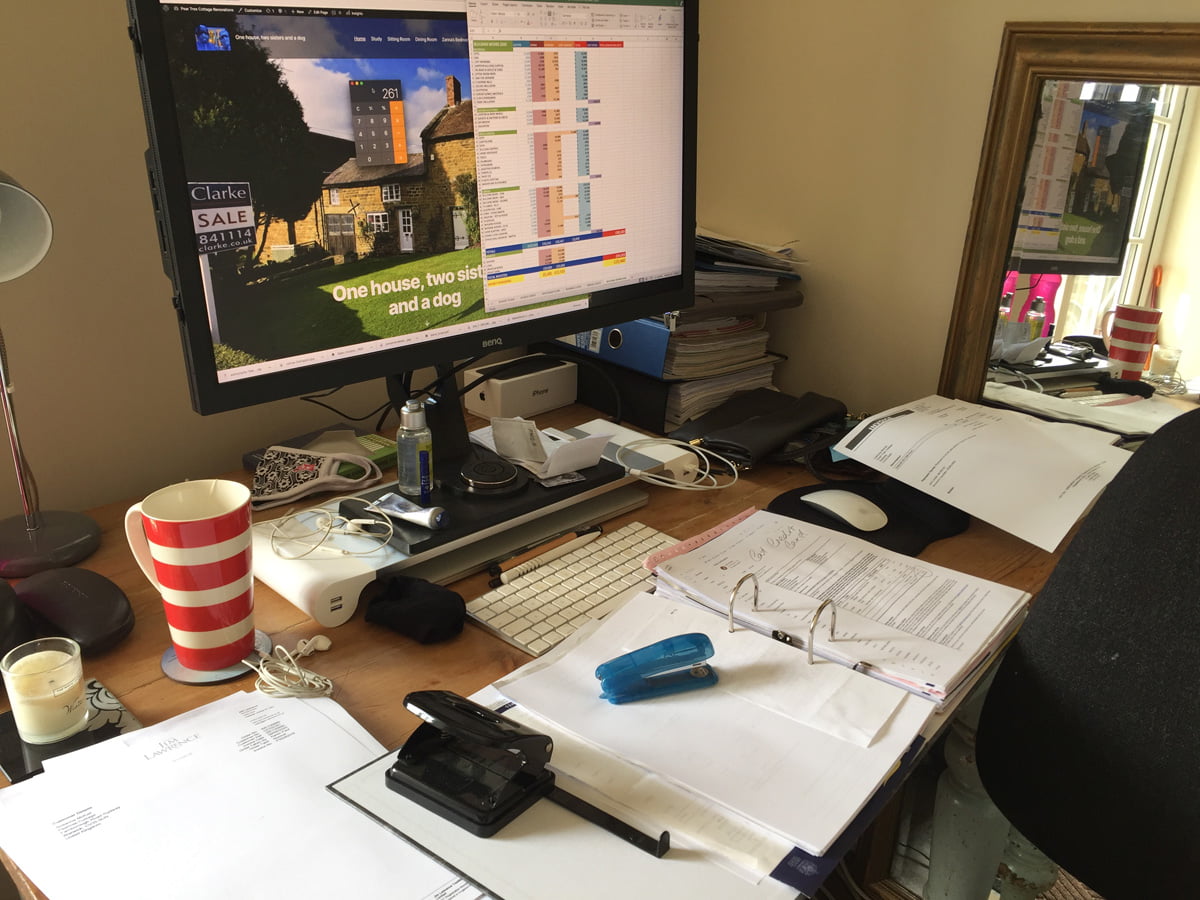 At Pear Tree Art Department headquarters it is weekly accounts day. Eek! It's getting quite terrifying…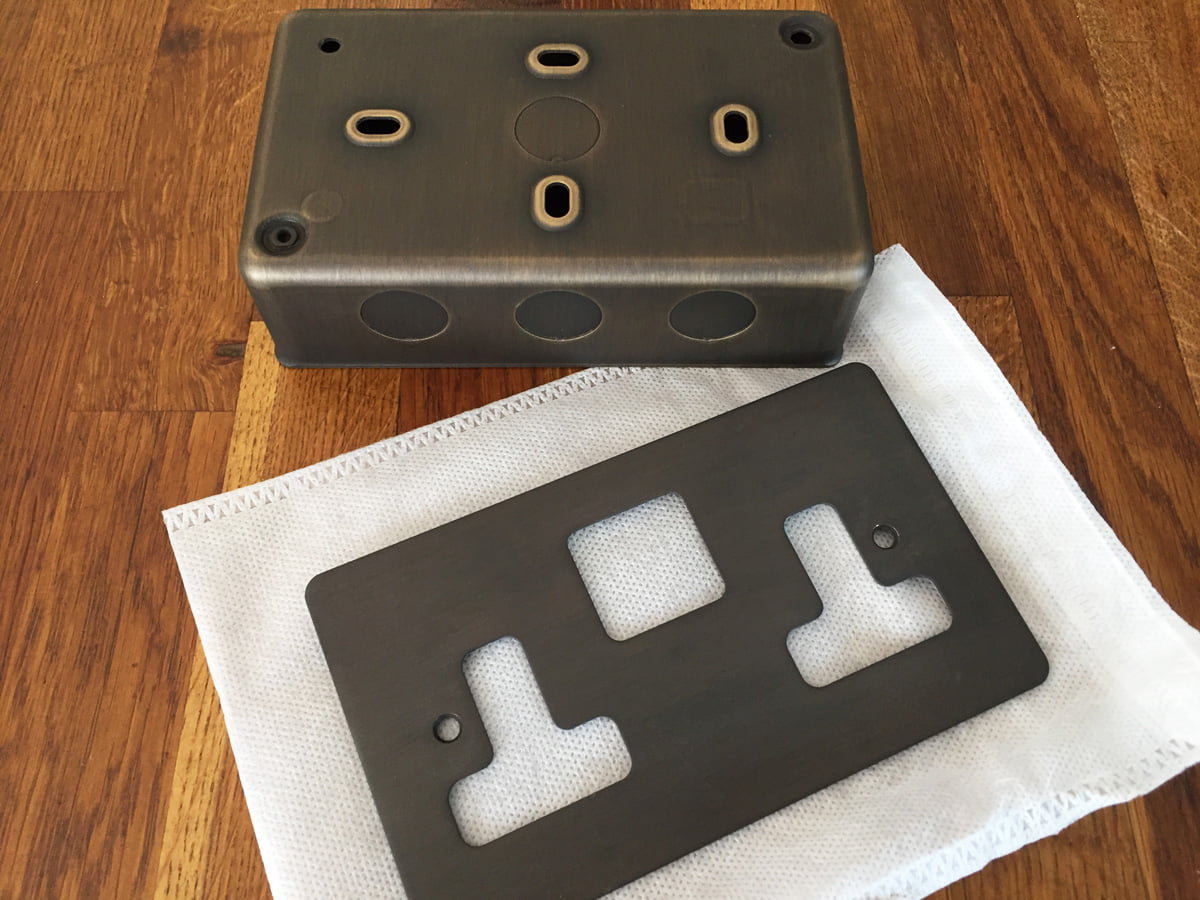 We have found some brass back boxes for the sockets and switches that are to go within the inglenook fireplace, a wall that we aren't happy to drill through or cut into. The cables will be going into brass conduit that will sit on the wall.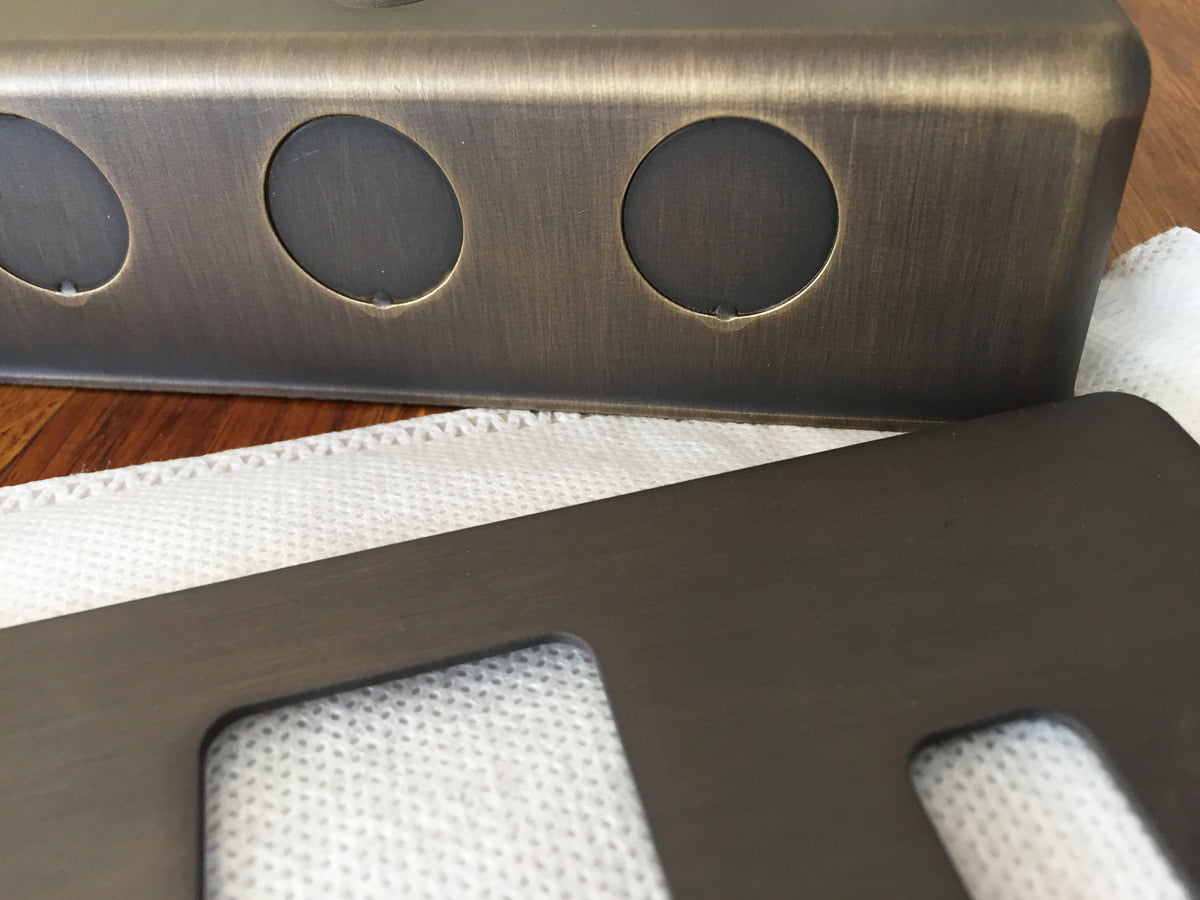 The back boxes are from The Workshop Below based in Birmingham, and they perfectly match our posh sockets and switches.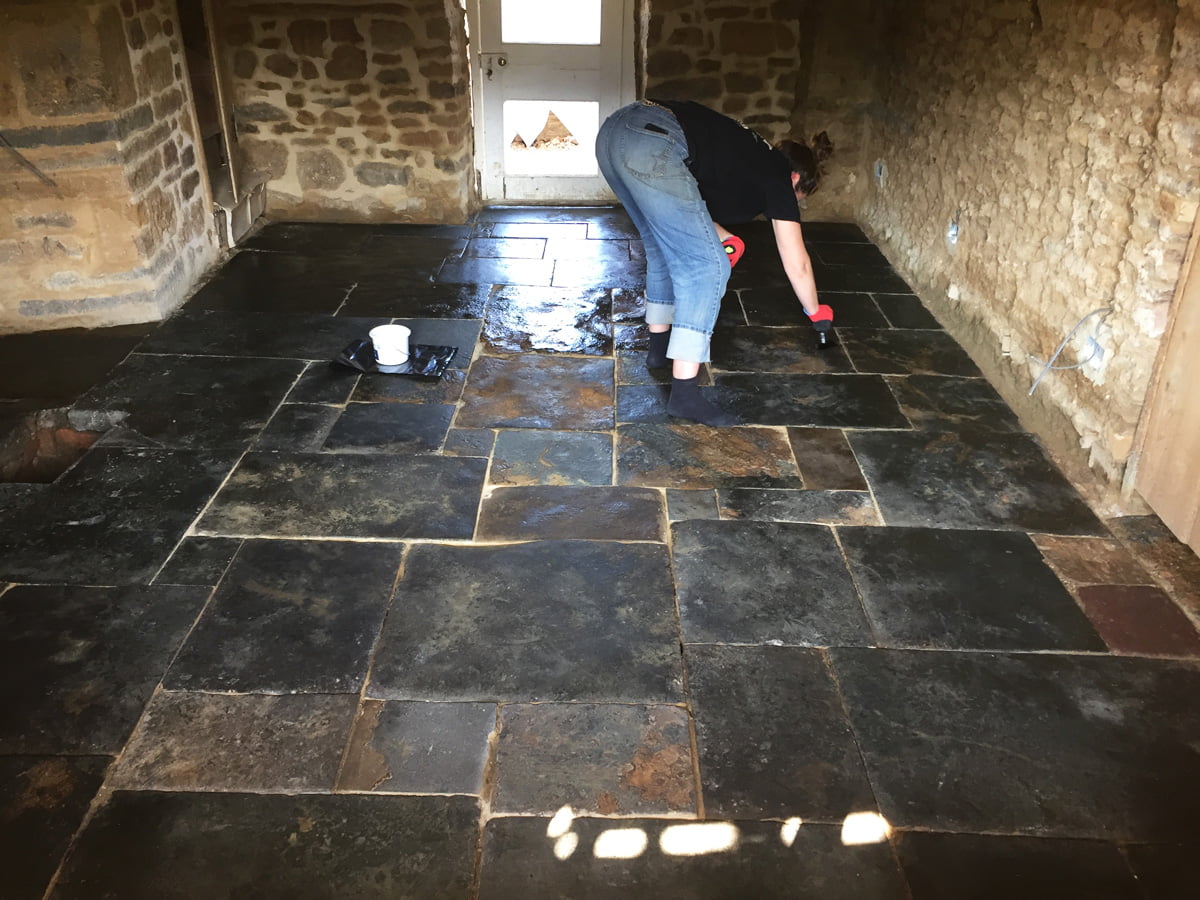 Coat number 2. Cat's muscles are really complaining and she gets lightheaded and a bit sick when she stands up straight. She is NOT enjoying this.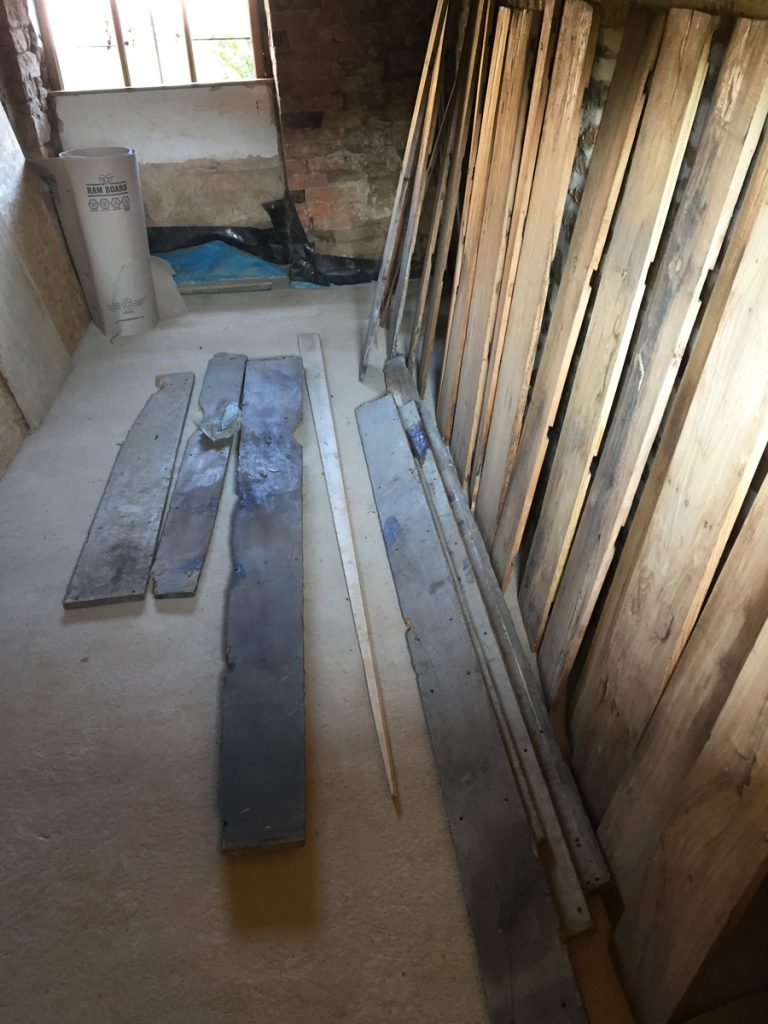 Our cache of spare elm floorboards. These will be made into shelves, window seats, etc.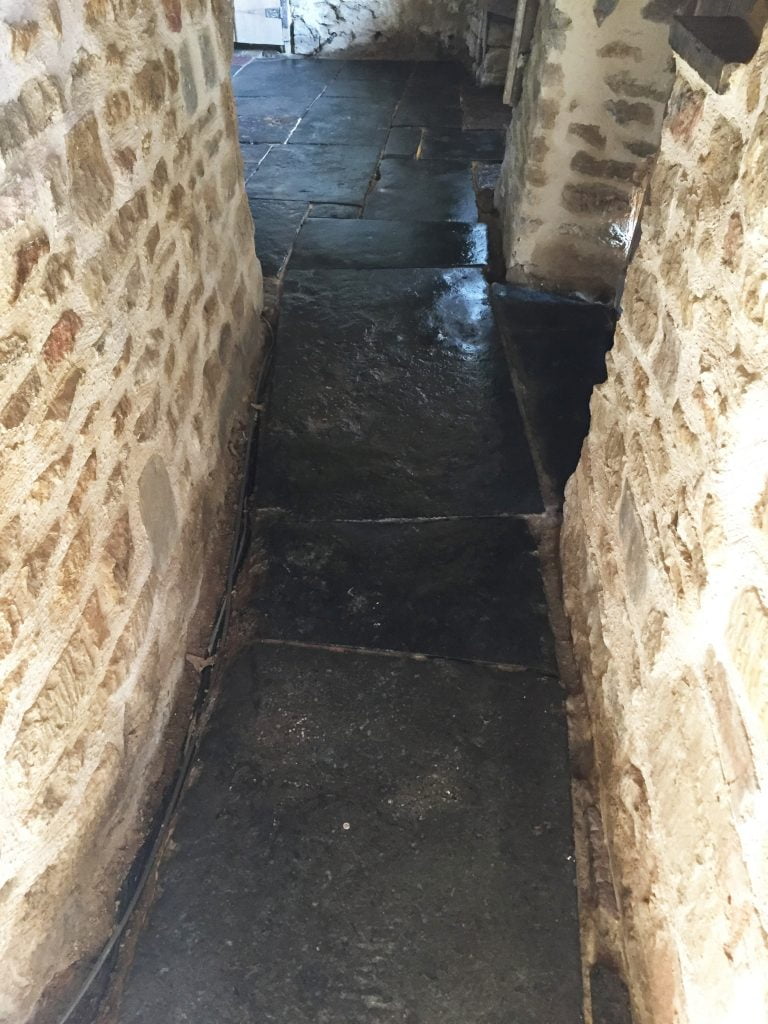 The corridor after the second coat.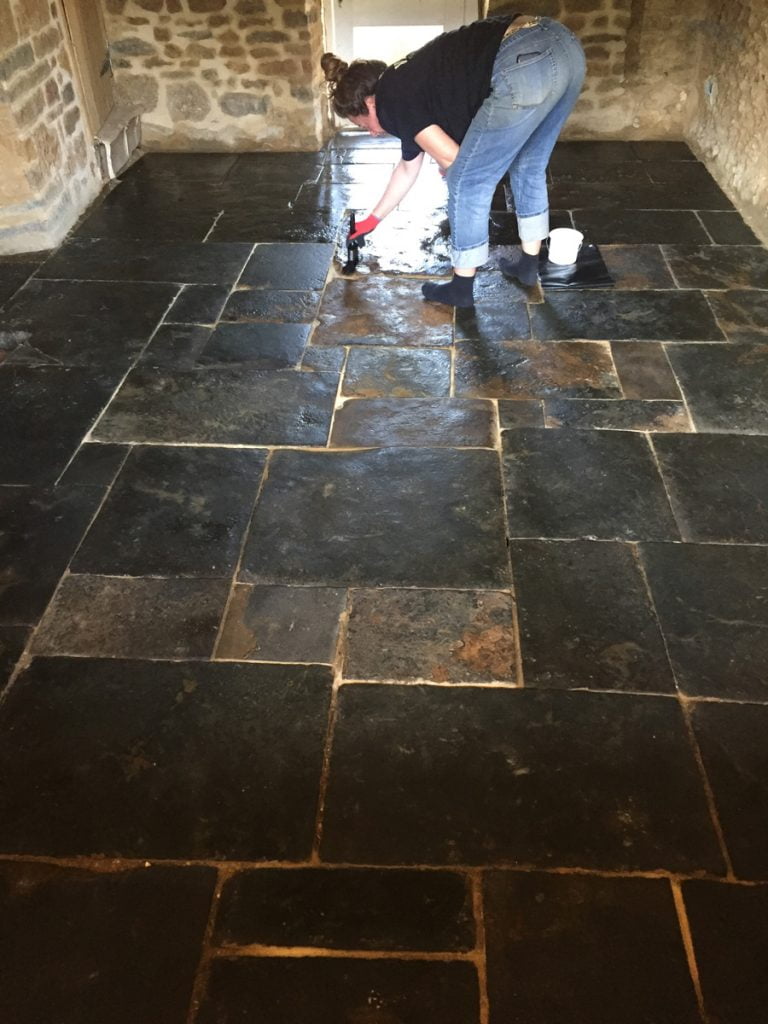 Coat number 3 going on. Cat had a lie down after this for half an hour.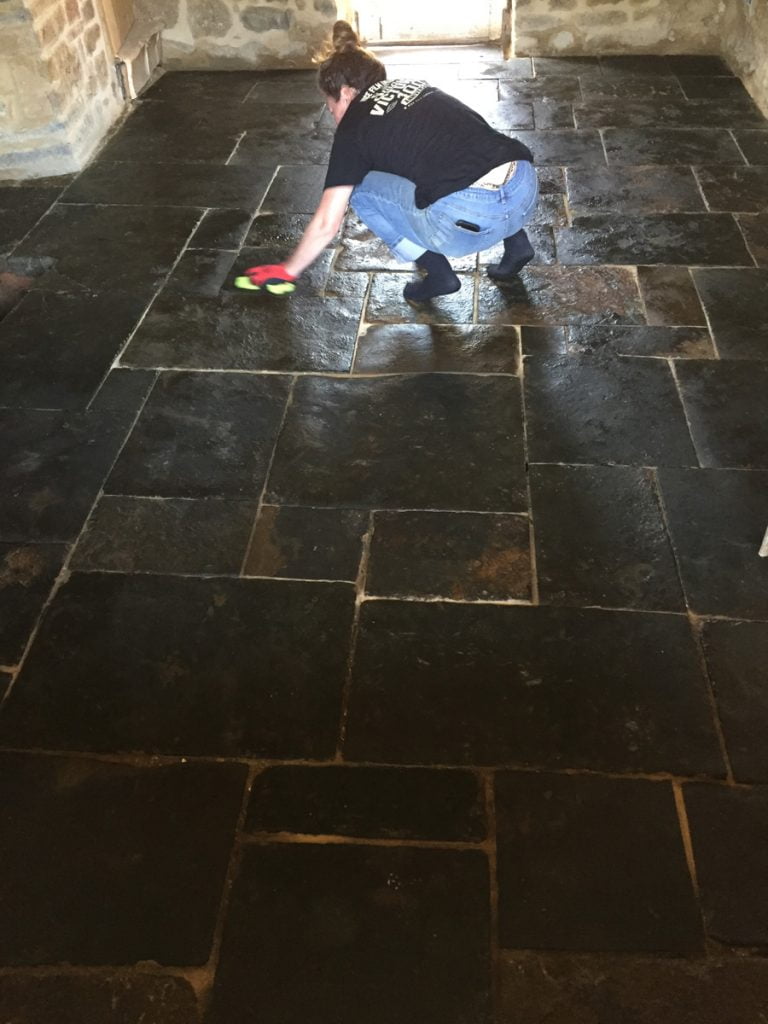 The final buff with a lint free cloth, removing any excess that hasn't soaked in. Cat's utterly spent and has got through 3 pairs of socks today.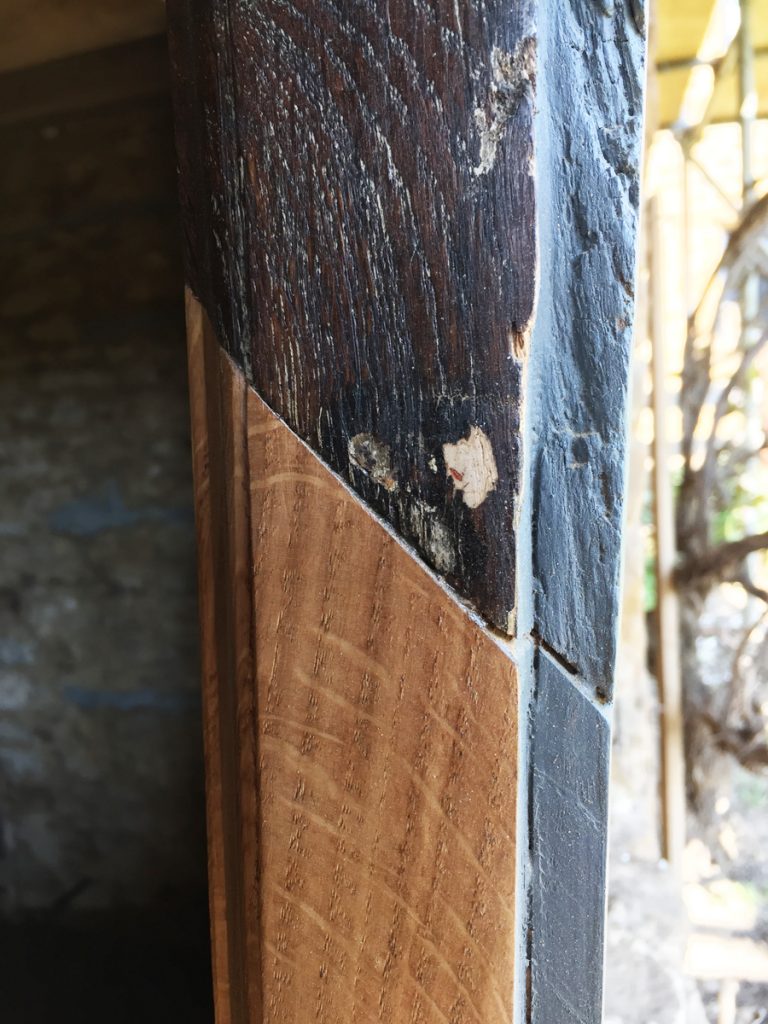 Interesting detail on the sitting room window. The old and the new.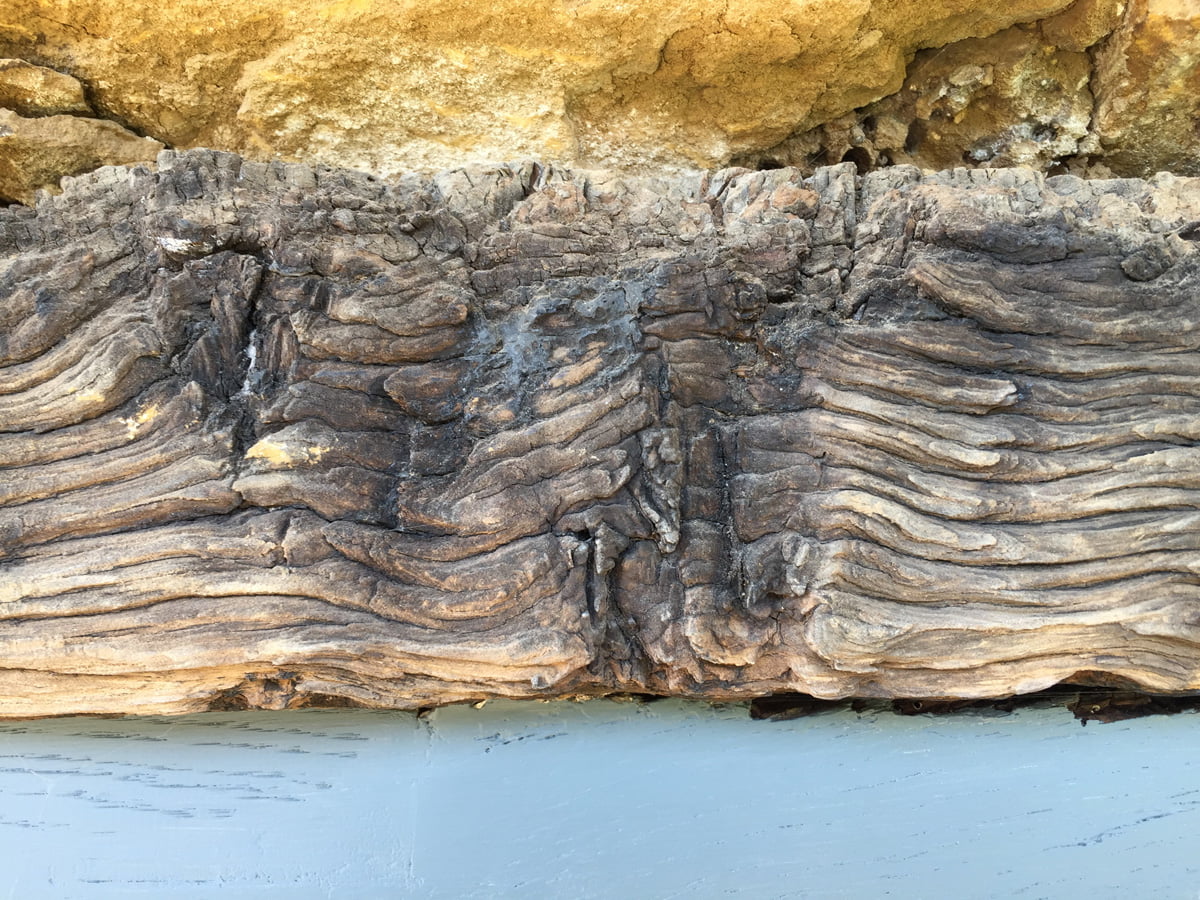 The lintel above the sitting room window. Old and gnarly and beautiful.