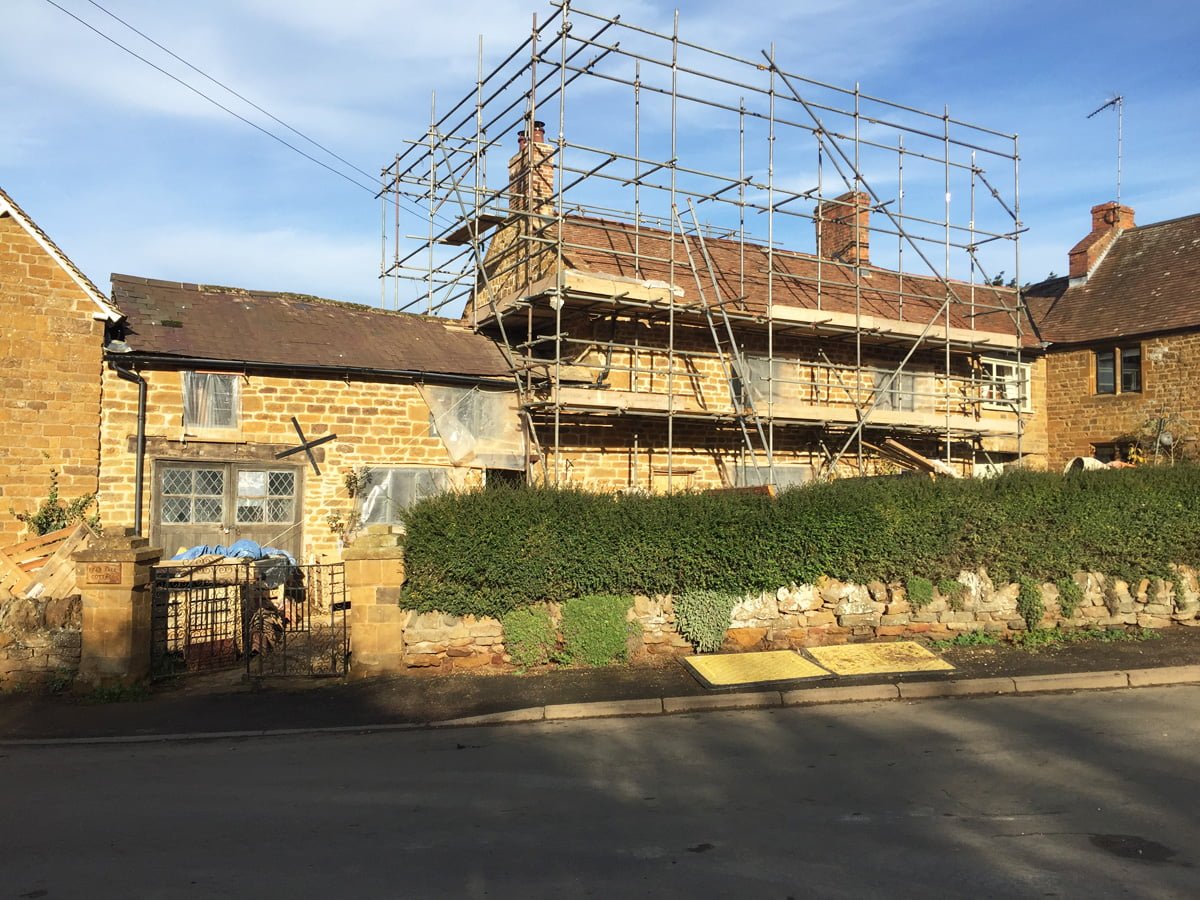 What a beautifully sunny Autumn day, perfect for a sneaky peek at the roof now we can see it from the ground, it doesn't disappoint. We can see more of the freshly pointed walls and the new/old roof and it's everything we had hoped it would be, it's looking so smart! We will have to ignore the slate roof on the left for now, that will be repaired in phase two!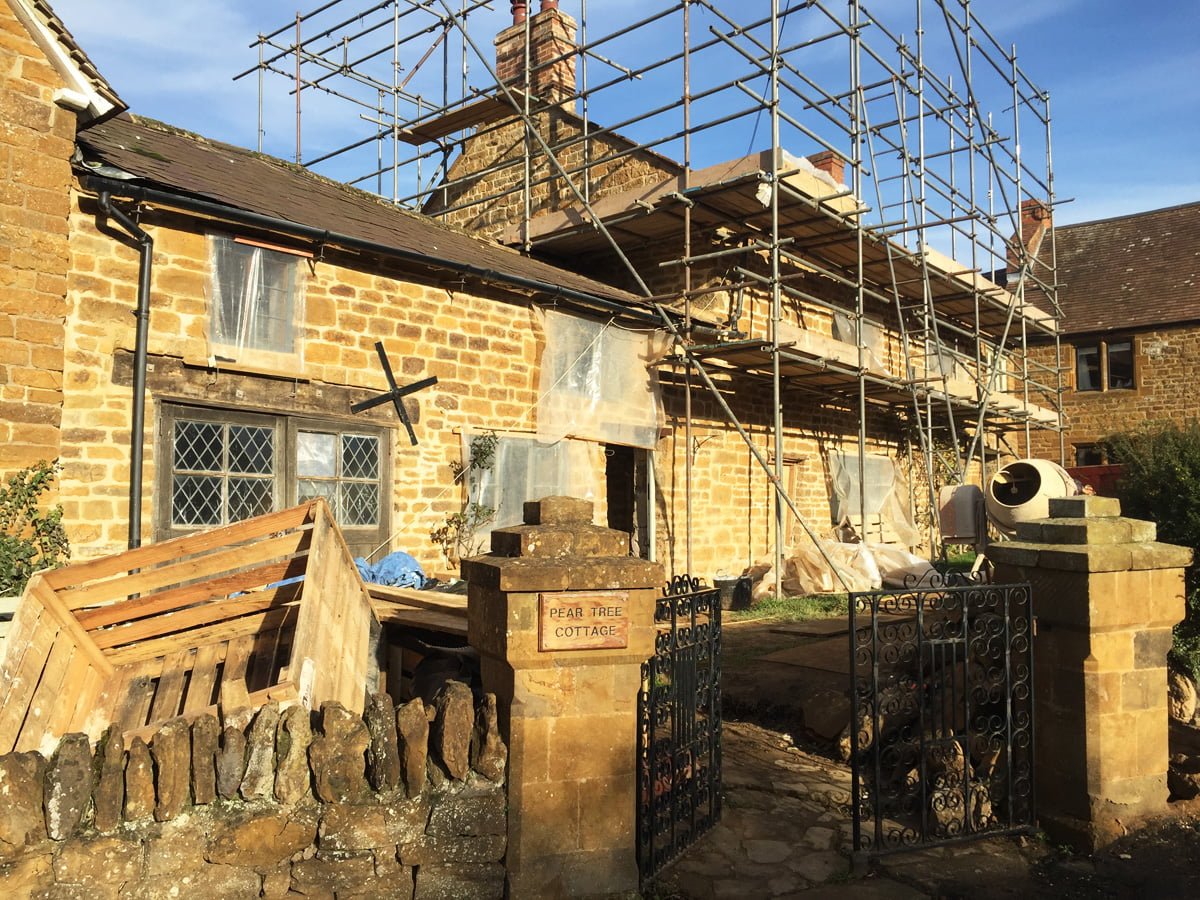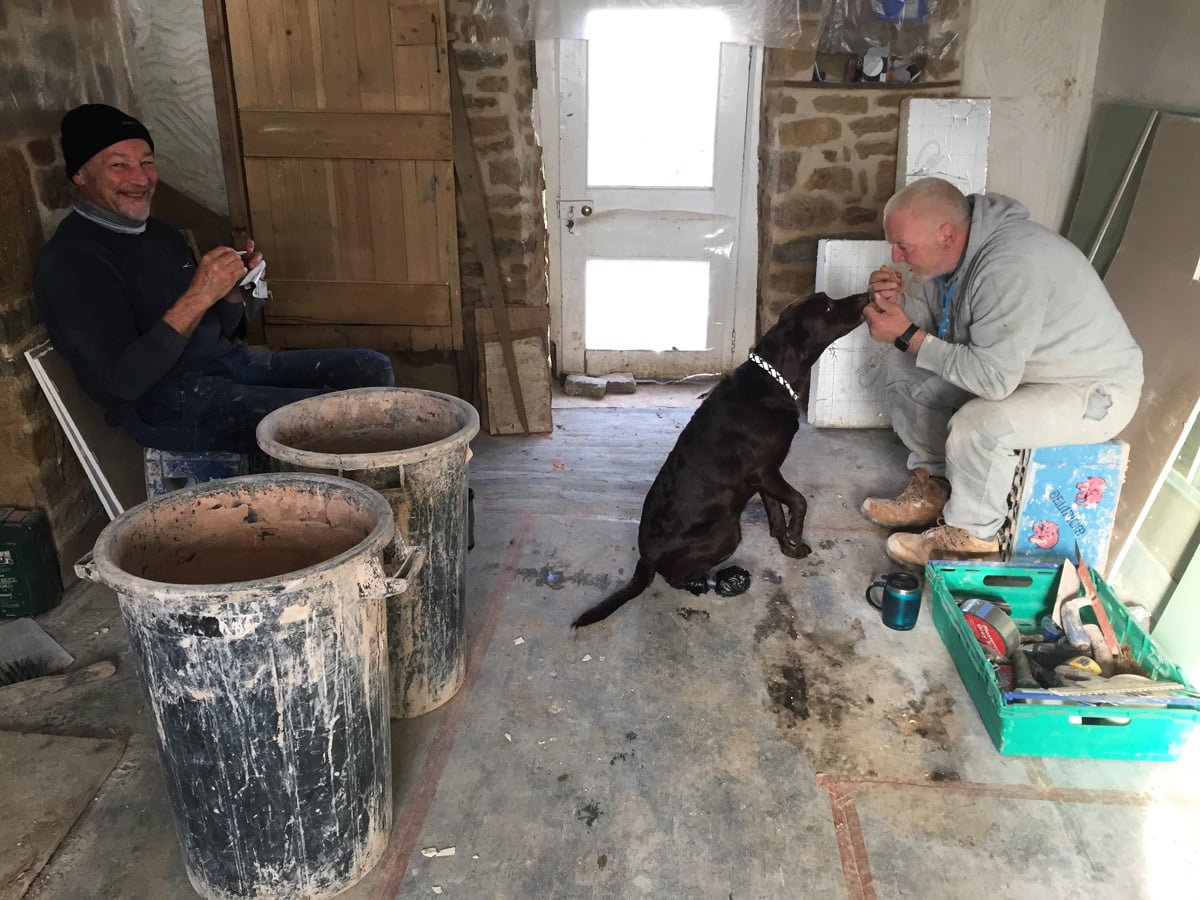 Jasper arrives just at the right time, as his new mate Charlie is eating a mid morning snack (cheese and bacon toastie I think).
Charlie plastering the bay window in the new bathroom. The wall is single skin here so insulated plasterboard is added and then plastered over.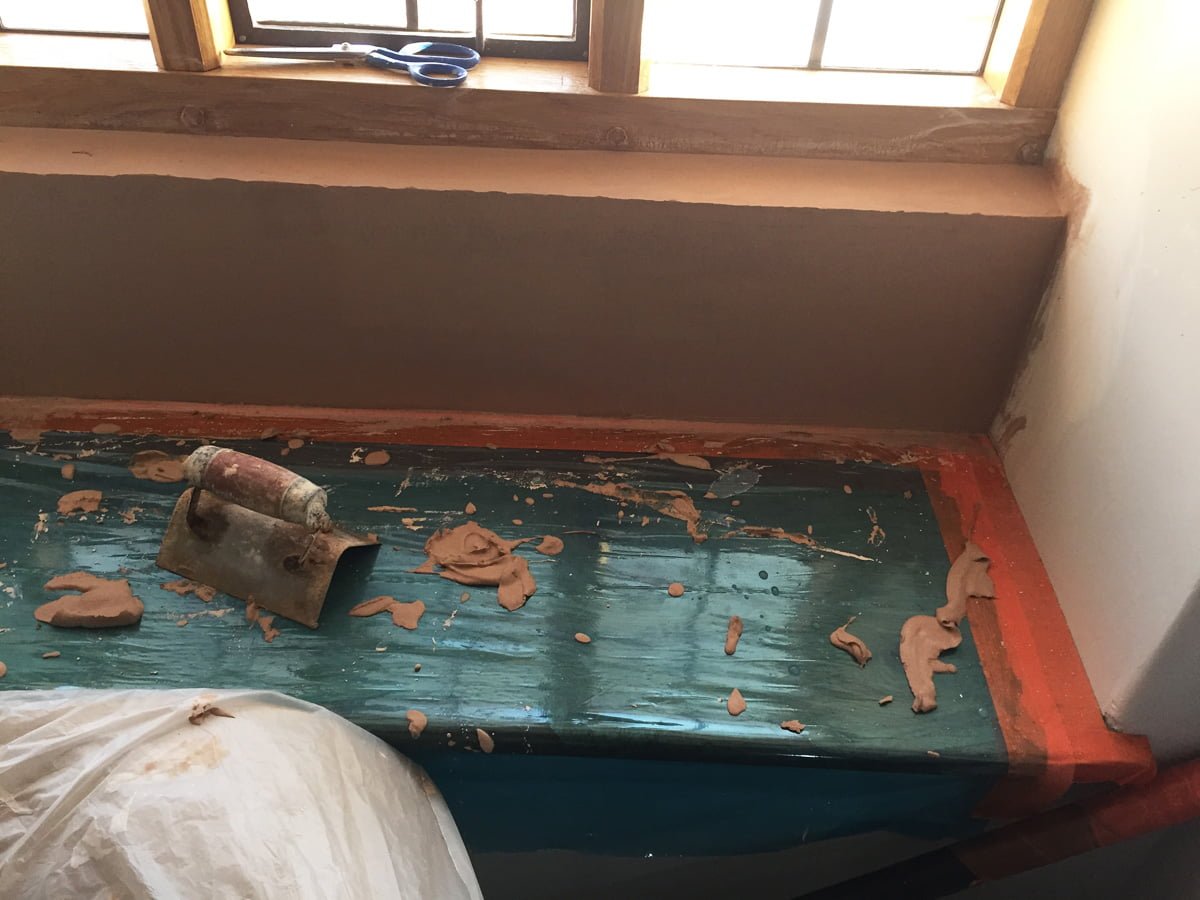 Tidy workers, the new oak window seat has been wrapped up well to protect it from the plaster.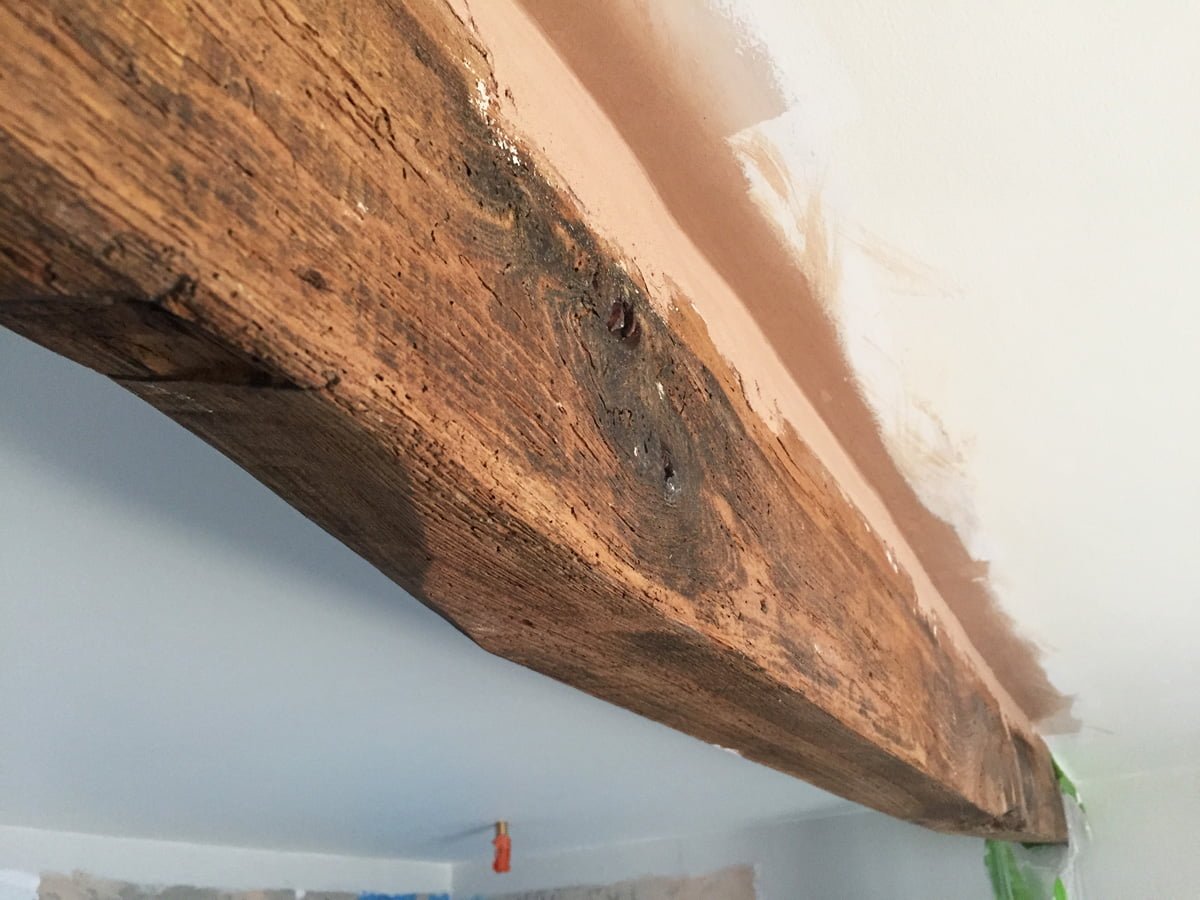 The beam in the bathroom is banana shaped, so there is a gap between it and the ceiling. The beams in Zanna's bedroom and the beam on the landing are the same, so the gaps above get filled in with plaster. These will be painted the same colour as the ceiling so it won't stand out.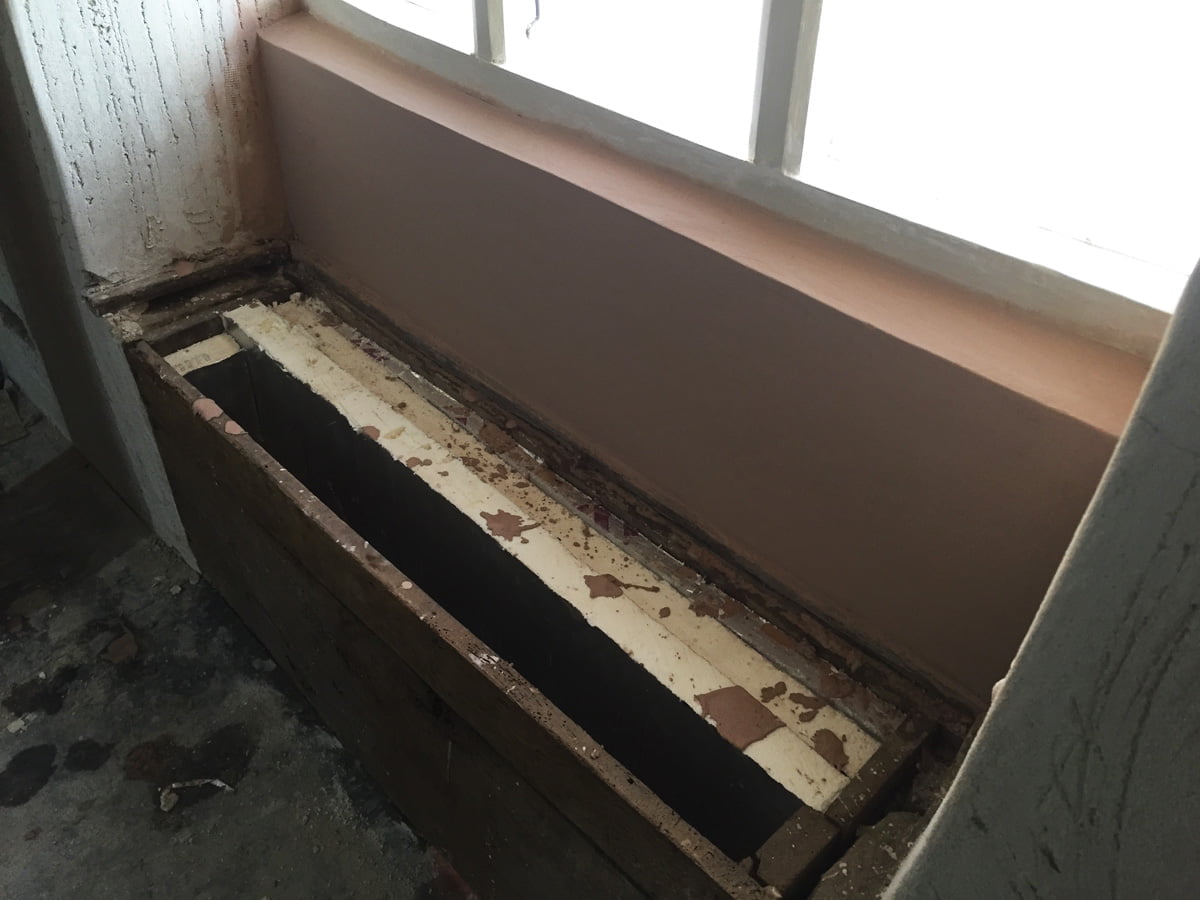 The bay window in Zanna's bedroom, again with a single skin wall, has insulated plasterboard and is then plastered. The window seat is filled with two layers of 100mm Celotex insulation. It is hollow and the seat is nailed on so it can't be used for storage. The insulation will prevent any cold spots or draughts.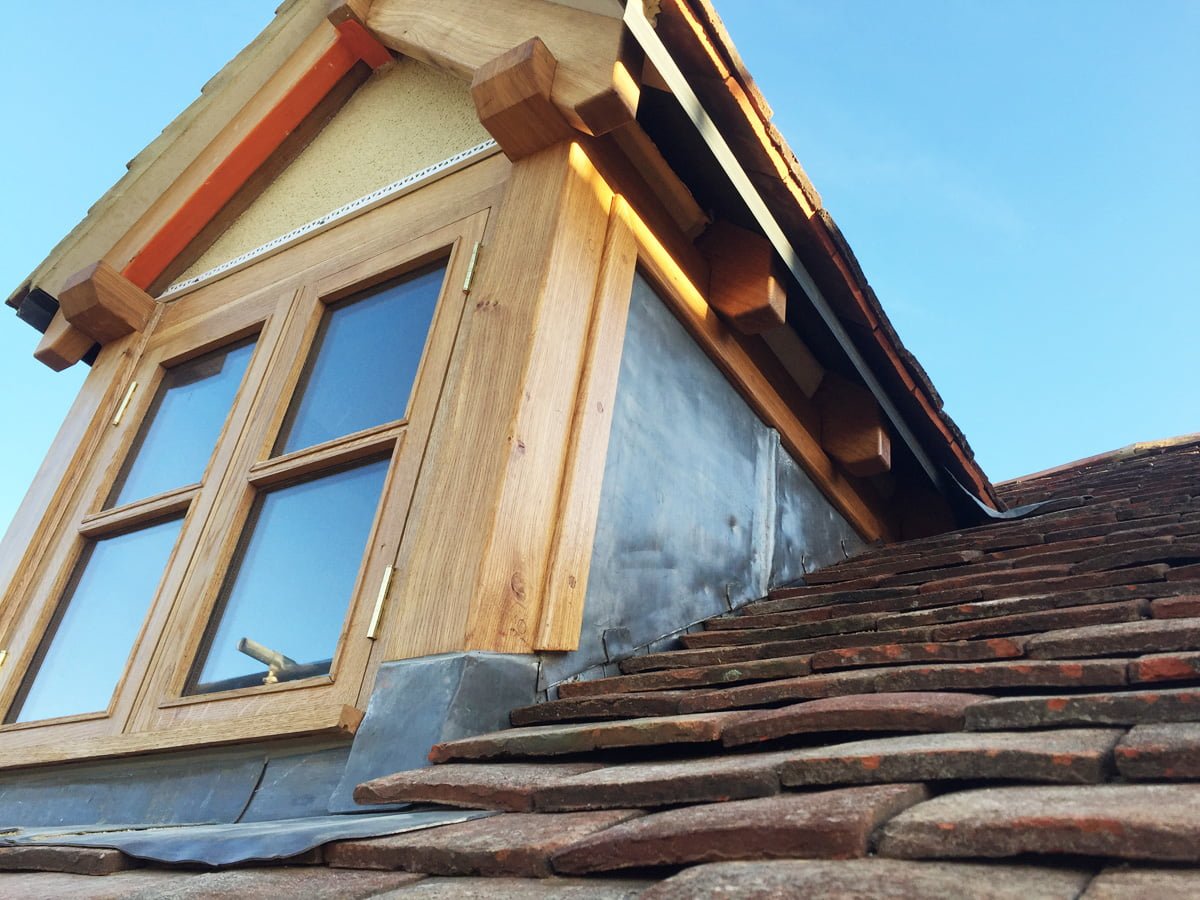 The problematic dormers. You can just see the Celotex insulation that is visible underneath the side joists… Thankfully Paul, who fitted the oak fillets and beads to the dormers earlier this week, will come out tomorrow to take a look and see what he can do to fix this for us before the scaffold comes down next week.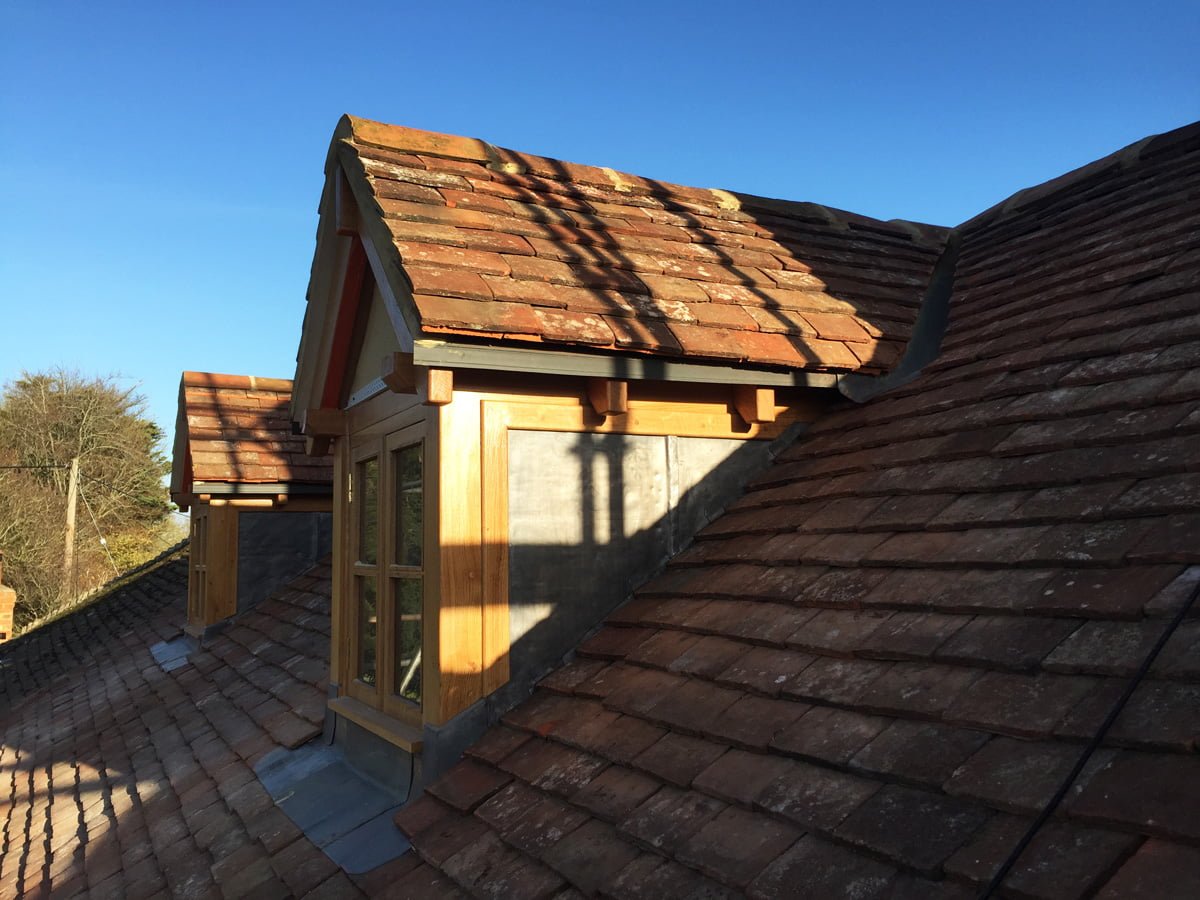 Look at that sky!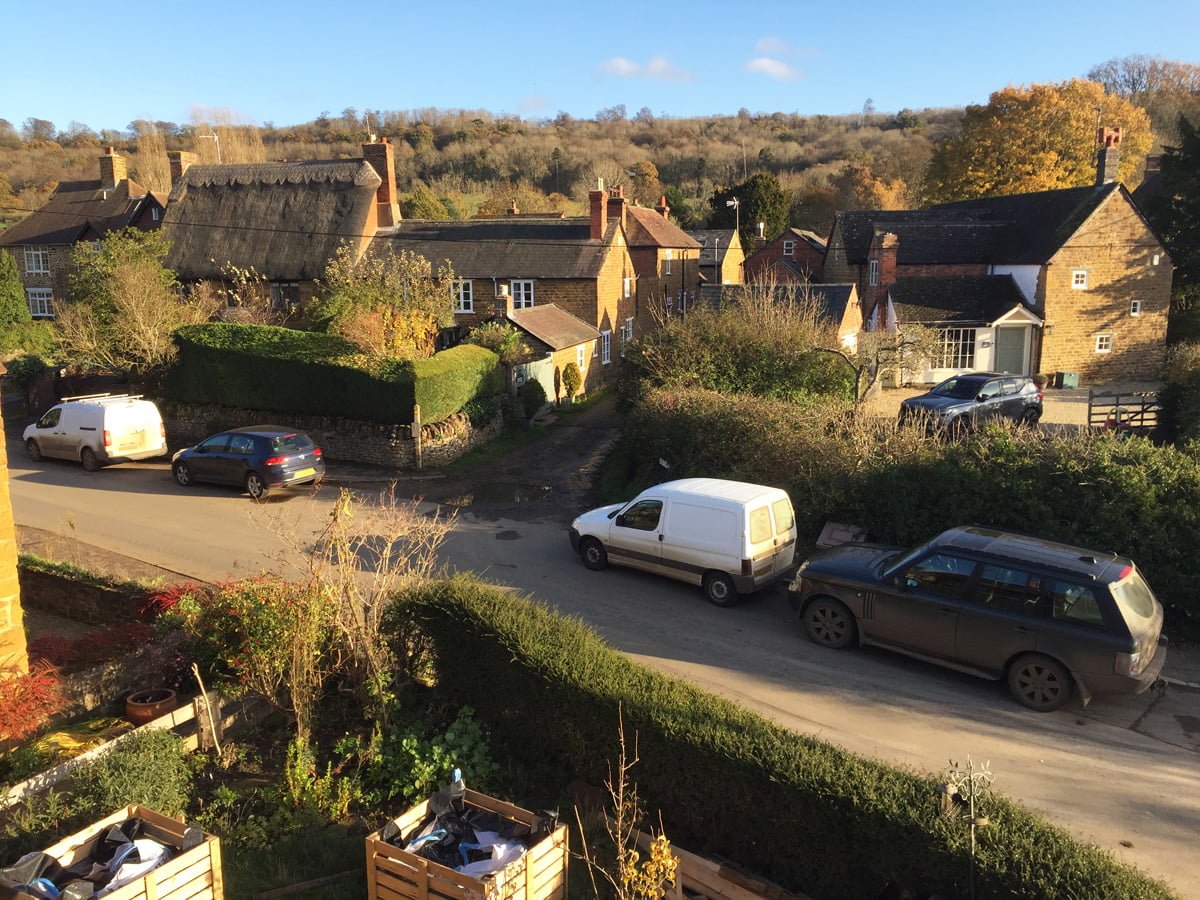 The view from the front of the scaffold, across the road and up Edgehill, where we go for our daily walks and one of the main reasons we bought this house.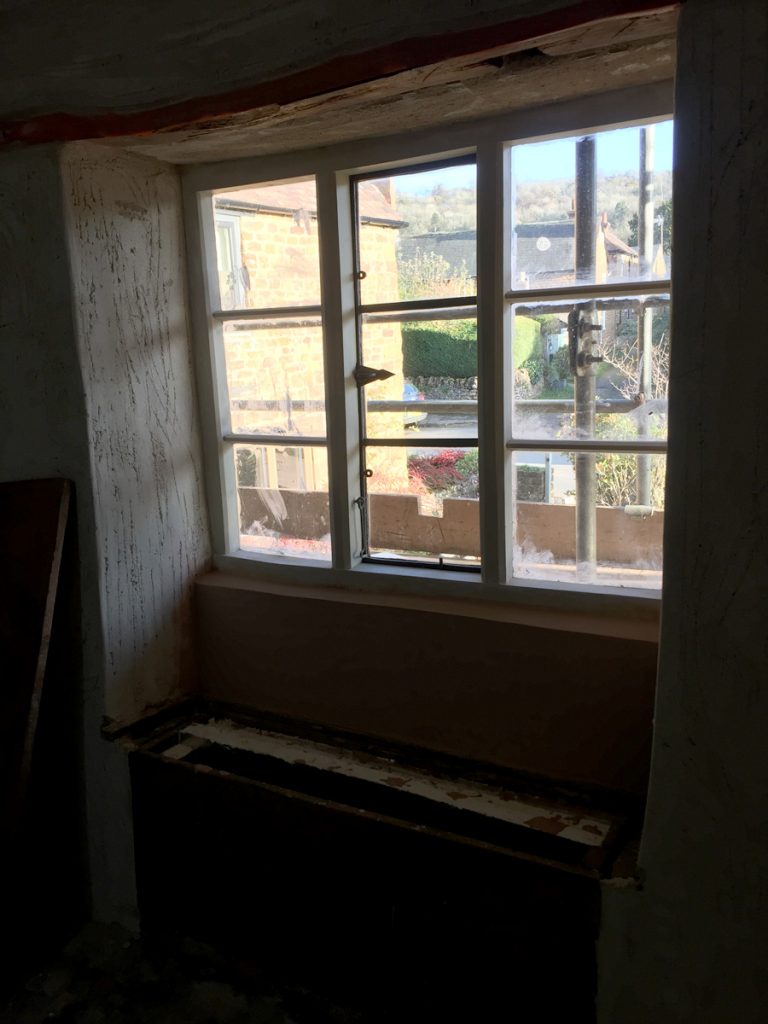 Zanna's bedroom window. We have removed the plastic cover from the outside as we have fitted the middle metal window so it is now air and water tight.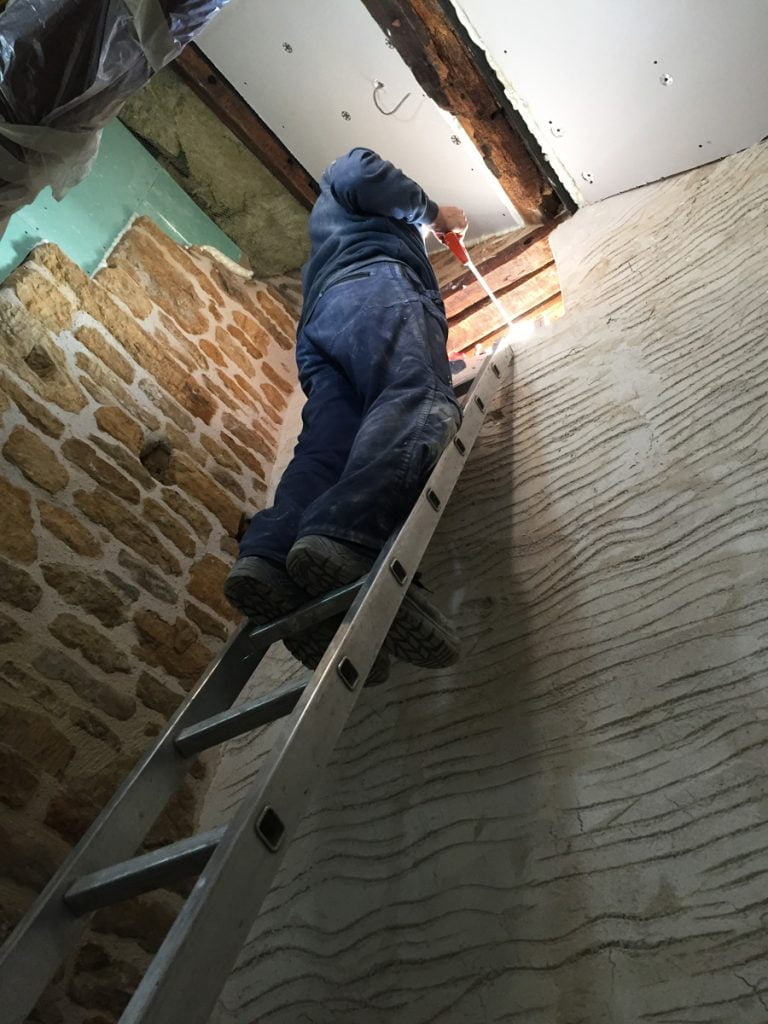 Alan cutting slithers of insulation to fit into the awkward parts of the ceiling in the stairwell, whilst standing on top of a tall ladder…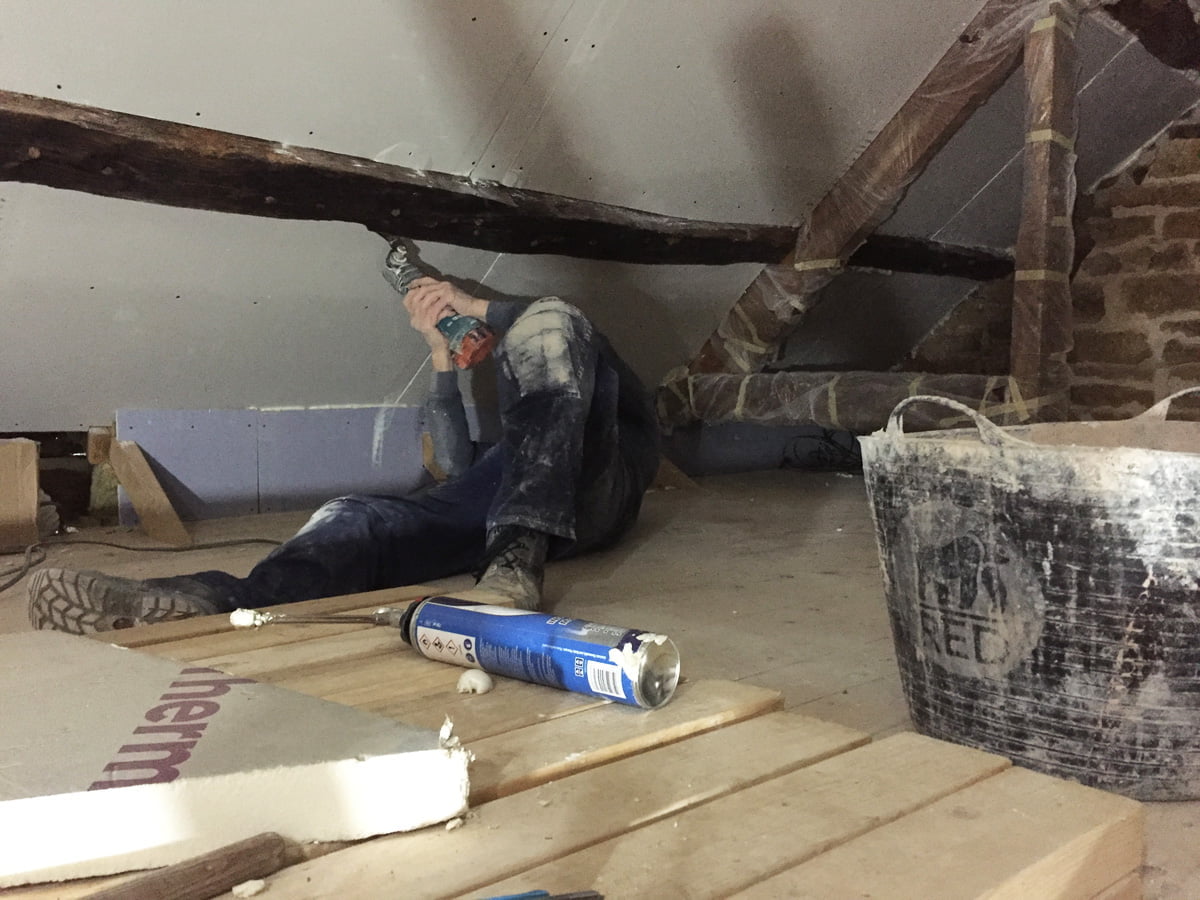 Poor Alan again getting the awkward tasks! Expanding foam has been added into the gaps between the plasterboard and the beams, then when dry it needs cutting off flush with the board.
Zanna has had her back fixed by a new Osteopath this week (as recommended by Alan and Charlie), but I think we may all need to see him…