The big oak door that we bought from Warwick Reclamation last week is too large for the door frame. It is far thicker than our other doors and far heavier as a result, but this means it is too thick for the old door recess and would sit proud of the door frame. Also, due to the weight of the door, the old frame probably wouldn't be strong enough to hold it.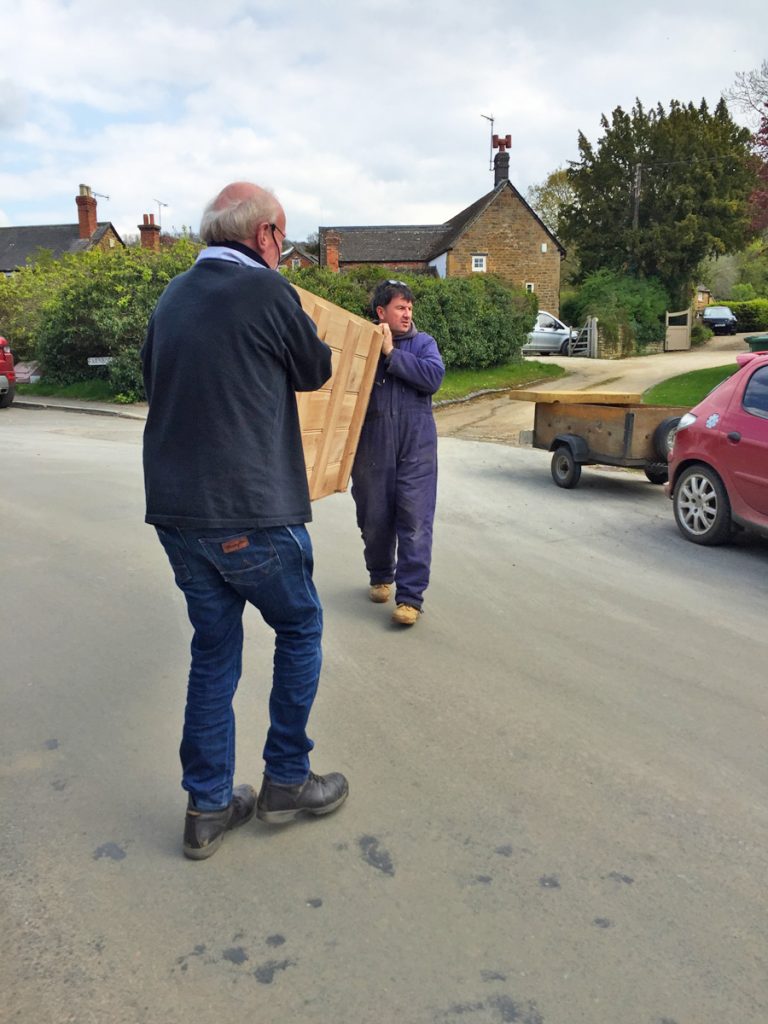 So we need to take it back… Colin arrives with his trailer and with the help of Martin, one of our many lovely, helpful neighbours, manages to get the door out of the house a little easier than it went in.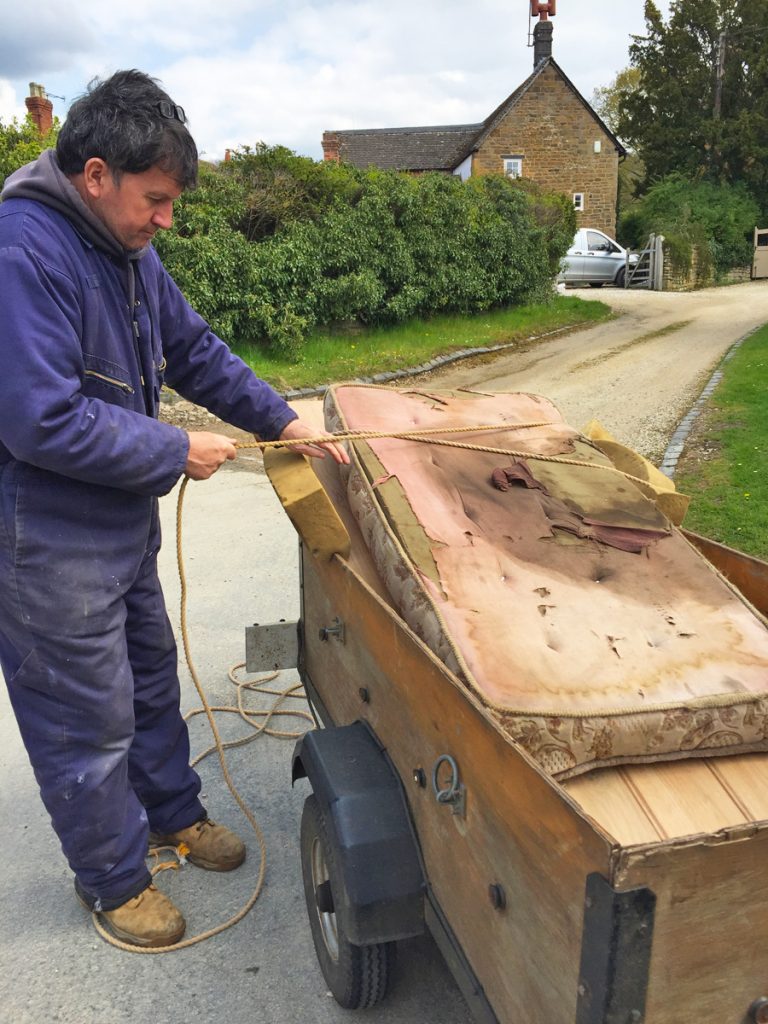 Securing and padding the door to cope with Colin's driving style with a trailer on board (pretty much the same as his normal style).
Arrived safely!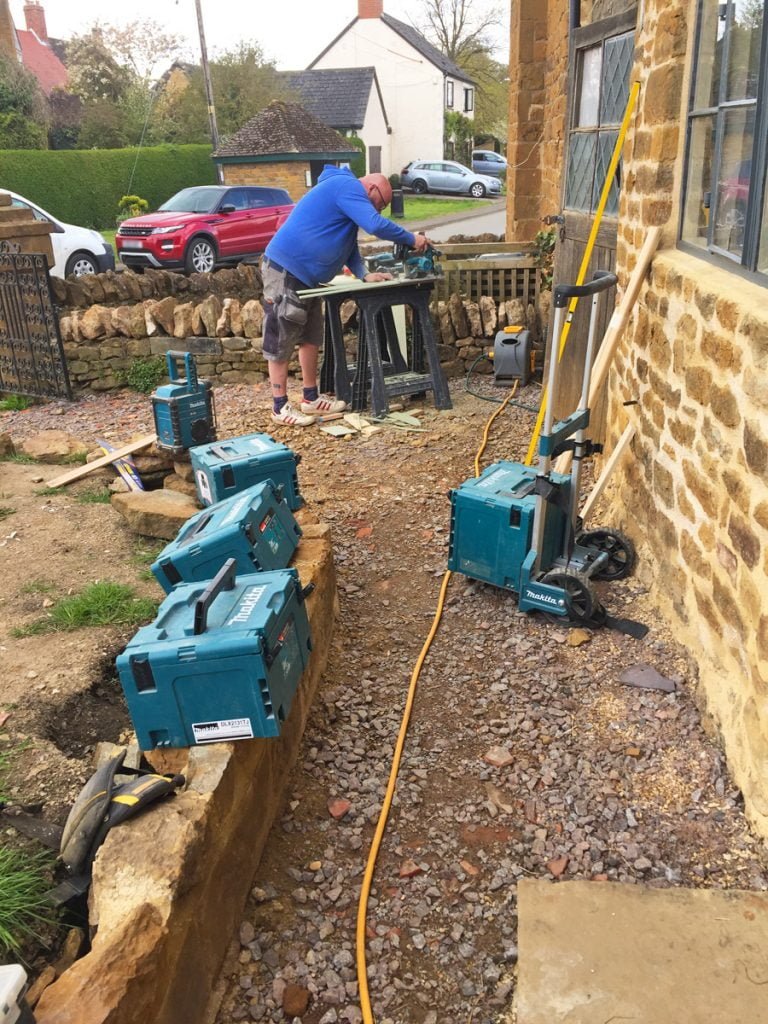 Today is Glynn's last day for a while, so we have a huge list of urgent things that need doing before we can move in. Glynn started with us back in August and was only going to do the occasional weekend to renovate the original windows. Glynn worked almost every Saturday from August to Christmas, then he was back in March until now, to work on all the interior carpentry, stud walls and doors. Above and beyond!
We cannot thank Glynn enough, what a star and what a craftsman! The work he has done on the windows alone is astonishing and have saved our beautiful historic windows for another few hundred years. And that front door is an absolute work of art. Thank you Glynn (but please come back!)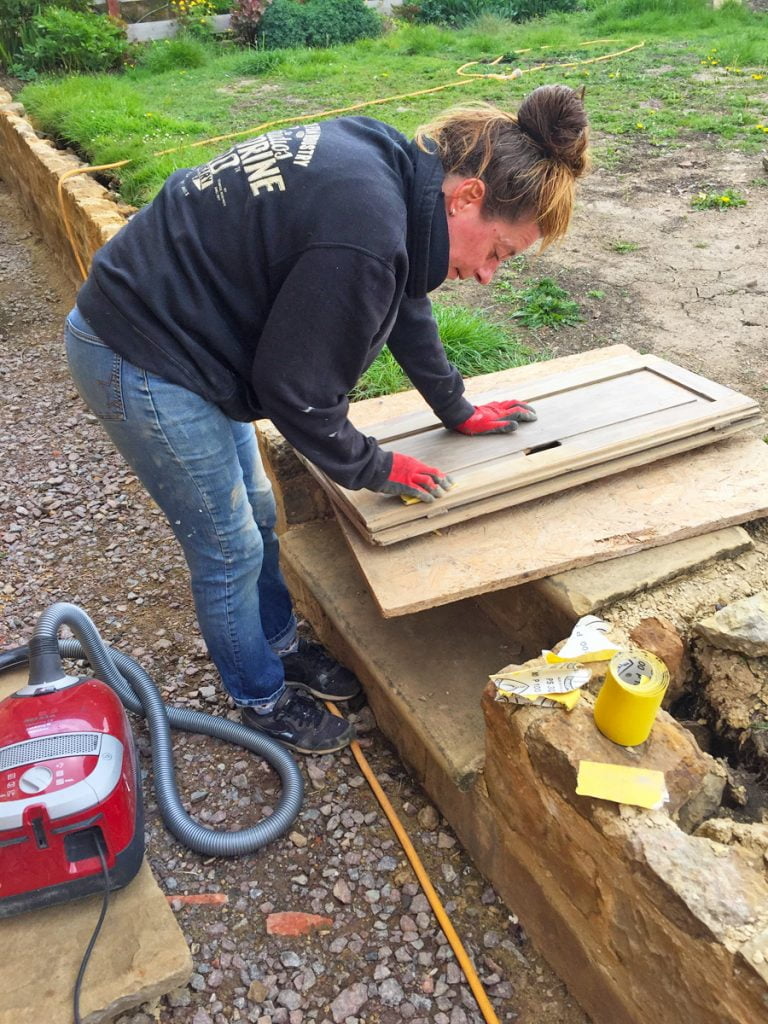 Glynn will be fitting our old shutters today so Cat is giving them a final sand followed by a coat of beeswax. The beeswax comes in a solid form and needs rubbing in but was just going on in white lumps until Colin suggested heating it with the hot gun. This worked a treat and the beeswax went on smoothly and evenly as a result.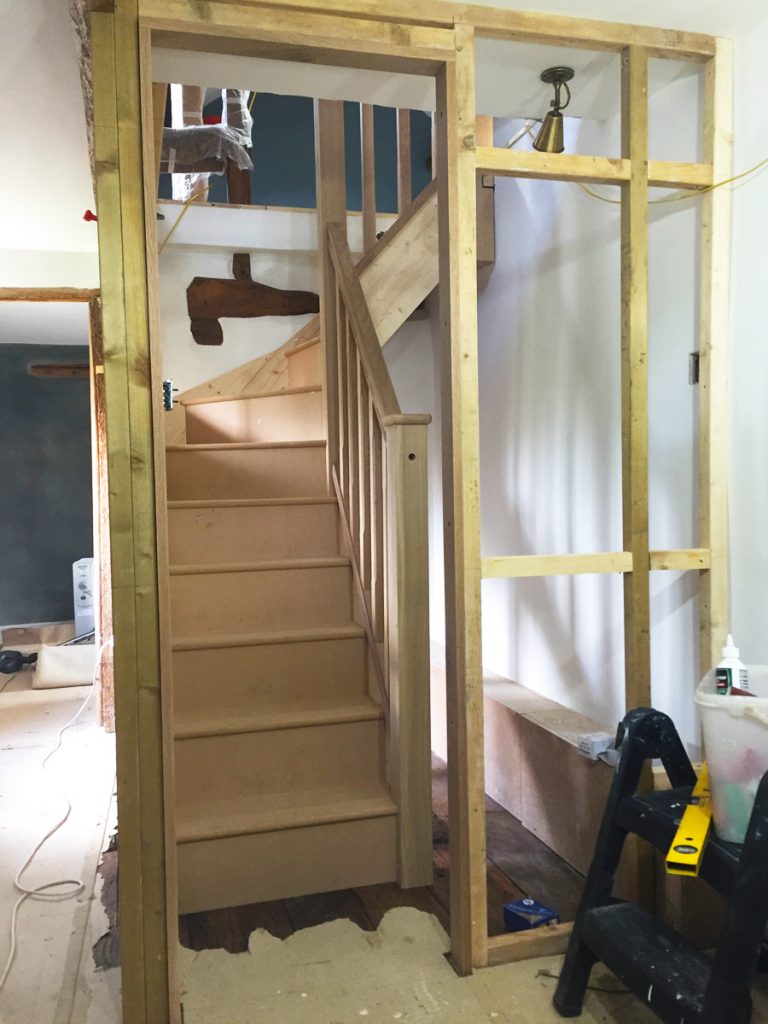 Glynn's first task was to build the oak door liner for the new staircase door.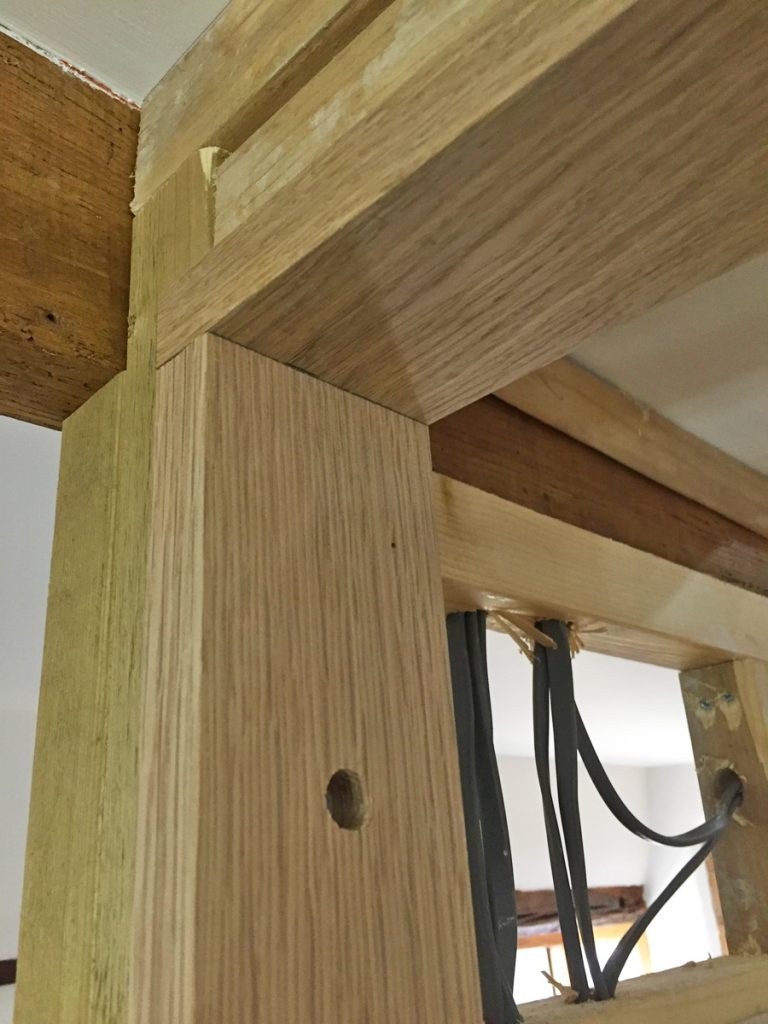 Fitted and ready to oil.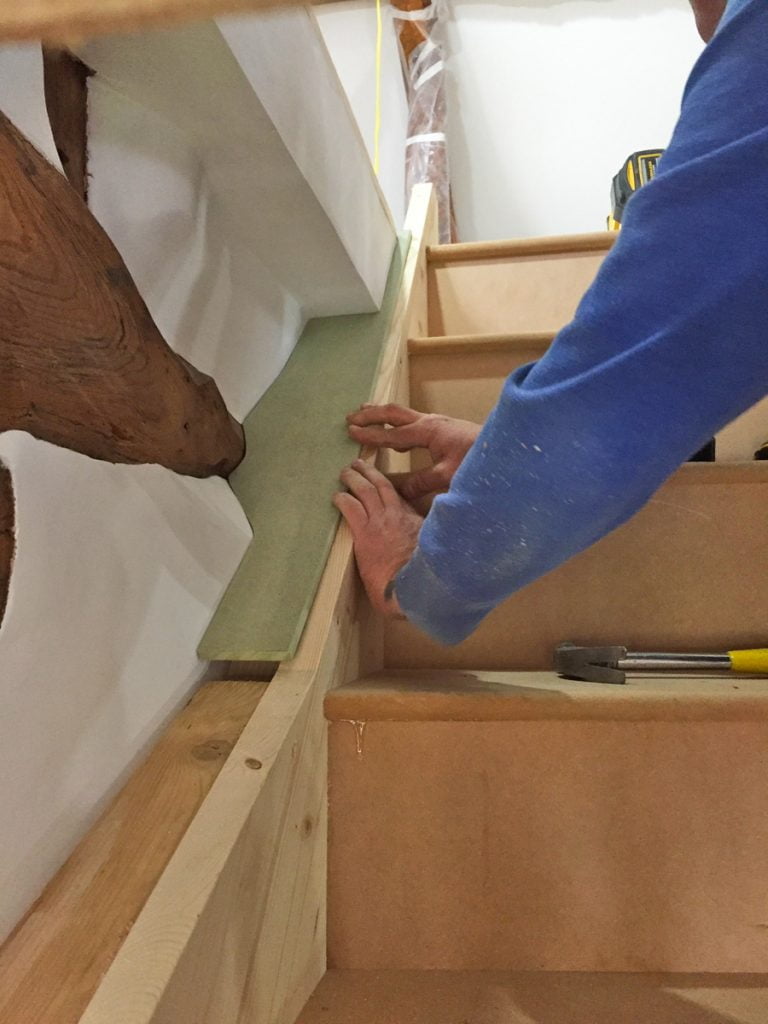 Glynn's next task is to fill in the gap between the old wall and the staircase. The shapes are extraordinary, so he uses MDF as it is a bit easier to manipulate into odd shapes than timber.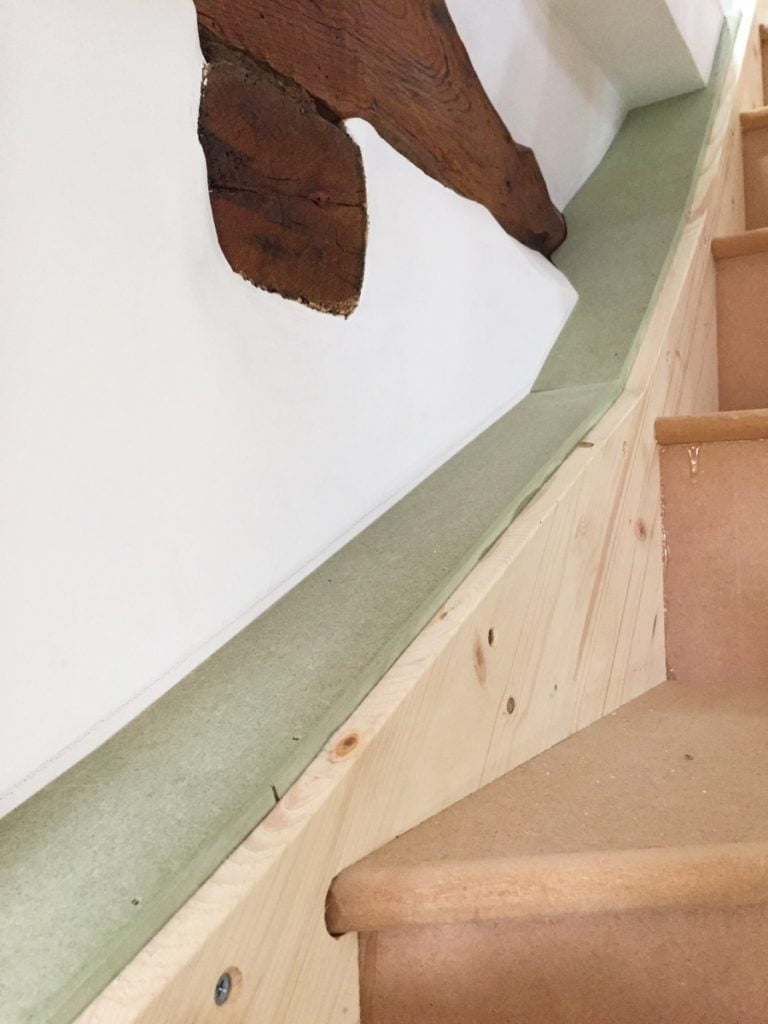 Glynn has inadvertently made a slide for our mice! It will be painted our woodwork paint colour and will blend in with the side of the staircase.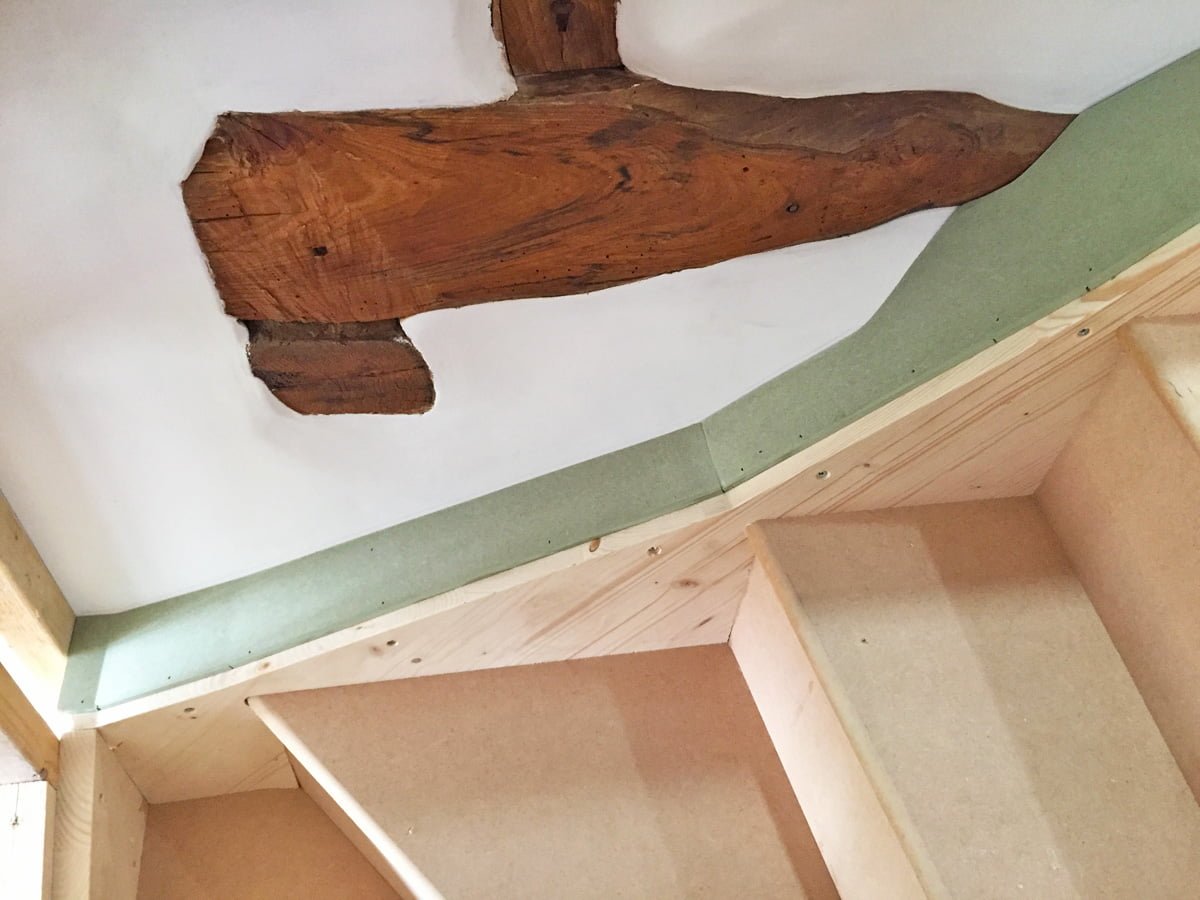 Glynn scored the MDF underneath in places so that he could bend/fold it to follow the shape of the staircase.
Samosas for lunch and Jasper comes out to supervise (and clean up any dropped crumbs).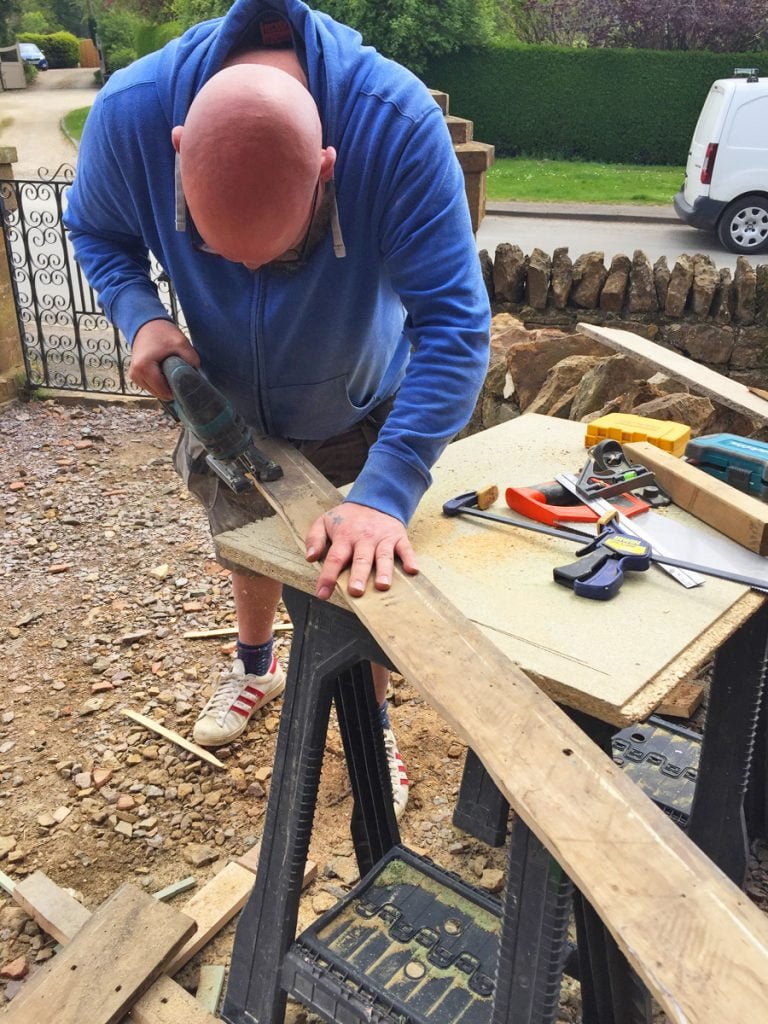 Glynn then moves on to repair Cat's bedroom floor, the edge where there are huge gaps through to the dining rom below. He uses an old oak floorboard, one of the ones we got for free from a property developer back in the summer.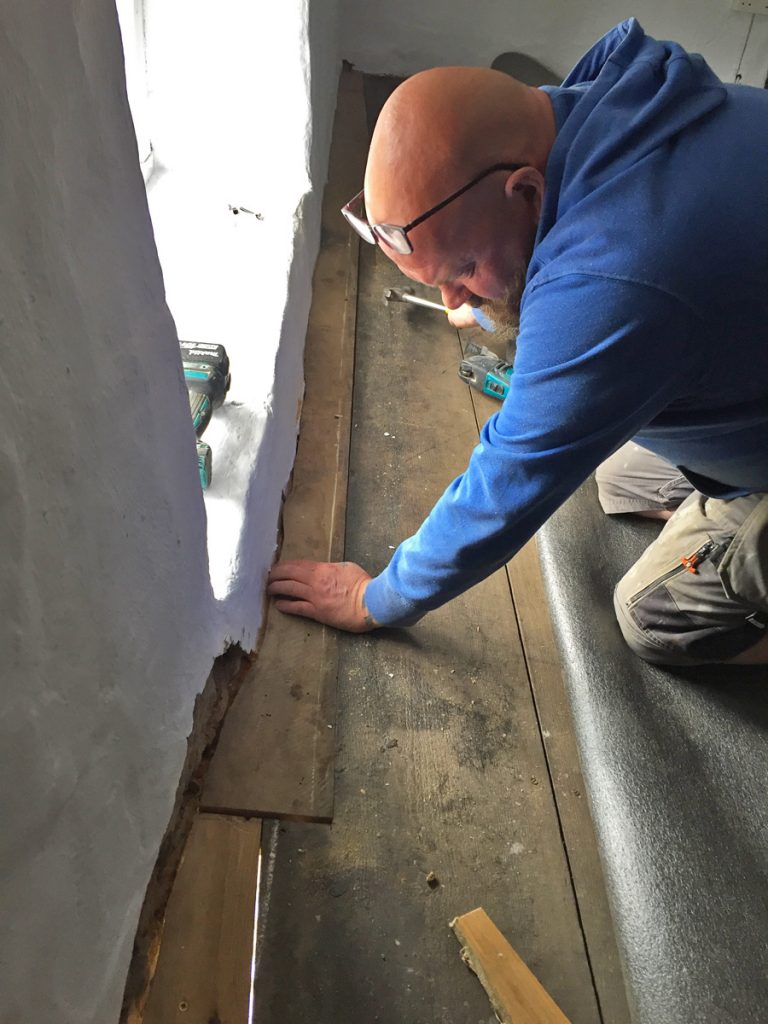 Glynn's compass has been well used today with more scribing in required around another wonky wall.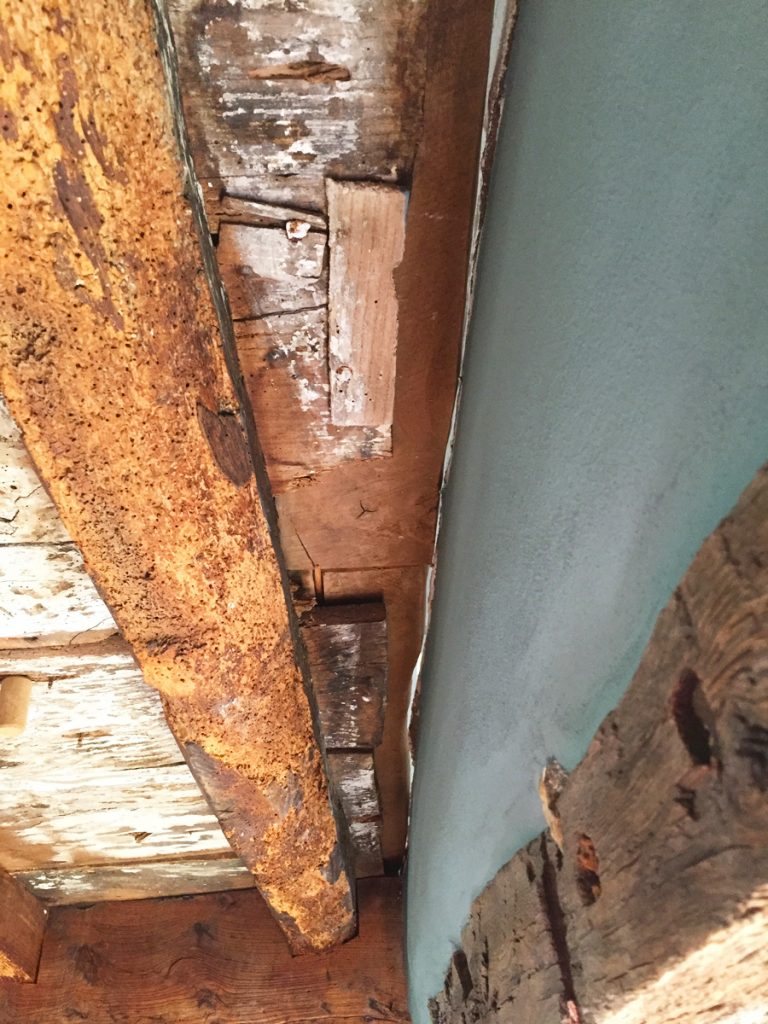 The floor from underneath. We can no longer pass cups of tea up from downstairs.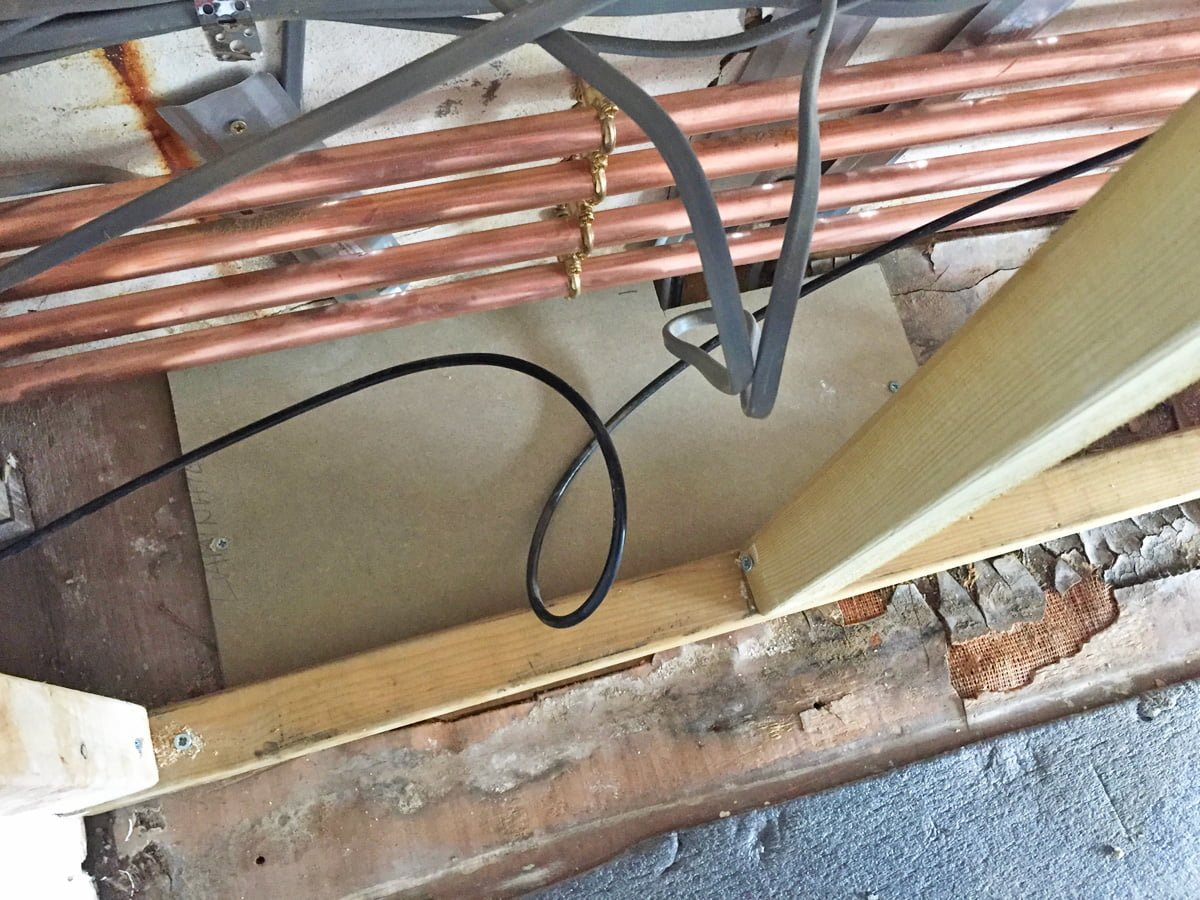 Glynn fills in two huge holes in the floor in Cat's bedroom with MDF, these are behind the new stud wall so they didn't have to be pretty. Ultimately, this floor will be taken up, strengthened and relaid in phase 2.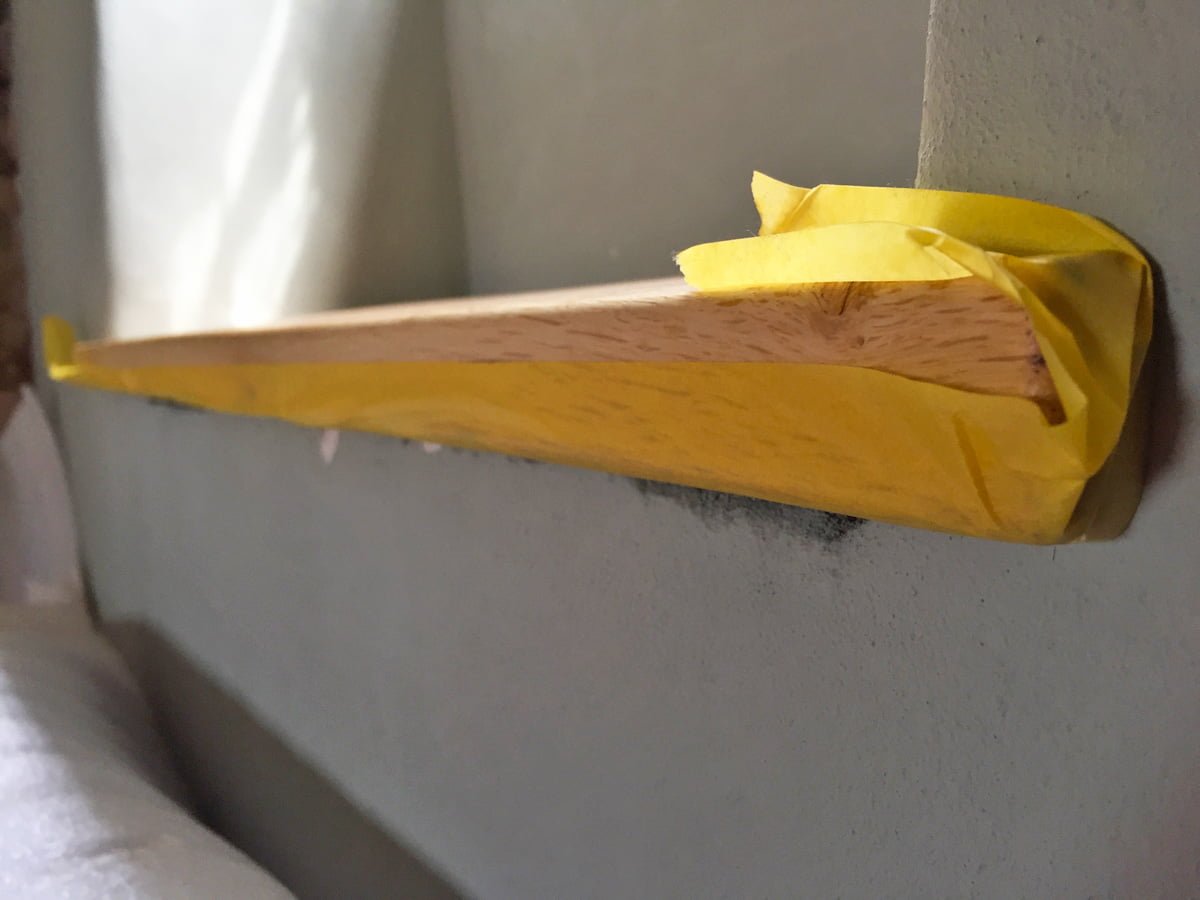 Today Colin is a lime plasterer, repairing and finishing the areas around the window seats and switches and sockets.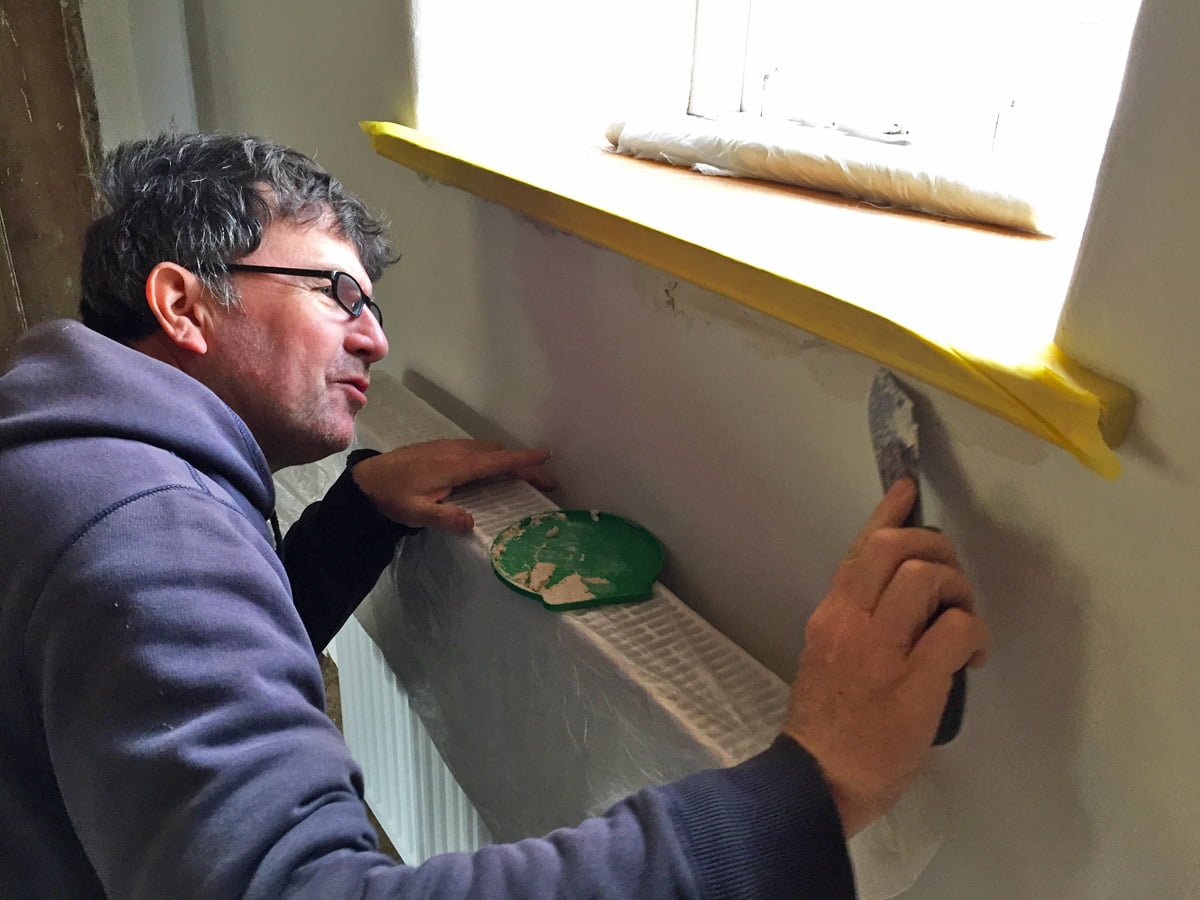 Once this has hardened (it doesn't need to be dry, this takes a while for lime) it can be painted over with the clay paint.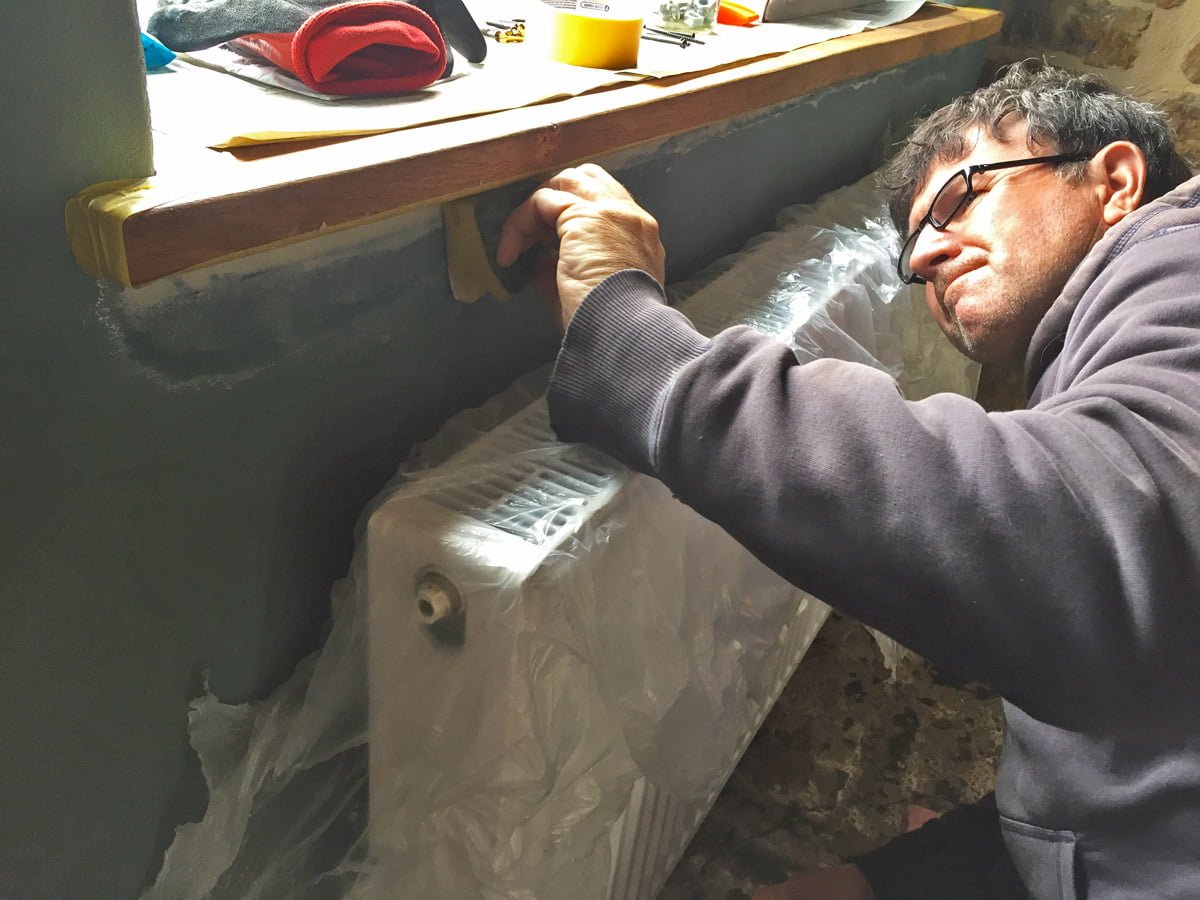 The dining room window seat.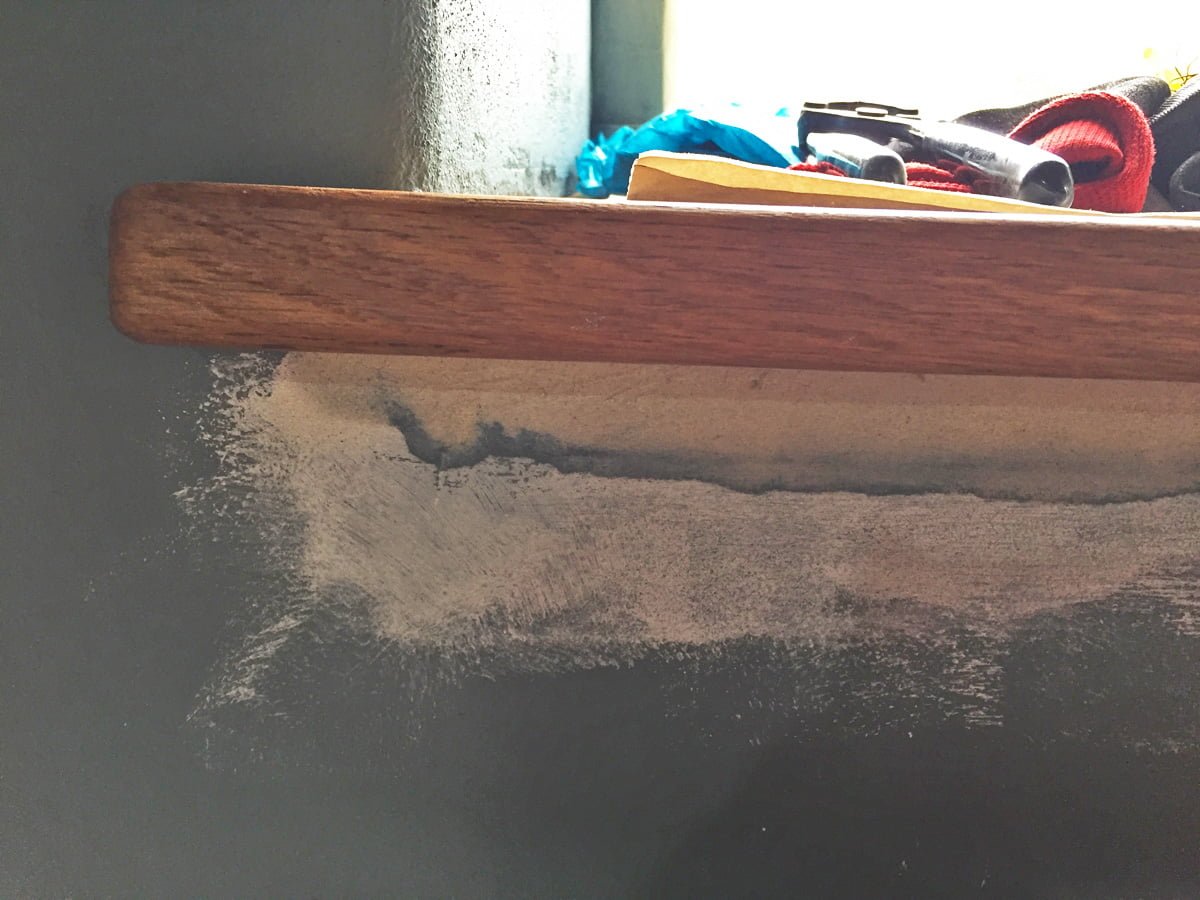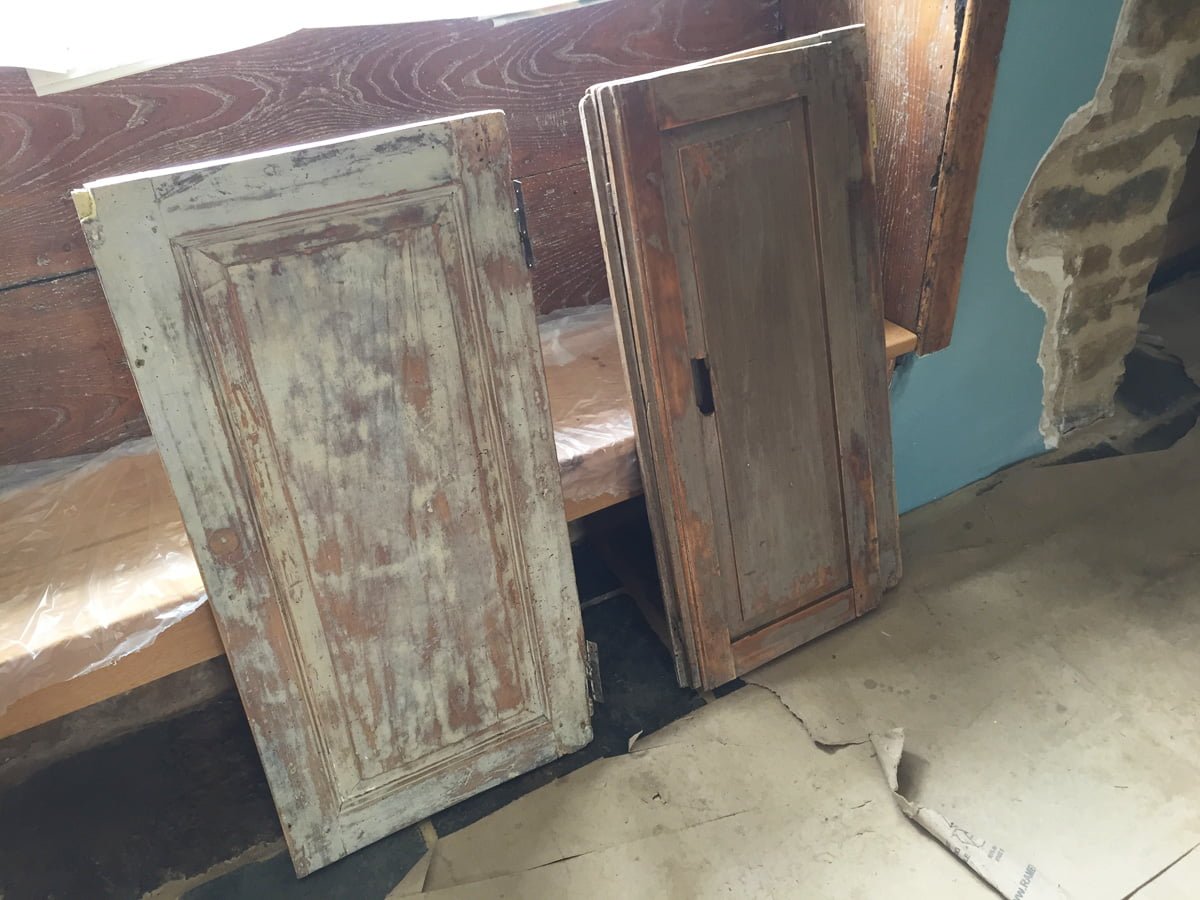 Finished shutters waiting to be fitted.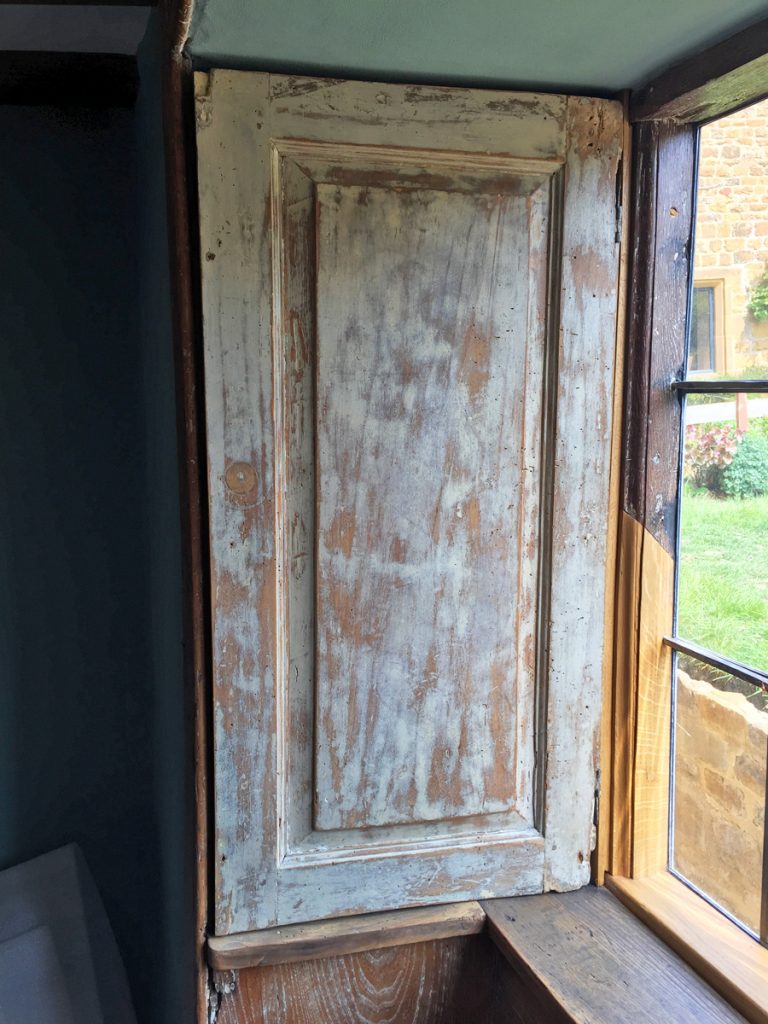 We are utterly delighted with them! They are so unique and original and unexpected. For 4 years we didn't know they were there and thought they were just part of the decorative Georgian window surround!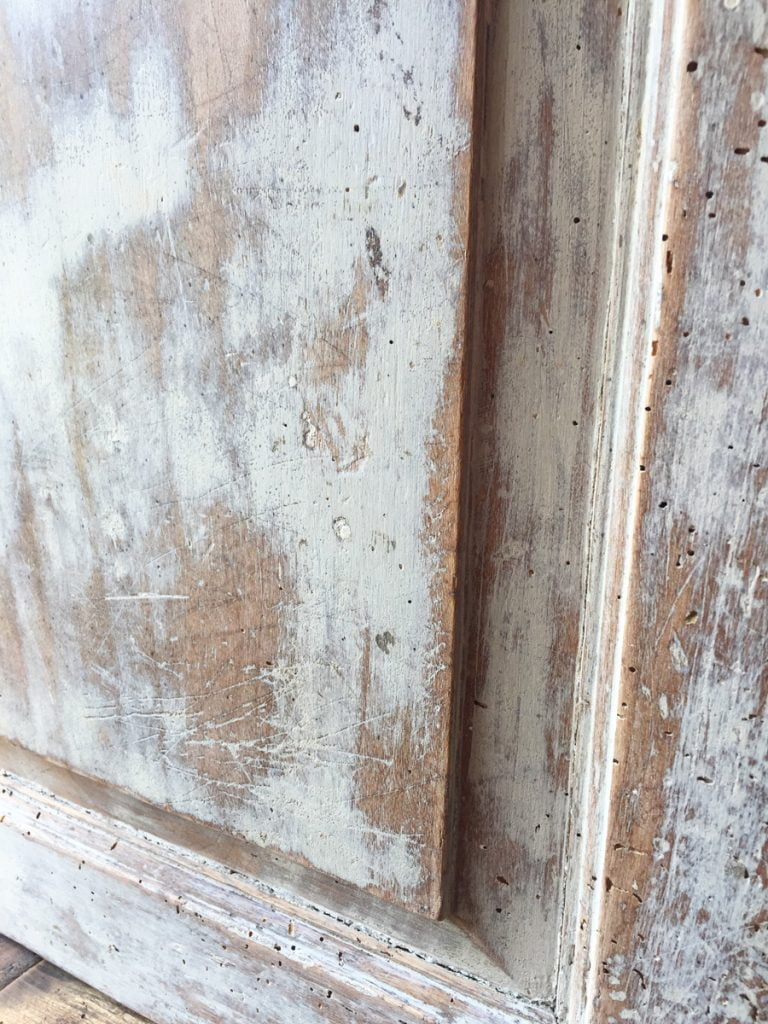 The finish allows the original marks and history of the shutters to shine through (and tbh Cat couldn't get anymore of this paint off without destroying the original patina).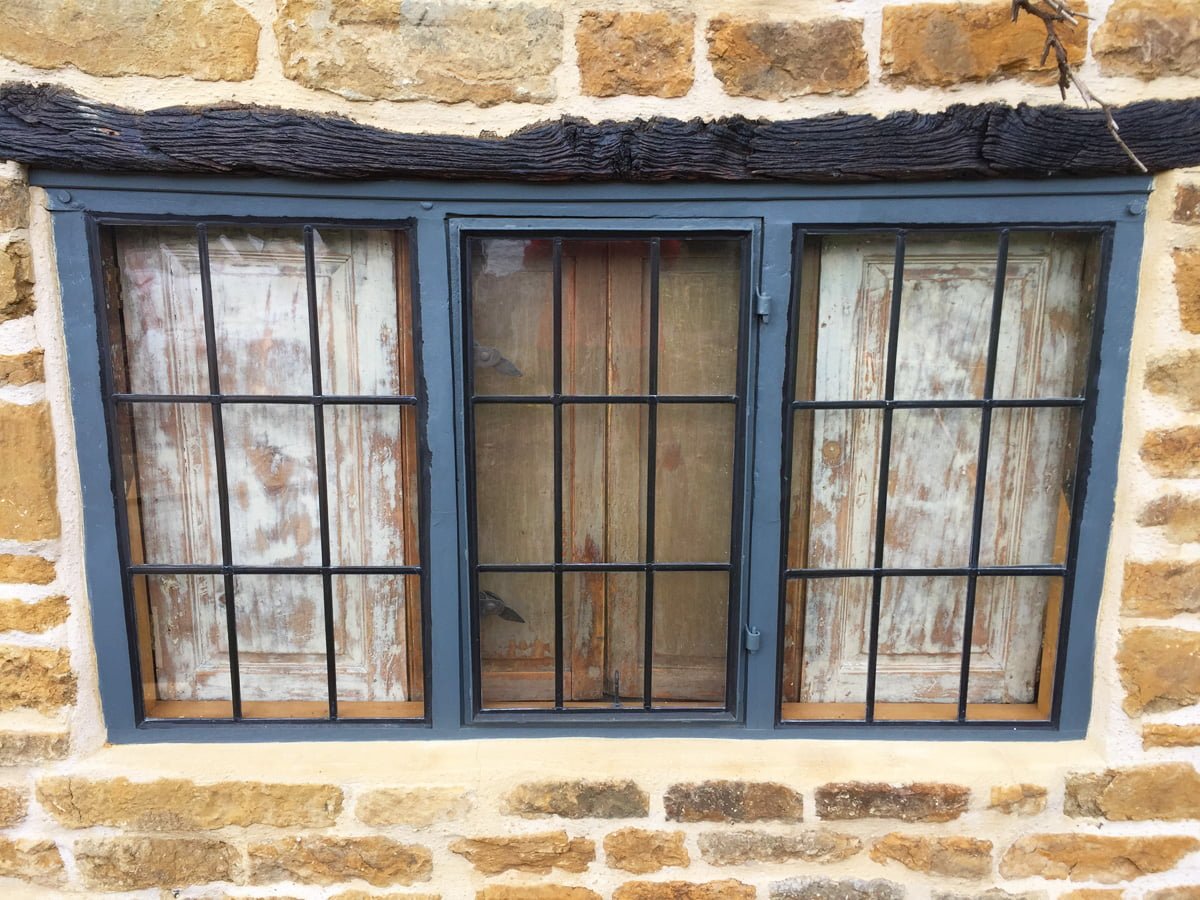 They look particularly special from outside. We now need to get a shutter bar made for the inside to hold them closed.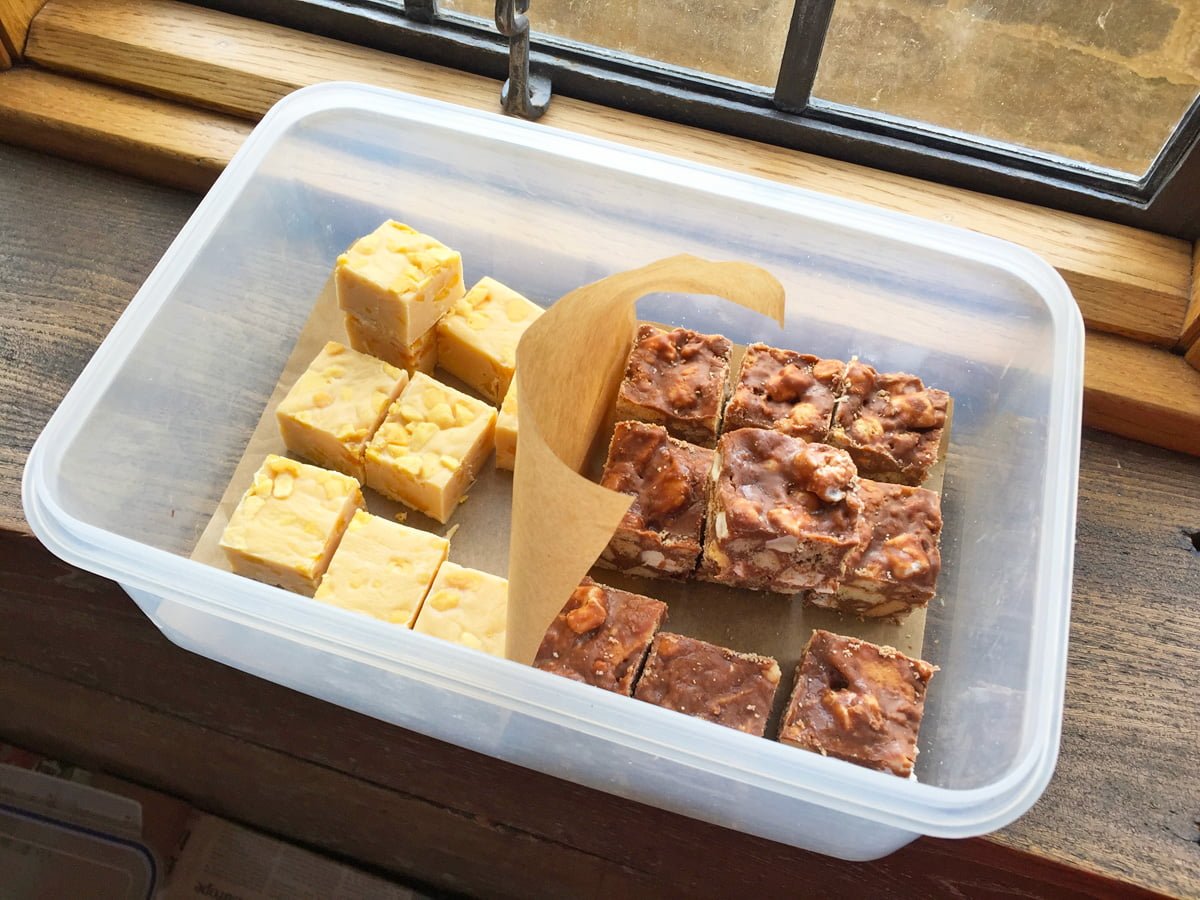 OMG Charlotte made us Rocky Road and honeycomb fudge and it was sooo delicious we ate nearly all of this in one day!!! Thank you!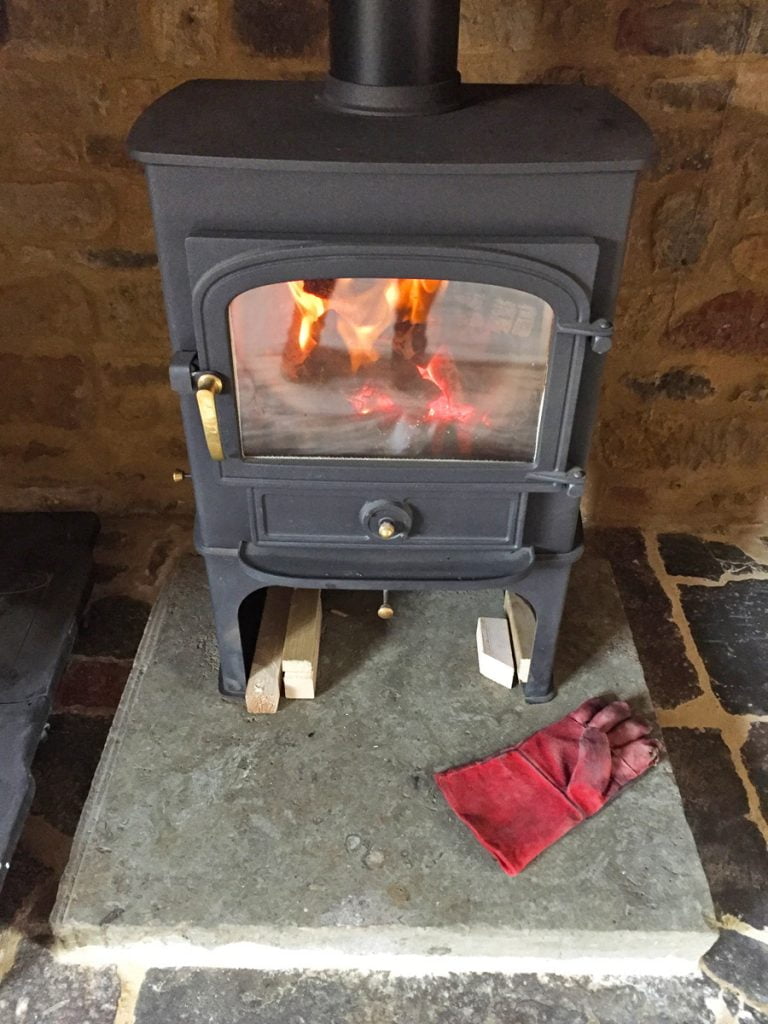 Our boiler has stopped working so the radiators are not coming on. Back to using plug in heaters over night, but today we lit the fire!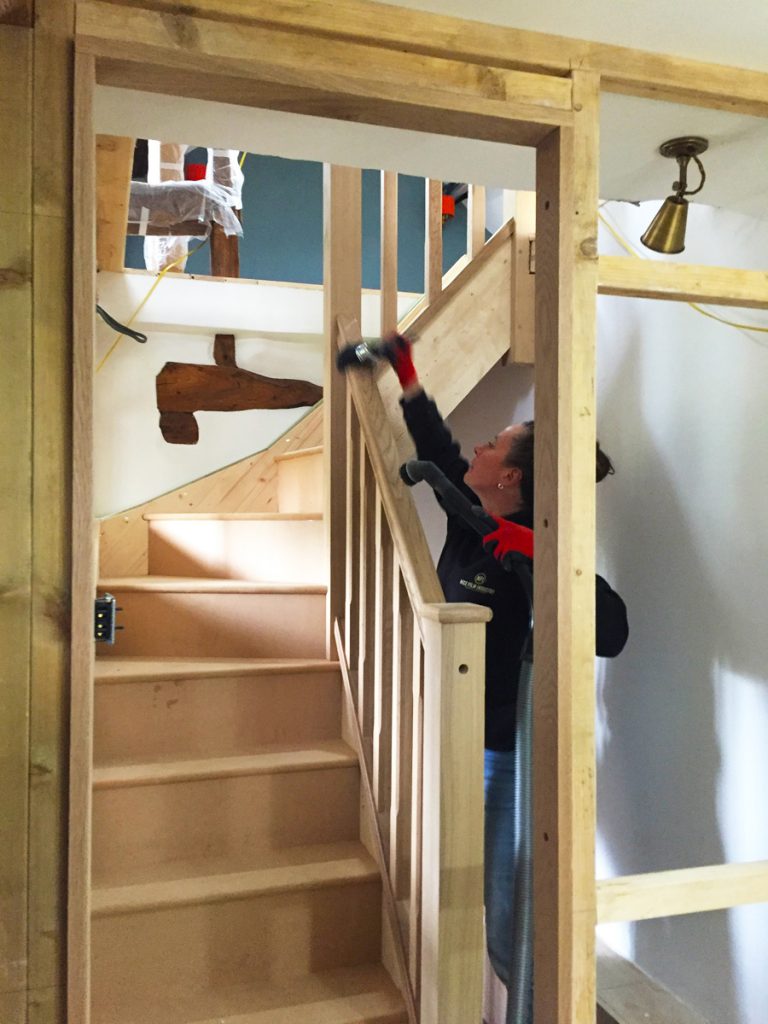 Cat is cleaning up the newel post, oak banisters and hand rail of the stairs before oiling them. Our plasterers are going to be plastering the walls the week after next, so the oak needs at least one coat of oil to protect it from any plaster (it will go black if plaster gets on the bare wood).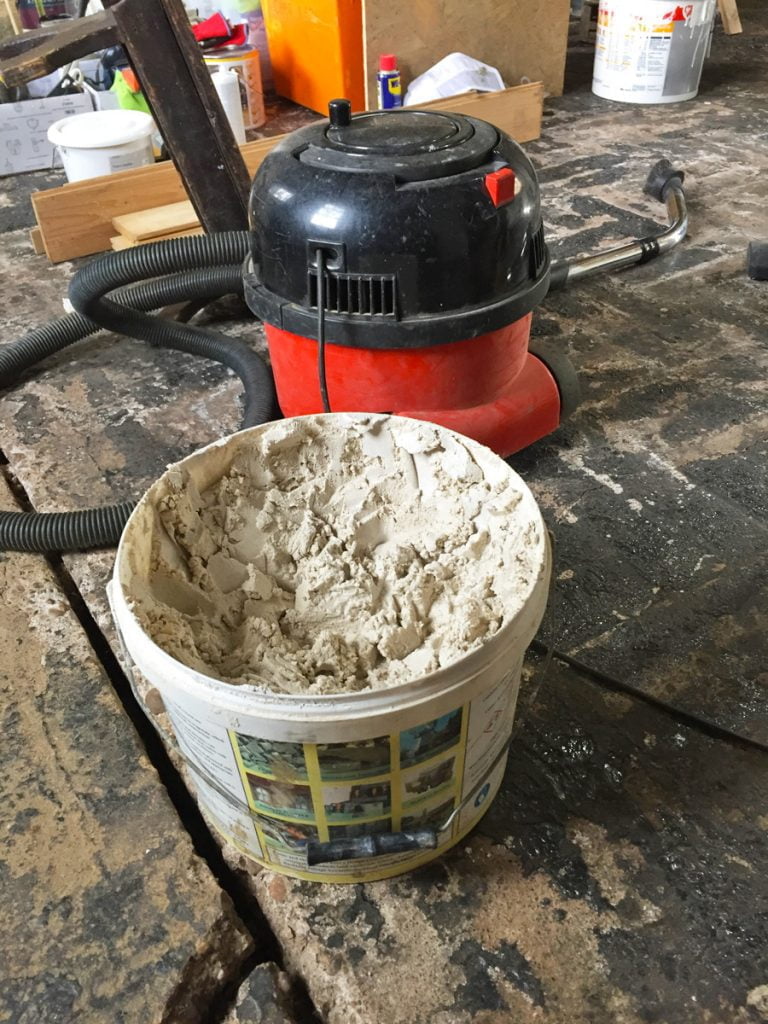 We have used quite a lot of this lime top coat for all the plaster repairs we have done over the last few months, but this will still last us years. We have another 4 buckets worth and it will last decades with a lid on apparently!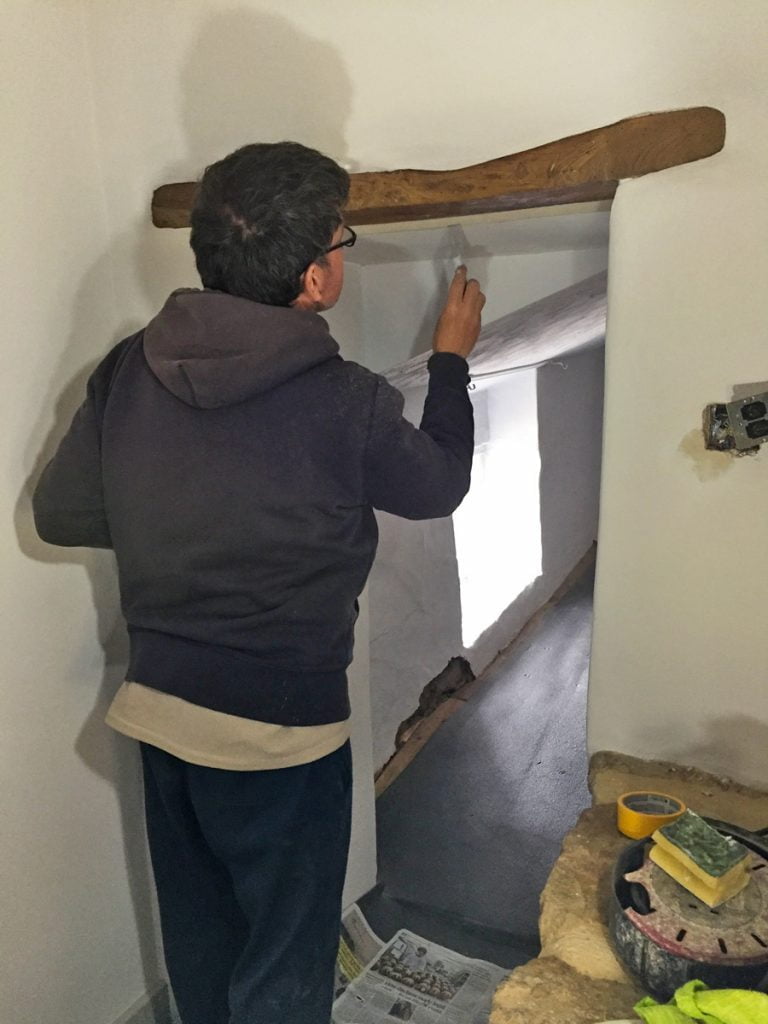 Colin finishing off the door frame to Cat's bedroom.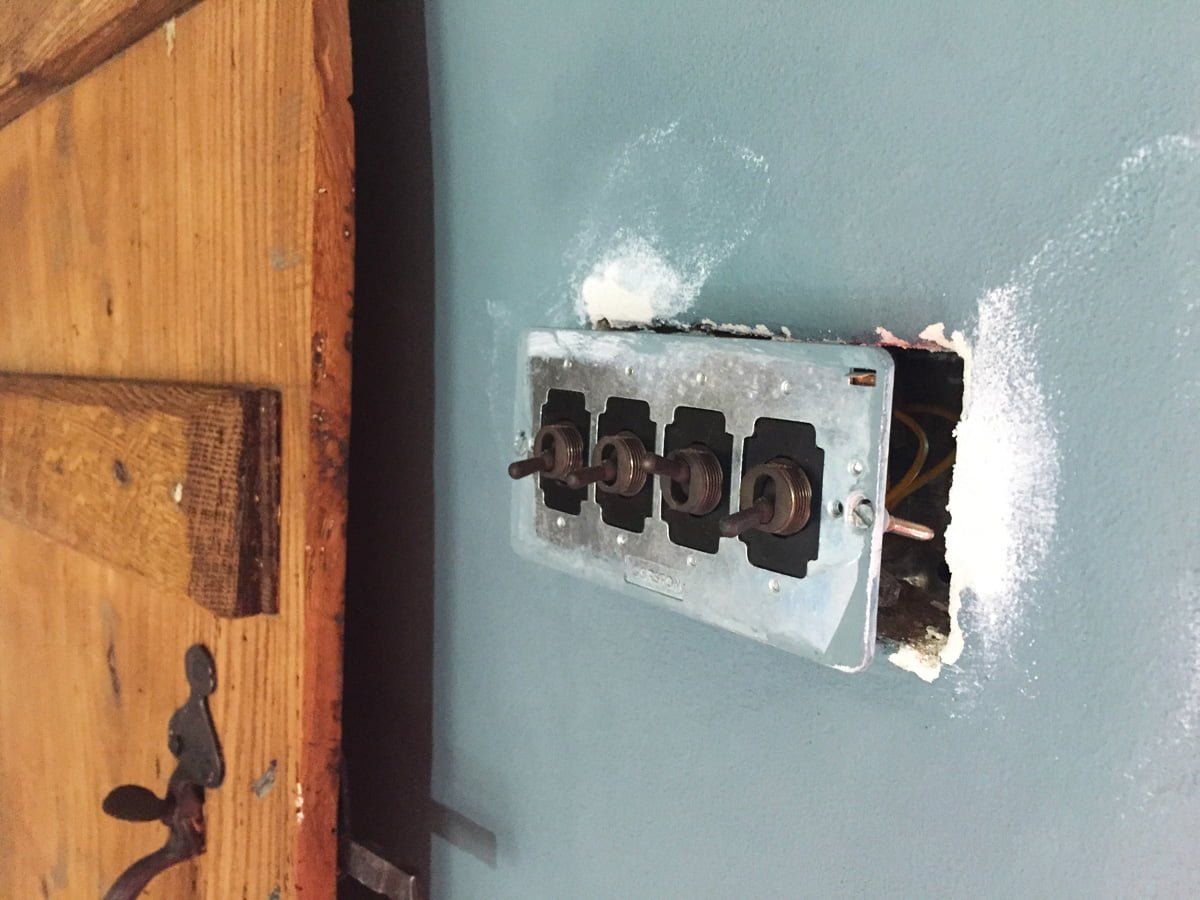 Tidying up around the dining room light switch (again). Sam had to remove this last weekend to get in behind it (trying to locate an earth problem) and we had plastered this back plate in, so the plaster cam off with the back plate. This time we have plastered behind the back plate so if need be it can be removed again without damaging the walls.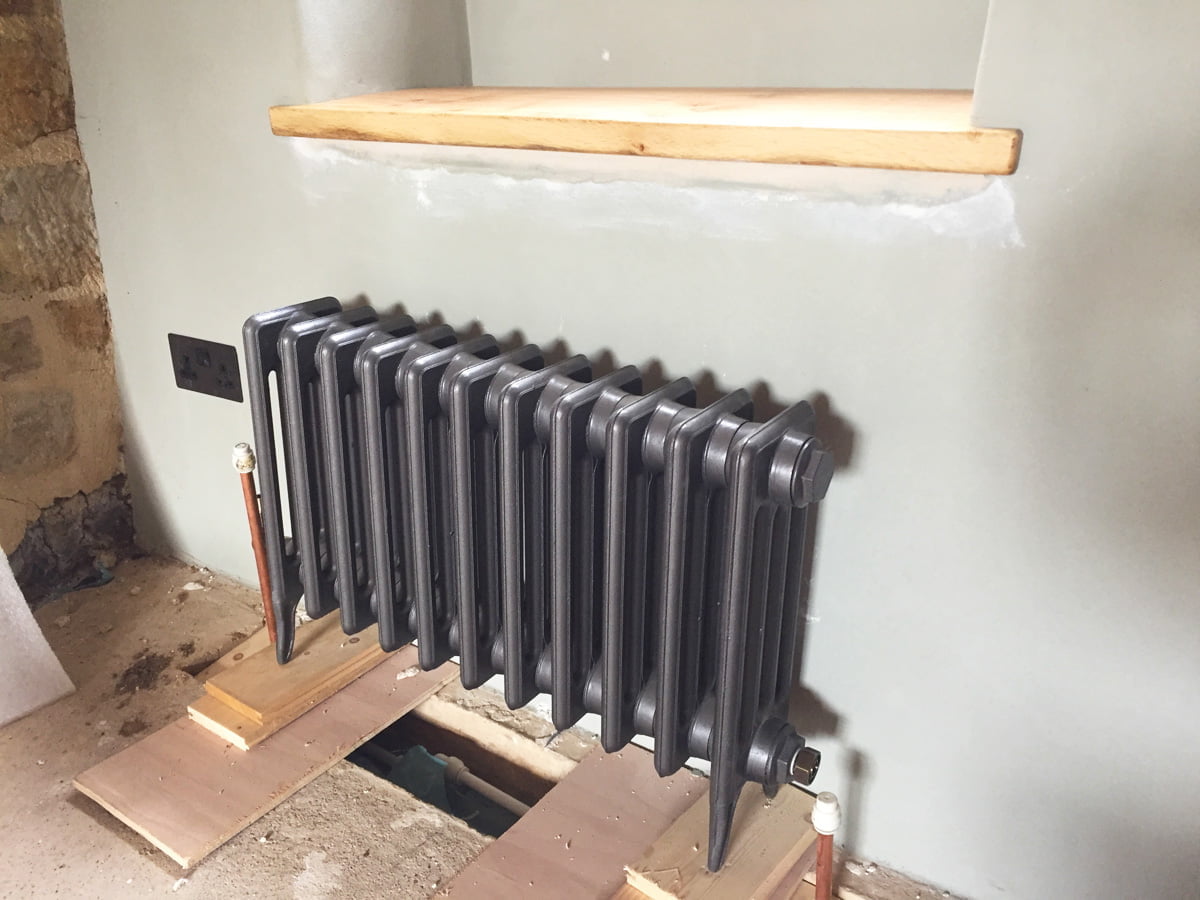 The study window seat now finished and filled with lime plaster.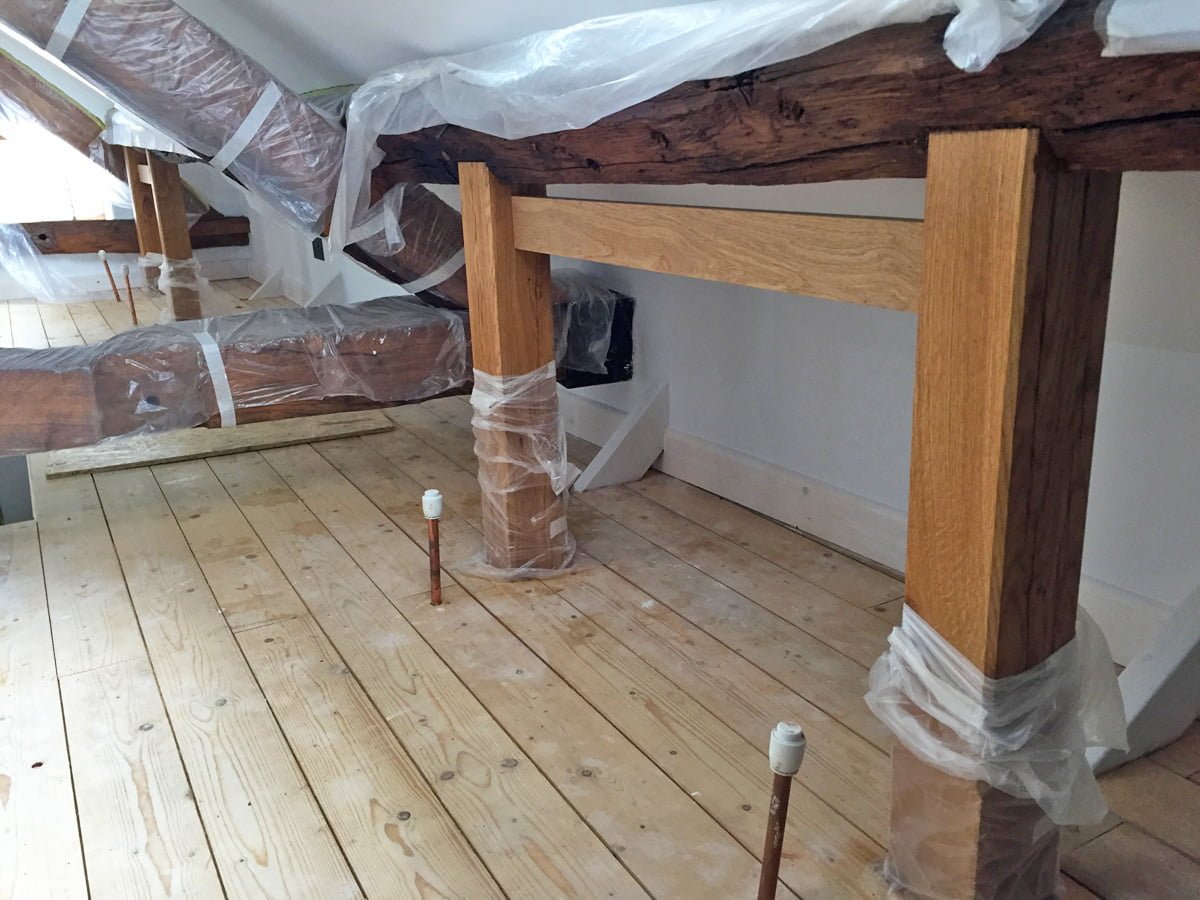 Glynn has fitted the oak braces in the attic for the two cast iron radiators. These fit between the oak posts under the new dormer windows and will have the brackets fixed into them, supporting the radiators.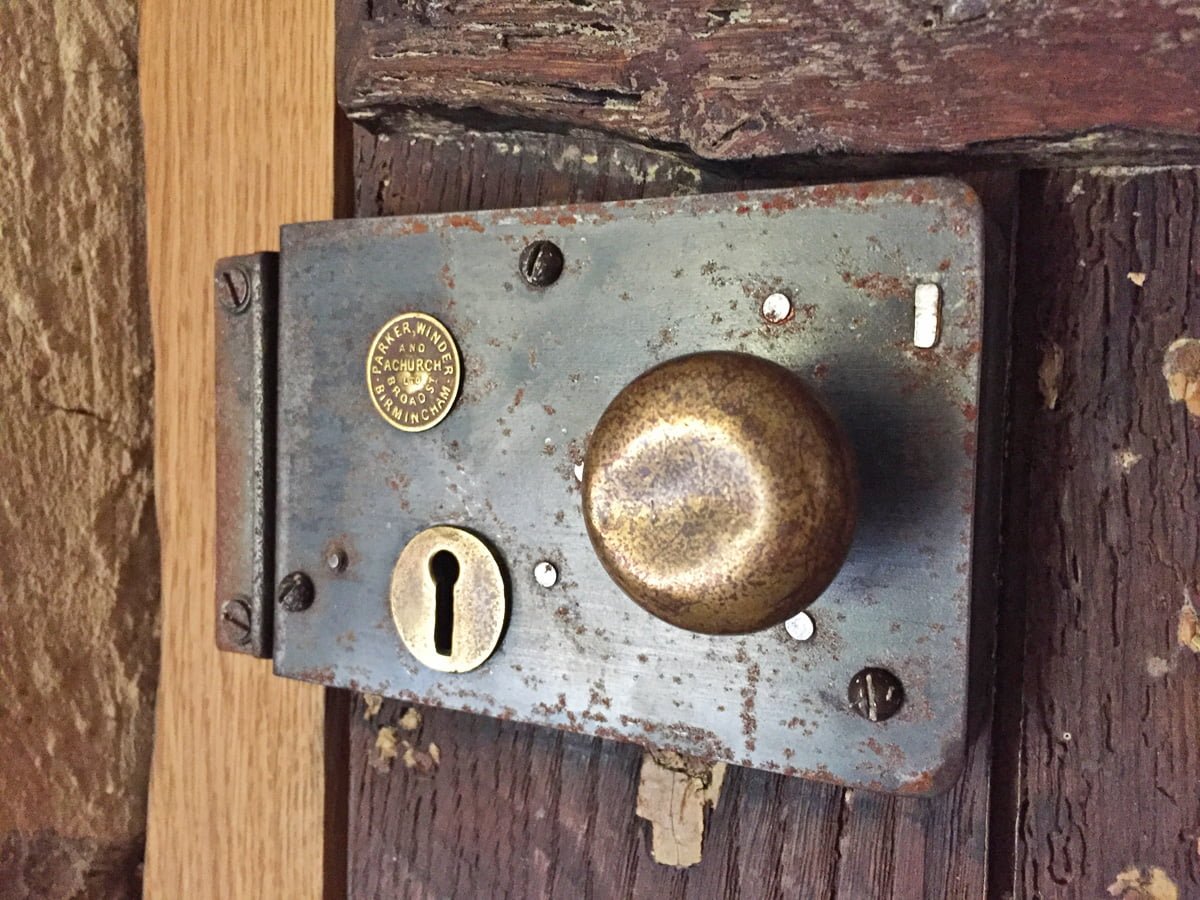 Our old door lock on the front door had been fixed temporarily with modern shiny brass screws for a few months, but these have now been replaced with traditional dome head slotted screws in black. Glynn had saved these for us from a job where they were being discarded.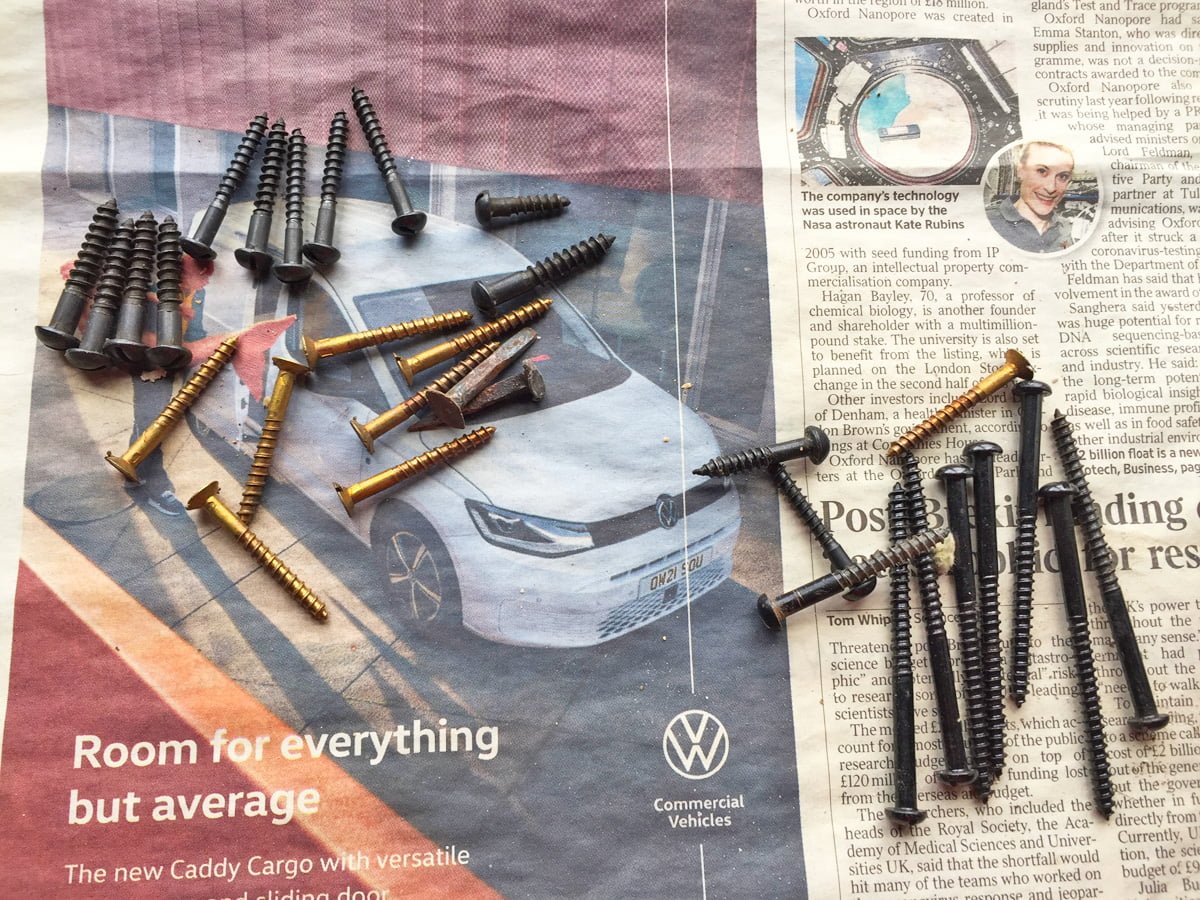 We also have a selection of black dome head screws that we bought from Torrys Hardware & DIY in Warwick, an amazing old fashioned hardware store selling almost everything!
The old hinges on the door between the sitting room and the dining room were missing some screws. Glynn has replaced them so it now feels a lot more stable.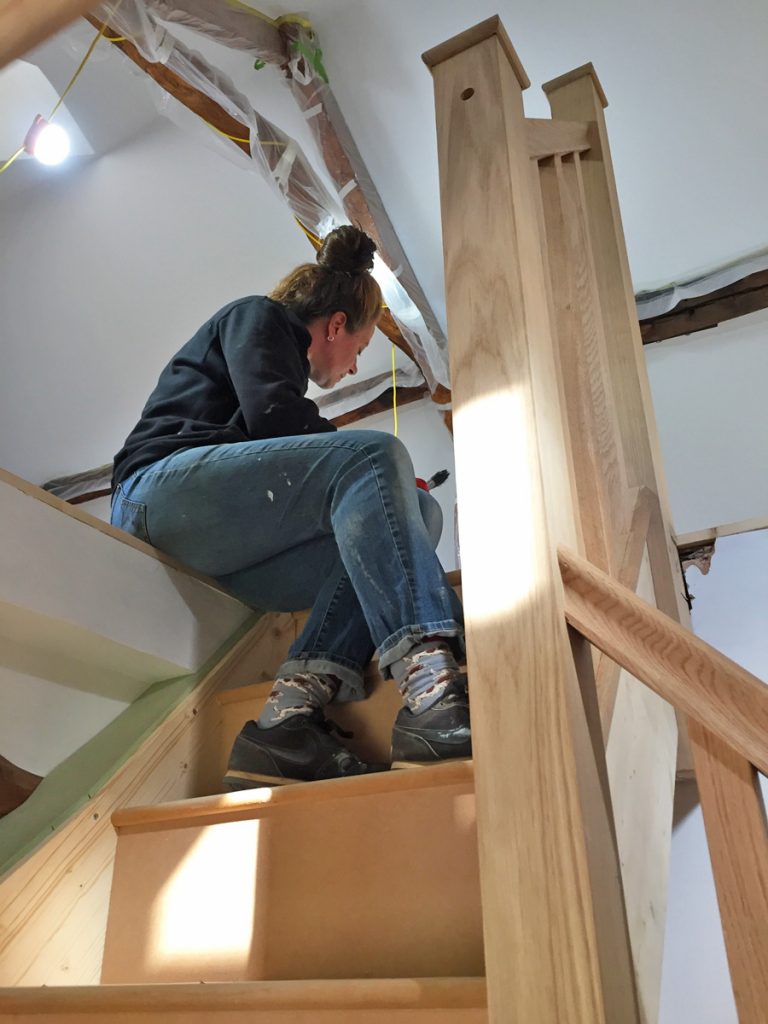 Cat oiling the new staircase with Osmo Polyx oil.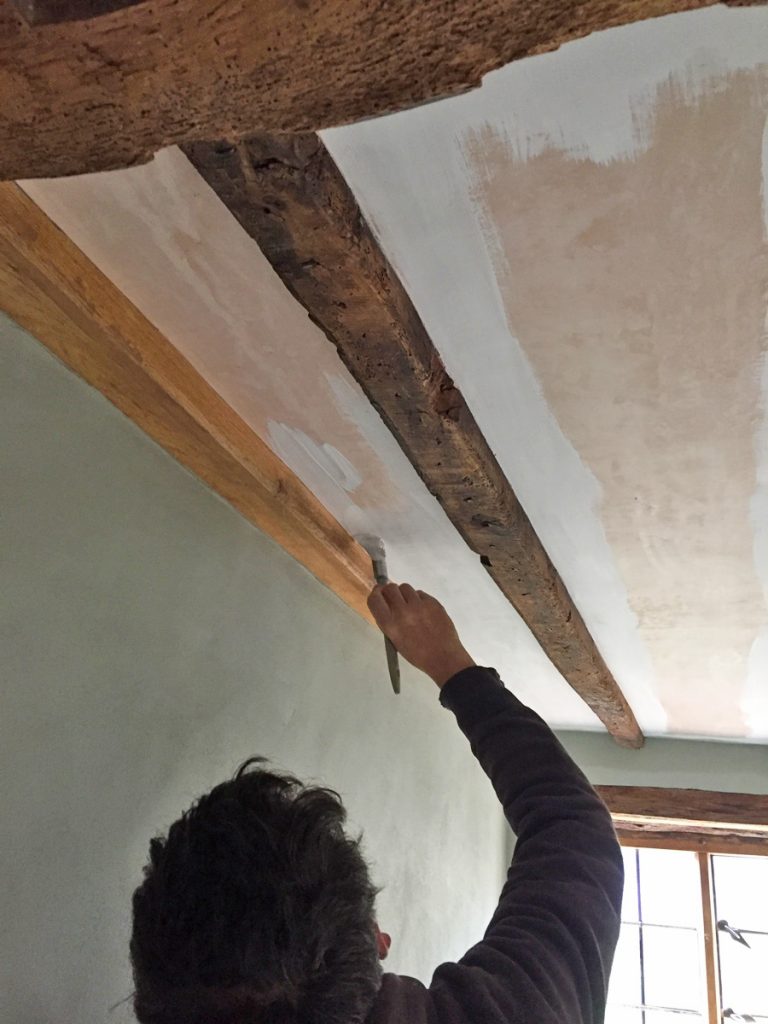 Colin has started painting the mist coat on the study ceiling, something Cat has been putting off (painting ceilings is the worst for sore necks and shoulders).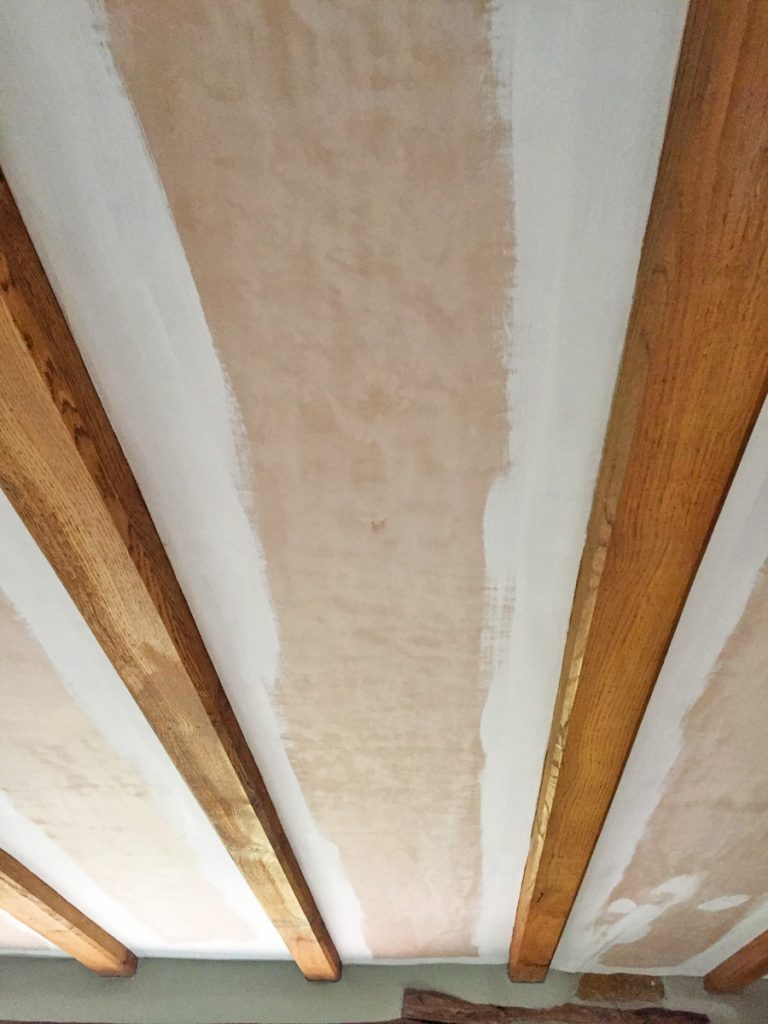 Colin gets half of it done before it gets too dark, this can be finished tomorrow.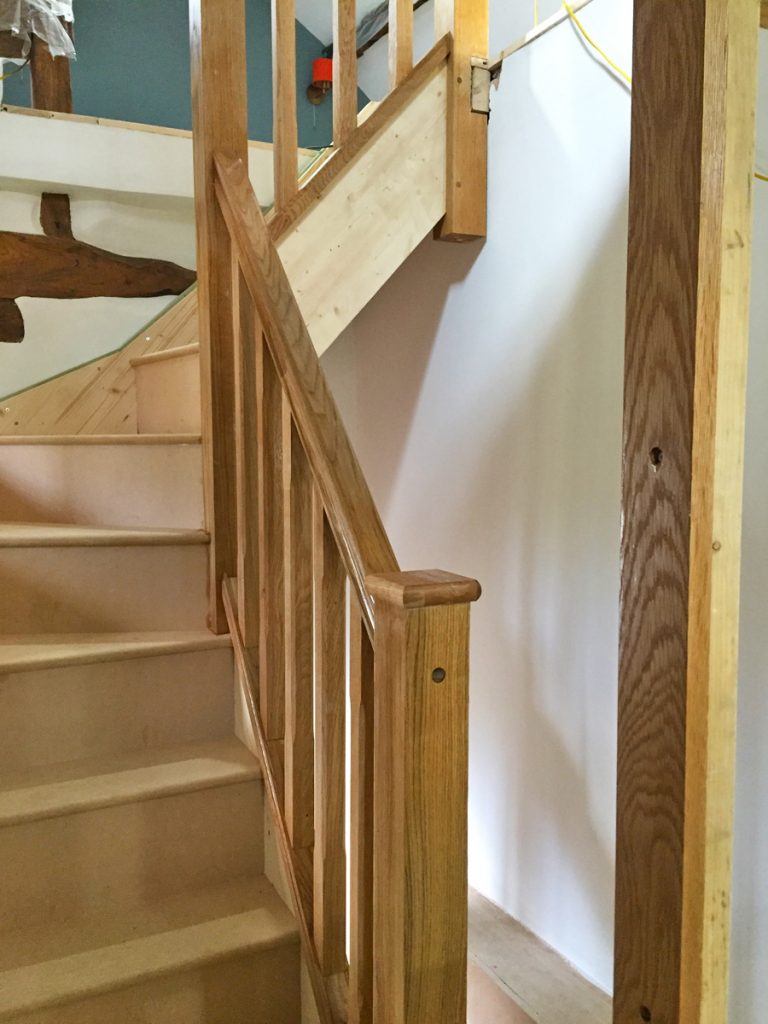 Cat finished the stairs but had to go and have a lie down as she was feeling sick and dizzy. Could be that she is utterly exhausted, but could also be that she was oiling this with all the windows shut (so there is no dust in the air) and the whole of the upstairs (two floors) absolutely stinks. Think she might have gassed herself.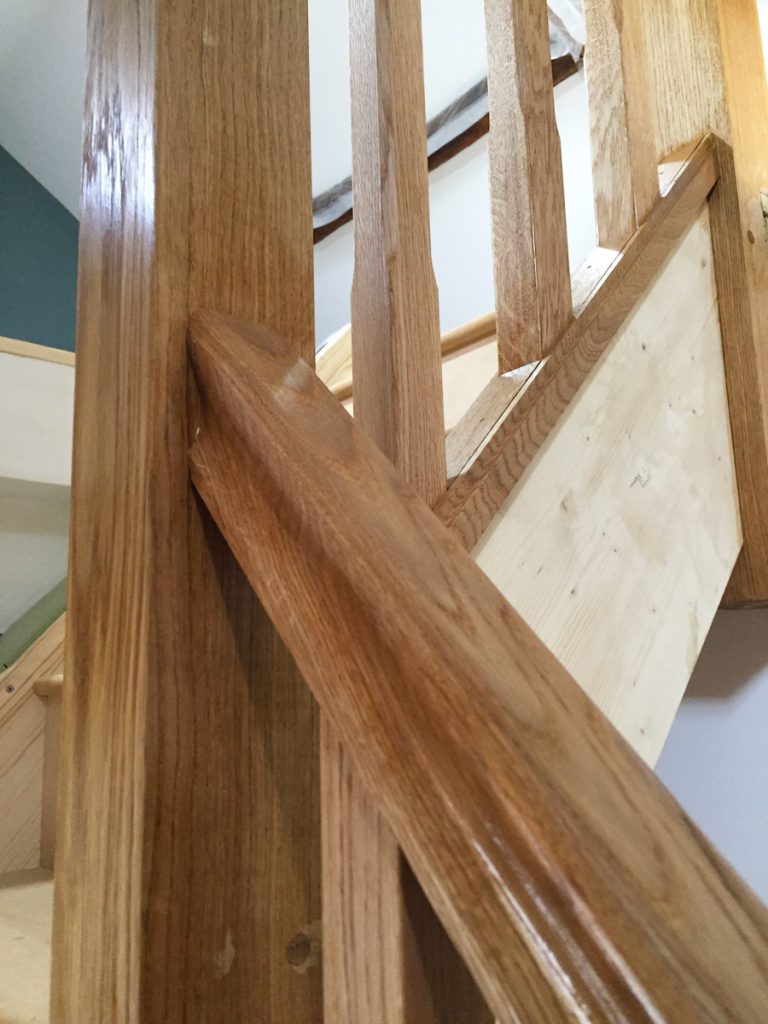 Stairs look great though.