Our first morning waking up in the house and we were both still super excited and on a real high. It's taken tens of thousands of pounds and a year of bloody hard work from everyone involved to get here, with everyone going the extra mile to make this place extra beautiful and extra special, everyone that is, except for one. And that one person continues to f*** it up for us even now and we fired him over 6 months ago. This morning, after having used our new bathroom for the first time (we hadn't even used the toilet until we moved in last night), we wake up to this… A damp patch is appearing in the corner of the sitting room wall where water is seeping through from the soil pipe that is buried in the wall!!! WTF!?!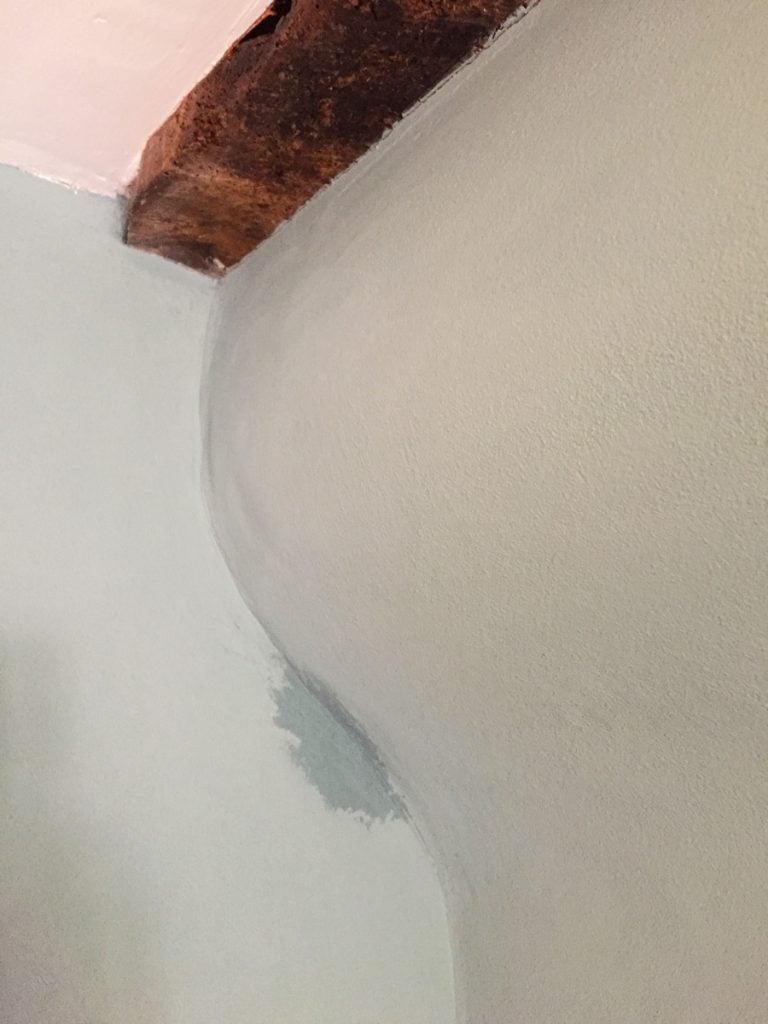 I got angry, really angry, and just want to visit our old plumber's house and break his bloody windows (or use his bathroom at least). Cat is visibly upset and simply gets dressed (without a shower as WE CAN'T USE IT NOW) and goes to the house we have just moved out of next door and spends several hours cleaning the house top to bottom on her own. To say we are both gutted is an understatement. Are we going to have to rip out all the lime plaster to get to the soil pipe??? (at a cost of over £3,000 a room!) Are we not going to be able to use the bathroom for days/weeks until it is sorted? WHY was this not tested for leaks before it was sealed in and plastered??? WHY is it bloody leaking anyway? Surely the FIRST RULE OF PLUMBING IS TO MAKE IT NOT F***ING LEAK???
It is also Bank Holiday Monday so no chance of getting our plumber over until tomorrow. Thank goodness we still have access to the house next door as we are having to go there to use the toilet and shower. I brushed my teeth in our kitchen sink this morning and had to walk down the street in nothing more than a dressing gown to go next door for a shower. What a massive downer on what should have been a truly fabulous first day back in our house.
We do have another toilet but it was used by all the workmen and neither of us will go near it until it is thoroughly cleaned, so I don full PPE and tackle the builders loo at the end of the house (it is practically in a cupboard).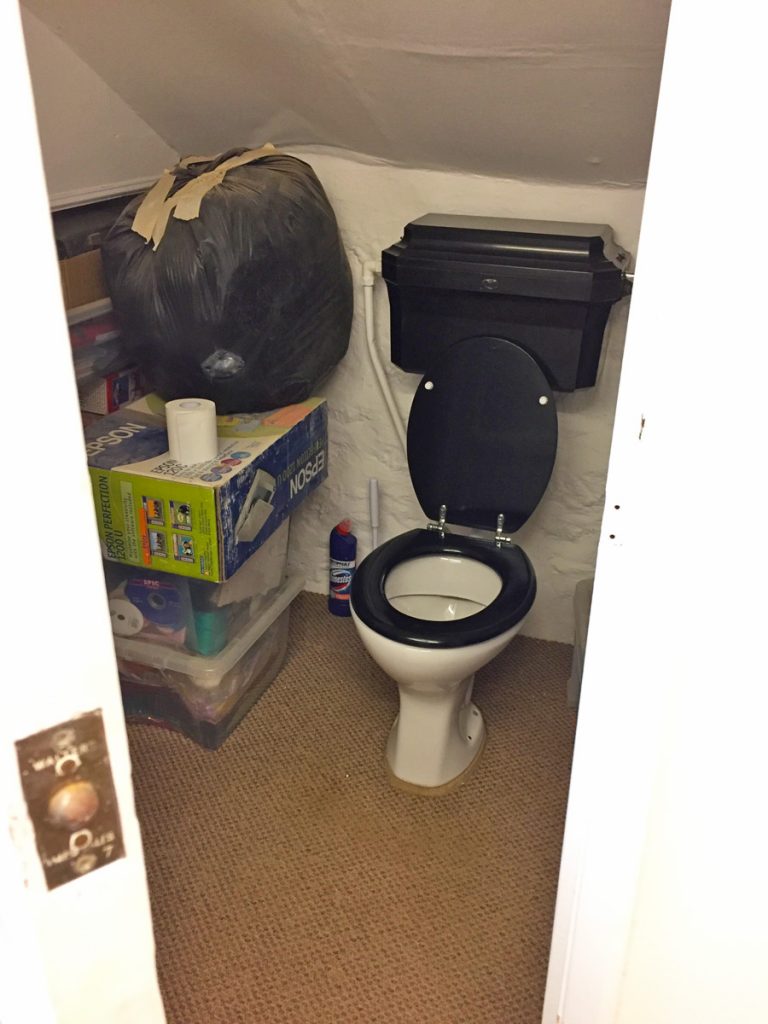 Our toilet in a cupboard after I had cleaned it.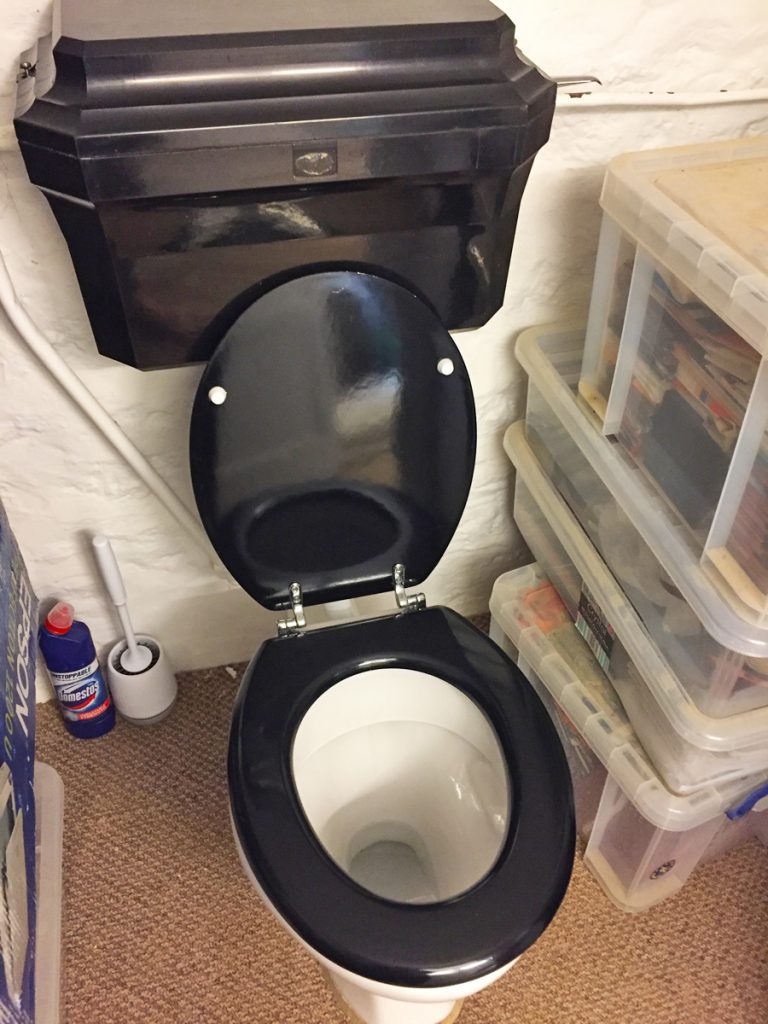 It didn't look like this an hour ago…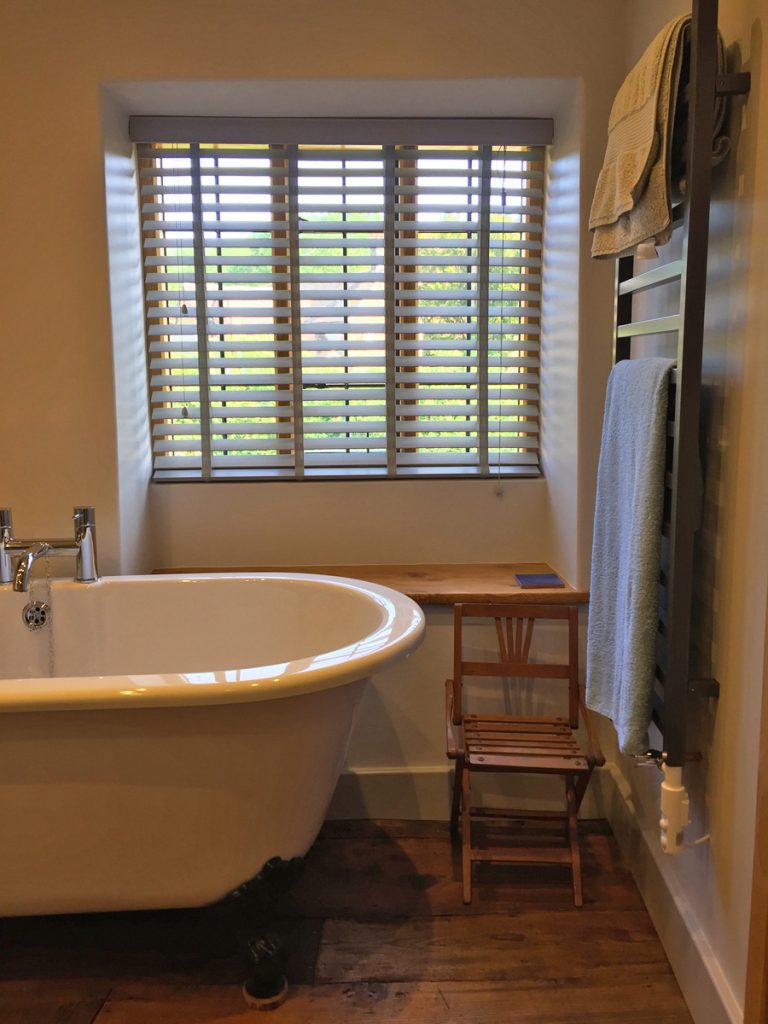 View from the new loo (that we can no longer use). This made me so happy while it lasted.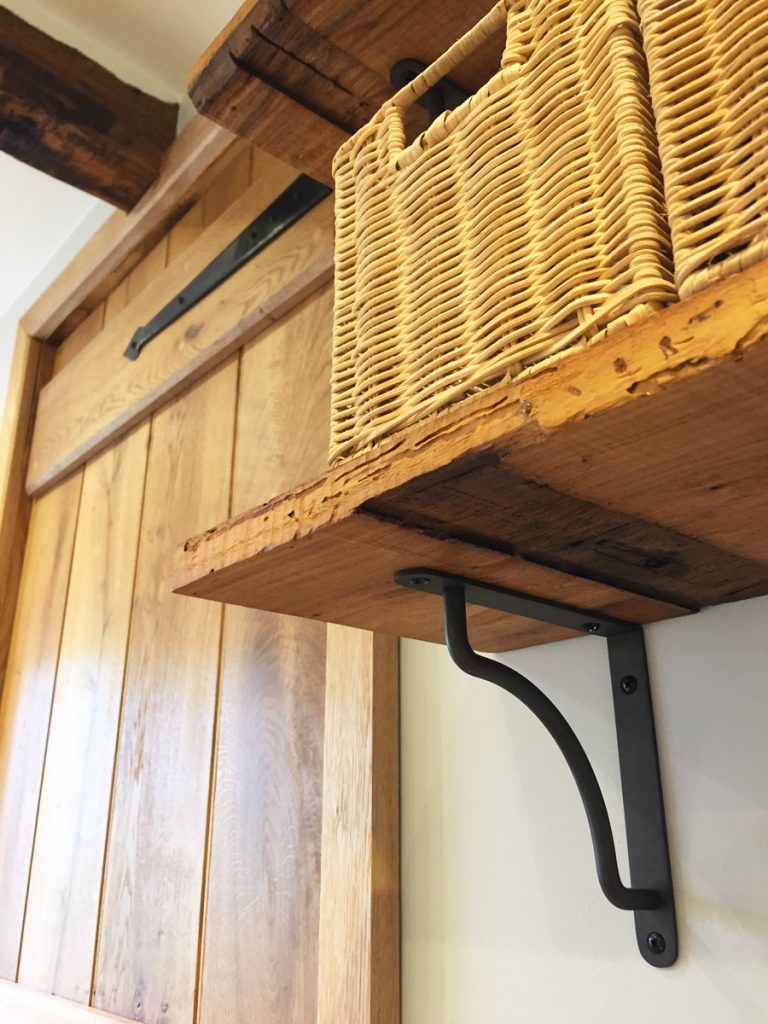 View from the new loo.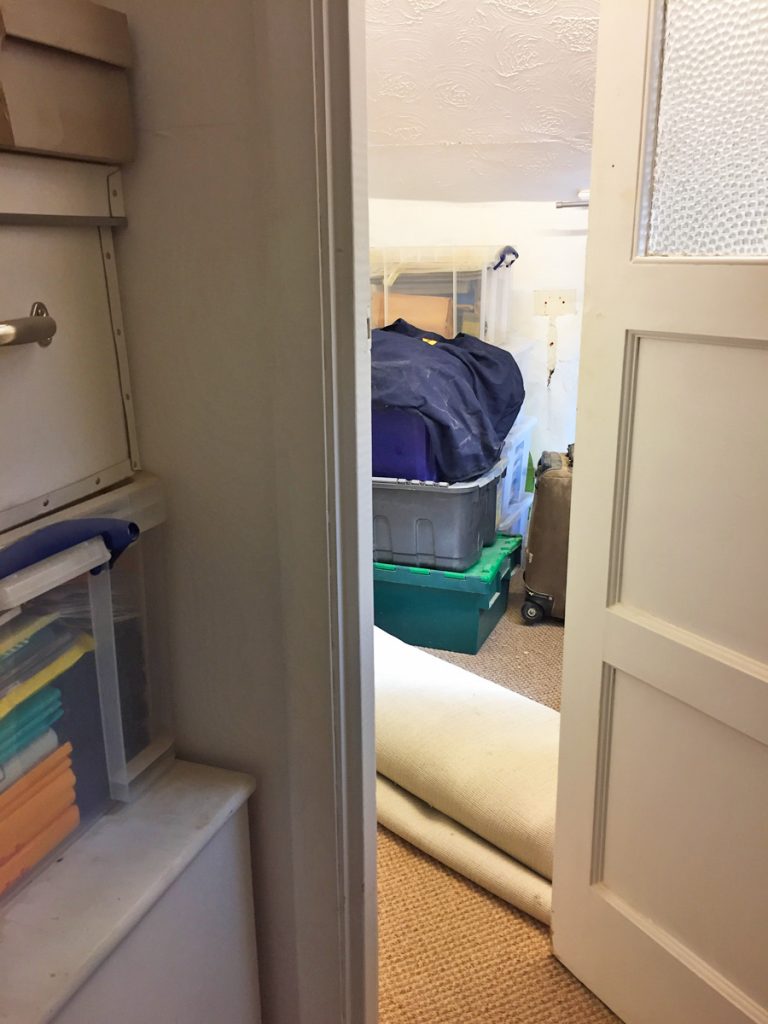 View from the builders loo. You cannot open the door wider than this as there is a roll of carpet in the way and if you shut the door you will be in total darkness as there is no light.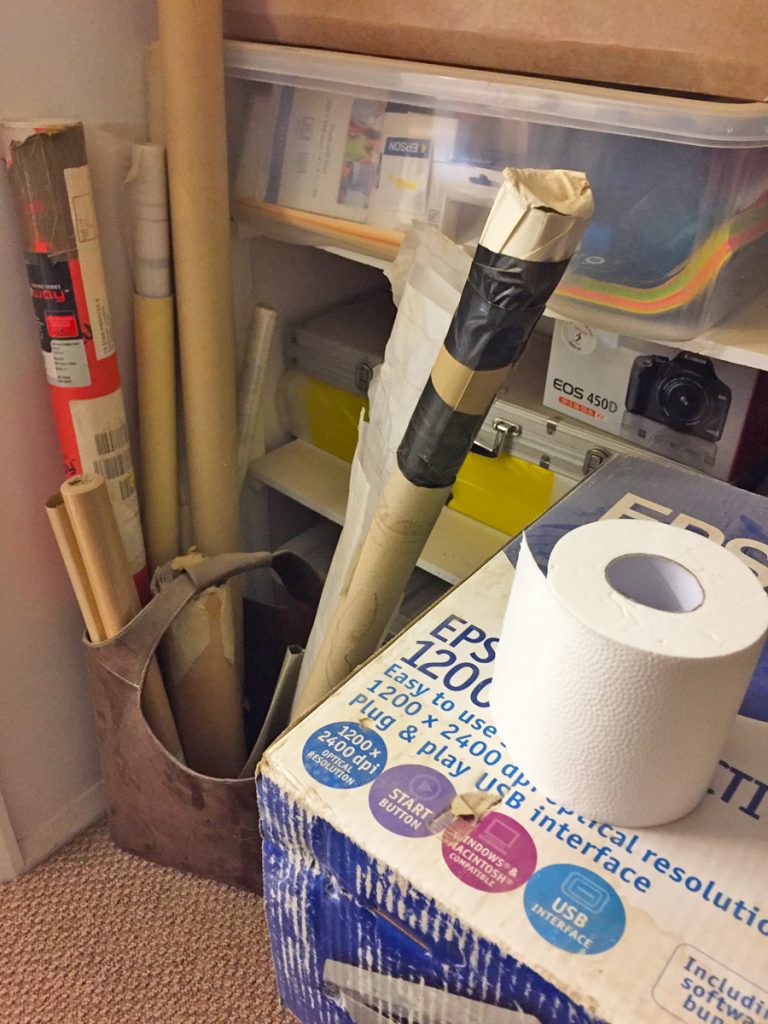 View from the builders loo. This has quite literally pissed on our fire today. All our excitement and happiness about moving has vanished and we are super angry and worried about what is going to have to be destroyed to fix the problem, the mess it will make and the extra cost.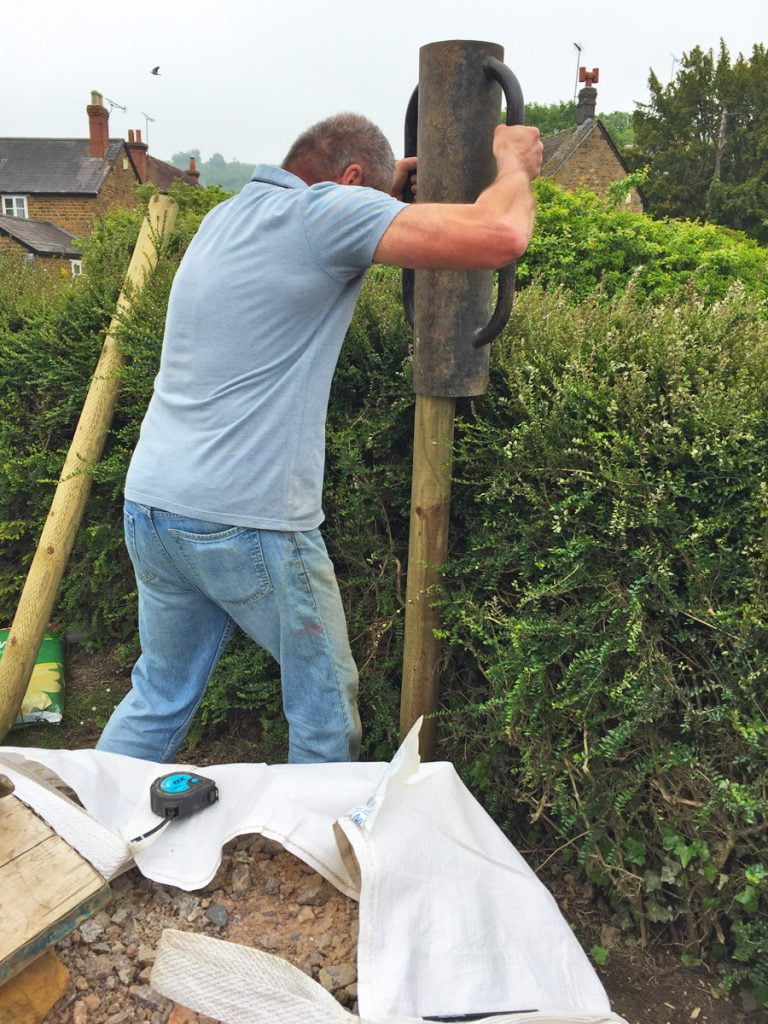 It's not all doom and gloom though today as we have Mark (expert in fences, hedges and gardens from the village) fixing our hedge today. Our hedge has got so tall and wide that it is leaning over into the road and if nothing is done about it soon it is likely to fall over and break. Not helped by 11 massive skips being hoisted over it during the last year and the rubble and detritus being lent up against it…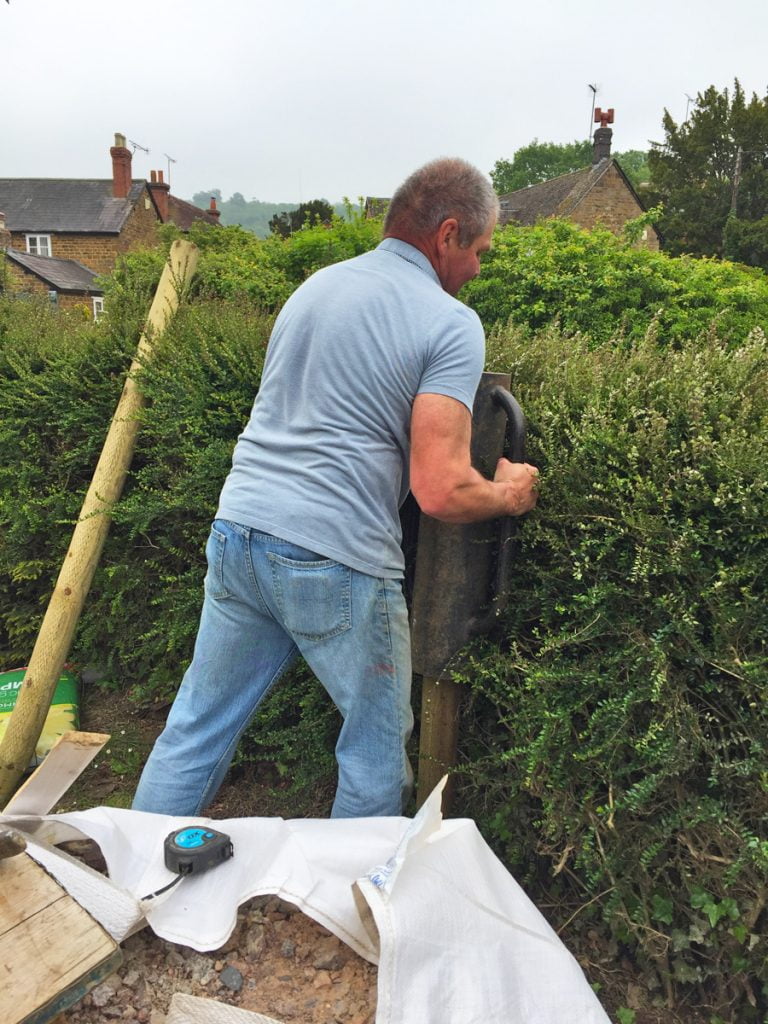 Mark has brought a fence post driver (from now on known as a 'ker-clunker') as he is going to shore up the hedge by sinking fence posts into the ground, straightening up the hedge and attaching the hedge to the posts with fencing wire. The hedge will soon grow around the posts so that they will disappear.
The fence posts are on the inside of the hedge so they will support the hedge and prevent it from leaning into the road again.
You can see how much it is leaning over, this should be vertical.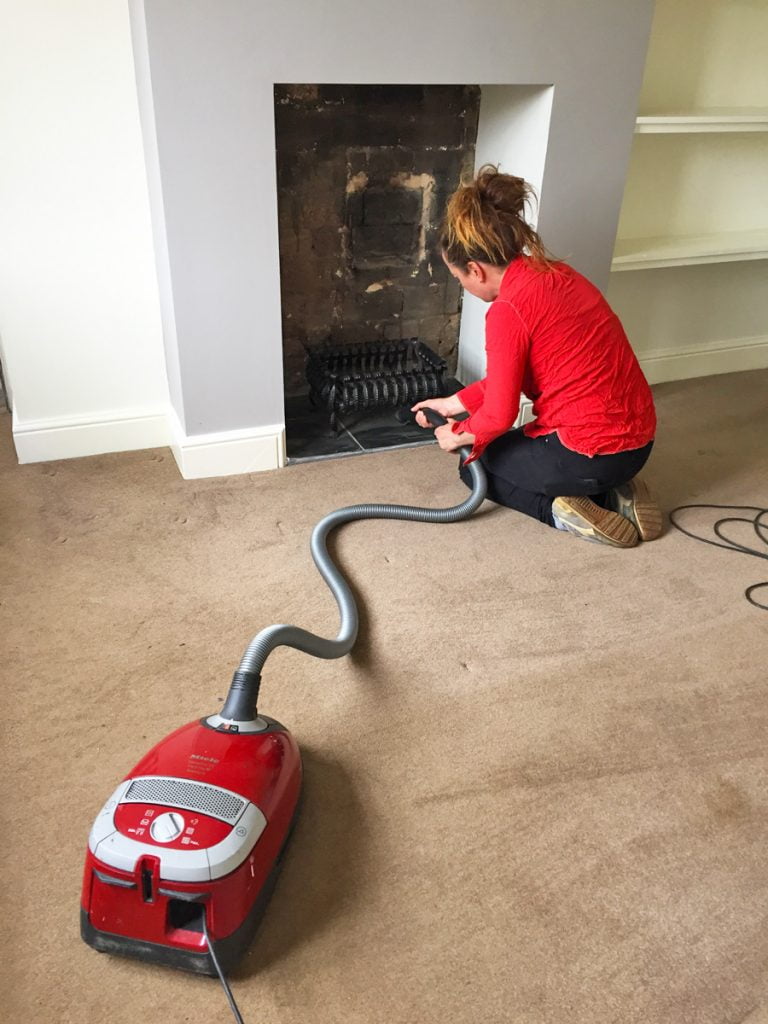 A rather subdued Cat, cleaning the house next door.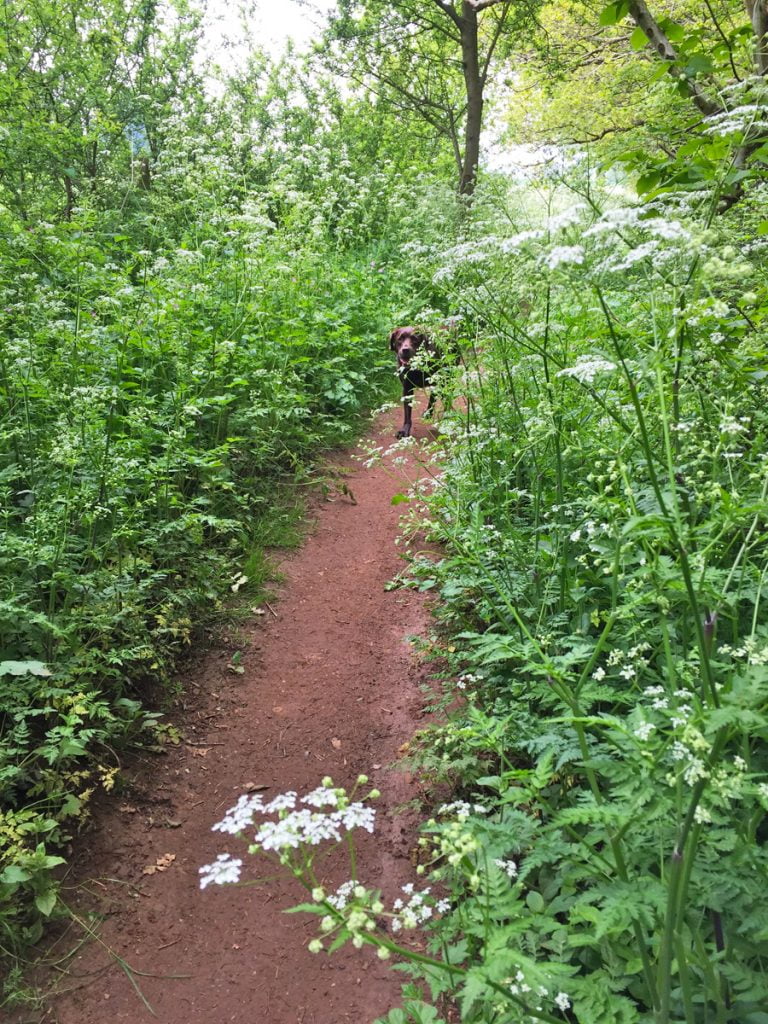 Cow parsley taking over the footpaths.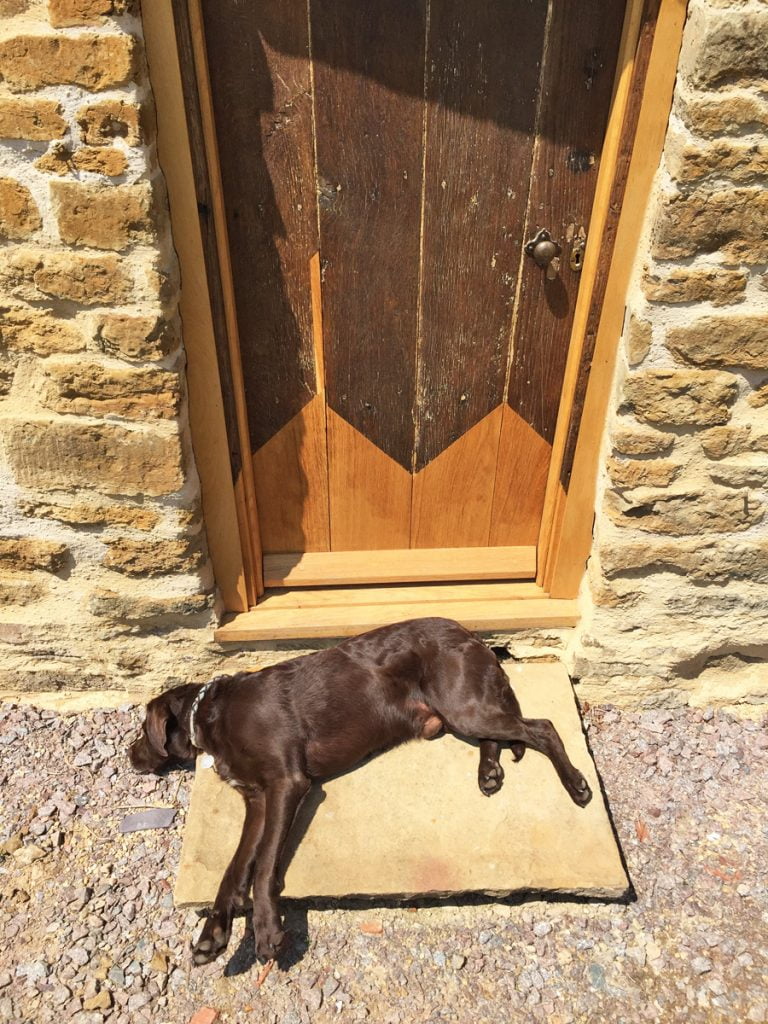 Hot but happy dog enjoying chilling in his front garden again.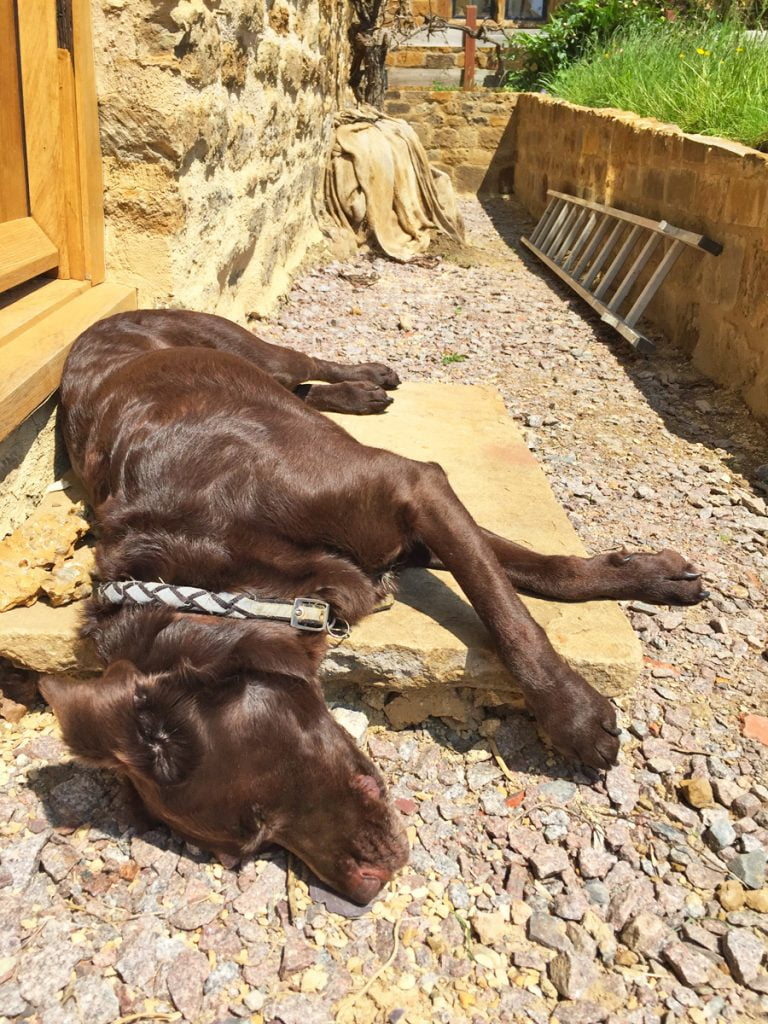 Doesn't look that comfy if I'm honest.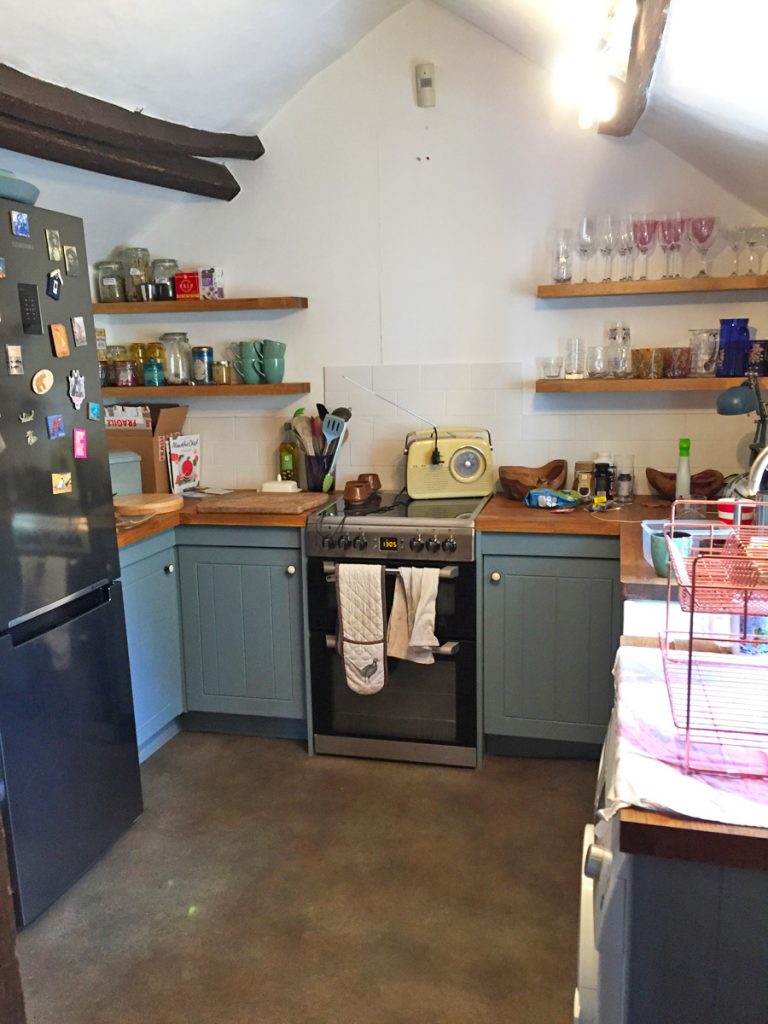 Cat has also been busy emptying the kitchen boxes.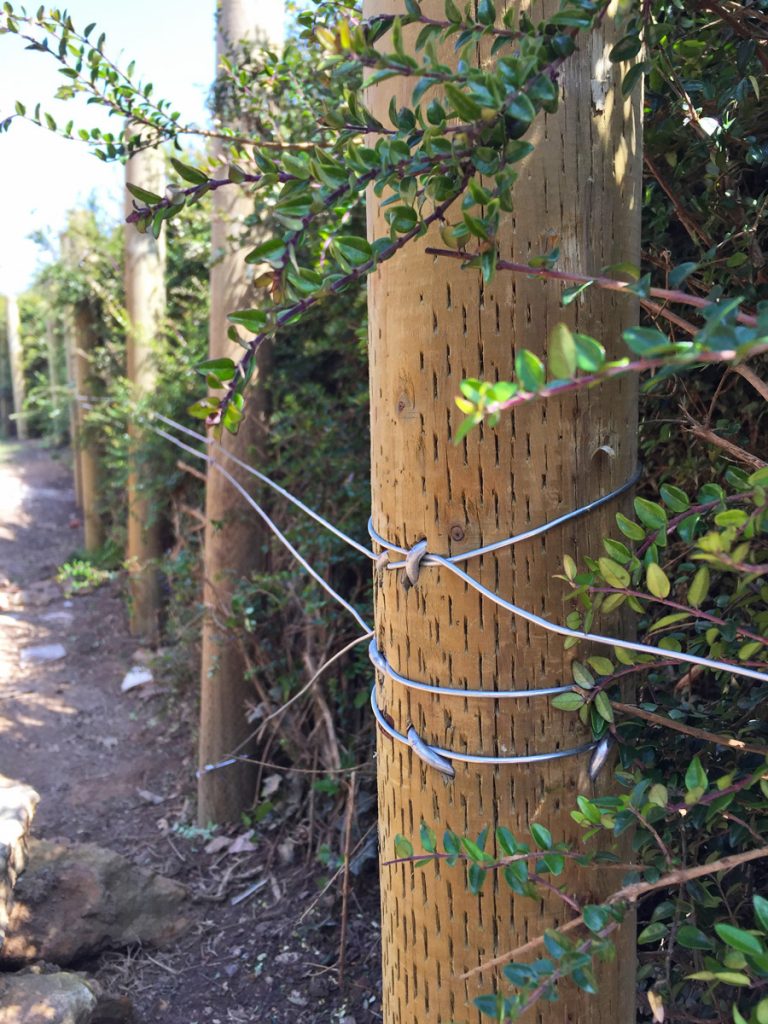 The wire wrapped around the fence posts to support the hedge and pull it back upright.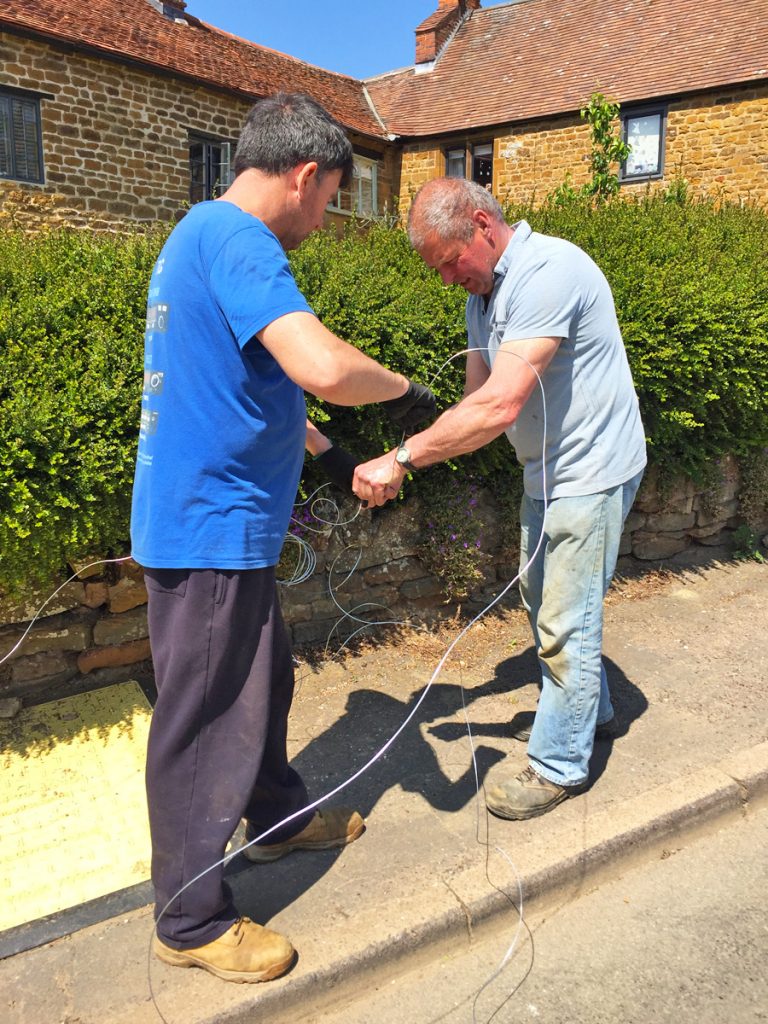 Mark and his glamorous assistant for the day detangling the wire.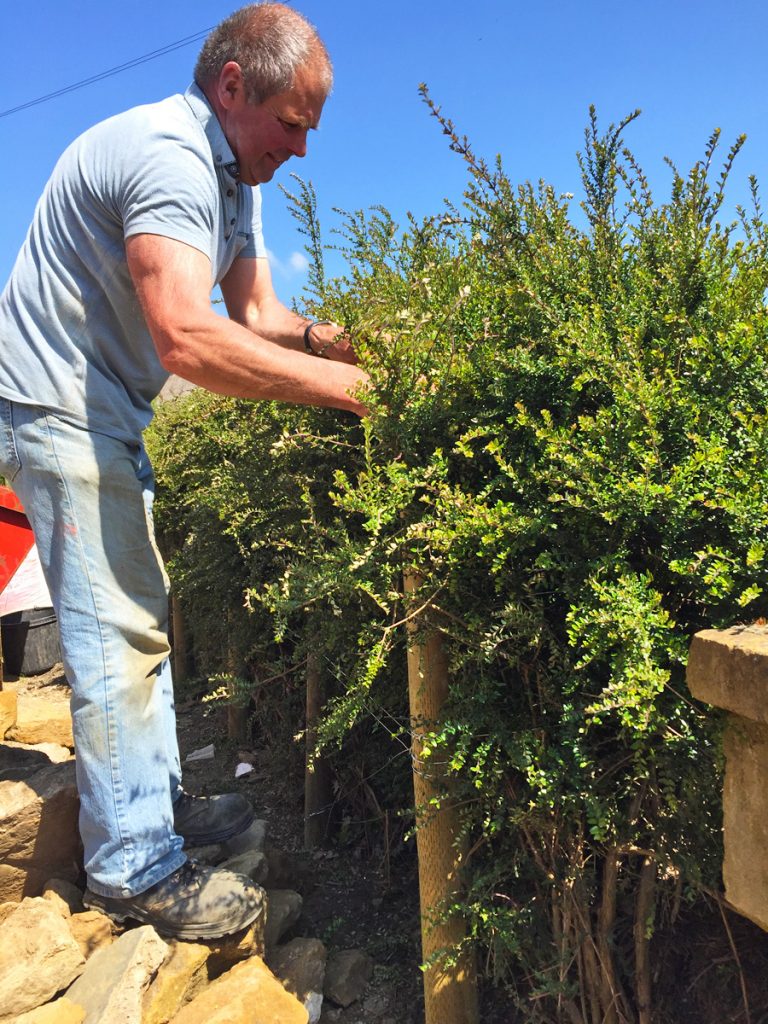 Fixing the hedge to the fence posts.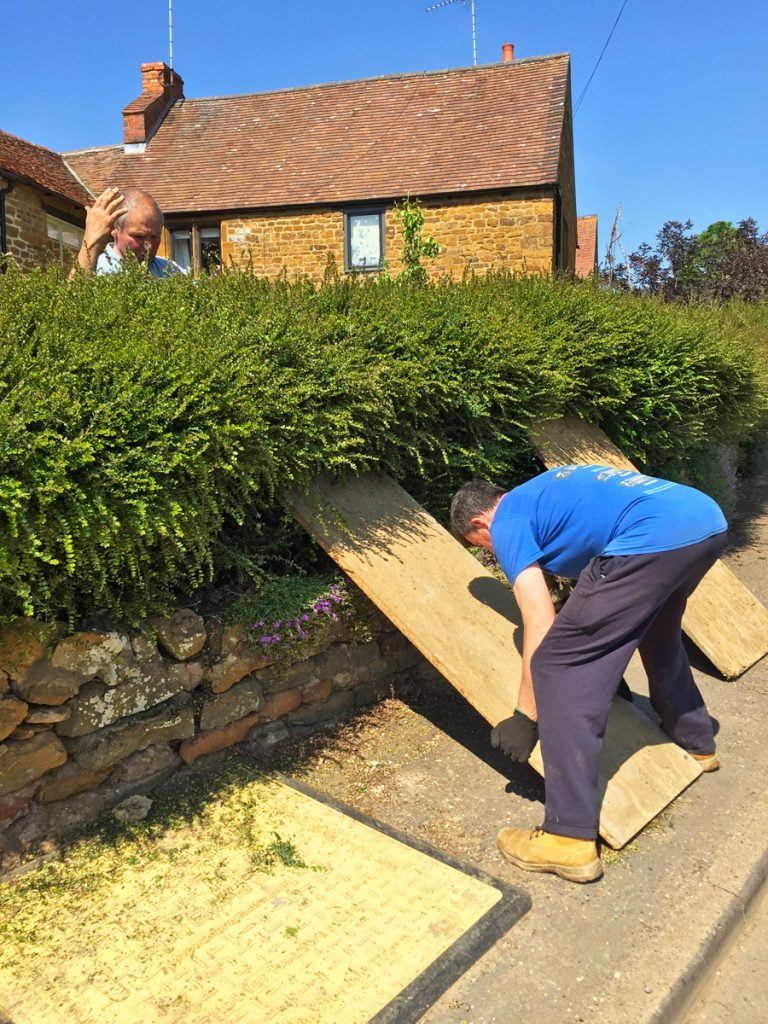 The hedge needs pushing up from the road side, then tied with the wire, so Colin finds an ingenious use for the boards that we have in the front garden. They push and hold the hedge up while it is being tied (so he doesn't have to).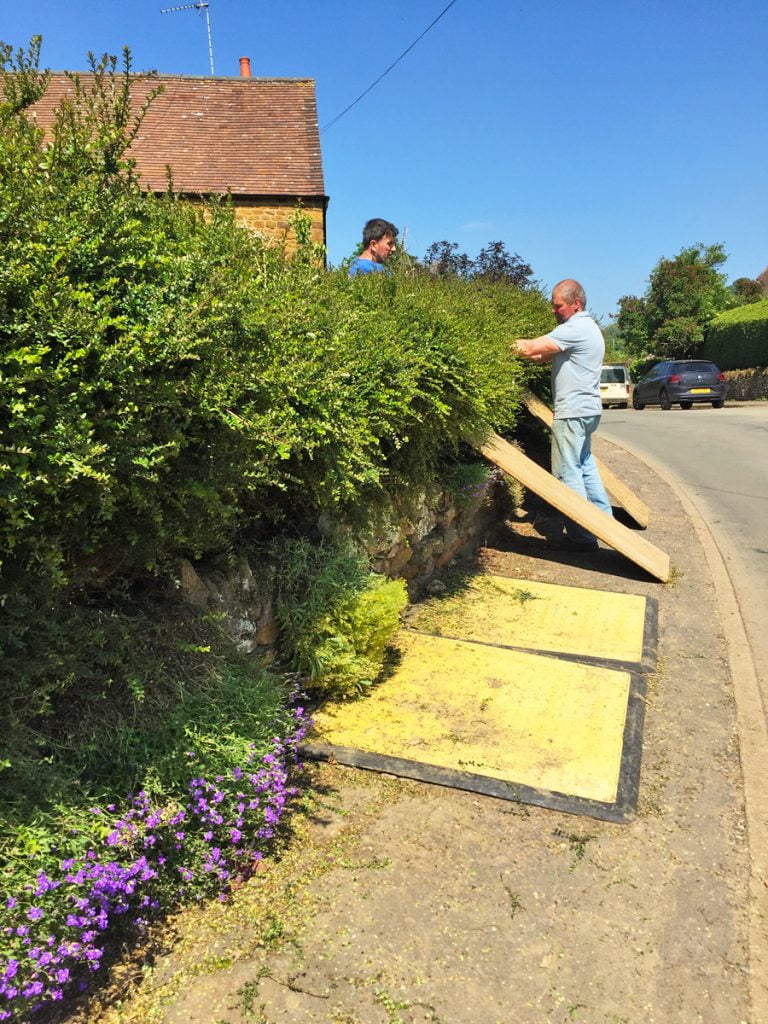 Once the hedge is upright and fixed tight, it will then be trimmed.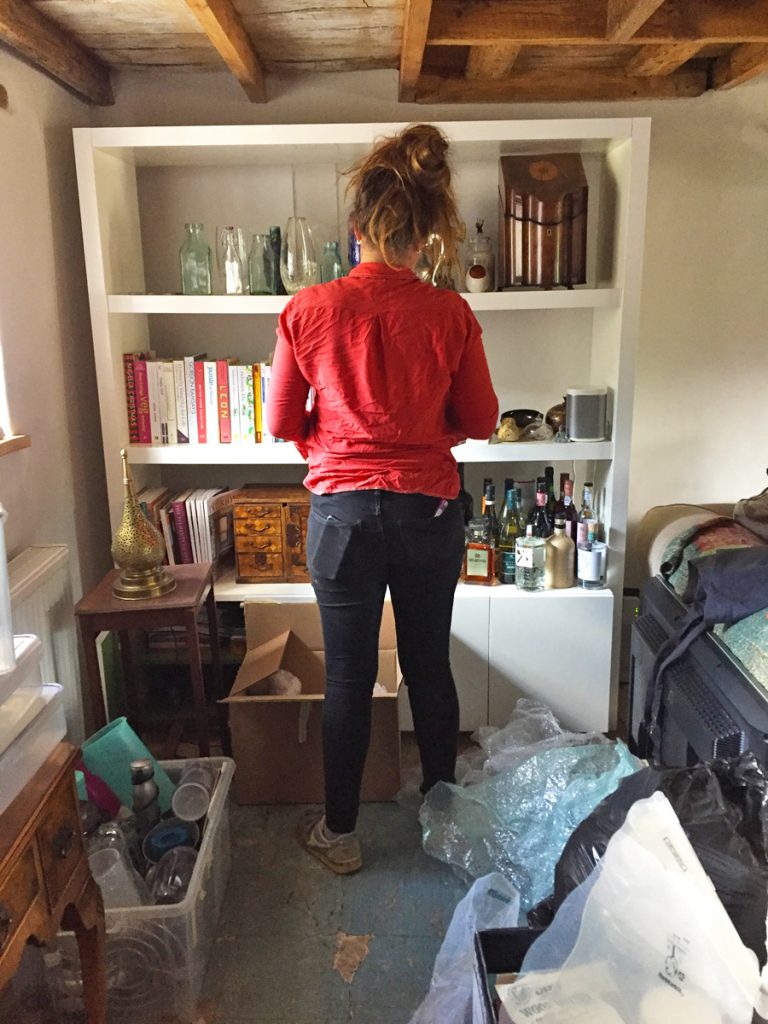 Cat unpacking the dining room boxes.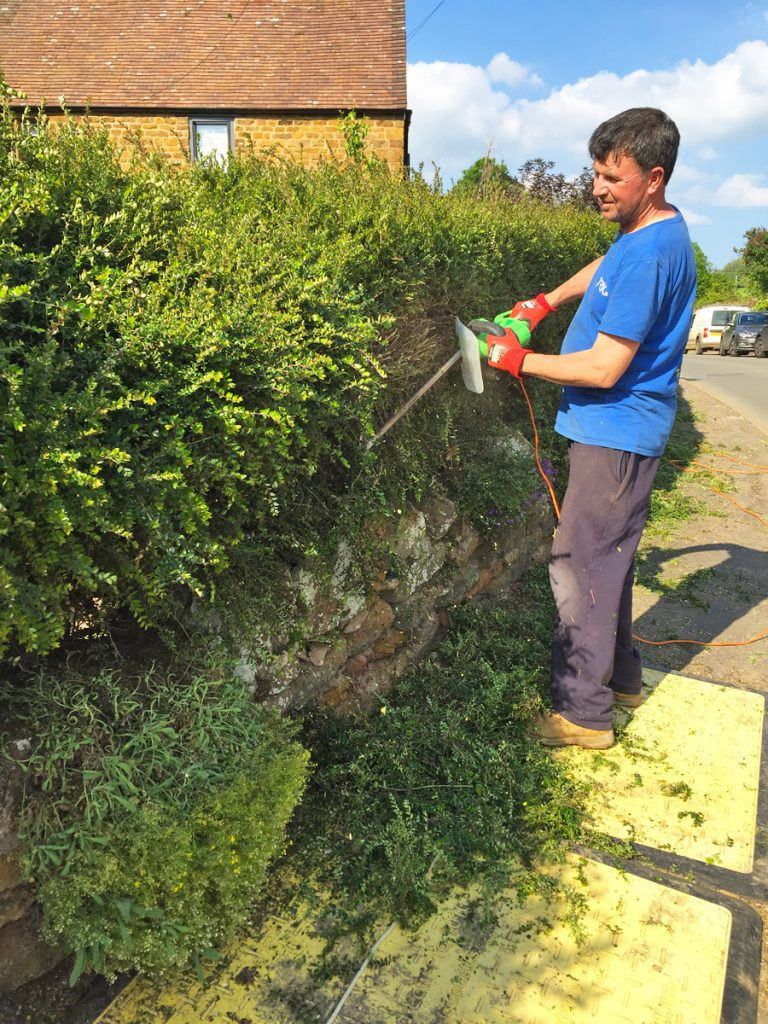 Colin trimming the hedge quite significantly. It needs to be much narrower and levelled up.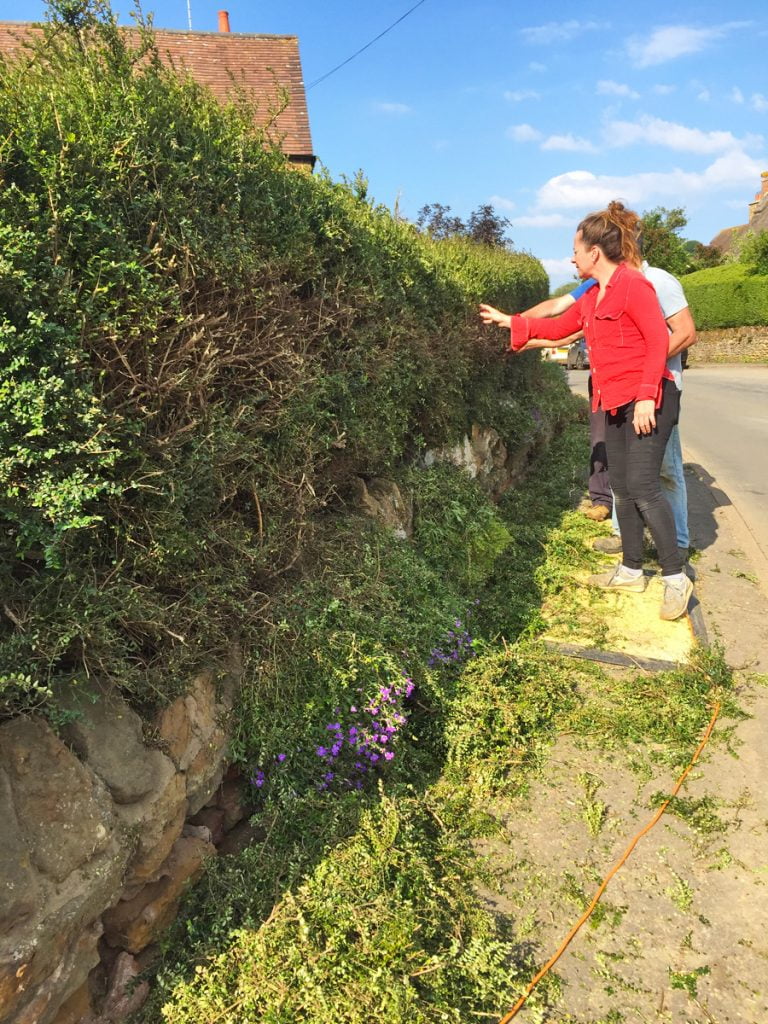 We can see the whole path again! The dead looking bits here will soon green up.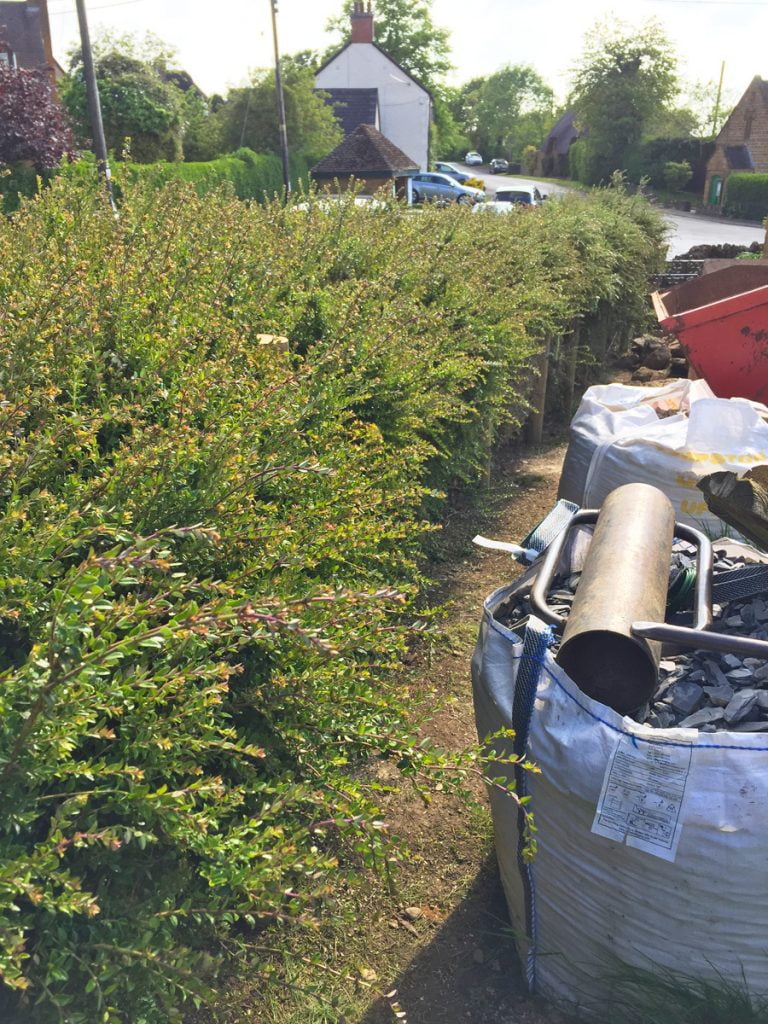 Before trimming.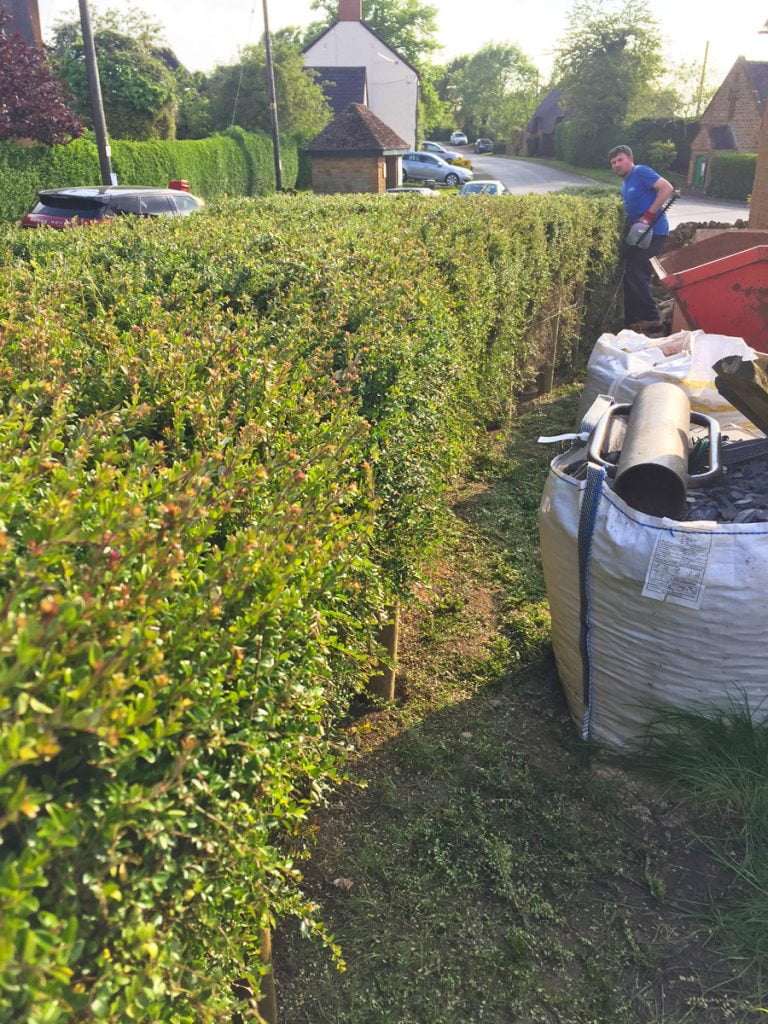 After trimming.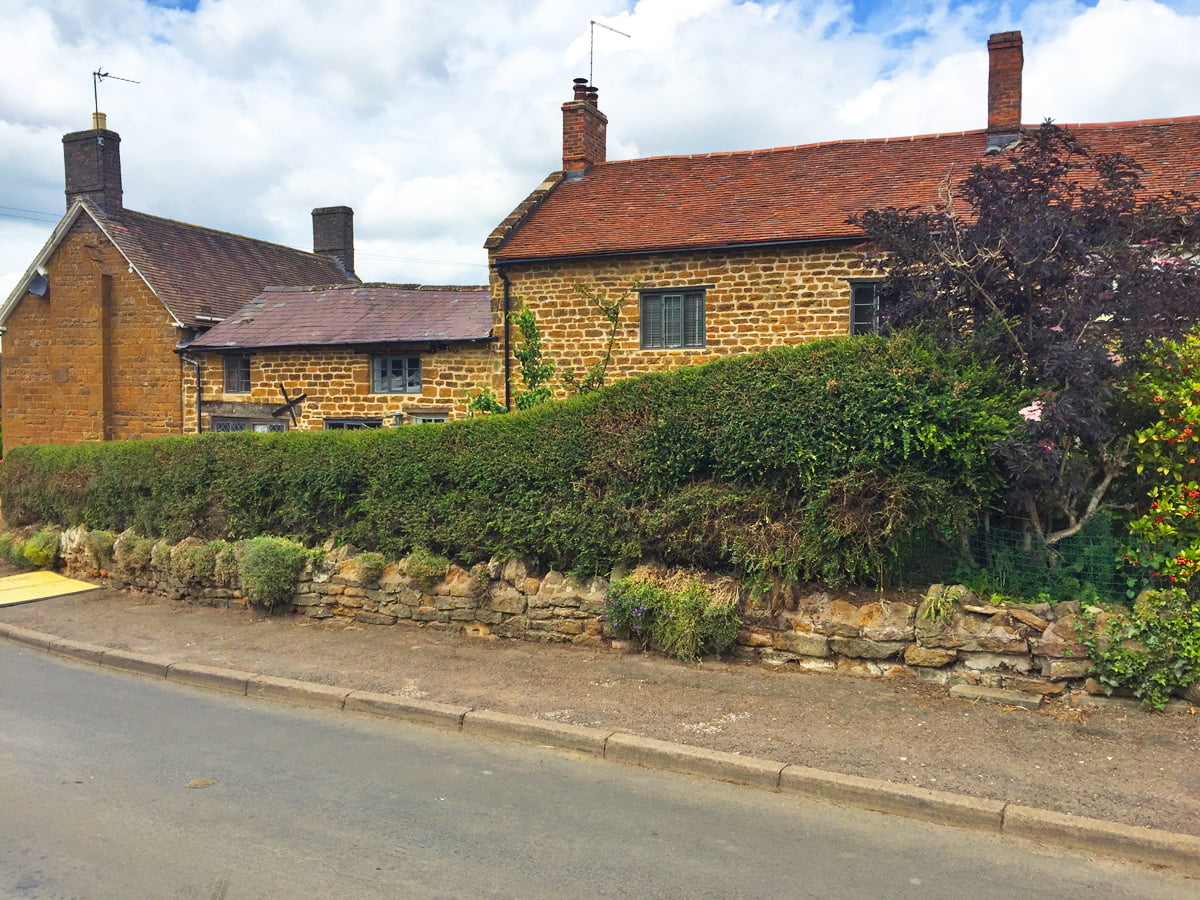 We have been growing this hedge for the last 4 years so we have some privacy in the front garden (it was very low when we moved in), this is now the perfect height and it's looking smart again.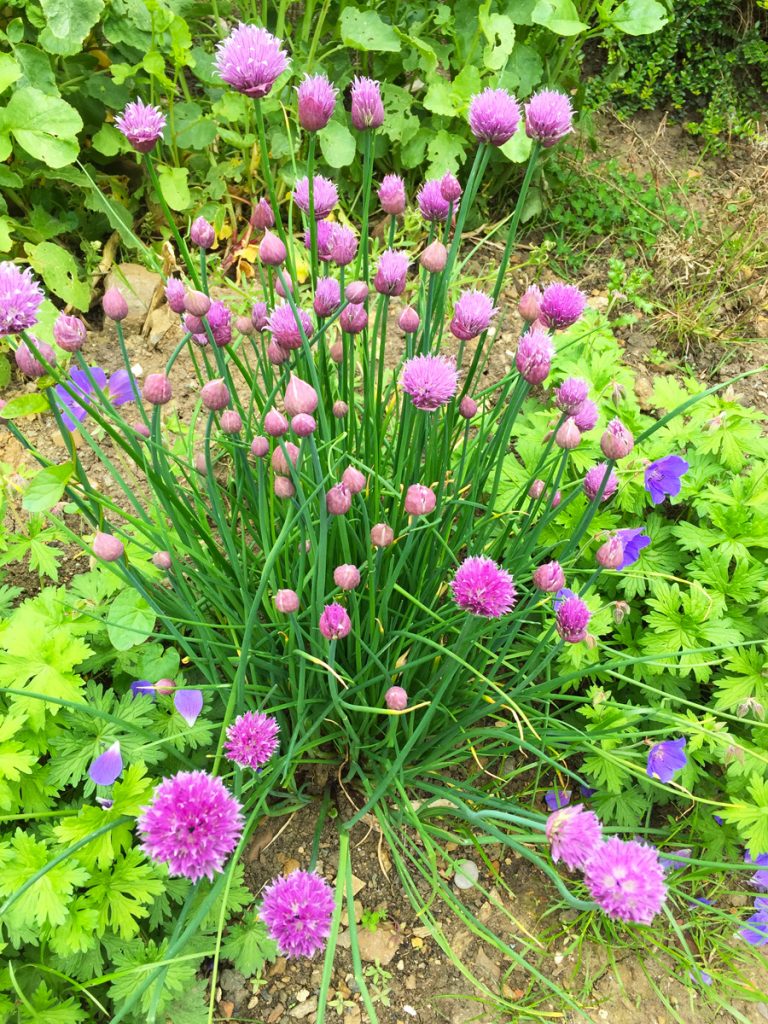 Our neglected vegetable patch has this amazingly healthy chive plant flowering in it.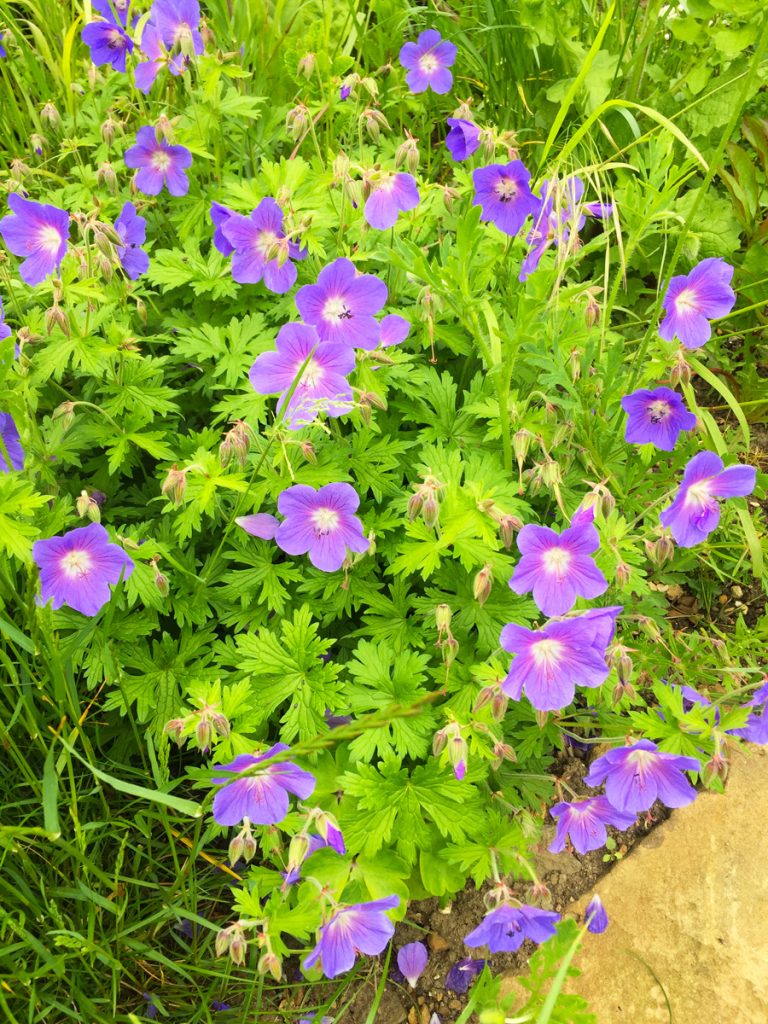 Our wild geraniums.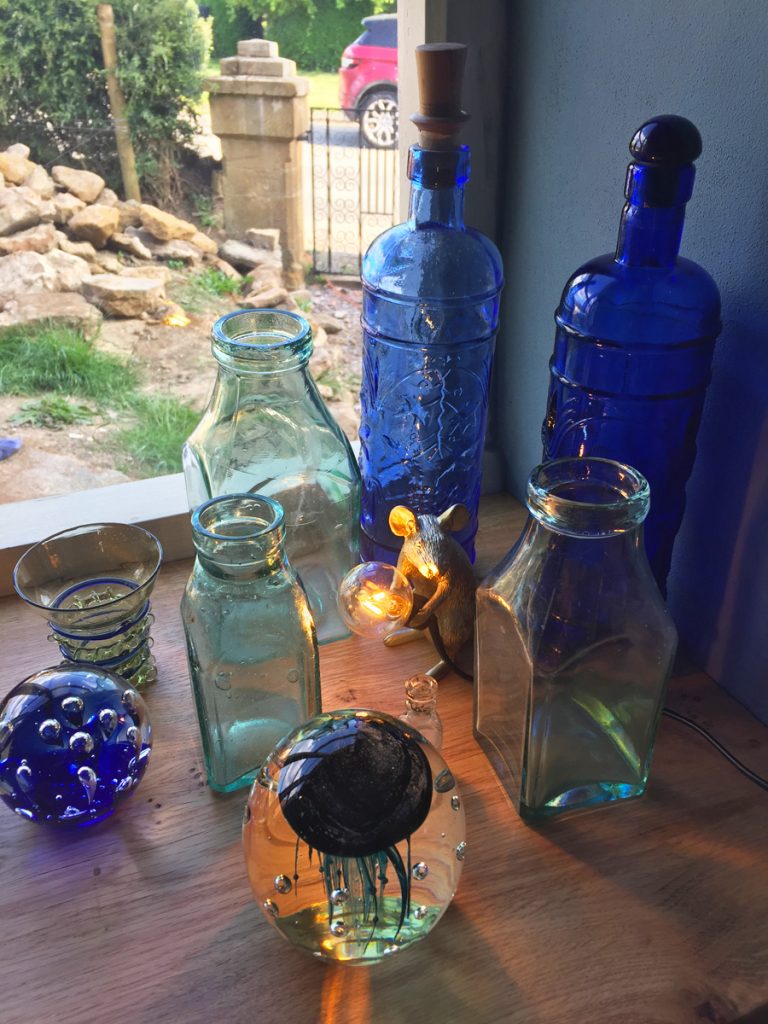 Our new mouse light has found the perfect home (I did think he could go in the bread oven with our real mice…) on the dining room window sill in amongst the glass bottles and paper weights.