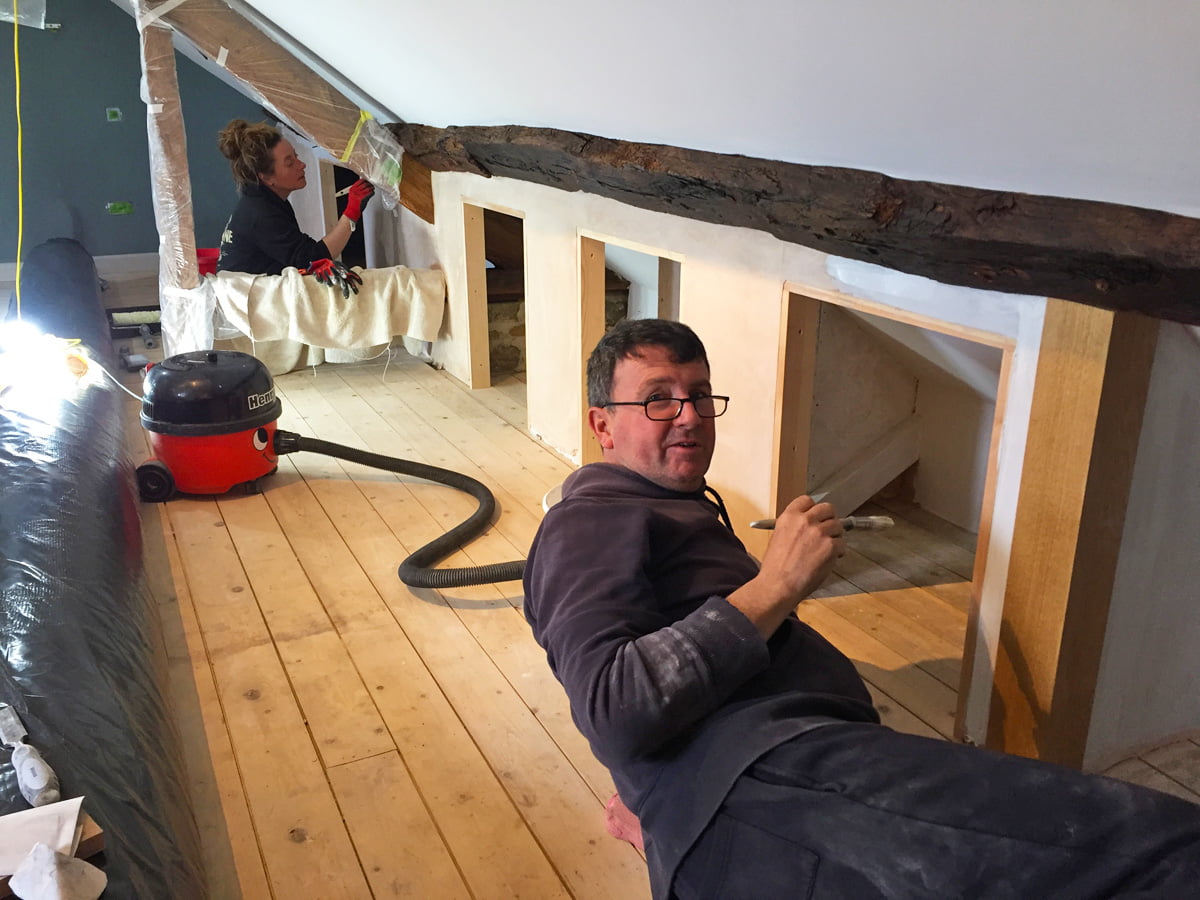 This weekend is going to be an epic painting marathon, painting all the freshly plastered walls with a mist coat and two top coats (plus prepping, filling and sanding), ready for the carpet to be fitted and for Sam our electrician to fit the electrics next week.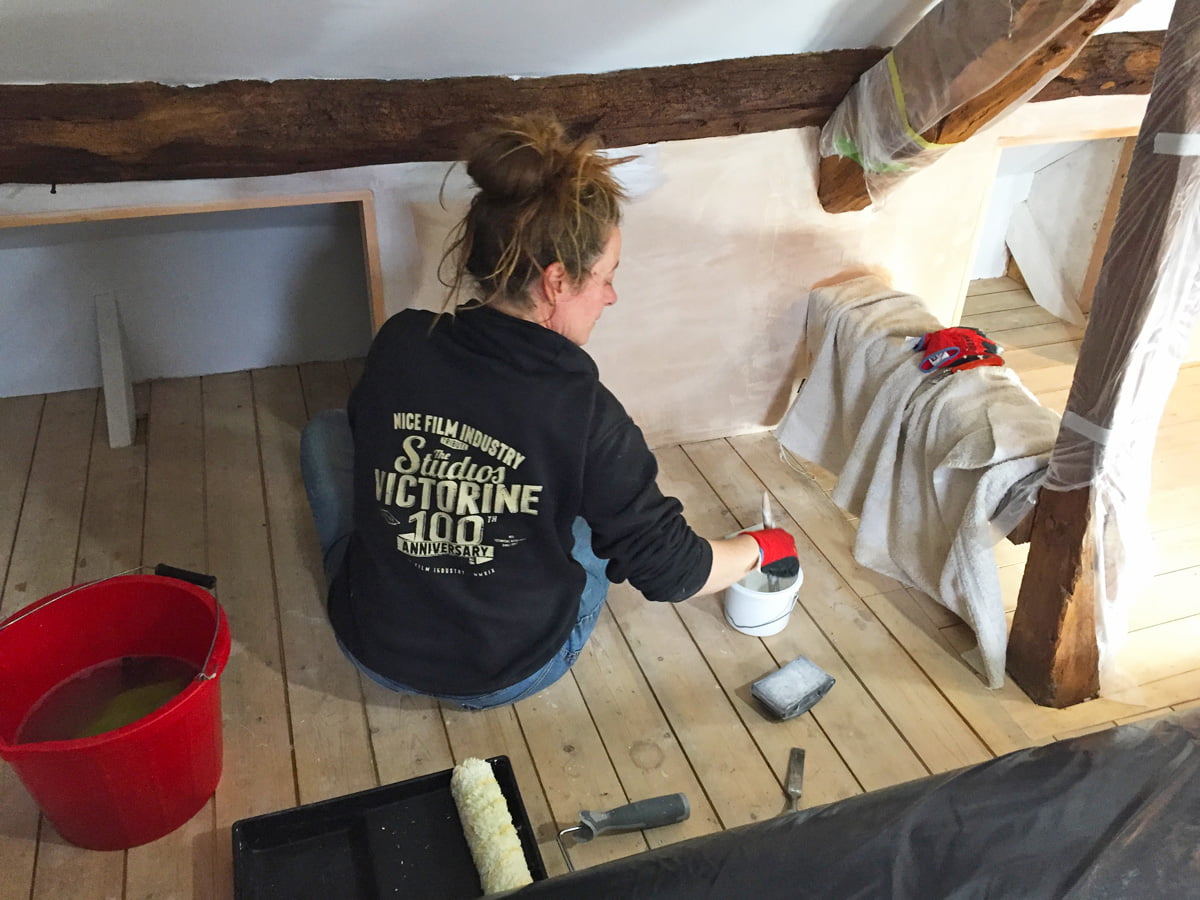 Cat and Colin start cutting in the wall for the attic cupboards.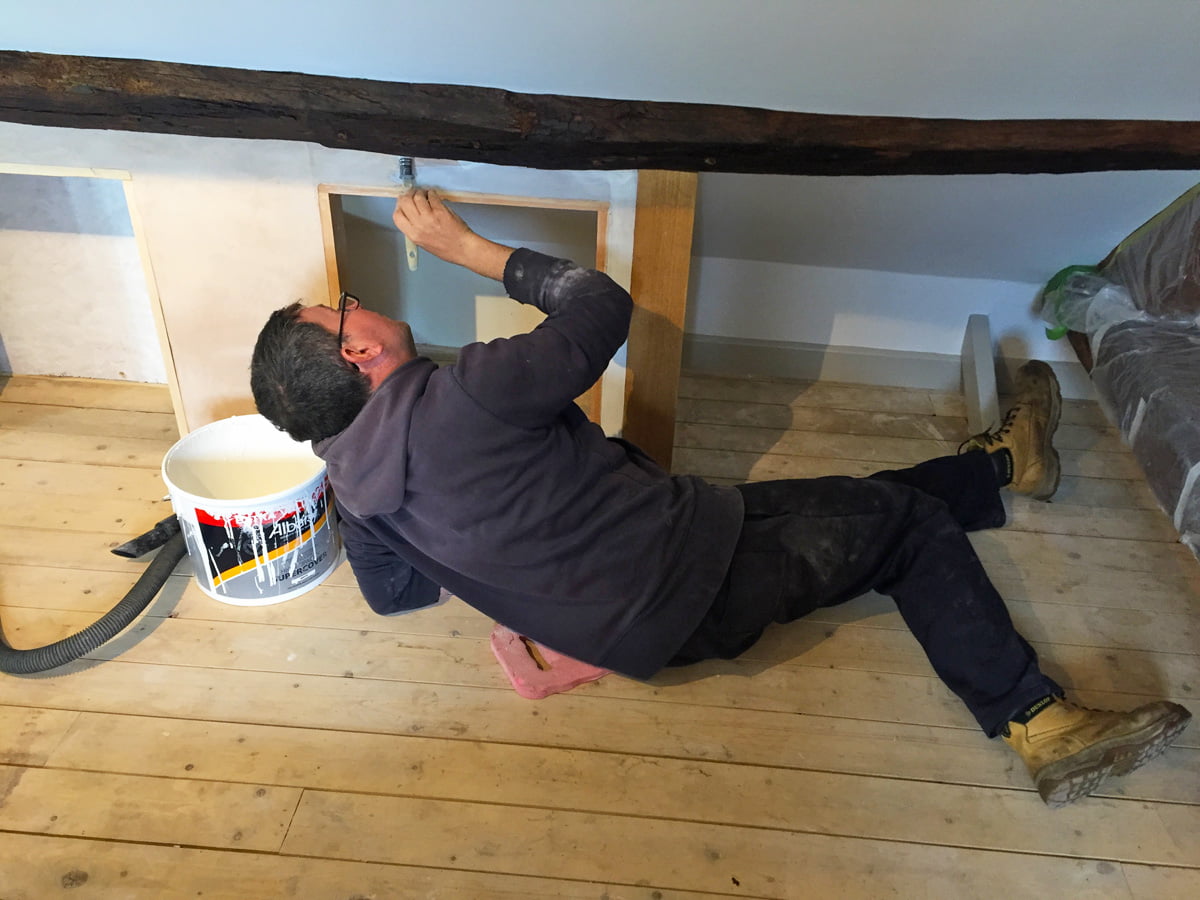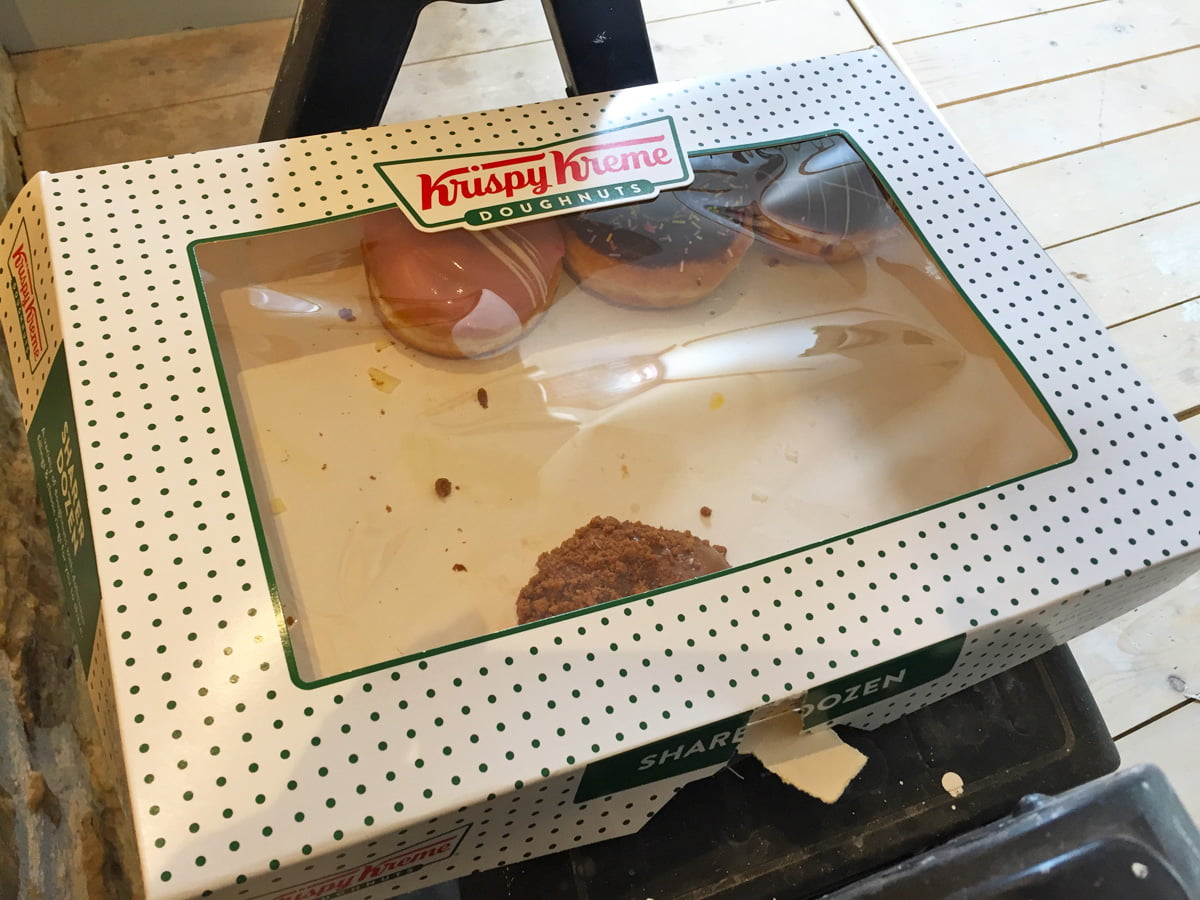 Marathons require doughnuts, right? And no, we didn't eat all of these!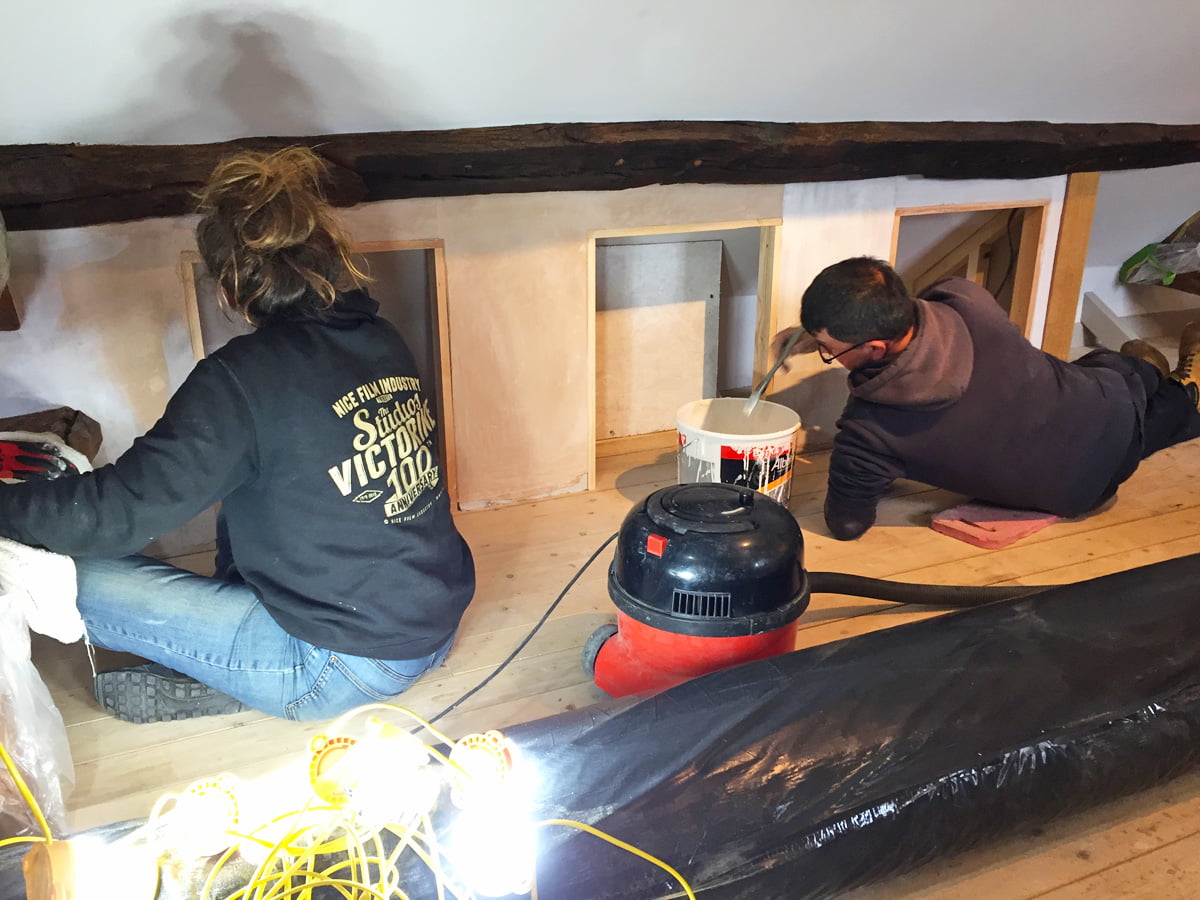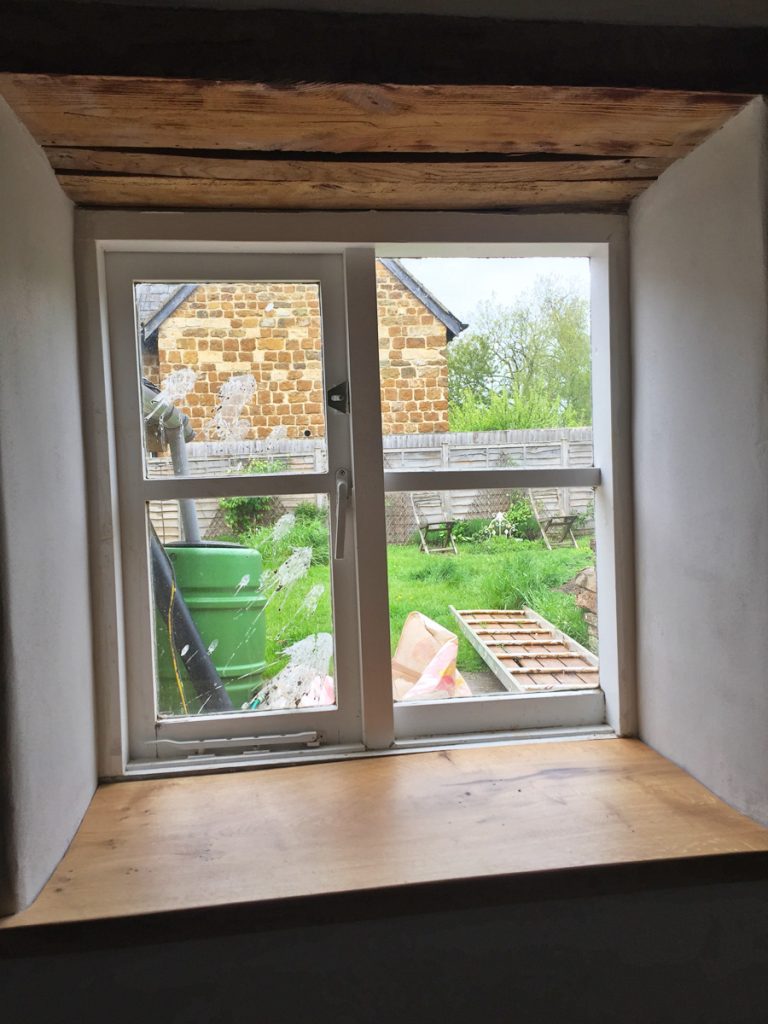 Some bird has taken a big disliking to the dining room window…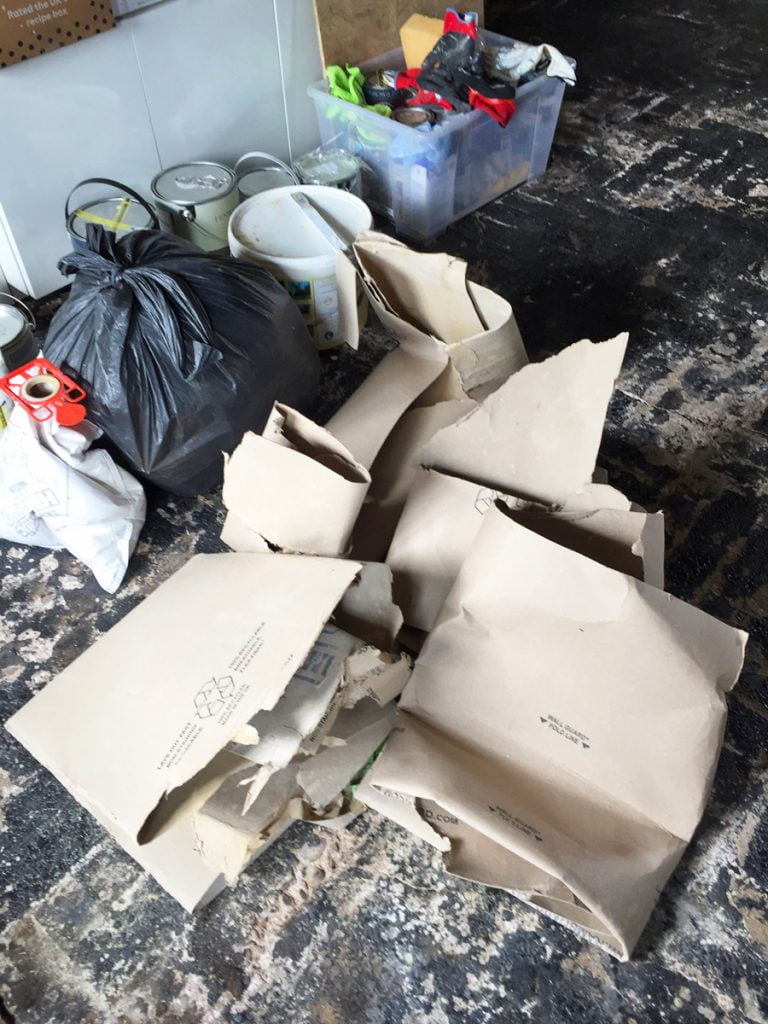 More Ramboard is taken up and disposed of, this is from the landing floor.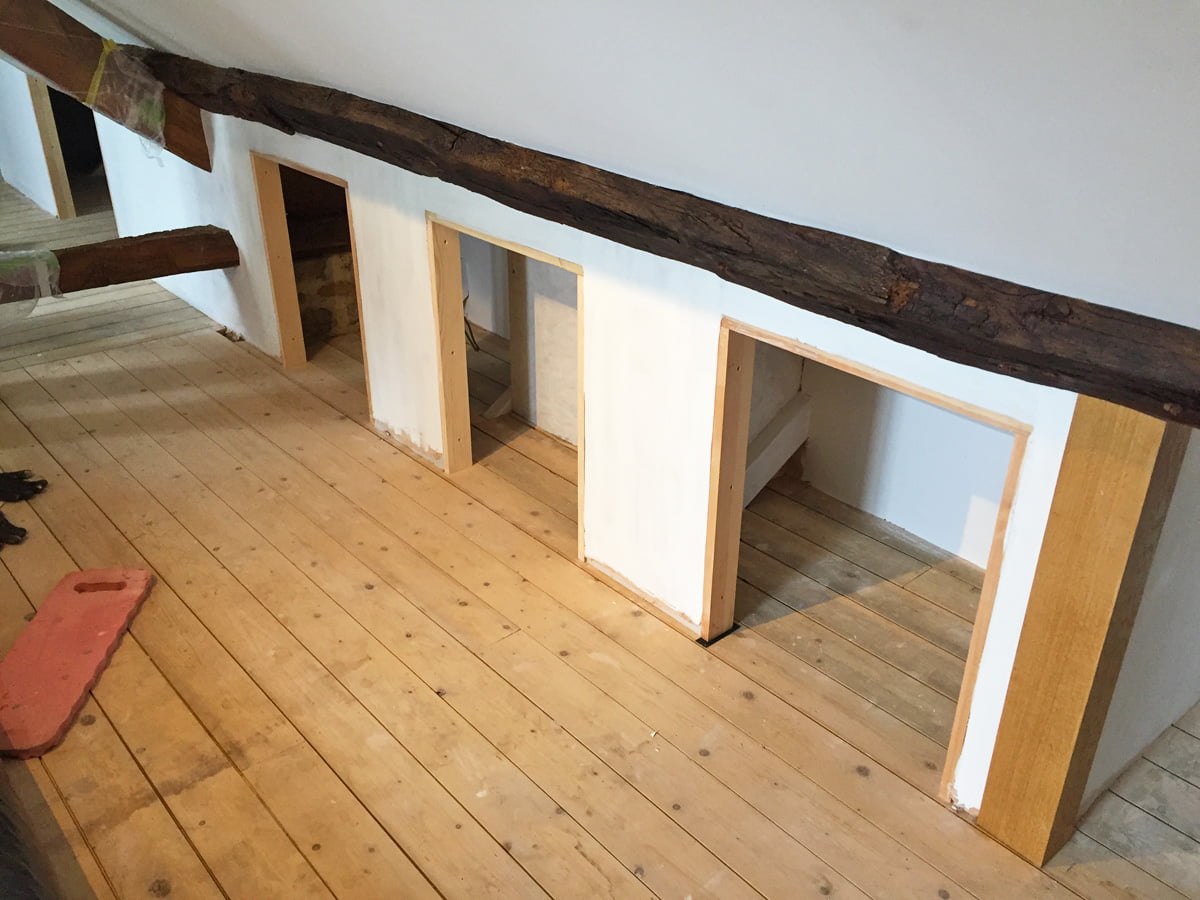 The attic cupboard walls with a mist coat added.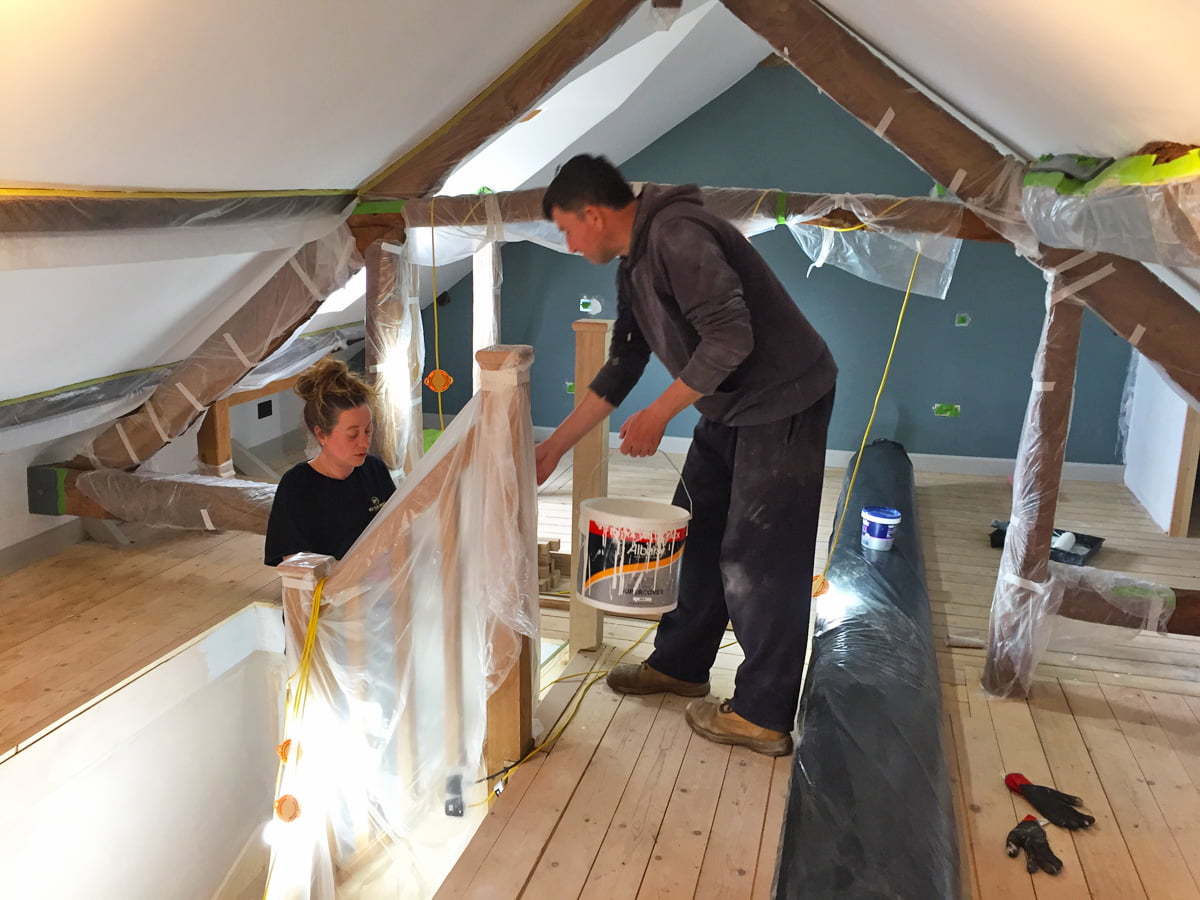 Moving down to start painting the staircase walls.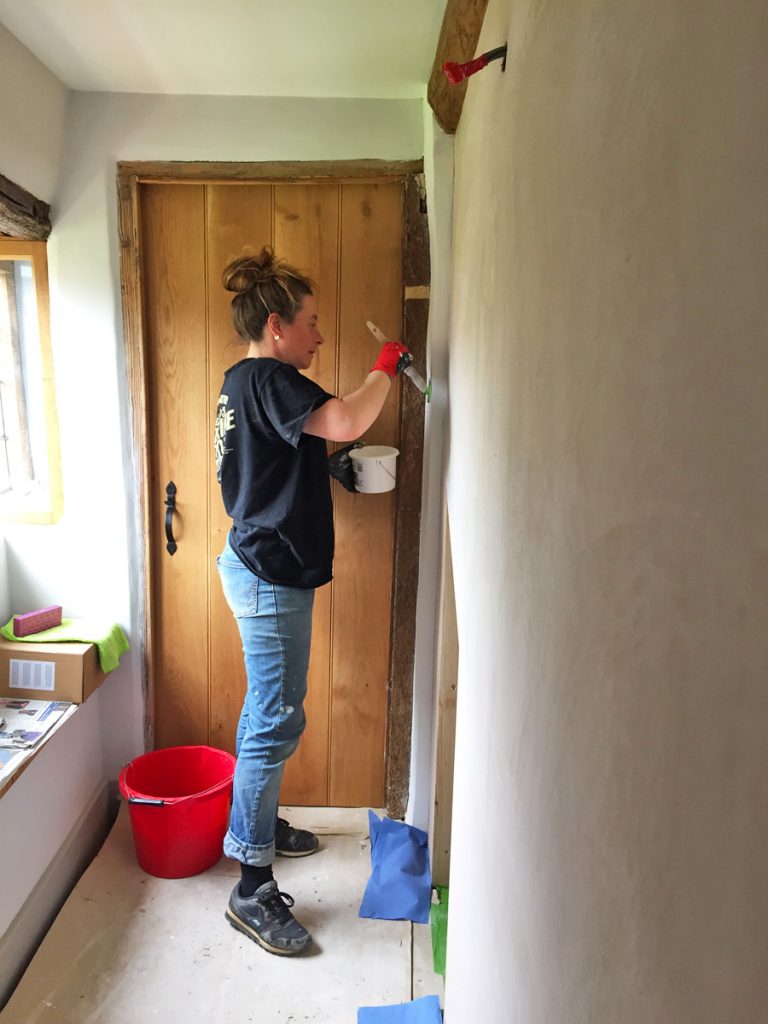 Cutting in the mist coat on the staircase wall.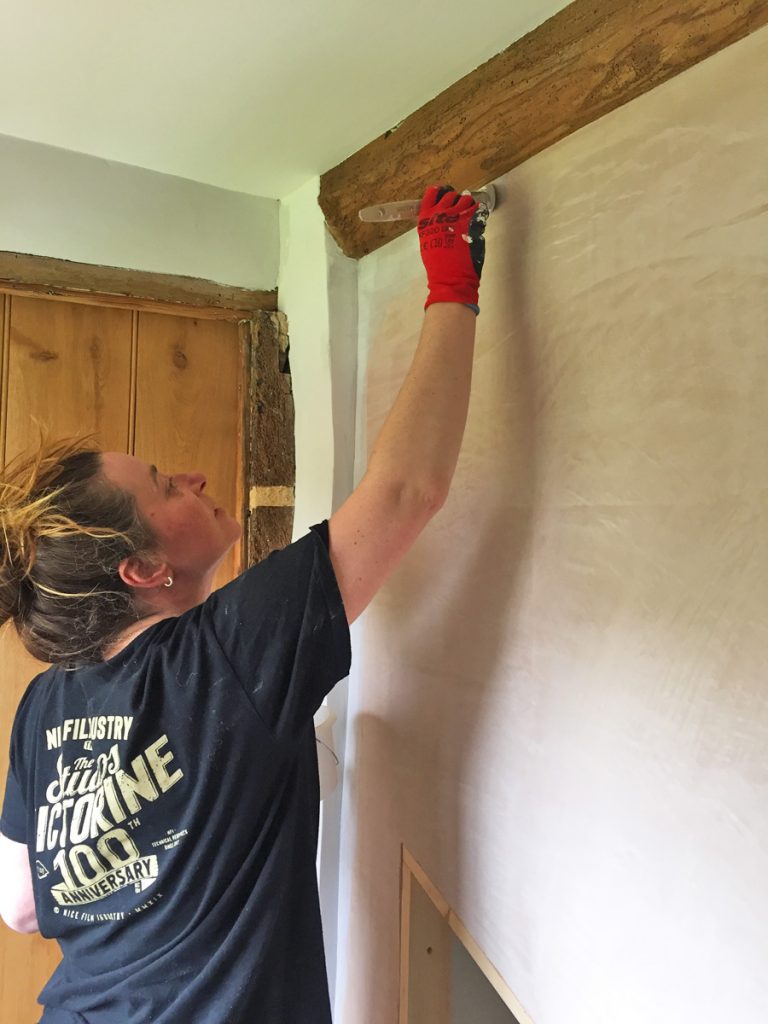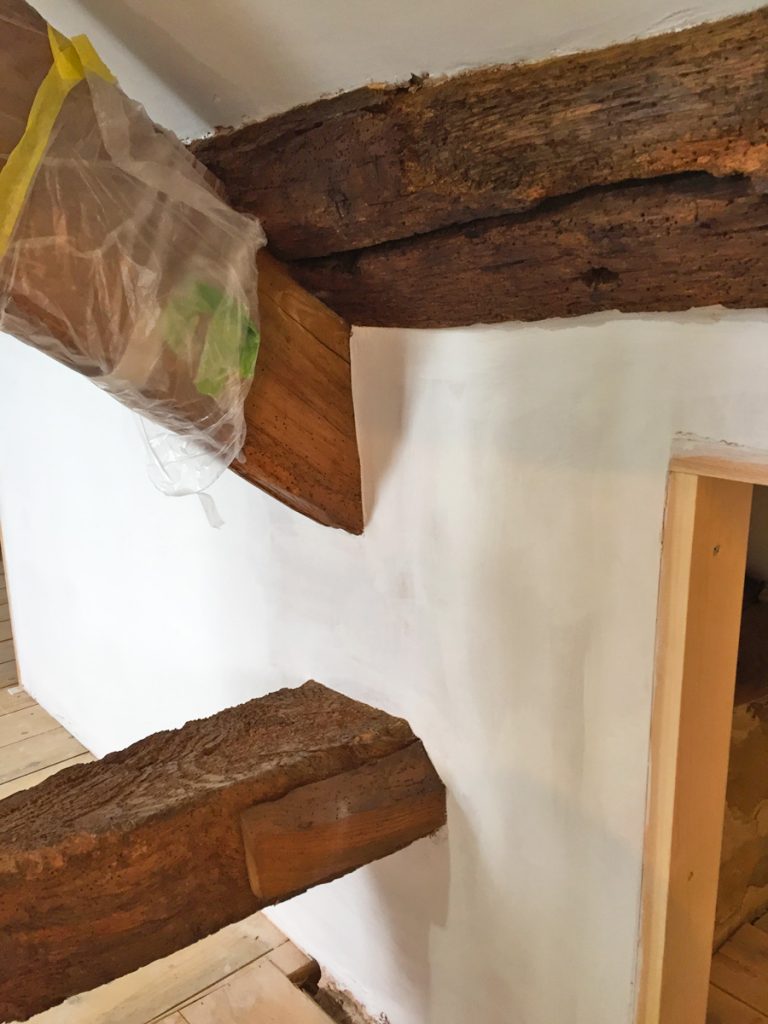 Any gaps between the plaster and the beams have all been filled and caulked before being painted.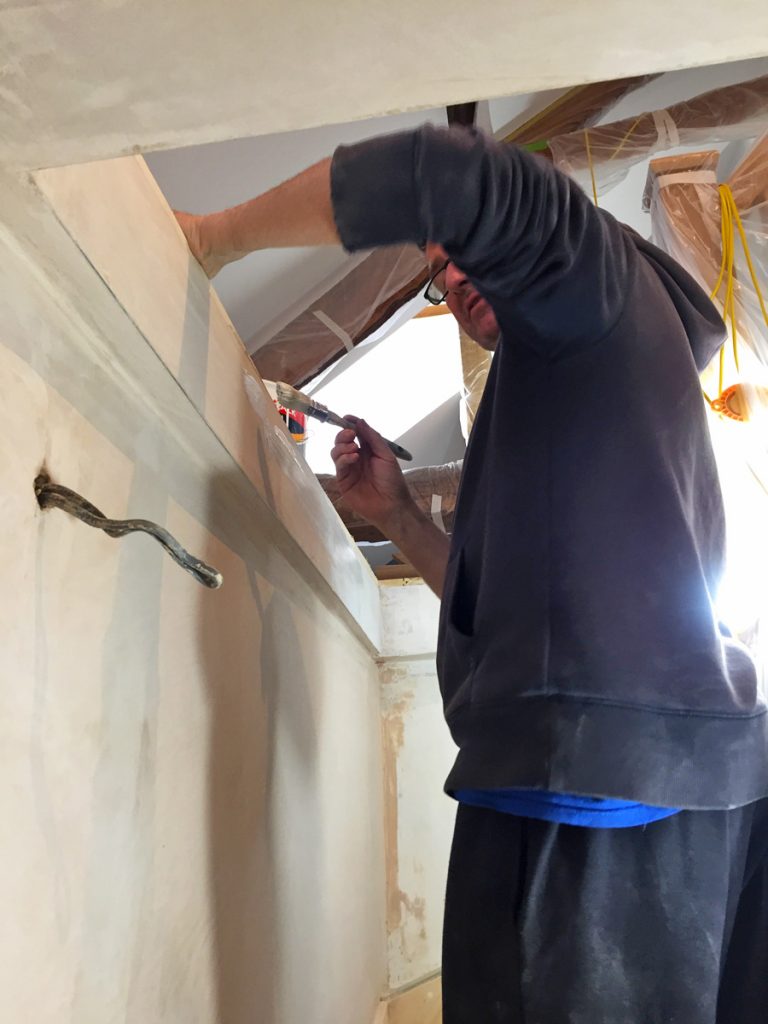 Colin starting the inside wall of the staircase.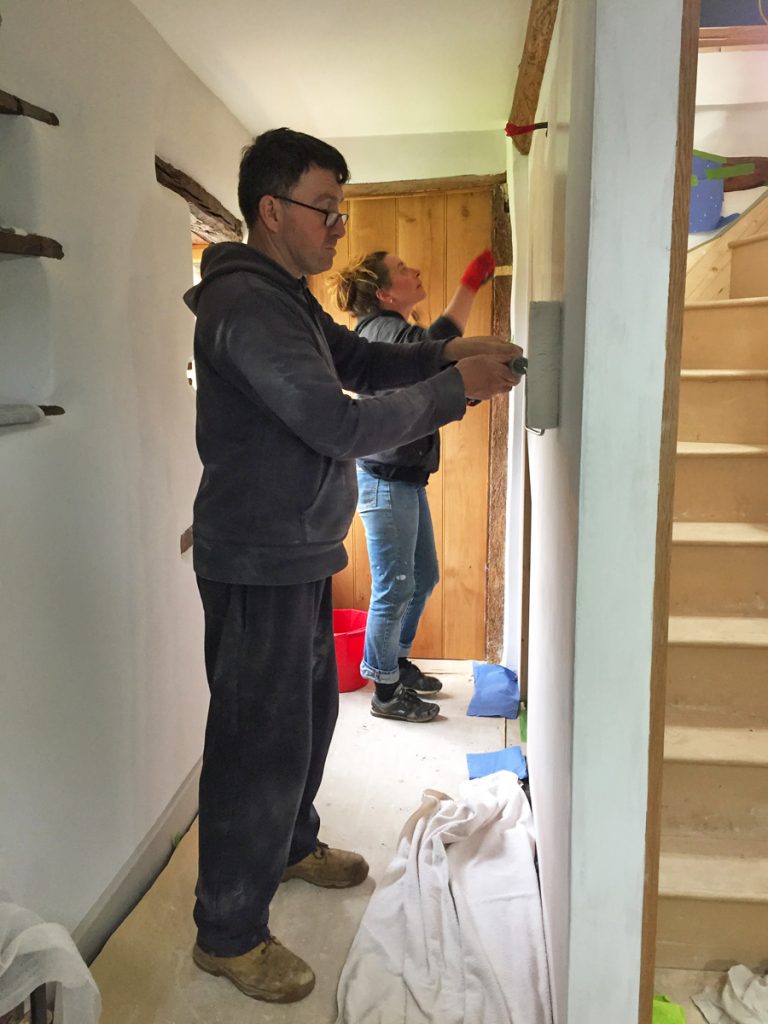 Applying the mist coat with a roller.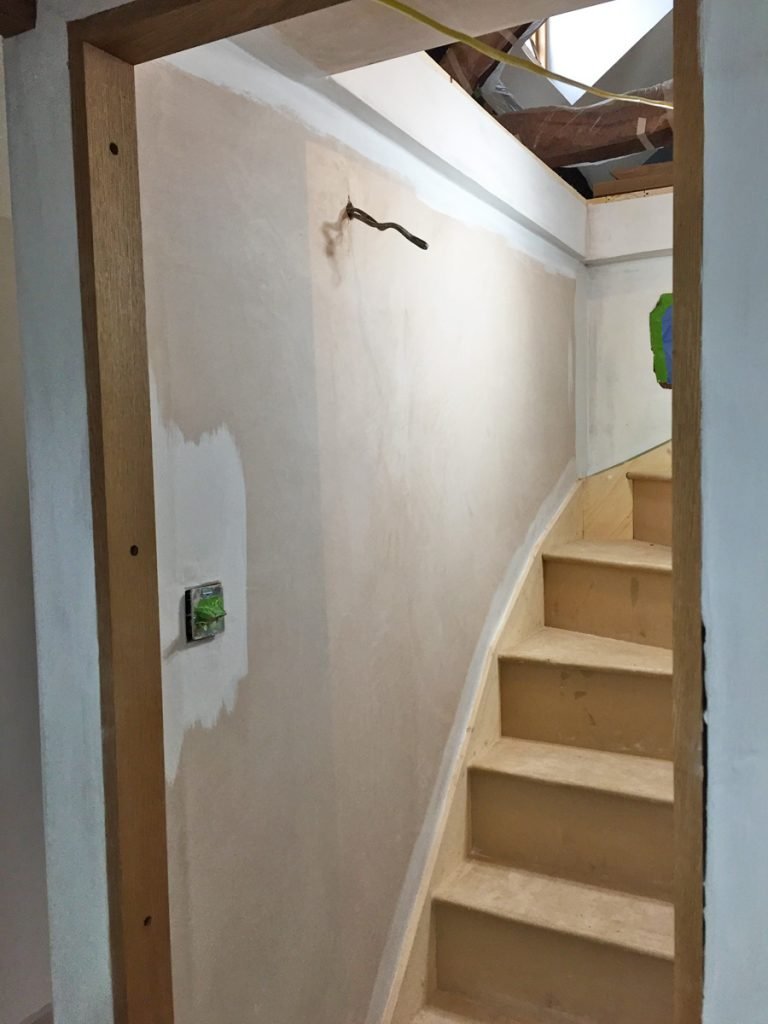 Even I joined in the painting marathon (I did hurt my neck though, ugh). I also hoovered and cleaned the house again, removing the layer of plaster dust that had settled on everything last week.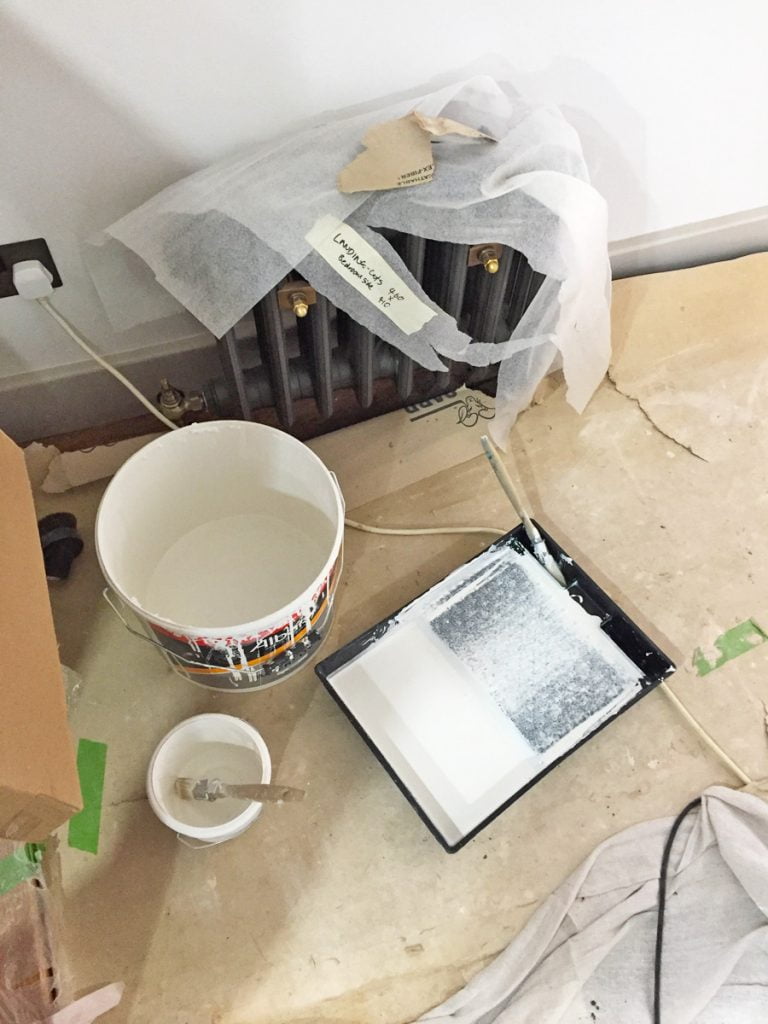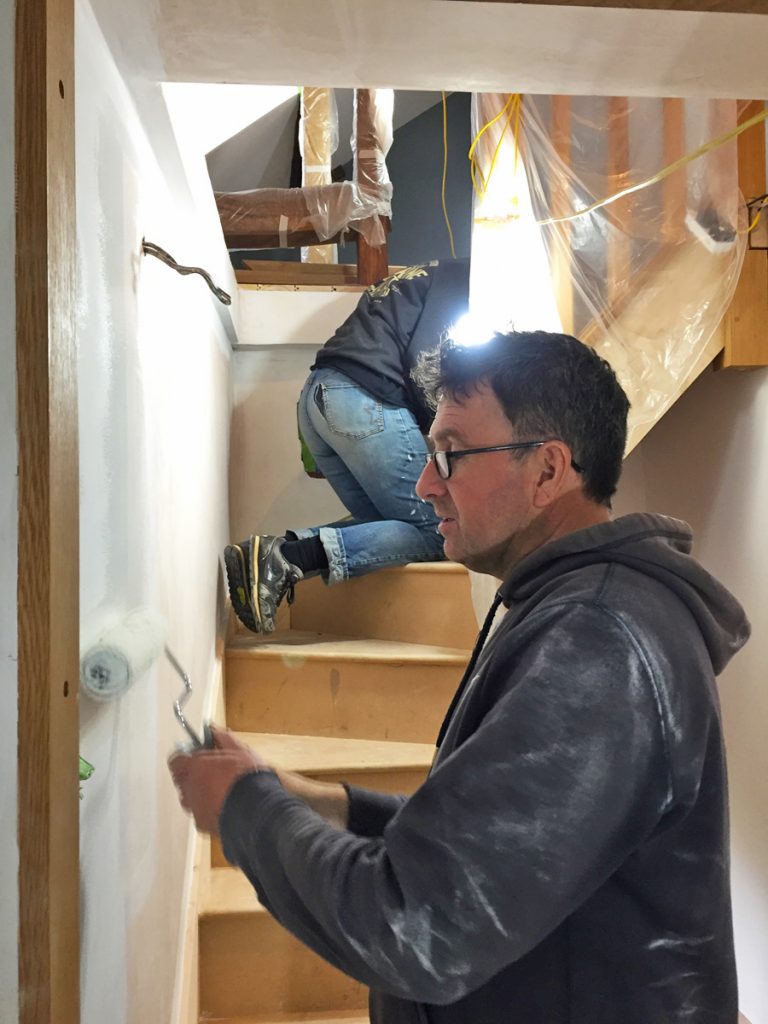 Team C & C progressing around the walls.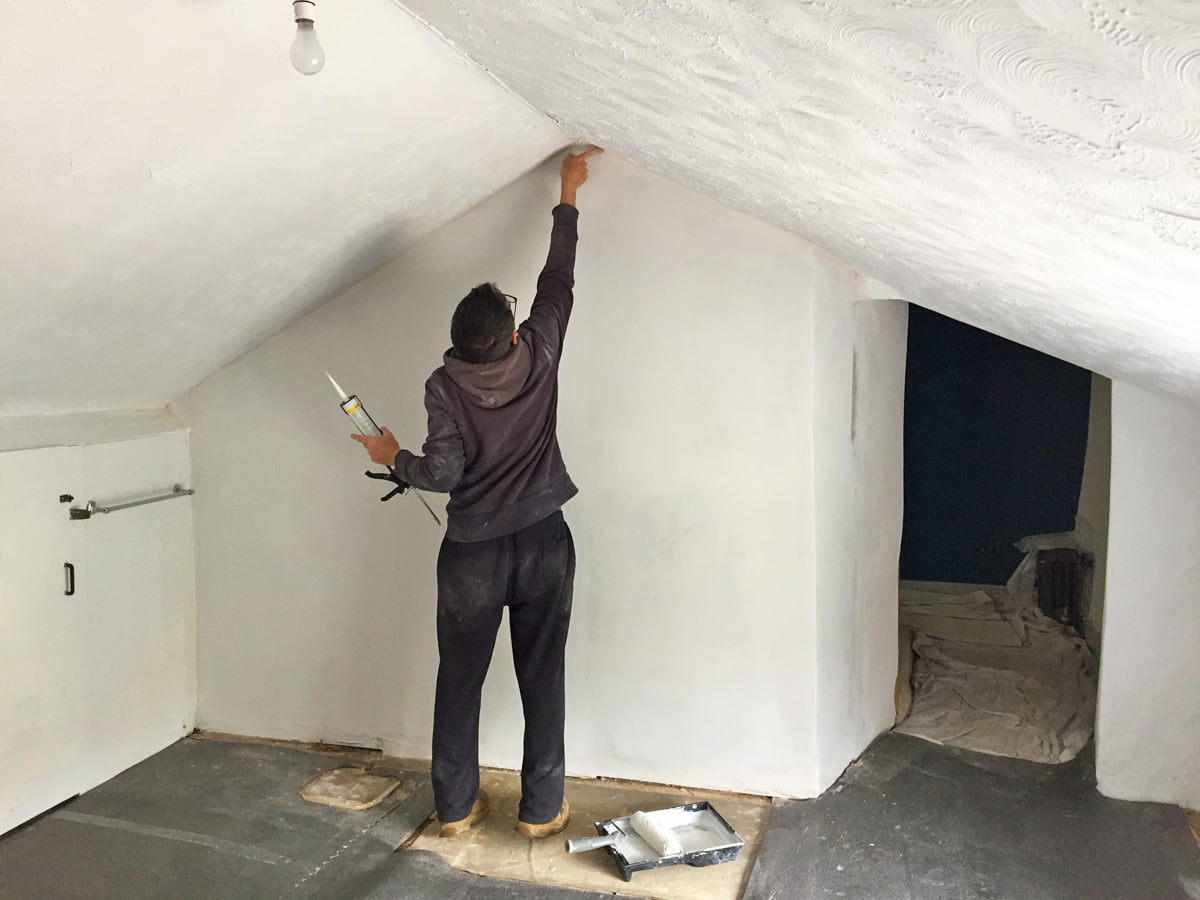 The wall in Cat's room has its first mist coat and Colin fills the gaps with caulk before the top coat gets painted.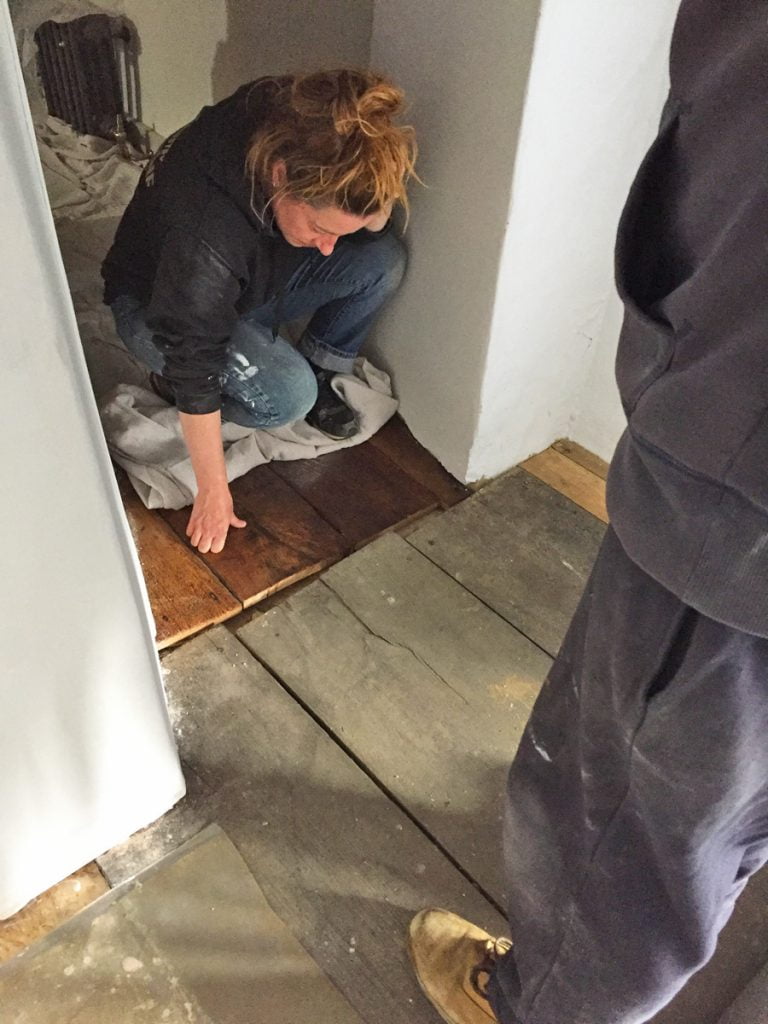 The doorway between the landing and Cat's bedroom has two different levels of floors that need to somehow join up before we have the carpet fitted in Cat's room. We need to work out just how to do this as it is all over the place as you can see…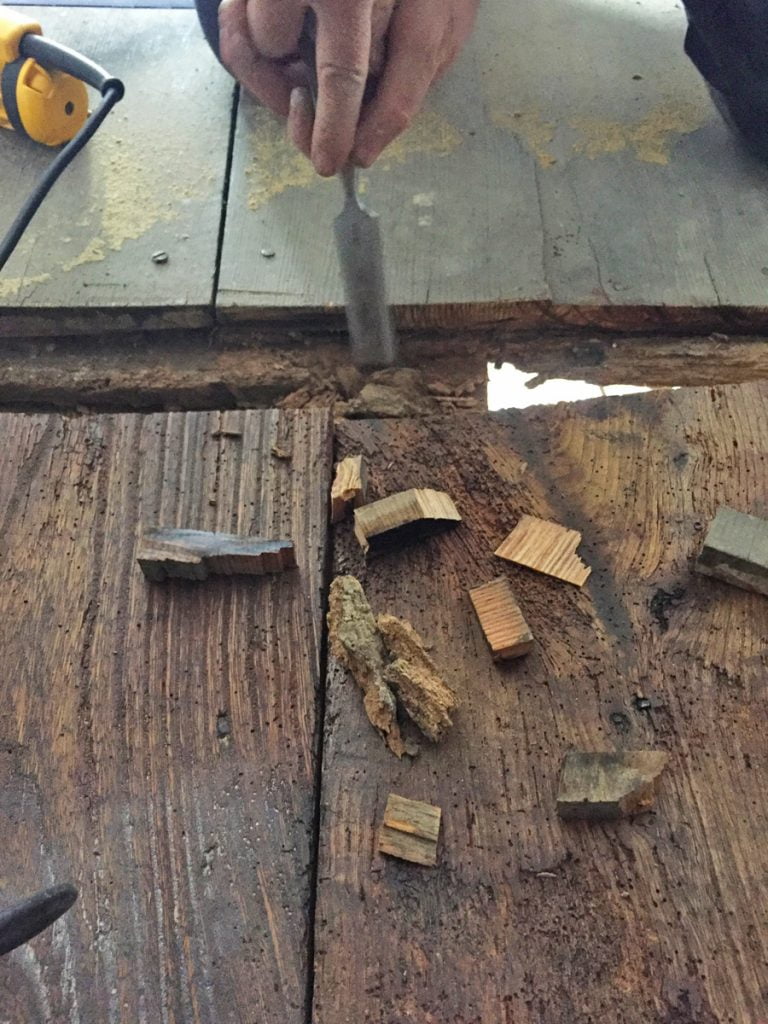 Colin has a plan, it involves trimming the floorboards in Cat's floor so they are at least square (they are not ancient elm boards), then adding an angled bit of oak into the gap to act like a sort of ramp which the carpet can be fitted onto.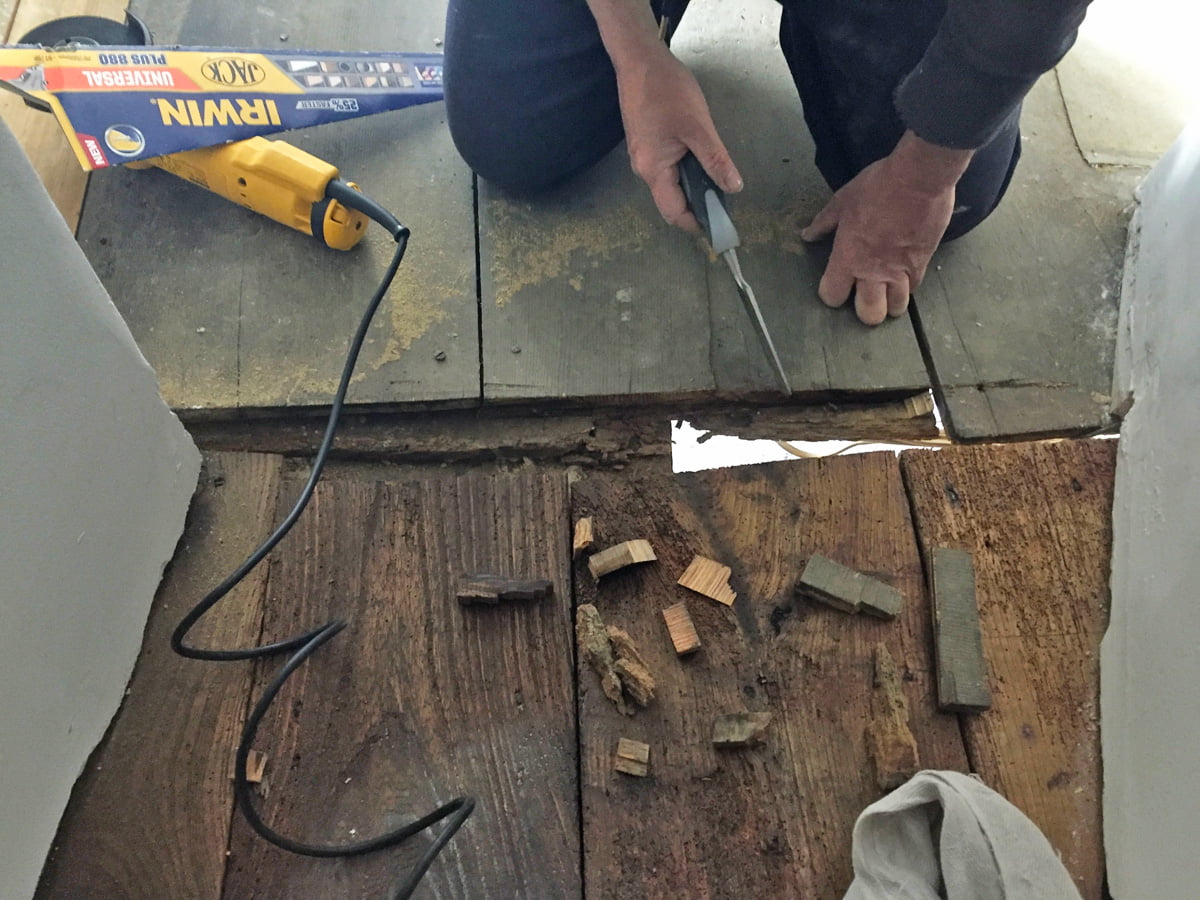 Cat's floor has two layers of boards fitted on top of each other, with the lower layer being very rotten (hence the second layer on top). The rotten layer is easy to cut and square off, the top layer required the angle grinder…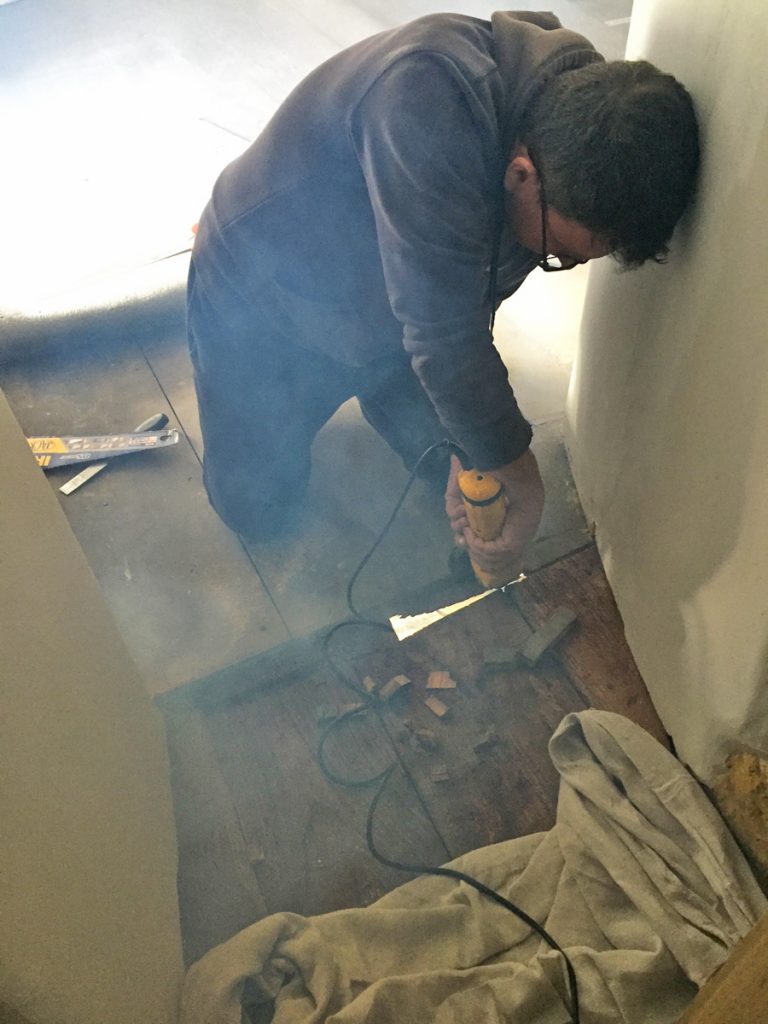 There was a great deal of smoke which rapidly filled the entire house.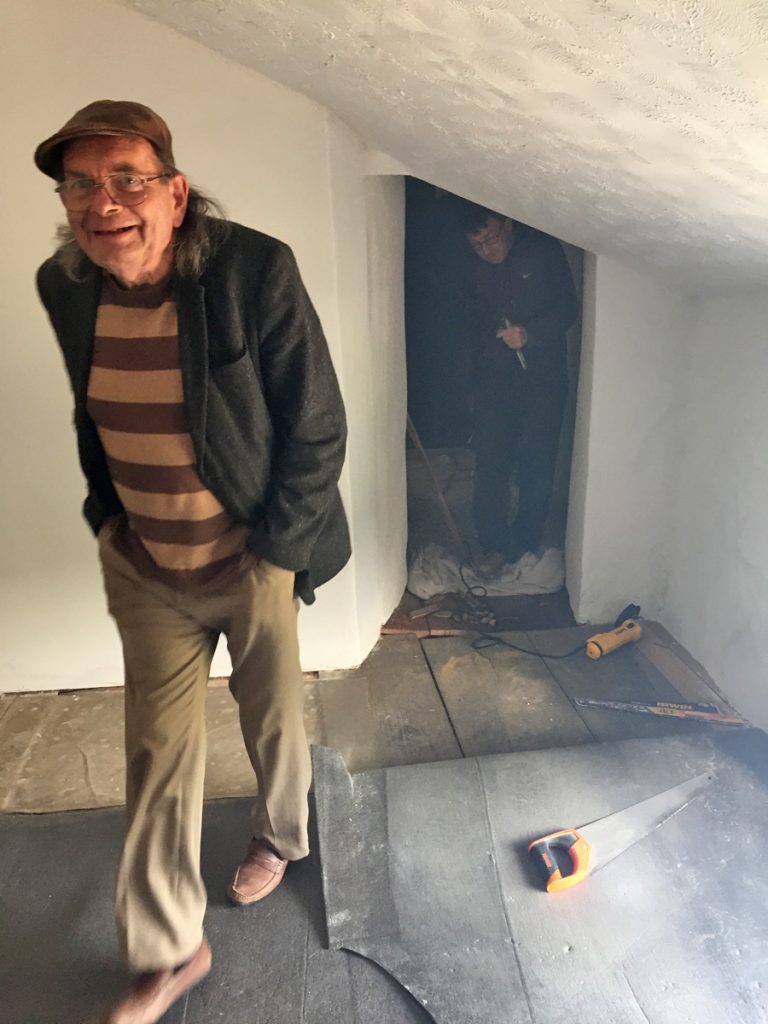 Dad arrived just as the Colin was attempting to set fire to the house.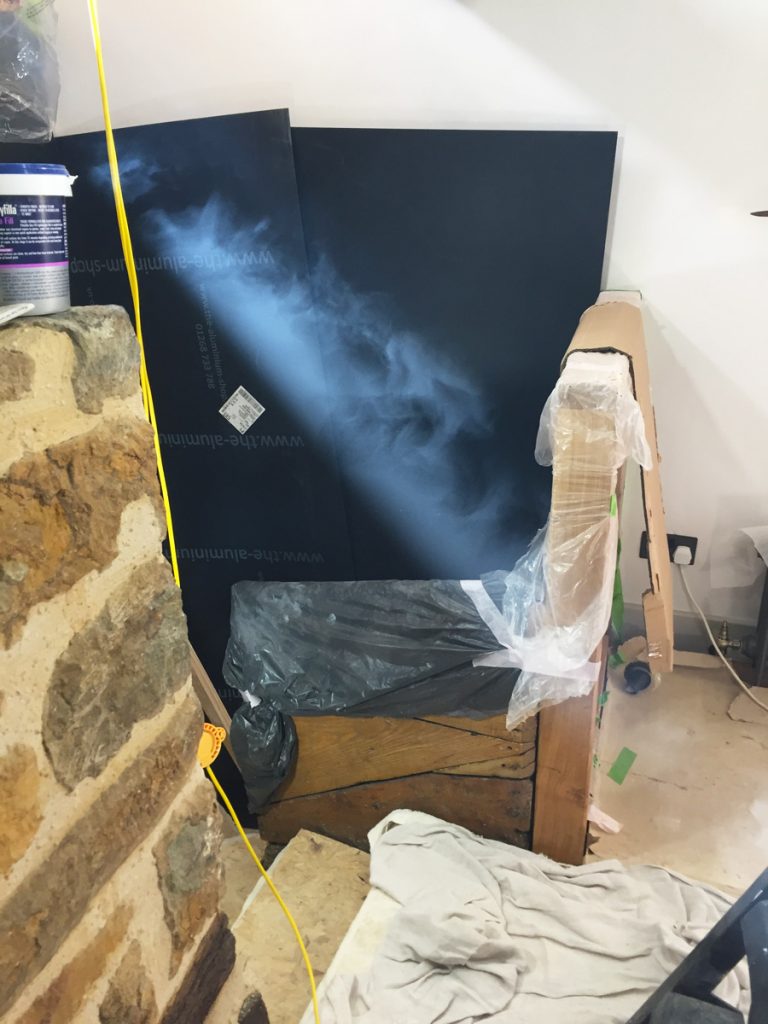 Sunlight illuminates the smoke in the air… every window had to be opened.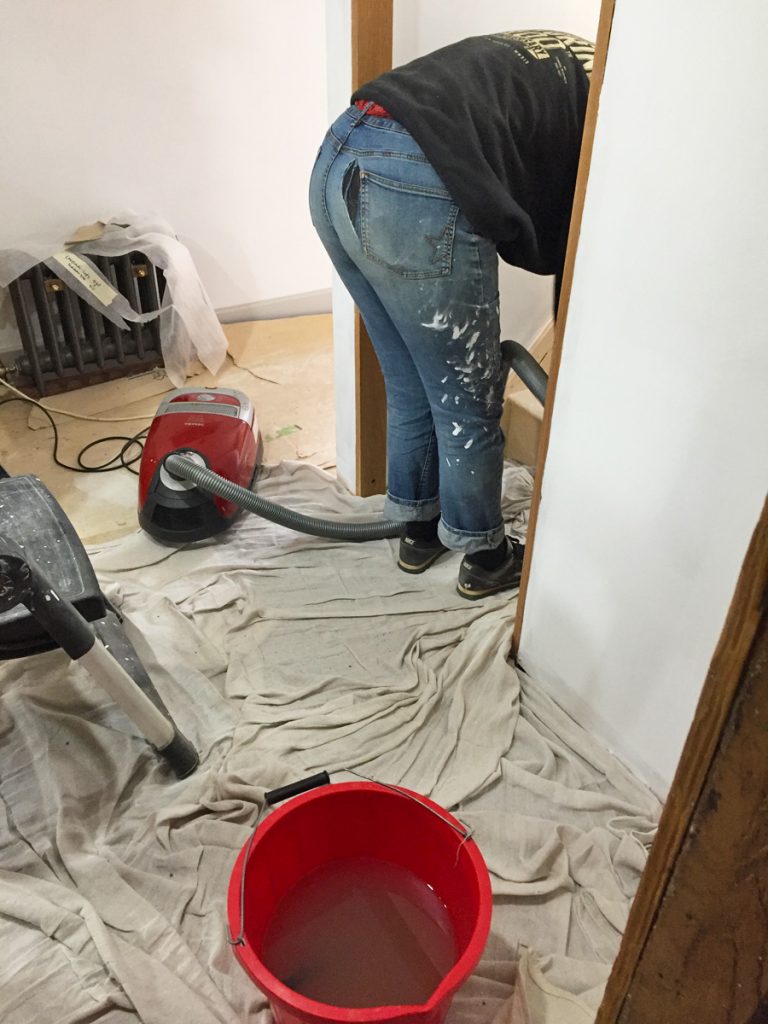 The split in Cat's jeans is getting worse.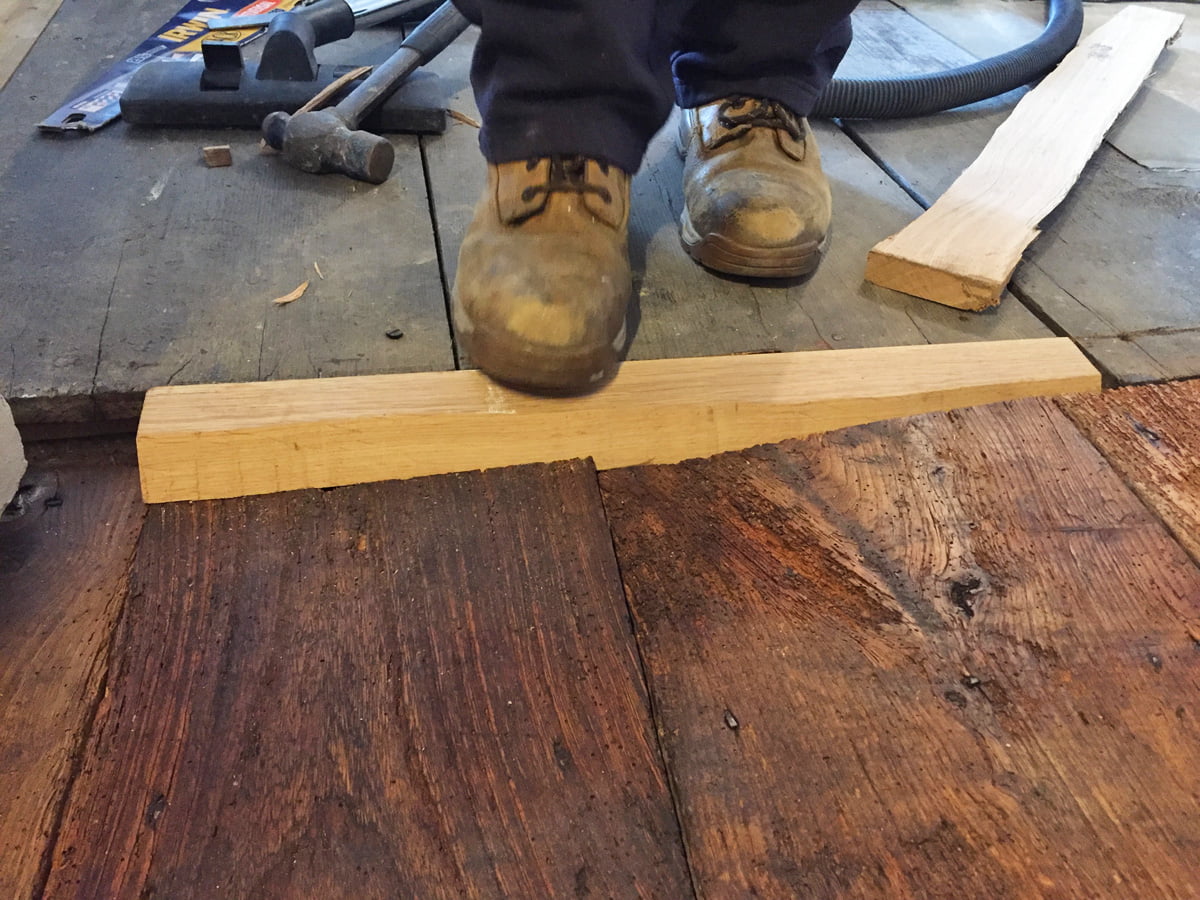 Part of the solution for the join between the different floors.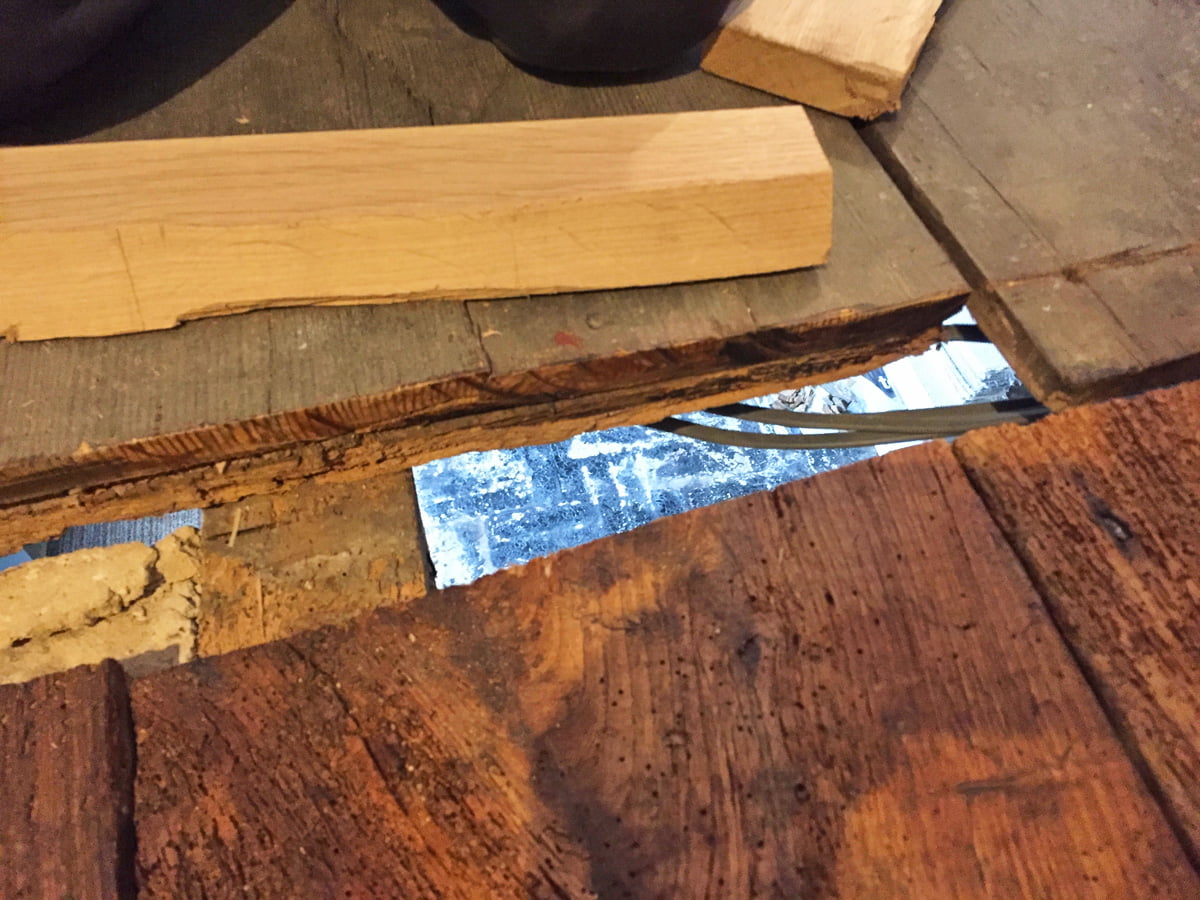 You can see why this needs fixing. That is the dining room below that you can see through the gap.